Management of white mold in soybean using targeted biofungicides
Wednesday, April 22nd, 2020
White mold in soybean is caused by the pathogen Sclerotinia sclerotiorum. The typical symptoms of white mold include white fluffy growth on stems and leaves in the lower canopy early in the season and leaf wilting, yellowing, and premature senescence later in the season. Significant yield losses resulting from severe S. sclerotiorum infection have been observed under ideal environmental conditions. For every 10 plant increase in white mold incidence at the R7 growth stage (physiological maturity), yield is reduced by two to five bushels per acre.
S. sclerotiorum overwinters in the soil in the form of sclerotia. In the spring under cool and wet conditions, the sclerotia germinate and produce apothecia. The apothecia produce ascospores which infect the plant through some type of opening, usually a flower. Cultural practices such as crop rotation, tillage, row spacing, and plant populations can all be used to minimize the potential for infection.
Concern with soil health, water quality, and a growing interest in organic management options has sparked an interest in biofungicides. Two biofungicides available on the market are Contans and Double Nickel. The active ingredient in Contans is Coniothyrium minitans which is a fungus that attacks and degrades sclerotia in the soil. The active ingredient in Double Nickel is Bascillus amyloliquefaciens which is a bacteria that inhibits mycelial growth. Little research has been done to confirm the effectiveness of these products and investigate their proper integration into season long soybean pest management practices.
The goal of this research is to provide timely information to growers on the effectiveness of Contans and Double Nickel on controlling or suppressing white mold in soybean. Furthermore, if these products prove to be effective correct implementation into current pest management practices is vital. It is hypothesized that the current season long pest management practices could have a detrimental effect on the effectiveness of the biofungicide. Laboratory, greenhouse and field experiments will be conducted to explore the optimal integration of S. sclerotiorum targeted biofungicides into current Indiana season long soybean pest management practices. The effect of both preemergence and postemergence herbicides as well as foliar fungicides on the ability of the biofungicide to control or suppress white mold in soybean will be explored.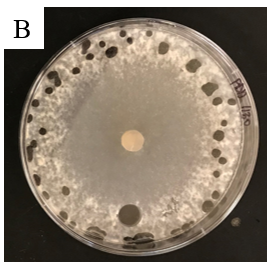 A) 7 day old S. sclerotiorum grown on media plates B) 14 day old S. sclerotiorum grown on media plates C) S. sclerotiorum mycelium growing on stem of soybean plant D) Wilting and secescence of soybean plants under field conditions resulting from S. sclerotiorum infection
Photo credit: Audrey Conrad and Dr. Darcy Telenko, Purdue University
---