People
Darcy E P Telenko
Principle Investigator
Assistant Professor
Field Crop Pathologist and Extension Specialist
Email: dtelenko@purdue.edu
Phone: 765.496.5168
Our interdisciplinary plant pathology research and Extension program is involved in researching the biology and management of soilborne and foliar pathogens of agronomic crops.
The program is focused on recognizing and understanding new and emerging diseases and their potential impact on Indiana agriculture.
Our research is used to support extension efforts focused on providing timely and reliable information to growers and industry stakeholders to encourage the adoption of integrated management strategies for improved production efficiency and increase awareness of how diseases impact crop yield potential in Indiana.
As an Associate Field Technician, I am responsible for setting up and maintaining field trials in corn, soybeans, and wheat for disease management research. My job consists of field mapping and trial set up, equipment maintenance and transportation, planting, pesticide applications, trial maintenance such as mowing and tilling alleys, data collection, and harvesting.
Su-Joung Shim
Field Crop Pathology Lab
Lab Manager/Research Technician 
Phone: 765.496.3471
Education
MS - Master in Public Health (MPH),  Purdue University, W. Lafayette
BS -  Pharmaceutical Science, College of Pharmacy, Purdue University, W. Lafayette
BS  - Biological Science, College of Life Science, South Korea
Current Research/Project
Whole Geonomic Sequence of Phyllachora maydis, a perithecial ascomycete, causes a tar spot disease of maize (leaves and yields).
Whole genome sequences will provide a first glimpse into the genomic basis of the biological diversity of phyllachora madis.
Publication; Telenko, D. E. P., Ross†, T., Shim, S., Wang, Q., and Singh, R. 2020. Draft genome sequence resource for Phyllachora maydis – an obligate pathogen that causes tar spot of corn with recent economic impacts in the United States. MPMI 2020 Apr 1. https://doi.org/10.1094/MPMI-03-20-0075-A.
Molecular detection of fungal pathogens by  18S rDNA high-throughput screening in comparison to ITS PCR and culture.
Implementation of experiments in Field Crop Pathology by sampling processing, data collection, data processing, and maintaining/operating the standard laboratory and lab equipment.
A- Root rot phase of SDS. B- Onset of SDS foliar symptom. C- Interveinal chlorosis. D- Interveinal chlorosis & necrosis. Photo credit: Mariama Brown, Purdue University
Education
BS - Agricultural Education-  College of Agriculture, Science & Education, Portland Jamaica.
MSc- Plant Science - Delaware State University, U.S.
Current Research
Soybean Sudden Death Syndrome (SDS): Integrated Management Tactics for SDS, FvTox1 Expression and SDS Hyperspectral Sensing
Sudden death syndrome (SDS) is among the top five yield-limiting diseases of soybean. SDS is caused by a soilborne fungus, Fusarium virguliforme, which results in a two-stage symptom development: i. root necrosis followed by ii. foliar symptoms of interveinal chlorosis and necrosis, that occurs late in the growing season. Resistance for SDS is partial and complex. Several management options have been evaluated for their effectiveness; many of which are limited in ability to provide optimal SDS management.
Although significant crop losses are known to occur as a result of the foliar phase of SDS, the pathogen has never been identified in diseased tissues above ground. The pathogen secretes toxins and effector proteins into the roots which are translocated to the shoots to cause foliar symptoms. A 13.5-kDa protein called FvTox1 was observed to be a major virulence factor necessary for SDS foliar development in soybean.
Currently, there is no non-destructive technique available to identify  F. virguliforme infected soybeans prior to visual foliar symptoms which usually appear during the reproductive growth stages.
Therefore, the objectives of my research are to:  
Examine the potential outcomes of integrated management methods (seed treatment, variety selection and seeding population) for SDS on the basis of virguliforme root quantities, root rot severity, foliar symptom and yield.
Analyze the spatial and temporal expression of FvTox1 in soybean plants inoculated with different densities of Fusarium virguliforme.
Relate leaf reflectance to SDS disease conditions and to identify wavebands that best discriminates SDS inoculated treatments from water inoculated controls prior to foliar symptoms.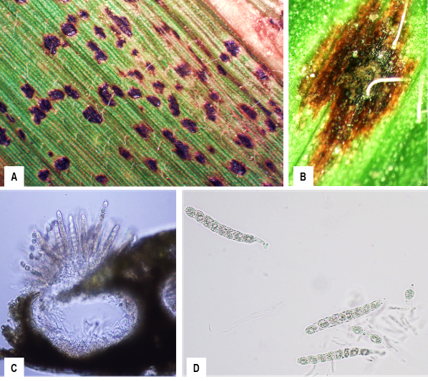 A- Multiple tar spot stroma on a corn leaf, B- A single stroma magnified, C –Phyllachora maydis perithecium,  D- Ascus and ascospores of P. maydis
Education:
BS  – General Agriculture – University of Guyana, Tekeyen Campus
MSc – Agricultural Regulations (Molecular Biology & Plant Biotechnology) – University of Arkansas at Pine Bluff, U.S.
Current Research
New and Emerging Disease : Tar Spot Disease of Corn
Tar Spot Disease of Corn is caused by a fungal pathogen, Phyllachora maydis which is a new and emerging foliar disease. Tar spot presents symptoms of small, raised, black spots embedded in and dispersed across the upper and lower leaf surfaces which eventually spreads to the corn ear. ​
First recorded in the U.S. in 2015 in Indiana and Illinois, tar spot was presumed to have no significant impact on U.S. Corn Belt. Conversely, in 2018, a tar spot epidemic saw severe quality and yield losses across susceptible corn hybrids and is now confirmed in Florida, Iowa, Michigan, Ohio and Wisconsin.​
Little to no information is documented about the biology, ecology, impact and management of this fungus in its native origin (Mexico) and hence much work is needed to be done here in the U.S. if we are to combat this disease. Therefore, the objectives of my study are to: (1) Study the Population Structure Biology and Ecology of P. maydis, (b) Assess various Management Options (Hybrids and Fungicide Efficacy) and (3) To evaluate the Economic Impact of P. maydis on U.S corn under disease and management.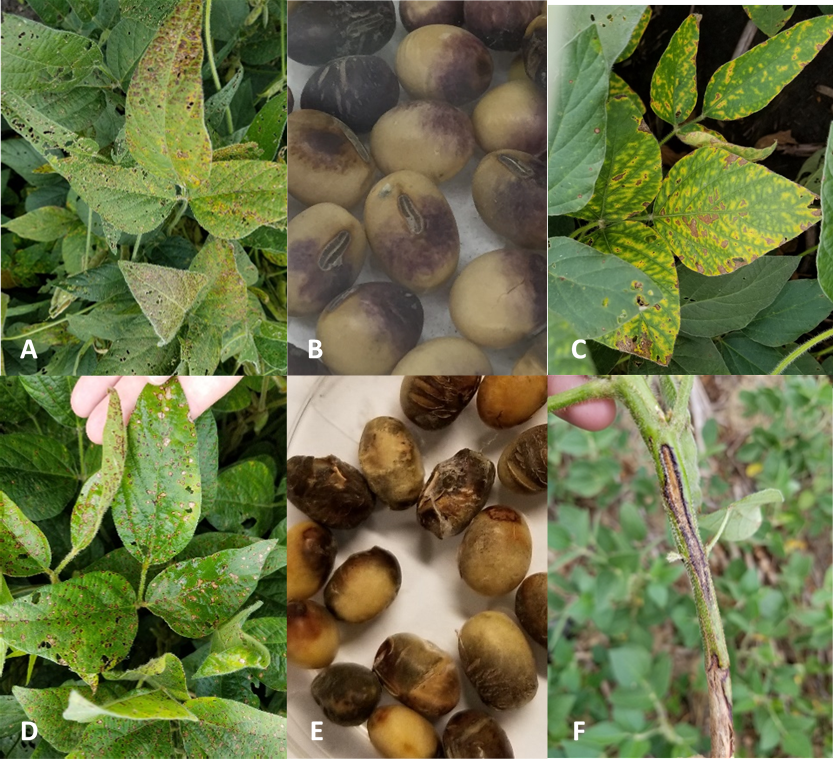 Soybean Diseases: A) Cercospora leaf blight (Cercospora kikuchii);  B) Purple seed stain (Cercospora kikuchii; C) Sudden death syndrome (Fusarium virguliforme); D) Frogeye leaf spot (Cercospora sojina) leaf and E) seed; and F) Stem Canker (Diaporthe spp.).
Education
B.S., 2016 – Federal University of Mato Grosso – Agronomy
M.S., 2018 – State University of Maringa – Plant Protection
Current Research
As a Visiting Scholar my research will be involved in determining the distribution of foliar diseases and fungicide resistance in Indiana to help identify best management options for improved disease control in soybean.
The goal of this research is to understand the distribution of foliar diseases and fungicide resistance in Indiana, and identify new options that may improve foliar disease control, yield, and seed quality.
My main goals are to help identify, document and confirm the distribution of foliar and stem diseases of soybean (frogeye leaf spot (Cercospora sojina), Cercospora leaf blight (Cercospora kikuchii), northern and southern stem canker (Diaporthe species) and/or other symptomatic leaves), evaluate these populations for baseline sensitives and/or development of fungicide resistance, and evaluate fungicide efficacy and timing for management of foliar disease in soybean.
In addition includes helping with activities in the laboratory, greenhouse, and field in projects of the lab team that include tar spot (Phyllachora maydis), white mold (Sclerotinia sclerotiorum), and sudden death syndrome (Fusarium virguliforme)
Education:
BS- Agronomy- School of Agricultural Sciences - Universidad Nacional de Colombia, Bogotá D.C
Current Research
Determining the distribution and Fungicide Resistance of Frogeye Leaf Spot in Indiana to identify Best Management Options for improved Disease Control in Soybean.
Frogeye Leaf Spot (FLS) is an important foliar disease in Soybean which is caused by the fungal pathogen Cercospora sojina. FLS is common in hot, humid regions of southern states but it can occur occasionally in Indiana and other central states in the United States. The usual symptoms are circular or angular spots on leaves, begin as small yellow spots and become bigger gray to brown spots with a reddish purple margins.
The management of FLS disease ranges from reducing the amount of inoculum by managing residues on field to tillage, rotation, using of fungicides and using of resistant varieties when available. However, FLS has been reported as resistant to Qoi fungicides from 2010 (Zhang et al., 2012) in Tennessee and this resistance has since been detected in 14 states including Indiana (Zhang et al., 2018).
Fungicide resistance has been confirmed in four counties in Indiana (Zhang et al., 2018).  It is hypothesized that the distribution has expanded beyond the four initial counties, in order to provide proper management guidelines for Indiana soybean farmers we need to continue to document the resistant fungal populations. The objectives of my study are: i) Identify, document and confirm the distribution of frogeye leaf spot and fungicide resistance in Indiana and, ii) Identify new options that may improve foliar disease control, yield and seed quality in soybean.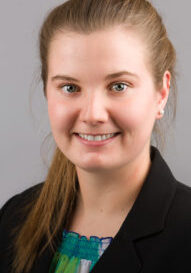 A) S. sclerotiorum grown on media plates B) S. sclerotiorim mycelium growing on stem of soybean plant C) Wilting and senescence of soybean plants under field conditions resulting from S. sclerotiorum infection
Photo credit: Audrey Conrad and Dr. Darcy Telenko, Purdue University
Education
BS - Biological Engineering - Purdue University, West Lafayette, IN
Current Research
Integration of Sclerotinia sclerotiorum targeted biofungicides into season long soybean pest management practices
White mold in soybean is caused by the fungus Sclerotinia sclerotiorum. The typical symptoms of white mold include white fluffy growth on stems and leaves in the lower canopy early in the season and leaf wilting, yellowing and death later in the season.
Significant yield losses have been observed under ideal environmental conditions. For every 10 plant increase in white mold incidence at the R7 growth stage (physiological maturity), yield is reduced by two to five bushels per acre.
S. sclerotiorum overwinters in the soil in the form of sclerotia. In the spring under cool and wet conditions, the sclerotia germinate and produce apothecia. The apothecia produce ascospores which infect the plant through some type of opening, usually a flower. Cultural practices such as crop rotation, tillage, row spacing, and plant populations can all be used to minimize the potential for infection.
Many products are available on the market that control or suppress white mold in soybean. Concern with soil health, water quality, and a growing interest in organic options has sparked an interest in biofungicides. The goal of my research is to explore the integration of S. sclerotiorum targeted biofungicides into current Indiana season long soybean pest management practices. I will be looking at the effect of both preemergence and postemergence herbicides as well as foliar fungicides on the ability of the biofungicide to control or suppress white mold in soybean.
My name is Kaitlin Waibel and I recently completed my undergraduate degree in Agronomy at Purdue University. I grew up on a farm so my passion for agriculture and helping farmers took root early on. I assist with planning and execution of research in the lab and field as well as data collection, maintenance of plots and lab space, and aiding graduate students as needed. I am also involved in a project tracking severity and incidence of tar spot in corn across Indiana. I plan to begin my master's degree in 2021 under Dr. Telenko.
I am a freshman at Purdue studying Biology and have been working with Dr. Telenko and her lab since 2019. I help manage the graduate students' field trials, collect data, and process that data. I am participating in a project tracking the severity of the corn disease tar spot across Indiana. In addition, I aid in the maintenance of the lab space.
I am a senior at Purdue studying Botany and Plant Pathology. I work in the lab, greenhouse, and field to help manage trials pertaining to a plethora of corn and soybean diseases. I manage the field research trials pertaining to the fungal pathogen Phytophthora sojae in soybeans.
I am a junior is Environmental and Ecological Engineering.  I work in the field and lab to help scout for and identify crop diseases. I am currently working on a project pertaining to interactions between various herbicides and the soybean disease Phytophthora sojae. In addition, I help with other projects and trials dealing with wheat, soybean, and corn diseases.