Quinone outside inhibitors (QoI) fungicide resistance in frogeye leaf spot of soybean in Indiana.
Frogeye leaf spot (FLS) is caused by the fungal pathogen Cercospora sojina Hara., and reduces soybean yields in most of the major soybean-producing countries in the world.
FLS is commonly found in hot and humid regions of southern states in the United States. However, this disease has recently become a key disease in Indiana and other central states as a consequence of warmer winter temperatures, usage of susceptible soybean varieties, and reduced tillage.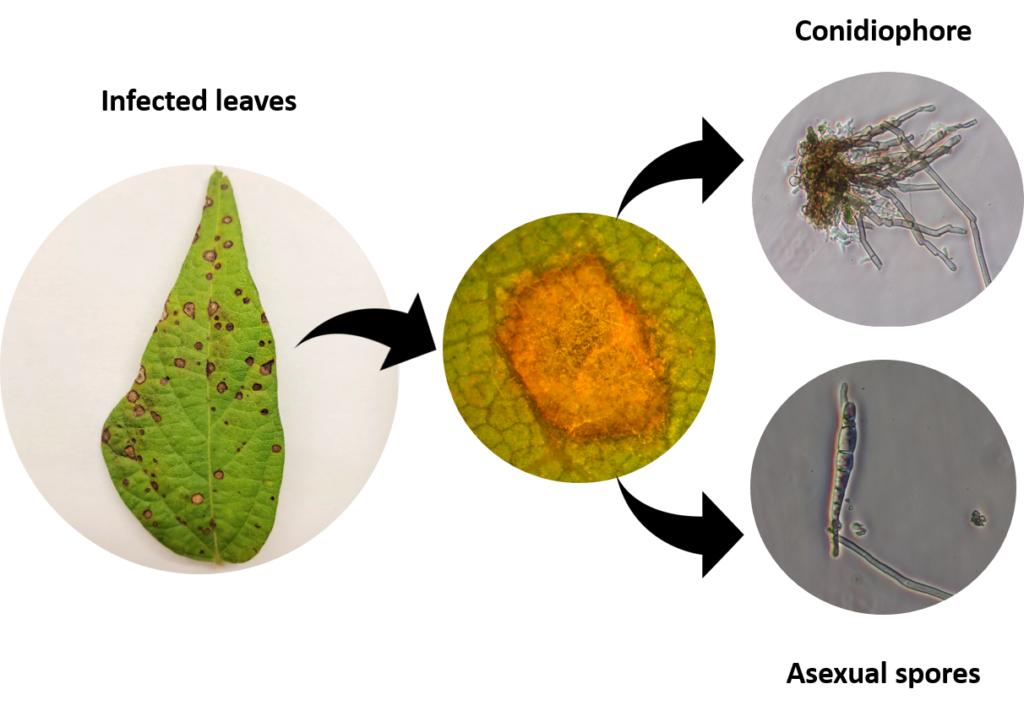 The symptoms caused by FLS are primarily observed on the foliage, but seeds, pods, and stems can be infected as well.  The symptoms of FLS include circular or angular lesions on leaves that begin as small yellow spots and eventually develop into brown spots surounded by reddish-purple margins. When the lesions expand and coalesce to form larger irregular spots, the leaves may blight and subsequently fall prematurely. As a result, the photosynthetic leaf area is reduced, leading to a loss in the seed weight.
Frogeye control can be achieved by reducing the amount of inoculum through the management of residues, the use of fungicides, and the planting of resistant varieties when available. Foliar application of fungicides, mostly those belonging to the quinone outside inhibitor (QoI) group, has been one of the major tools in the management of this disease when susceptible soybean varieties are used. The QoI fungicides inhibit fungal respiration by binding to the site of quinol oxidation (the Qo site) in the cytochrome bc1 complex, interfering with the electron transfer between cytochrome b and cytochrome c1.
Constant application of QoI fungicides in soybean crops results in selection in favor of resistant subpopulations. Applications of QoI fungicides can no longer control FLS in some areas of the country, where the population of fungicide-resistant mutants is predominant. In 2010, QoI- resistant C. sojina isolates were first identified in Tennessee. Subsequent reports revealed the presence of Qoi-resistant C. sojina populations in 14 states, including Indiana. QoI- resistant isolates have been documented in only four of the 92 counties in Indiana (Clark, Delaware, Fountain, and Pulaski Counties).
We hypothesize that QoI- resistant populations are wide-spread across the state. Therefore, we will use molecular tools that are precise, efficient, and less costly for identifying QoI resistance in C. sojina isolates from areas where their abundance is poorly documented. Monitoring C. sojina isolates in multiple counties in Indiana will help us to provide information about the current distribution of QoI- resistance and design mitigation practices that may increase the efficacy of fungicides.
Research supported by: