Soybean
Sudden death syndrome is an annual threat in Indiana and the North Central region. In 2014, this disease alone caused an estimated loss of nearly 62 million bushels in the U.S., valued at approximately $617 million (Allen et al. 2017). We are part a multi-state, North Central Soybean Research Program supported project "Developing an Integrated Management and Communication Plan for Soybean Sudden Death Syndrome." Our research will focus on the following objectives:
Determining how fungicides and nematicide seed treatment, in-furrow, and foliar fungicides will affect SDS and SCN.
Field evaluation of integrated management of sudden death syndrome and understating their "side effects" on F. virguliforme population and soil health
Communicating research results with farmers and agribusinesses and other soybean stakeholders
Determining the Distribution of Foliar Diseases and Fungicide Resistance in Indiana to Identify Best Management Options for Improved Disease Control in Soybean.
The goal of this research is to understand the distribution of foliar diseases and fungicide resistance in Indiana and identify new options that may improve foliar disease control, yield, and seed quality.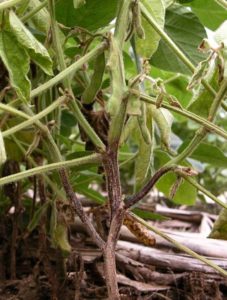 Phythophthora Root and Stem Rot
A multi-state, North Central Soybean Research Program supported project "Characterization of Phytophthora sojae and Phytophthora sansomeana populations in the North Central Region AND an Assessment of Management Strategies." Our research will focus on comparing new seed treatments on varieties with different resistance packages in field trials and evaluating potential herbicide interactions with the development of seed rot and stand loss.