Indiana Impacts & Resources
Indiana Climate Change Impacts Assessment
Scientists and decision makers from across the state are working together to develop a series of easily understandable reports that shows how a changing climate will affect state and local interests. Led by the Purdue Climate Change Research Center (PCCRC), the Indiana Climate Change Impacts Assessment (IN CCIA) provides the latest scientific research to help Hoosiers understand and prepare for the impacts of a changing climate.
State of Indiana Waters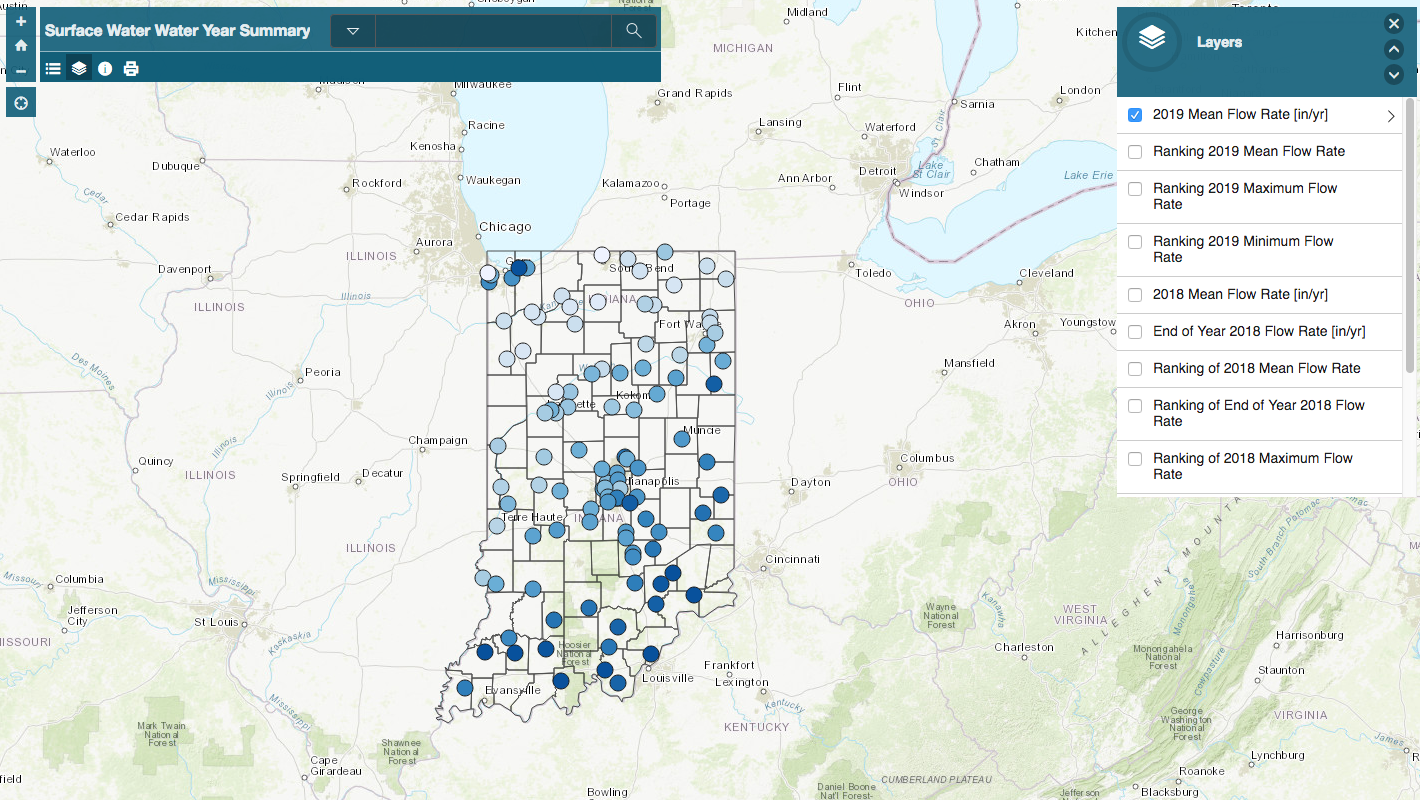 The State of Indiana Waters is an online resource where you can monitor current water conditions, review a summary of the previous water year, and view long-term surface and ground water trends. This site, developed by Purdue University scientists, brings together trusted resources into a one-stop portal to help you stay up-to-date on water conditions and trends in Indiana.
Transforming Drainage: Managing Water for Tomorrow's Agriculture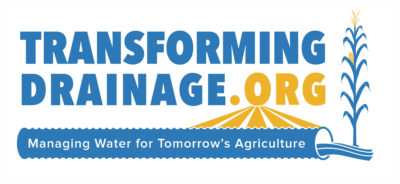 Transforming Drainage is a collaborative effort to answer important drainage management questions through the assessment and development of new water storage practices and technologies. Increasing water storage on the landscape can provide greater water security for growing crops while supporting water quality efforts, which are of growing interest to landowners and the public.
Rural Indiana Stats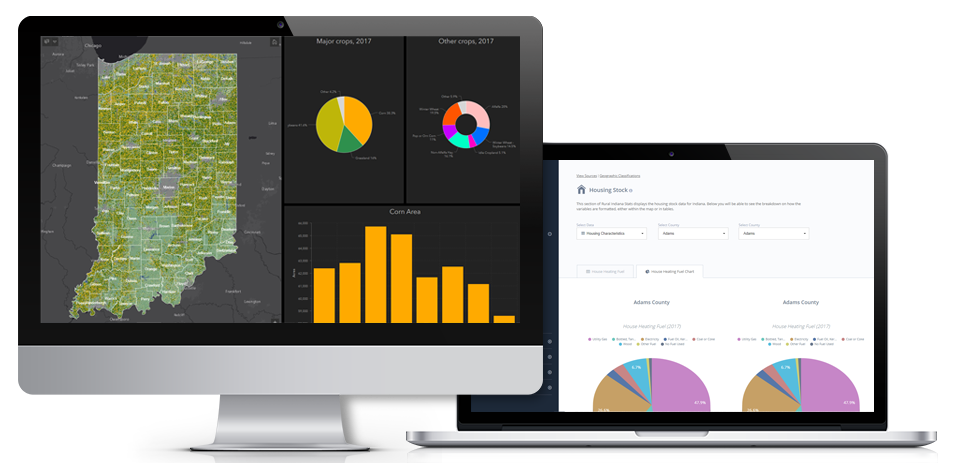 Rural Indiana Stats is a powerful, web-based tool designed to provide individuals, leaders, organizations and agencies with access to a basic set of data that can used to guide and inform their program and investment activities. It is designed to offer access to a core set of statistical data on Indiana's 92 counties. Datasets include housing, fiscal, socio-economic, agriculture & forestry, and digital inclusion.
Indiana State Climate Office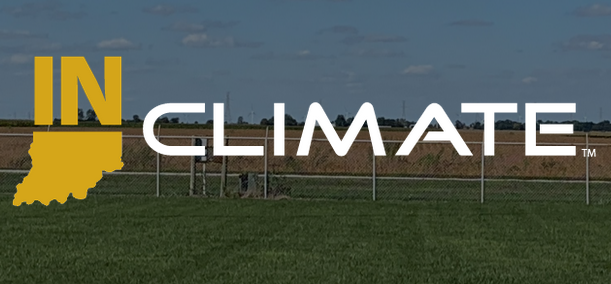 The Indiana State Climate Office (IN-SCO) collects and maintains historical weather observations that are critical to understanding our state's shifting climate. The IN-SCO also provides real-time access to weather data, climate summary maps, and various tools that help keep Hoosiers safe and productive.
Climate Conversations in the Hoosier State
The PCCRC is committed to supporting productive dialogues about climate change throughout Indiana. Through community gatherings, professional meetings, and educational events around the state, since 2018 we've engaged over 11,000 Hoosiers in these conversations.
Contact us (pccrc@purdue.edu) if you're interested in having a PCCRC faculty or staff affiliate speak at your next event. Our experts are available to discuss a wide range of climate change topics, from a local to global perspective, including:
Agriculture
Climate observations and predictions
Ecological impacts
Energy infrastructure
Extreme weather
Paleo-climate
Perceptions of climate change and human behavior
Water and soil resources
What do Hoosiers think about climate change?
think global warming is mostly caused by human activities
think global warming will harm them personally
discuss global warming at least occasionally
Source: Yale Climate Opinion Maps, 2020
"For years, the images shown to us and the language we've used has made it really difficult for Hoosiers to see climate change as an urgent local issue. With the Indiana Climate Change Impacts Assessment, we're changing the conversation and helping Hoosiers understand the ways a shifting climate affects our day-to-day lives."
-- Melissa Widhalm, IN CCIA Coordinator
Climate + Faith
For Carla Kilgore, simple living is a tenet of her faith that directly translates into caring for our environment and neighbors. In her household, this means taking steps to reduce their own contributions to climate change.
Is Indiana's Climate Changing?
Over the last century, weather observations show that Indiana has become warmer and wetter. Indiana scientists have concluded these climate trends will continue and intensify, affecting the health and wellbeing of all Hoosiers.
Number of 90°F days per year
Past: 20 | 2050s: 74
Average coldest day of the year
Past: -7°F | 2050s: 0°F
Average date of last spring freeze
Past: April 20 | 2050s: April 5
Percent change in spring rainfall
2050s: +16%
Above data shows a comparison of historical conditions and future predictions for mid-century (average for the period 2011 to 2041) in central Indiana. Predicted values are based on a "business as usual" scenario where there are no changes to the amount of heat-trapping gases entering the atmosphere. Data are from the Indiana Climate Change Impacts Assessment report Indiana's Past and Future Climate compiled by experts at Purdue University, University of Notre Dame, Indiana University, Ball State University and the Midwest Regional Climate Center.

Climate + Youth
Student and youth organizer Iris O'Donnell Bellisario explains why she's passionate about fighting climate change and the unique ways she's spreading awareness about this important topic.
Climate + Birds
A warming climate is altering the migration patterns of Midwestern birds. Wildlife ecologist and life-long bird watcher Barny Dunning shares his thoughts on the changes he's seen over the last 20 years in Indiana.
Climate + Soil
According to third-generation farmer Chris Mulkey, rainfall is on the rise and threatening his most precious resource, the soil. Mulkey shares what he's doing to leave this land in better shape for his kids, and their kids.