State assessment puts global change into local perspective
The Indiana Climate Change Impacts Assessment (IN CCIA) is a collaborative effort to provide professionals, decision makers, and the public with information about how climate change affects state and local interests throughout Indiana, USA. This assessment effort has three interrelated goals: (1) analyze and document the best available climate change impacts research, (2) develop and maintain a network of stakeholders and experts, and (3) start a dialog about climate change throughout Indiana. The project adopted a process that prioritized stakeholder engagement, re-envisioned traditional dissemination approaches, and that had limited state government involvement, setting the IN CCIA apart from most other state climate assessments (SCAs) in the USA. This overview [provided in Widhalm and Dukes 2020] describes the motivations, principles, and processes that guided the IN CCIA development, explores how Indiana's approach compares with those of other SCAs, and briefly summarizes the papers presented in [a] special issue [published in the journal Climatic Change]. As interest in SCAs grows in non-coastal and politically conservative locations, the IN CCIA serves as one example of how a bottom-up assessment with limited funding can deliver credible climate science to diverse stakeholder groups in the absence of state-level mandates or direction and attract public attention over an extended period of time.
The above abstract originally appeared in the publication titled "Introduction to the Indiana Climate Change Impacts Assessment: overview of the process and context" in the journal Climatic Change.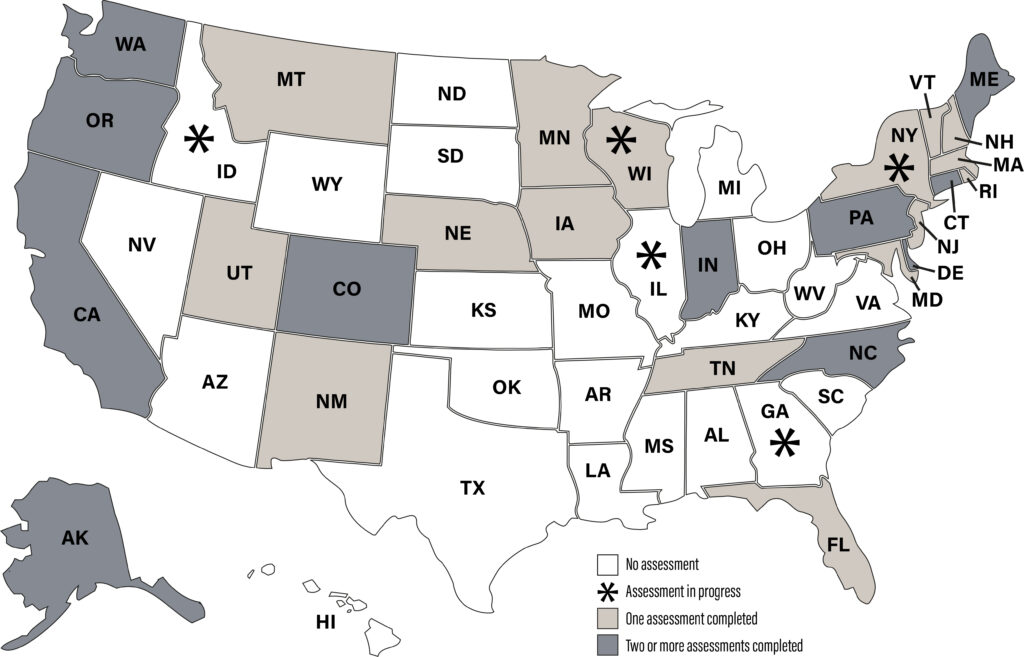 Above: Status of state climate assessments in the USA as of 2020. 
Additional publications discussing the Indiana Climate Change Impacts Assessment:
UPDATE 3/18/21: An additional publication has been added to the IN CCIA Special Issue
You can view the full issue from the Springer Nature / Climatic Change website directly at: https://link.springer.com/journal/10584/volumes-and-issues/163-4 (subscription required).