What does resilience sound like?
Images of the destructive power of extreme weather events—incinerated landscapes, massive forest defoliation, broken coral reefs, splintered homes, waterlogged communities and coastlines—are regular features in today's news feeds. Researchers studying these events follow-up with charts, graphs, and animations, providing additional ways to visualize the impact of these storms. But what about the sounds? What can the silence that follows disruptive events tell us? A Purdue-led research team had the unusual opportunity to study just that.
Natural disturbances temporarily disrupt the structure and function of natural ecosystems. After lightning-sparked fires, insect outbreaks, droughts, and hurricanes, some species will survive others collapse, and still others thrive. The historic patterns (severity, frequency and timing) of disturbance events have provided critical information about ecosystem resilience, an indication of how much disturbance a system can absorb before it changes stable states. This information has helped scientists and natural resource managers better predict disturbance impacts, estimate the loss of ecosystem services, and design adaptive management strategies.
But in today's world of rapid climate change and accelerating biodiversity loss, disturbance regimes are also changing, and it is becoming increasingly difficult to predict how ecosystems will respond to new or intensifying disturbances. This is particularly true of animal communities for which data are already scarce. An emerging remote sensing technology, the recording and analysis of soundscapes, offers a new way to study ecological resilience in a rapidly changing world.
Funded in part by a PCCRC graduate student travel grant, Benjamin Gottesman, and advisor Prof. Bryan Pijanowski traveled to southwest Puerto Rico where they deployed acoustic recorders to explore the soundscape dynamics in adjacent marine and terrestrial coastal habitats. Their plans changed when Hurricane Maria, a powerful category 5 storm, tore through the island and they directed their focus on the impact of this intense disturbance event.
"This project was far from what we originally planned," said Gottesman. "I still remember those nerve-racking first few days after the storm, trying to get in touch with our Puerto Rican colleagues, who went out into the field even before power was fully restored to make sure the recording units were functioning properly. The data that we ended up with shows how valuable soundscape monitoring can be to measure the unpredictable, whether it's a hurricane, wildfire, chainsaws, or gunshots."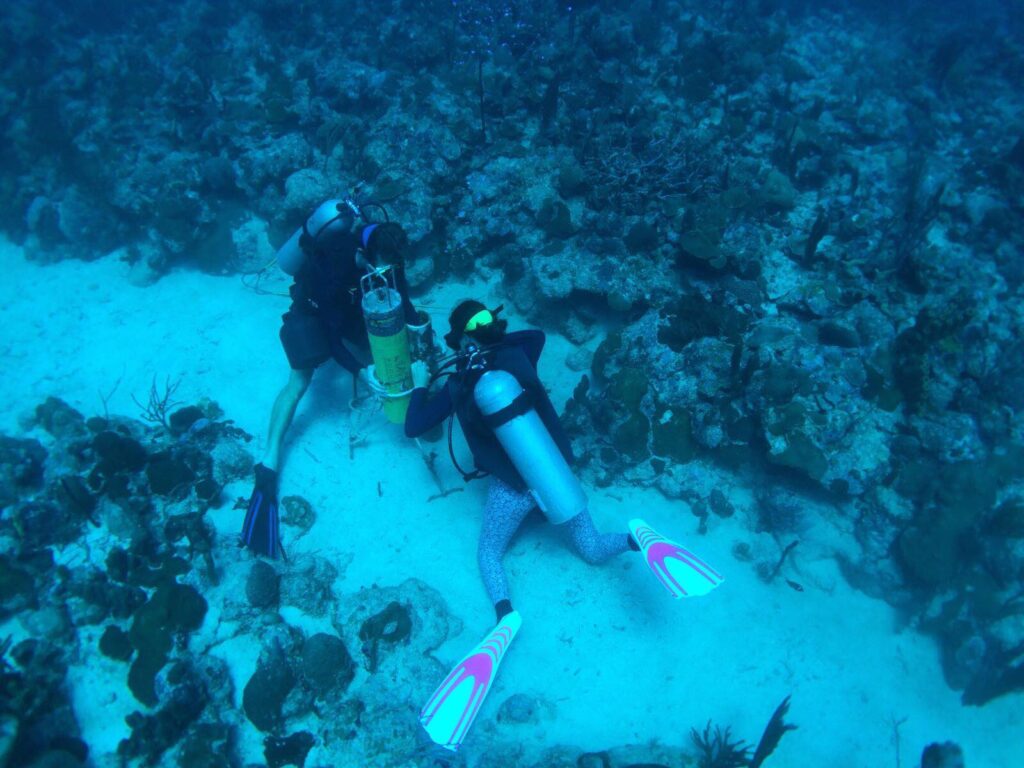 Above: Researchers deploy a hydrophone, a microphone that records sound underwater, on a coral reef shelf edge habitat called Weinberg Reef.
Credit: Jack Olsen, Rebecca Becicka, Alex Veglia
Using recordings collected between March 2017 and January 2018, the research team, which included collaborators from Puerto Rico, Colombia, Germany, and the U.S., measured three dimensions of resilience in coral reef and dry forest ecosystems to study the impact of Hurricane Maria, which struck the island in September 2017. Specifically, they measured the magnitude of the impacts (resistance), the spatial patterns of the impacts (heterogeneity), and the diversity and timing of responses among different species and functional groups (recovery)—across eight sound types representing broad taxonomic groups (fishes, shrimps, insects, and birds).
The researchers found that all sound types within the dry forest were significantly impacted, with two of the three insect choruses and bird vocalizations at dawn declining by half in the weeks following Hurricane Maria. In contrast to the dry forest system, the relatively small change observed in marine soundscapes indicates the coral reef communities at the study sites were resilient to the storm.
"Sounds of Resilience"
Listen to the very rich marine soundscape featuring snapping shrimp, a fish chorus, other calling fish, and echolocating dolphins. Recorded around midnight on October 28, 2017 after the storm.
"To assess the resilience of both terrestrial and marine systems from the same disturbance, we needed to rely on a universal variable that allows us to measure animals in both communities at the same time. That universal measure is sound," said Pijanowski. "Not only does it allow us to measure animal communities at the same time, it provides scientists with a means to measure this for a long time, as any recovery to a disturbance takes time."
Several studies have recently demonstrated remarkable resiliency of dry forest ecosystems to disturbance, including intensifying hurricane regimes; however, those studies have mainly focused on the resilience of vegetation and soil, as opposed to animal communities. Given the functional roles of animals in maintaining ecosystem structure and function (e.g., seed dispersal and herbivory), assessing the resiliency of animals to changing disturbance regimes is necessary to predict overall ecosystem resiliency. For the coral reef system observed in this study, the capacity to recover stems in part from the resident fish and mobile invertebrates, which maintained critical reef-sustaining functions post-disturbance.
"Measurements of animal acoustic diversity are truly becoming a great way to provide rapid assessments of biodiversity at different scales," said Pijanowski.
Overall, the study demonstrates that soundscape methodologies can help to quantify elusive dimensions of animal community resilience in order to better understand where, when and how altered disturbance regimes transform ecosystems. For Pijanowski, soundscapes provide more than data; they offer opportunity for deep connection with nature.
"Our research on sounds on Earth often transcends science," said Pijanowski.  "I find the sounds of our oceans to be uniquely beautiful. They are rarely experienced by people, despite being important characteristic of these ecosystems. Experiencing the sounds of coral reefs in particular is much like experiencing the sounds of tropical rainforests, these are acoustic hotspots that reflect the astounding diversity, complexity, and inherent rhythm of nature that pervades much of life on Earth."