Search our entire resource library
You're viewing a specific archive. Looking for something and want to search by keyword or just take a general look at ALL our resources? Click Search below!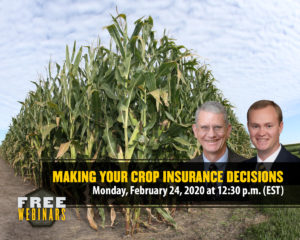 Monday, February 24, 2020 at 12:30 p.m. (EST) | Join us online, it's free! Purdue agricultural economists, Nathan Thompson and James Mintert will discuss 2020 crop insurance choices and provide insight into decision making for corn and soybean farmers.
Read More
Choose from 3 Indiana locations in February and March 2020 | Take part in a free workshop focused on helping improve farm profitability in 2020. Each workshop provides farmers an opportunity to improve both their crop marketing and financial management skill sets.
Read More