ACTIVE PROJECTS
COVID-19 has significantly disrupted how families function. Pandemic-caused stress increases the risk
of family violence, including child abuse and neglect. A key strategy for reducing family stress and thereby mitigating child abuse is to strengthen family resilience — the ability of families to withstand and rebound from adversity.
This project will promote and strengthen family resilience in at-risk families by adapting the Families Tackling Tough Times Together (FT) program, an initiative of the Purdue College of Health and Human Sciences. With the support of Lafayette-based Bauer Family Resources, whose mission is "Creating brighter tomorrows by strengthening families today," this study will refine the FT curriculum for Bauer's Community Partners for Child Safety (CPCS) program and train staff to implement it. Based on pilot data and CPCS outcomes, the study will provide updates to Bauer and Extension educators, many whom helped develop the initial program, and form the basis of information sessions.
PROJECT LEADER
Cézanne Elias
Clinical Assistant Professor of Human Development and Family Studies
Indiana is the number-one producer of Pekin ducks for human food in the U.S., and the U.S.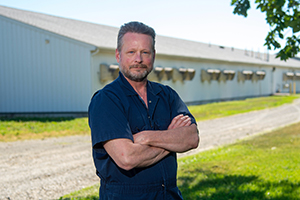 is the third largest producer in the world. The ducks are exposed to stressors that impact their welfare and increase production losses, but a way to identify a new or developing stressor in the poultry house currently does not exist. Scientists have established, however, that bird vocalizations relate to physiology and behaviors.
This project uses basic research toward a novel tool for earlier recognition of changes in poultry houses. It combines experiments in lab and commercial barn settings to develop a repertoire of duck vocalizations and assess their effects on physiology, behavior and welfare. Teams of graduate and undergraduate students from biological sciences and animal sciences will work together on this effort to improve welfare conditions and production of meat birds — and perhaps to inform future digital technologies to manage the next-generation poultry house.  
PROJECT LEADER
Gregory Fraley
Terry and Sandra Tucker Family Endowed Chair of Poultry Science
Children and adolescents employed on farms have increased risk of injury, heat stress, pesticide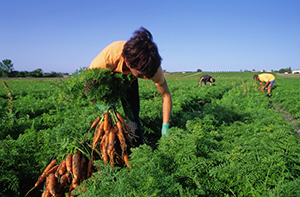 exposure, psychological stress and educational deprivation. Many are migrant and seasonal Latino farmworkers (LFW youth), who are made more vulnerable by mobility and marginalization. Purdue researchers recently began a longitudinal cohort study of how family context affects LFW youth's mental and physical health. This study will expand that effort to examine the effects of workplace factors and access to community-level resources.
This project will quantify demands for LFW youth labor, develop a gap map of resources in Indiana, and identify LFW youth needs and barriers to good health and well-being. The researchers' ultimate goal is to identify services and interventions that can be nested in Extension and other programs to improve health and well-being for LFW youth and their families in rural Indiana.
PROJECT LEADER    
Nilupa Gunaratna
Associate Professor of Public Health
Among the most frequently reported causes of honey bee colony loss is queen failure due to poor
mating. Queens mate once during their lifespan and fail to lay eggs if mated with males (drones) with low-quality sperm. Results from a high-throughput screen for drone fertility that these researchers developed suggest a genetic component to fertility.
This study will provide insights into the genes and gene networks that regulate reproductive variation to better understand the mechanisms underpinning drone male fertility. Researchers will create a reference population to predict fertility from sequence data — transformational to understanding bee fertility and an important first step to incorporating genomic selection into bee breeding. Results would be portable to industry and provide a means for beekeepers to "select" for the most fertile colonies for breeding.
PROJECT LEADER
Brock Harpur
Assistant Professor of Entomology
Foodborne illness and spoilage are major food safety and waste challenges in the meat industry.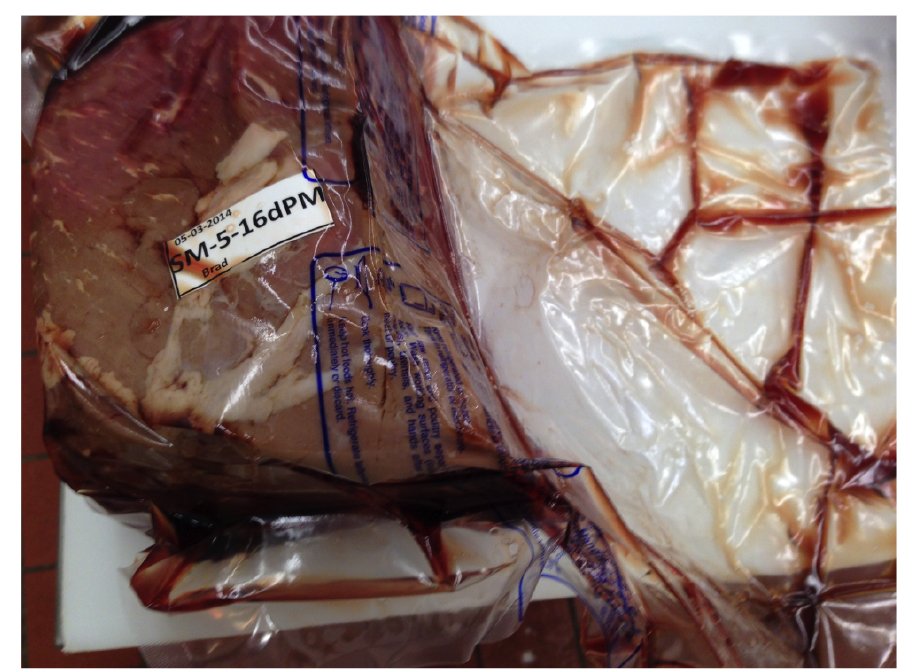 Consumers reject fresh meat products that show signs of spoilage — a problem particularly critical for fresh cuts from aged beef products.
This project builds on recent pilot studies of the microbial ecology and mechanisms underpinning spoilage and growth of foodborne pathogens in specific muscles under different aging schemes. It will identify key compounds in beef exudate associated with microbial metabolic characteristics during aging, and lay the groundwork for using beef exudate as a new way to predict meat freshness and safety. Future development of a simple biomarker-based prediction model and biosensor detection systems may be able to predict meat quality and safety in other fresh meat products such as poultry, pig or lamb as well as processed meat. This new knowledge could lead to discoveries that improve future productivity and profitability of the U.S. meat industry while giving consumers safer and healthier meat products.
PROJECT LEADER
Yuan H. "Brad" Kim
Associate Professor of Animal Sciences
Mobile small RNAs (sRNAs) are long-distance signaling molecules involved in plant growth and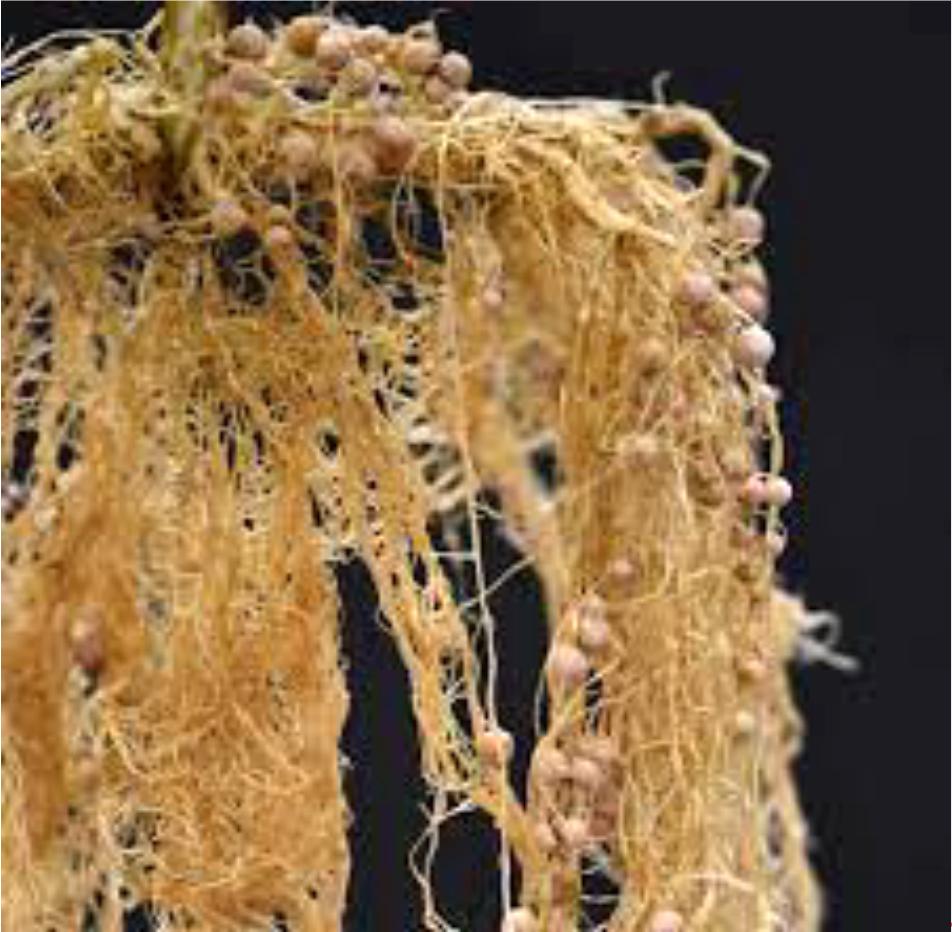 development and responses to environmental cues. However, little is known about how they work in legumes to produce root nodules for symbiotic nitrogen fixation. Research recently identified a set of shoot-to-root mobile microRNAs using heterografted and homografted soybean and common bean plants and found that a particular mobile microRNA regulates plant growth. Increasing its abundance in soybean roots promotes plant growth; blocking it results in symptoms of nutrient deficiency, including yellow leaves and stunted growth.
This project seeks to understand the physiological and molecular mechanism by which this microRNA regulates plant growth.  In particular, this project aims to determine whether a particular mobile microRNA in soybean promotes the plant growth by taking up more nutrients or enhancing root nodulation and symbiotic nitrogen fixation and whether it plays a role in modulating the crop's productivity and grain yield in the field.
PROJECT LEADER
Jianxin Ma
Professor of Agronomy
Succession is a critical issue for Indiana farmers, who need different tools for succession planning and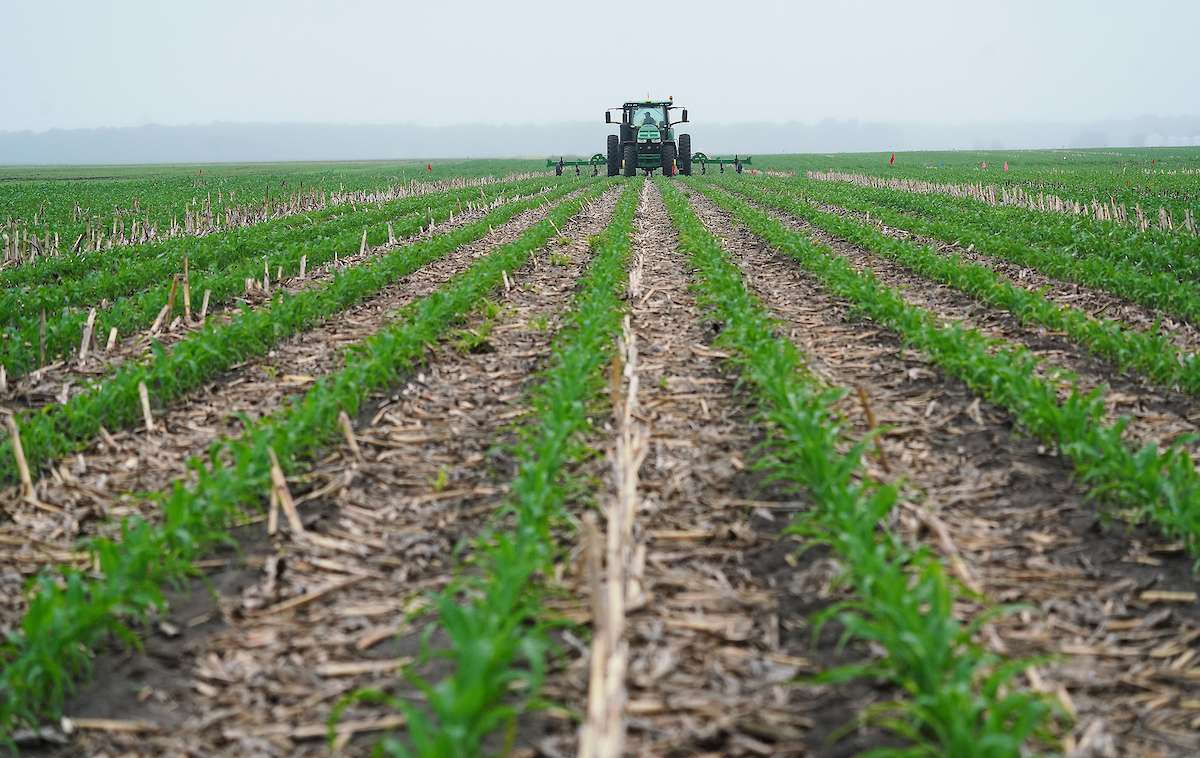 farm transfer. Extension's one-size-fits-all approach to succession programming does not always provide the guidance and tools that farmers need. Nor does it consider farmers' different stages of mental and financial readiness to retire.
This project will survey Indiana farmers as the basis for a succession toolkit and roadmap for different groups of farmers and their families. The toolkit will integrate perspectives from Agriculture and Natural Resources, Health and Human Services, 4-H, and Community Development. The team will also conduct webinars with Indiana stakeholders and professional development for Extension educators. The findings from the Indiana survey will be used to apply for funding to not only conduct a nationwide survey but also succession workshops for farmers, workshops to teach youth to be productive stewards of their family's operation, and host professional development to train Extension educators.
PROJECT LEADERS
Maria Marshall
Jim and Lois Ackerman Endowed Chair in Agricultural Economics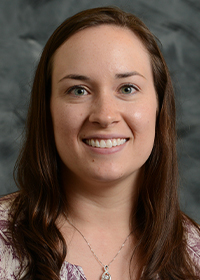 Renee Wiatt
Family Business Management Specialist, Agricultural Economics
Increasing agricultural productivity in a changing climate demands better crop water-use efficiency,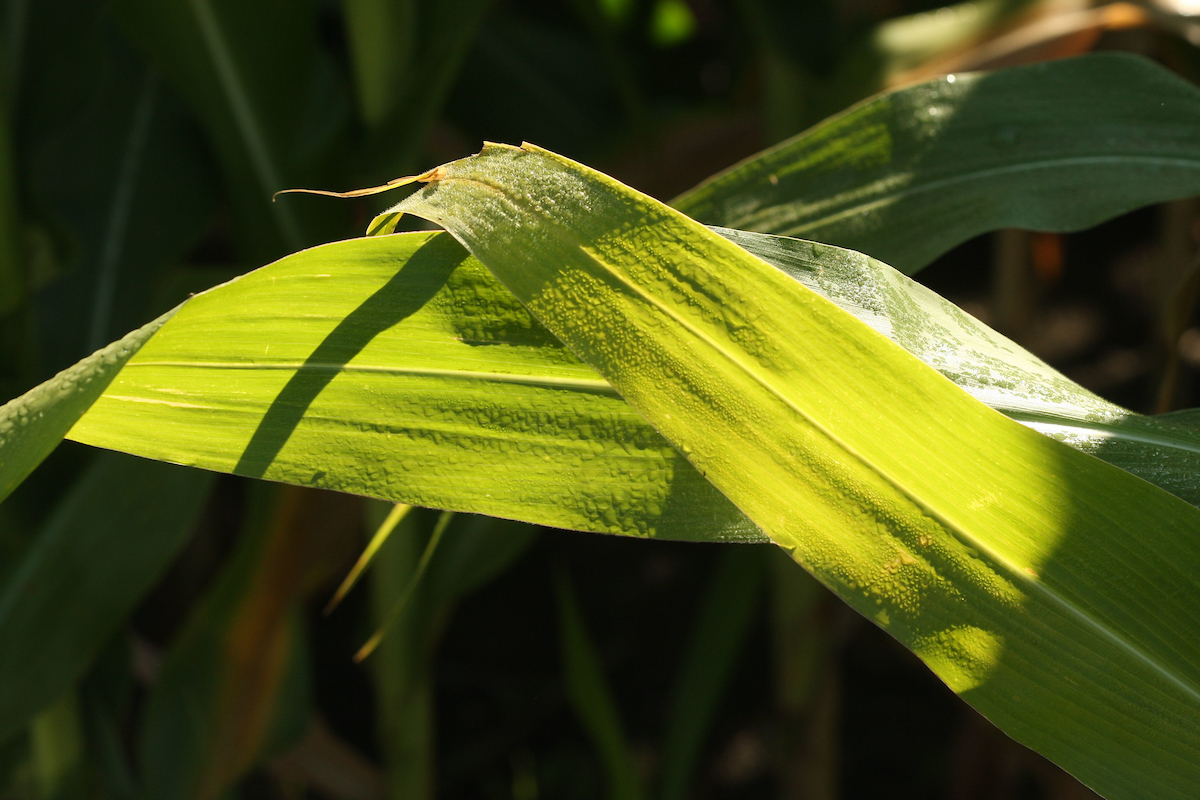 especially in rain-fed cropping areas such as the U.S. Midwest. Scientists have searched for genes to improve yield stability under these dynamic conditions for years, with few tangible results.
This project builds on research that identified genetic loci for stomatal anatomy traits in a preliminary analysis of a recombinant inbred line (RIL) population. The goal of the project is to determine if modulating stomatal traits can improve water-use efficiency. The RIL population will be screened in the field to identify physiological traits that vary with changes in leaf anatomy traits. Researchers will use this data to map expected and new loci associated with anatomy and physiology. Hybrids will then be developed and used to determine if reducing stomatal pore area can increase water-use efficiency by reducing transpirational water loss without also reducing CO2 intake.
PROJECT LEADER
Michael Mickelbart
Professor of Botany and Plant Pathology
Nutritional requirements of beef cattle vary with age, stage of production, genetic potential and desired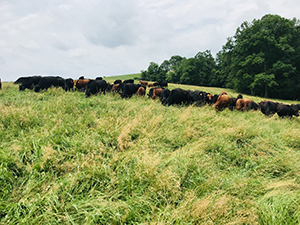 performance. Meeting individual nutrient requirements in a group setting such as a pasture or drylot environment has been impractical because cattle are typically managed for group average. However, Super SmartFeed™ technology allows prescription feeding of individual animals in a group using on-board programming and real-time data collection, and by identifying individual behavior associated with productivity.
This project uses the Super SmartFeed™ system study the effects of individual supplementation on beef heifer performance, behavior and welfare. Researchers will develop training for Extension educators on safe and low-stress cattle handling procedures as well as using new technologies for guiding producers' decisions. This first experiment addresses a producer-identified problem of reproductive competence in yearling heifers during the early spring breeding season, and provides a corresponding training program for Extension Educators to connect applied, on-farm research with local producers.
PROJECT LEADER
Nicholas Minton
Beef Systems Specialist, Feldun PAC
The veterinary field widely views hyperketonemia as a metabolic disorder universally bad for postpartum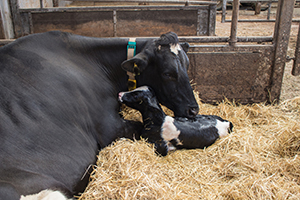 cows' health and performance. Different research groups are now questioning whether hyperketonemia without clinical signs is a true disorder, as a high degree of lipolysis in early lactation has been associated with increased milk production. Inappropriately classifying a positive trait as a disorder can adversely affect both dairy cattle health and farm economics.
This study hypothesizes two groups of postpartum hyperketonemic cows: those that stay healthy versus those that will succumb to diseases and/or experience production losses. It uses artificial intelligence and machine learning algorithms to integrate data from rumination collars and automatic milking systems with cow-level blood β-hydroxybutyrate (BHB, the major ketone body in ruminants) to differentiate when hyperketonemia is a positive or negative trait in early-lactation dairy cows. Researchers also will create an algorithm to predict the true disorder.
PROJECT LEADER
Rafael Neves
Assistant Professor, Food Animal Production Medicine
About 33 percent of Marion County residents live in limited food access areas, and the percentage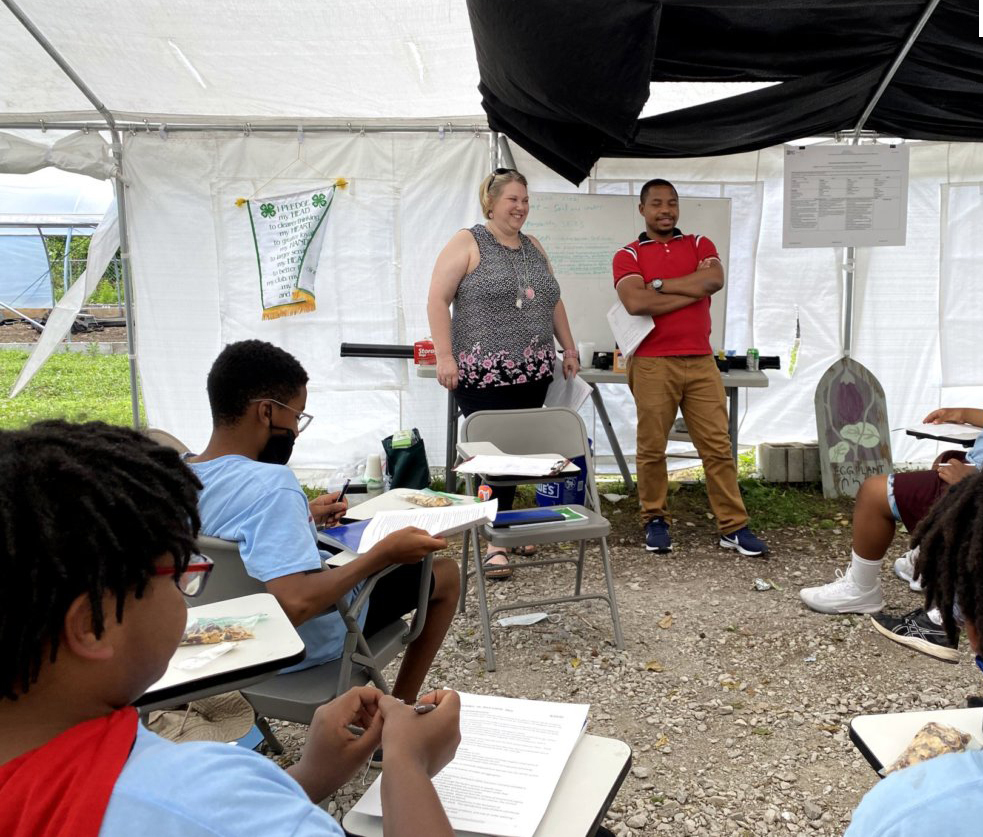 increases in densely populated and underserved communities. Lack of fresh produce and limited jobs for minority youth have led to high rates of malnutrition and unemployment. Better understanding of how entrepreneurial training in urban farming for minority youth creates jobs and increases residents' access to fresh produce can inform policy makers and practitioners.
The Urban Farming Entrepreneurship Program will work with Felege Hiywot Center to offer this training through focused workshops and hands-on activities. Youth will showcase their projects, and the best small business plans will be supported with micro grants. Desired outcomes are to increase interest in urban farming and teach youth how to start and run successful and sustainable urban farming businesses. Long term, this project can decrease unemployment and improve nutrition among minority youth in the program community.
PROJECT LEADER
Kathryn Orvis
Associate Professor of Horticulture
Rural well owners are responsible for maintaining their drinking water infrastructure, but many avoid
testing due to inconvenience and cost. Other owners, uncertain about water safety, use alternative drinking water like bottled water. Better information about threats to well water quality could help Indiana well owners take control of their water safety and make informed decisions that affect their health.
This team will investigate microbial risks in well water by sampling wells and surveying well owner knowledge and opinions. A microbial testing pilot program will intensively characterize water from wells with known issues. In cases of fecal contamination, microbial source tracking will help identify the source, allowing for better well protection practices. Other microbial threats, including opportunistic pathogens, will also be quantified. The research will link well characteristics to water quality issues. Results will inform new Extension education products and create preliminary data for future studies.
PROJECT LEADER
Caitlin Proctor
Assistant Professor of Agricultural and Biological Engineering
The Northern leopard frog, Rana pipiens, has long been an excellent model system in the study of
endocrine disruption, cancer and drug discovery, conservation biology and ecotoxicology. However, the absence of a reference genome for this native of Indiana, the northern U.S. and Canada limits its utility in multiple disciplines. More broadly, the large and diverse amphibian group is among the least available in animal genomes.
The goal of this project is to generate a high-quality draft genome assembly of the triploid R. pipiens using long and short-read sequencing technologies and a comprehensive gene call set using already sequenced transcriptomic resources. A genome of the Northern leopard frog would not only increase the diversity of current amphibian genome resources, but would also solidify this species as a tractable model for investigating historical, ongoing and new avenues. This genome would be invaluable to research at and beyond Purdue.
PROJECT LEADER
Maria Sepúlveda
Professor of Ecology and Natural Systems
Understanding how to evaluate, combine and deploy new genetic variation is a cornerstone of varietal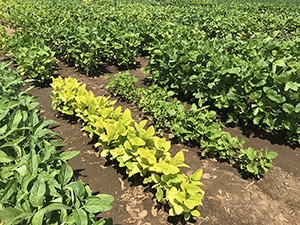 crop improvement. As climate change increases the environmental variability in production systems, the capacity to predict the performance of novel genotypes in untested scenarios is more critical than ever. Physiologically realistic process-based models that account for interactions between plant and environment have been called on to contribute to these predictive efforts, but their potential has remained largely untapped for breeding because of challenges associated with large-scale parameterization and model design.
This project will gather data to provide a proof-of-concept for architecting new physiological process-based models using genetic variation as a key organizing concept. Researchers will assemble a tractable, biogeographically diverse, genotyped panel of soybean comprised of landraces and elite varieties/breeding lines adapted to Indiana; collect a comprehensive physiological dataset on this panel; and assess broad- and narrow-sense heritabilities of model parameters, their baseline variation under non-limiting conditions and feasibility of scaling up real-world measurement. The collected datasets will be used toward developing a new physiological model for soybean that can be deployed across large germplasm panels.
PROJECT LEADER
Diane Wang
Assistant Professor of Agronomy
Chloroplasts are photosynthetic organelles that originated via endosymbiosis about 1.5 billion years ago.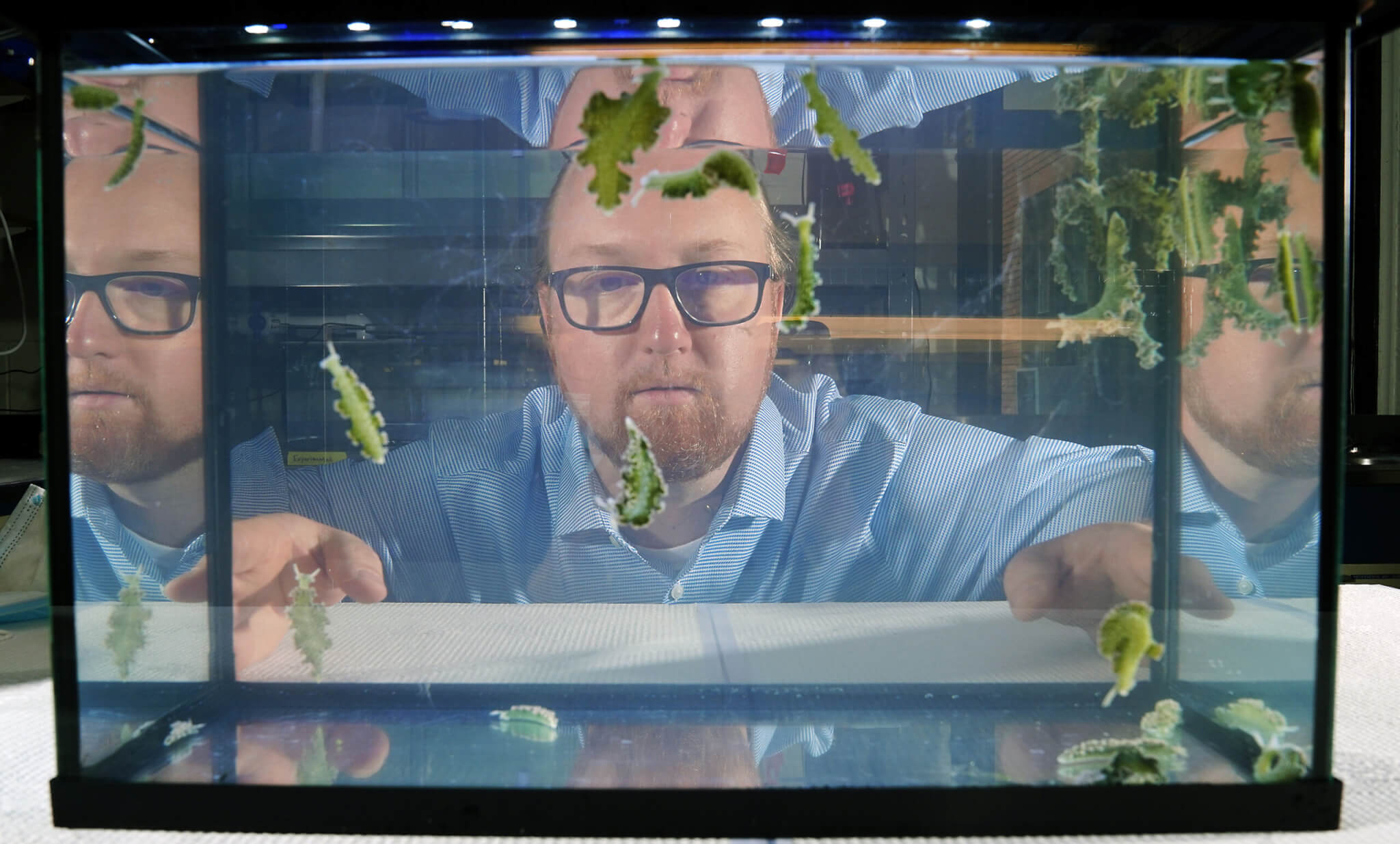 This primary event gave rise to plants, algae and their photosynthetic descendants. The genomic and molecular transitions that occurred in the eukaryotic host and the cyanobacterial endosymbiont during plastid endosymbiosis remain a great mystery in biology.
With improved molecular resources and genetic tools, this project explores the earliest and least understood stages of endosymbiosis using as a biological model Elysia clarki, a photosynthetic sea slug that uses solar energy via chloroplasts stolen from its algal prey, Byopsis plumosa. Researchers will sequence the plastid genomes from E. clarki and B. plumosa and compare their proteomes to identify prerequisite candidate proteins involved in chloroplast thievery. Understanding chloroplast integration in E. clarki will provide a blueprint for next-generation synthetic biology, allowing introduction of foreign organelles into cells for applications related to agriculture, medicine and the environment.
PROJECT LEADER
Joshua Widhalm
Associate Professor of Horticulture