How to Identify Insects to Order
How to Identify Insects to Order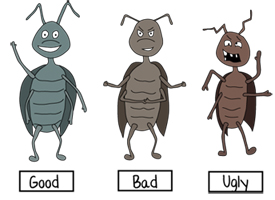 Part of making an insect collection is learning how to correctly classify the specimens. This is a very challenging assignment, because there are so many insects and so many of them look alike. Do not be discouraged if there are specimens that cannot be identified. Remember that even professional insect taxonomists (entomologists who identify and classify insects) cannot identify every species of insect. Some must specialize in working with one group and others with another group.
Classification, the grouping and naming of insects, is an ever-changing science. Insect specialists separate and combine groups of insects based largely upon their morphological similarities, some having more influence in a decision than others. As such, this process is somewhat subjective and, thus, dynamic. A student of entomology may find slight differences in classification schemes depending upon which reference or which entomologist they consult, and these may change over time.
Not all orders of insects are the same size. For example, more than one-third of the named species of insects (300,000) are in one single order, the Coleoptera (beetles). The next largest orders are Lepidoptera (butterflies and moths), with 150,000 species; and Hymenoptera (wasps and bees), with 125,000 species. The order Diptera (flies) includes about 20,000 species. These four orders, Coleoptera, Lepidoptera, Hymenoptera, and Diptera, comprise more than 80 percent of the named species of insects.
Approximately 92,000 named species of insects occur in the United States and Canada. It is not known how many of these species occur in any one state or in even a small area within a state. A list of insects in New York, published in 1928, included more than 15,000 species, but hundreds of species have been discovered there since that time. States such as California, Arizona, Texas, and Florida probably far exceed the Midwest and Northern states in the total number of species of insects.
Estimates of the number of species for three representative states and also for all of USA and Canada are provided as an indication of the number of species that insect collectors may expect to find (Table 1). A collector who can find one or more representatives of each of the 24 orders discussed in this book will have a very diverse collection, and in so doing will learn a great deal about insects and their habits.
Table 1. Estimated Number of Species
Order
North Carolina
New York
Indiana
USA & Canada
World Wide
Collembola
169
200
200
314
9000
Thysanura
6
5
7
25
900
Ephemeroptera
121
61
120
690
3100
Odonata
148
159
150
425
5500
Dictyoptera
23
15
20
101
5800
Orthoptera
235
121
150
925
20000
Dermaptera
7
4
5
18
2000
Isoptera
5
1
5
41
2900
Plecoptera
94
59
85
408
2000
Psocoptera
37
38
30
150
4400
Mallophaga
164
53
90
318
4000
Anoplura
11
11
15
62
900
Thysanoptera
64
71
150
600
5000
Hemiptera
568
727
800
4600
40000
Homoptera
759
864
900
6700
50000
Neuroptera
68
61
65
338
6500
Megaloptera
9
10
15
61
300
Coleoptera
3336
4546
4424
30000
350000
Mecoptera
27
20
20
89
600
Trichoptera
161
174
210
980
11000
Lepidoptera
1428
2439
2000
10100
150000
Diptera
2595
3615
3600
17000
120000
Siphonaptera
14
26
28
250
2500
Hymenoptera
2463
2300
2800
17000
125000
With so many different insects, and with them occurring in so many different places, it is no wonder that assigning common names is difficult and sometimes confusing. For example, the common name "stink bug" may be given to one insect in one part of the country and to a completely different insect in another part of the country. To reduce this confusion, a list of accepted common names has been developed by the Entomological Association of America. This list (Common names of Insects and Related Organisms 1997) includes many, but not all, common names.
An average person seldom uses scientific names, but refers to insects by common names such as "beetle," "blister beetle," or even "black blister beetle." In this example, the common name "beetle" may refer to any of thousands of insects belonging to the order Coleoptera. "Blister beetle," on the other hand, is a common name for all members of the family Meloidae, a subset of the order Coleoptera. "Black blister beetle" is the common name for Epicauta pennsylvanica, a particular species of insect. So, even though common names are very important and widely used, not all of them refer to individual insects. That is why standardized scientific names are necessary, especially to professional entomologists and insect collectors.
All insects belong to the class INSECTA. Within this class many ORDERS of insects exist. This booklet describes how to classify the insects into one of 24 Orders. Within each order, many FAMILIES may exist. Within families, many GENERA occur and, likewise, within Genera, many SPECIES exist. A general understanding of the scientific nomenclature and rank order of associated names is important for collectors. For example, in the blister beetle illustration below, a collector should know that the basic nomenclature is as follows:

    Class = Insecta
      Order = Coleoptera
        Family = Meloidae
          Genus =
Epicauta
            Species =
pennsylvanica
All specimens in an insect collection should be identified at some level. Amateur collectors gain a good knowledge of insects by first classifying them according to their order name. An order is a name applied to a large group of insects having similar characteristics. For example, all butterflies and moths belong to the order Lepidoptera; all beetles, regardless of size, shape, or color, belong to the order Coleoptera; all flies belong to the order Diptera, and so forth.
In this book we will discuss the 24 orders listed here. Make a checklist of the insect orders you collect and display; it's a valuable organizing tool.
For professional entomologists and those who have sufficient interest, orders of insects can be further broken down. Orders are broken down into families, the families into genera, and the genera into species. Professional entomologists generally study insects at the genus and species level. The first word of an insect's scientific name is the genus to which it belongs, and the second word is the species name.
The Pictorial Key to the Order of Adult Insects included in this book should help you classify specimens to the order level. Similar keys exist for families, genera, and species separation, but are beyond the scope of this book. This book, as well as most field guides, also provides common names of the more frequently collected insects.
An insect collection check list is provided here for field collecting the insects required in this text.
Color, size, and markings of an insect, together with written information as to where it was found (locality) and what it was doing (behavior) allow an experienced entomologist to identify insects quickly. However, it should be stressed that this is not always a clear-cut process. Beginning entomologists should become familiar with the use of the order keys to avoid misidentifying insects that look alike. In addition, expertise in working dichotomous keys is a foundation for more in-depth identification (to the family, genus, or species level). The following chart depicts the current most commonly recognized orders of insects. In this publication we describe 24 common orders of insects, most of which can readily be collected in every state. Additional orders such as Protura, Diplura, Zoraptera, and Embioptera are rare and seldom encountered even by the most experienced collectors.
A dichotomous key is a tool that allows the user to determine the identity of insects based primarily upon what the insect looks like (its morphology). A key consists of a series of choices that lead the user to the correct name of a given insect. "Dichotomous" means "divided into two parts." Therefore, dichotomous keys always give two choices in each step. In this book, we present a dichotomous key for the classification of adult insects into their proper orders.
Start at the beginning of the key, and as you study the insect in question, you will be given a set of two mutually exclusive choices. Depending upon the answer to the question, you will either learn the proper order of the insect or you will be directed to another set of questions.
Eventually your choices will lead you to the name of the insect order. Once an insect is identified to order, you can assume that much of the biology, distribution, and key behaviors of the insect in question, are similar to other insects in the order.
Experience in working through the keys will help tremendously. Sometimes particular specimens are difficult to classify, even with the key. On occasion, a rare specimen may not easily key out. Do not be discouraged. Consult with a person who is well trained in classification, or contact a professional entomologist to assist. Remember that the following key is designed for adult specimens only. It will not work for immature insects.
Common Insect Orders
Brief descriptions of the orders follow. Order names are usually derived from a Greek or Latin word that describes the group. Most of the orders can be separated based on differences in wing morphology, thus learning the origin of the order name is very instructive and helpful in learning about the insects belonging to that order. Name derivations are provided in parentheses next to the order name. Common name of the order is also provided as it often reveals additional information about the biology or morphology of the group.
Note: Line drawings of several insects from each order are provided as examples of the order. All measurements given in this section are based on average body length (front of head to end of abdomen) of the species shown with the exception of the Lepidoptera (where measurements indicate average length of the forewing). Color photographs of representative insects in their adult form are provided at the end of this book and also are available via the Internet. Photos make for excellent review or study, and while they may not be as valuable as real specimens, they make for a handy reference collection or series for insect judging contests.
Collembola - springtails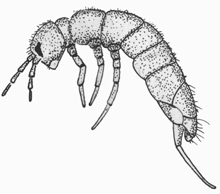 Springtail
Entomobryidae
1/1/6 in.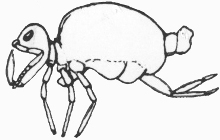 Springtail
Sminthuridae
1/32 in.

Collembolans derive their order name from a unique, peg-like structure under their first abdominal segment from which a sticky substance is secreted. A unique, forked structure near the rear of the abdomen (furcula) is brought forward and when released, sufficient force is applied to the ground that the insect is propelled or flipped into the air, thus the name "springtail".

Collembolans are very small (less than 1/5-inch long), wingless insects with only six abdominal segments. Most have chewing mouthparts. These primitive insects develop without metamorphosis.

Most species live outdoors in the soil or on decaying vegetation and are found under stones, in leaf litter, and in other damp places. Some commonly are found clustered on the sides of trees where sap is oozing; others collect in large numbers on still water.

Occasionally collembolans can enter buildings through tiny openings in windows, doors and foundations cracks to become nuisance pests indoors.
Thysanoptera - thrips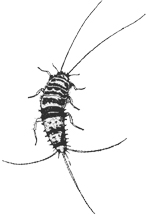 Thysanurans possess either two or three hairy, antennae-like appendages (tails) at the end of their abdomens. Bristletails are fast-running, wingless, fish-shaped insects, up to ½-inch long. They have long antennae and chewing mouthparts. They develop without metamorphosis. Most bristletails live outdoors under stones and other objects on the ground. However, the two most common pest species - the silverfish and the firebrat - live in houses where they may feed on book bindings, starched clothing, wallpaper and other materials containing starch or glue.
Ephemeroptera - mayflies

Mayflies live only for a short time as winged adults. The mayflies have four (rarely, two) triangular, many-veined wings. The front pair are much larger than the hind pair. The wings are held together above the body when at rest. They have chewing mouthparts, but the adults do not feed. The antennae are short and difficult to see. Mayflies have two or three long, antenna-like appendages (tails) at the end of the abdomen. Metamorphosis is gradual.

Adults commonly are found near streams, ponds, and lakes and are attracted to light. The nymphs or young mayflies live in water and may take from one to three years to develop. Mayflies are a very important food source for fish. Anglers often try to imitate mayflies when making fishing hooks, especially for fly fishermen.
Odonata - dragonflies and damselflies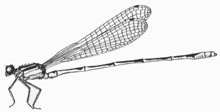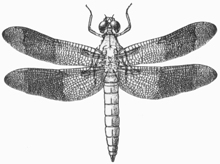 Odonata are large insects with a very strongly toothed mandlble, uniquely designed for capturing prey. Adults possess four long, many-veined wings of approximately equal size. They are extremely fast fliers and have large prominent eyes offering 360 degree vision. These attributes force a collector to be very patient and quick with the net. Odonata have chewing mouthparts and very short antennae. Metamorphosis is gradual.

The nymphs of Odonata are found in water, and adults usually are nearby. Both the adults and nymphs feed on other insects. Sometimes the nymphs also feed on small fish.

Dragonflies are larger than damselflies and hold their wings horizontally, like an airplane, when at rest. Damselflies either tilt up their wings, like butterflies, or hold them next to their abdomens when at rest.
Dictyoptera - cockroaches, praying mantids, and walkingsticks


Walkingstick
Phasmidae
3 in.

The Dictyopterans are medium- to large-sized insects usually with two pairs of wings; the front pair leathery and the hind pair membranous, larger, and folded like a fan under the front wings when at rest. They all have chewing mouthparts. Metamorphosis is gradual. This order is composed by three main groups including walking sticks, cockroaches, and praying mantids. Walkingsticks and some cockroaches are wingless. Some cockroaches are found outdoors, but many are common indoor pests. Walkingsticks live outdoors and feed on plants. Praying mantids are considered beneficial because they feed on other potentially harmful pests.
Orthoptera - grasshoppers, meadow grasshoppers, katydids and crickets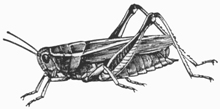 Orthopterans are medium to large insects usually with, four wings and jumping hind legs. The front pair of wings is narrow and leathery and held straight. The hind wings are large and fold like a fan under the front wings. Camel crickets and some other forms are wingless. Grasshoppers have well developed, chewing mouthparts and are capable of creating devastation in plants and crops, especially when in high numbers. Most members of this order, including grasshoppers, katydids, and tree crickets, live outdoors and feed on plants. All have incomplete metamorphosis. Some crickets find their way into homes, where they may be considered pests.




Dermaptera - earwigs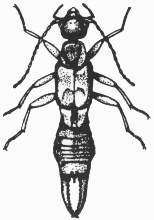 The earwigs are small to medium insects and usually have four wings. The forewings often appear skin-like. They are usually very short, leaving most of the abdomen exposed. The hind wings fold under the front wings. An earwig is equipped with a pair of forcep-like organs on the end of its abdomen, distinguishing it from the Coleoptera, in particular the rove beetle, which also has short wing covers. Earwigs have chewing mouthparts. The common name is derived from the erroneous superstition that they may crawl into peoples ears. Metamorphosis is gradual.

These insects live outdoors and, for the most part, hide during the daytime under leaves and in cracks in the ground. They come out at night and sometimes are attracted to lights. They are considered nuisance pests.
Isoptera - termites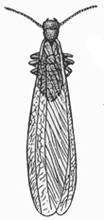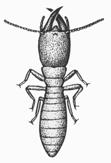 Winged termites are dark-bodied and have four long, many-veined, whitish wings of nearly equal size. The workers and soldiers are wingless and dirty-white in color. They have chewing mouthparts. Metamorphosis is gradual. Termites are medium-sized, social insects. Their colonies contain three castes - workers, soldiers, and swarmers (sexually mature kings and queens).

Termites sometimes are incorrectly called white ants, but they are very different from ants in both structure and metamorphosis. True ants, which belong to the order Hymenoptera, have an abdomen constricted (pinched in) just behind the thorax; termites do not.

Termites are one of the few animals that feed on wood. They are found in logs, stumps, fence posts, or sometimes in the timbers of buildings. It is here that they become a significant urban structural pest.
Plecoptera - stoneflies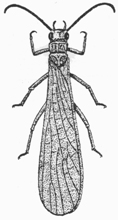 Stoneflies are from ½- to 2-inches long and have four heavily veined wings. The hind pair folds like a fan (have plaits) and is usually much larger than the front pair. Stoneflies have chewing mouthparts, but many of the adults do not feed. Metamorphosis is gradual. The Plecoptera have long antennae and a pair of relatively long appendage at the tip of the abdomen (cerci).

The growing stage (nymph) lives under stones in rapidly running streams. The adults usually are found resting on plants or trees or on stones near streams.
Psocoptera - booklice and psocids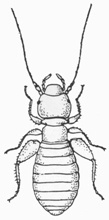 The Psocoptera are tiny insects with chewing mouthparts that have either four wings or none. Why the name 'chewing wing' was assigned is unknown and is one of the few names that do not add usefulness to the taxonomy of insects. Psocopteran metamorphosis is gradual. They are often called psocids (pronounced so-sids) and may be separated from psyllids and aphids based on their enlarged clypeus and chewing mouthparts. They live outdoors and are found resting on stones, logs, and fences.

Some of the wingless Psocoptera are called booklice and are found around old books and papers and in damp, dark rooms. They feed on molds, fungi, and pollen and may build up to very high nuisance populations if left unchecked.
Mallophaga - chewing lice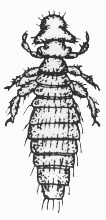 Chewing louse
Menoponidae
1/16 in.

The chewing lice gain their name because they feed on bits of hair, feathers, scales, and dried blood. They are wingless, flat-bodied insects, parasitic on birds and, to some extent, mammals (warm-blooded animals that have hair). They develop with incomplete metamorphosis.

Chewing lice attack all kinds of wild and domesticated birds and many common mammals. The eggs are glued to the feathers or hair of the host. Chewing lice are most often collected directly from the host. Standard precautions must be taken when handling animals to prevent transmission of diseases to humans.
Anoplura - sucking lice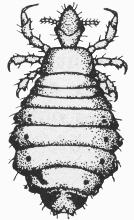 Sucking lice are wingless, flat-bodied insects that look much like chewing lice. The head, however, is narrower than the thorax, and the mouthparts are fitted for piercing the skin and sucking blood rather than chewing. The name derivation has to do with an abdomen that lacks any appendages (they do not possess any stingers). Sucking lice develop with incomplete metamorphosis. They are parasitic on mammals and never attack birds. In addition to possessing sucking rather than chewing mouthparts, these can be separated from chewing lice by their more conical head and reduced eyes.
Thysanoptera - thrips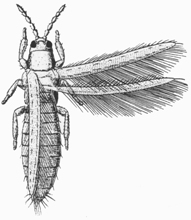 The thrips are tiny insects, rarely more than 1/8-inch long, with or without wings. If they do have wings the margins are complete with long hairs or a 'fringe'. Thysanopterans have rasping-sucking mouthparts, which they use to rasp the surface of leaves and suck up the juice as it oozes. Metamorphosis is complex in thrips and can be described as between complete and incomplete.

Thrips commonly are found on many plants, including gladiolas, sunflowers, onions, and greenhouse crops where they cause injury. A common species that annoys people lives on small grains and grasses and is called the "oats bug".
Hemiptera - true bugs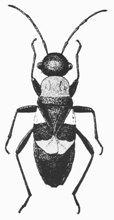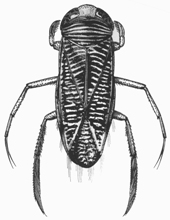 True bugs usually have four wings; the front pair is thick and leathery at the base and thin and membranous at the tip. These wings are held flat over the back so that the tips overlap each other. A few species are wingless. Some are beneficial and some are pests. All true bugs have piercing-sucking mouthparts, which form a noticeable beak. Metamorphosis is incomplete. Many true bugs possess stink glands and give off an unpleasant odor when disturbed or handled.

Most true bugs live on land, but some, such as the giant water bug and water striders, live in or on water. Usually, those that live on land feed on plant juices or are predators of other insects, but a few, such as the bed bug, are parasites of humans and other animals.
Homoptera - cicadas, leafhoppers, treehoppers, scale insects, aphids, spittlebugs, planthoppers, and mealybugs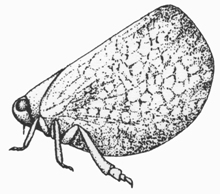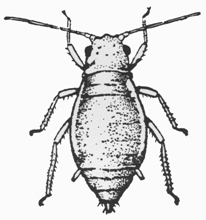 Members of the order Homoptera vary widely in appearance. They range from small to large in size and may or may not have wings. If wings are present, however, they are always uniformly membranous in texture. They may be transparent, as in the case of cicadas, or colored, as in the case of leafhoppers. Wings are held roof-like over the body. All Homopterans have piercing-sucking mouthparts, and metamorphosis is incomplete.

Homopterans are a very diverse order. Winged forms include leafhoppers, cicadas (sometimes called locusts), spittlebugs, planthoppers, and treehoppers. The aphids (plant lice) include both winged and wingless forms. Scale insects are covered throughout most of their lives by a waxy scale. All Homopterans feed on plants and, due to their piercing sucking feeding behavior, are capable of transmitting several plant diseases. Many serious plant pests belong to this order.
Neuroptera - lacewings, mantispids, owlflies, snakeflies and antlions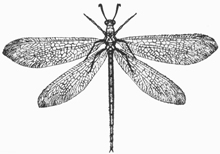 Antlion
Myrmeleontidae
1 1/4 in.



Lacewing
Chrysopidae
1/2 in.

Neuropterans are medium-sized insects that have four many-veined wings. These may appear as a network of nerves running throughout the wing. Neuropteran adults have chewing mouthparts, but may have very long mandibles for capturaing prey. Their antennae also are usually long. Metamorphosis is complete. All neuropterans are predators. The lacewings, also called aphidlions, are found on trees and other plants where they feed on aphids. Mantispids and owlflies feed on spiders or insects. Antlion larvae are the familiar "doodlebugs," that live in the ground and dig pitfalls in which they trap ants and other insects. Their adults resemble damselflies, but have readily visible antennae.
Megaloptera - dobsonflies, fishflies, and alderflies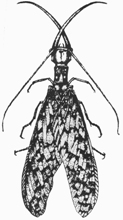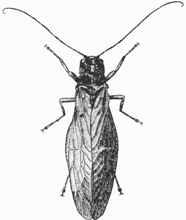 Megalopterans are medium-large insects with long segmented antennae, four very large, many-veined wings, and chewing mouthparts. Metamorphosis is complete.

Dobsonfly adults are found near streams but are often are attracted to lights. Adults are remarkable due to their size and the size and shape of their mandibles, especially pronounced in the male. The larvae are called hellgrammites. They live under stones in rapidly running streams and are prized by fishermen because they make excellent bait. Fishfly and alderfly larvae also are found in water but only reach approximately half the size of the hellgrammite, which attains a length of 3 inches.
Coleoptera - beetles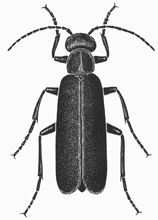 Blister beetle
Meloidae
5/8 in.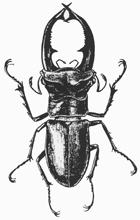 Stag beetle
Lucanidae
1 1/4 in.

Nearly all beetles have four wings; the upper front pair is hardened, whereas the hind pair is membranous and folded beneath the front wings for protection. Metamorphosis is complete. Both the larvae and adults have chewing mouthparts. The larvae of beetles often are called grubs.

Beetles make up approximately 40% of all insect species. They are found almost everywhere. For example, whirligig beetles and diving beetles live in water, whereas cucumber beetles, Mexican bean beetles, and alfalfa weevils feed on vegetation. Plum curculio attack fruits; granary weevils feed in stored grains; and stag beetles live in stumps and decaying logs. Others, such as scavenger beetles, live on dead animals. Some Coleoptera, such as lady beetles and ground beetles, are beneficial, because they feed on injurious insects. Many beetles are very destructive agricultural pests.

The stylopids are unusual beetles that are parasitic on other insects such as wasps. Some entomologists consider them a separate order called Strepsiptera.
Mecoptera - scorpionflies
Scorpionflies are small to medium-sized insects with four long, narrow wings and long antennae. They have chewing mouthparts at the end of a broad, flat snout that is two or three times as long as the head is wide. Metamorphosis is complete. Scorpionflies are so named because the end of the abdomen in some of the males is enlarged so it looks like the stinger of a scorpion. Regardless of their appearance, however, scorpionflies are harmless to people.

These insects are found resting on plants that grow along the banks of streams and in damp woods. The larvae are caterpillar-like and live in damp soil. The adults feed on insects, usually dead ones, although certain species capture live prey. The adults are sometimes attracted to lights.
Trichoptera - caddisflies

Caddisflies are small to medium, four-winged, insects that resemble moths in both size and shape. They differ from moths in that most have a fairly dense mat of hairs rather than scales on the body and wing surface. The antennae are very slender and may be much longer than the body, and the wings are held together at an angle (roof-like) over the body. Caddisflies have chewing mouthparts, but the adults do not feed. Metamorphosis is complete.

Caddisfly larvae live in streams and ponds. Many are called rock-rollers, because they cover their bodies with portable cases made of small stones, and other materials webbed together with silk. This casemaking habit gives the order its common name, since the word caddis means "case." The adults are found near streams, ponds, or lakes in which the larvae live but may be attracted to lights in large numbers. Caddisfly larvae and adults are important food for fish.
Lepidoptera - butterflies and moths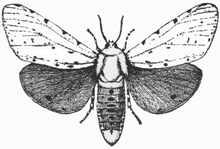 Salt-marsh moth
Arctiidae
1 in.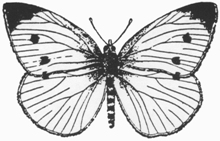 Cabbage butterfly
Pieridae
7/8 in.
Butterflies and moths have four wings that are covered with tiny scales. In a few species, such as female cankerworms, adults are wingless. Metamorphosis is complete. Adults possess siphoning mouthparts (mouthparts prolonged into a long, tongue-like organ). Larvae of moths and butterflies are called caterpillars and have chewing mouthparts. These are among the most injurious pests of plants.

Moths differ from butterflies in that their pupae usually are enclosed in a soft, silk-like sack called a cocoon, whereas butterflies form a hardened chrysalis to protect the pupa. Most moths hide during the daytime and become active at night, whereas butterflies fly during the day and are inactive at night. Butterflies are usually more brightly colored than moths and hold their wings upright when at rest. Their antennae are thread-like with an enlarged knob-like tip. One group of butterflies, the skippers, has the tips of their antennae bent backwards, like a cane handle. In contrast, moths are generally dull colored, hold their wings flat over the back or extend them sideways when at rest, and never have knobs at the tips of their antennae.
Note: All Lepidoptera measurements given with the figures are based on average forewing length (base of the wing at the body to the tip of the wing).




Diptera - true flies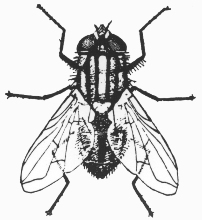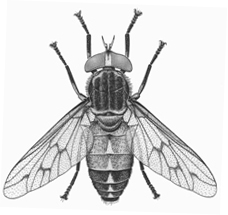 Flies differ from other insects by having only two true wings. The hind pair is reduced to small, club-like organs called halteres. A few flies, such as the sheep ked, are wingless. Some flies, including mosquitoes, deer flies, and horse flies, have biting mouthparts and can be vectors of diseases to man and animals. Most, such as the house fly, possess another type of mouth part, known as sponging, which is used to sponge up liquid food. Metamorphosis is complete. The larvae are generally called maggots, and the pupal cases are called puparia. Flies are found in a very broad variety of habitats, including near flowers and decaying vegetation, on animals, and in houses and barns. They often go by common names associated with family level taxonomy.
Siphonaptera - fleas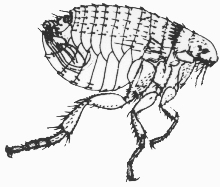 The fleas are small ectoparasites on the bodies of animals. Adult fleas are wingless and have piercing-sucking (tube-like) mouthparts. Their larvae have chewing mouthparts. Flea metamorphosis is complete. The larvae resemble small maggots and live in the soil or near the bedding of their hosts.

A good way to collect fleas from a dog or cat is to use a fine-toothed flea comb. Dusting pyrethrum powder on pets as they stand over a white cloth or paper or bathing with flea soap also may yield good collecting. Fleas drop off the animals and are picked up easily.
Hymenoptera - bees, wasps, ants, sawflies, and hymenopterous parasites
Ant
Formicidae
1/4 in.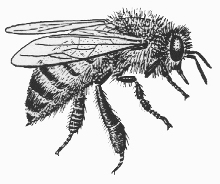 Honey bee
Apidae
1/2 in.

Hymenopterans usually have four membranous wings, but some, such as worker ants, are wingless. If wings are present, they have few cross veins and the hind pair of wings is usually shorter than the front pair. Most Hymenoptera have chewing mouthparts, but, in bees and wasps, the lower "lip" may be prolonged into a "tongue." All Hymenoptera, except the sawflies and horntails, have the abdomen constricted or "pinched" where it joins the thorax. Metamorphosis is complete.

Many adult Hymenoptera can be found near flowers or other plant material where they come to feed. The larvae of ants, bees, and wasps are found in the nest or hive, but those of sawflies feed on plants and so are more exposed. Some species of wasps are parasitic on other insects and are valued as effective natural control agents. Many bees, including the honey bee, are highly beneficial as plant pollinators.

Bumble bee
Apidae
7/8 in.

Yellow jacket
Vespidae
5/8 in.

Horntail
Siricidae
1 1/4 in.

Velvet ant
Mutillidae
1/2 in.

Cicada killer wasp
Sphecidae
1 3/8 in.

Mud dauber wasp
Sphecidae
1 in.

Hornet
Vespidae
3/4 in.

Ichneumon wasp
Ichneumonidae
3/8 in.