Webinars
Throughout the year, the Purdue Women in Agriculture Team periodically offers free educational webinars as an extension of the Midwest Women in Agriculture Conference.  Below you will a list of upcoming webinars, along with recordings of a few of the past webinars.
Upcoming Webinars
Freezer Pleaser Meals Webinar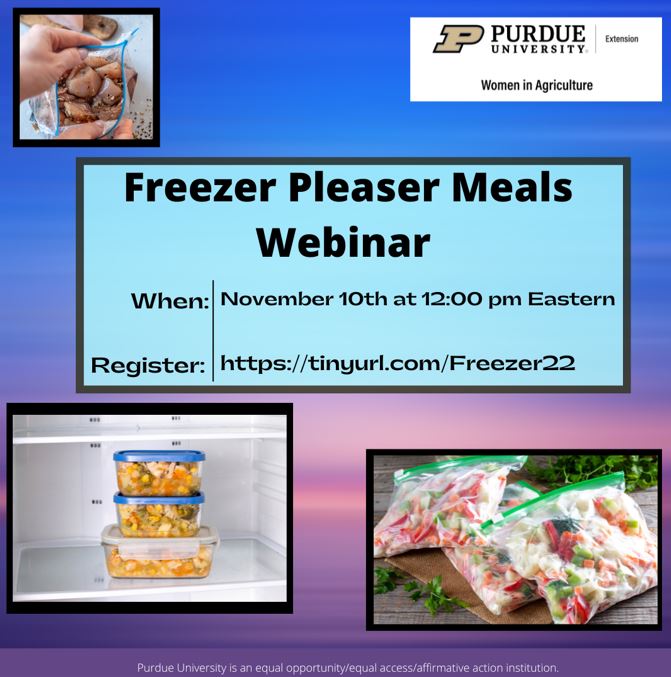 November 10, 2022, at 12:00 pm Eastern
Register here!
Selling Timber
July 12, 2022 at 12:00 pm Eastern
Register at here!
Lasagna Gardening
August 10, 2022 at 12:00 pm Eastern
Register at here!
Getting Out the Message of Ag
Conversations with Aging Parents
October 13, 2022 at 12:00 pm Eastern
Registration coming soon.
Freezer Pleaser Meals
November 10, 2022 at 12:00 pm Eastern
Registration coming soon.
Recorded Webinars
Re-introduction of Hemp to Indiana
Hemp has drawn a surge of interest from the agricluture community after a decades long ban on production.  Hemp has many diverse applications, but there are gaps in the industry that will need to be filled to see an increase in production acres.  This webinar focused on the basics of the hemp plant, the Indiana hemp industry, and what the future of hemp may look like.
Backyard Poultry Biosecurity
With the 2022 outbreak of Highly Pathogenic Avian Influenze (HPAI) in southern Indiana, it has reminded livestock producers about the importance of biosecurity.  This webinar featured Jean Doerflein Wilson, Director Animal Disease Traceability and Avain Health Specialists with the Indiana State Board of Animal Health, discussing poultry biosecurity.
AGronomic Tools to Help with Tight margins
This webinar highlighed different strategies you can use to cope with the tight margins row crop producers are facing during the 2022 growing season.
Insights From Consumer Research That You Can Take Home To The Farm
What consumer-derived lessons can we draw from non-traditional places to garner understanding and insights for those in agricultural business?  Dr. Nicole Widmar, Purdue University, will be presenting about 
Consumer Corner
, where they derive insights from the consumer that you can take home to the farm!
Pork: The No Hogwash Protein
Pork has many beneficial qualities that make it easy to incorporate into a balanced diet.  Cutting fat? The pork industry has reduced the amount of fat in pork by 16% from 30 years ago. Eating plant based? Plants can be the star of the show, but add a 3 oz side serving of pork for many beneficial vitamins and minerals. In this recording  Monica Nagele, MS/RD, and daughter of a Pig Farmer, discussed raising pigs, cooking pork and the health benefits.
Recognizing Hazards Around the Farm
For generations we have known farming is not just an occupation, but can also be a way of life.  Seeking to pass on this way of life to the next generation is one of our most important goals.  Passing on the ability to recognize hazards, and how to avoid them could be one of the most important pieces to pass on.  Hopefully in the future farming will become less dangerous.  Until then let's all take time to recognize hazards, and how to prevent accidents on the farming operation.
Clear Choices Clean Water: Make a Difference
Clear Choices Clean Water is a program designed to increase awareness about the choices we make and the impacts they have on our streams, rivers, lakes, and reservoirs.  By educating individuals on these actions and giving them the tools this program empowers everyone to do their part for water quality and conservation.
Fall Gardening-Reaping the Benefits of Cool Weather
One of the easiest ways to get more out of your garden is by using the cool fall weather to your advantage.  You can do this by having a fall garden.  If you are interested in learning tips and tricks on how to get the most out of your fall garden, then consider participating in this webinar featuring Gina Anderson, Purdue Extension - Floyd County.
Dairy: Good for the Gut! Remember Food Safety!
June is National Dairy Month!  Join us for a free webinar and learn about dairy food products and their safety implications.  Registered Dietitian and Extension Educator, Abbi Sampson will discuss ways to incorporate dairy into your diet!
Beware!  Toxic Plants Are Out
While all plants may appear to be able to be eaten by our livestock, some plants contain dangers to our animal's health.  Join Elysia Rodgers and Brooke Stefancik, Purdue Ag and Natural Resource Educators, as they share about some of the toxic plants and their dangers found commonly across Indiana.