Digital Ag Showcase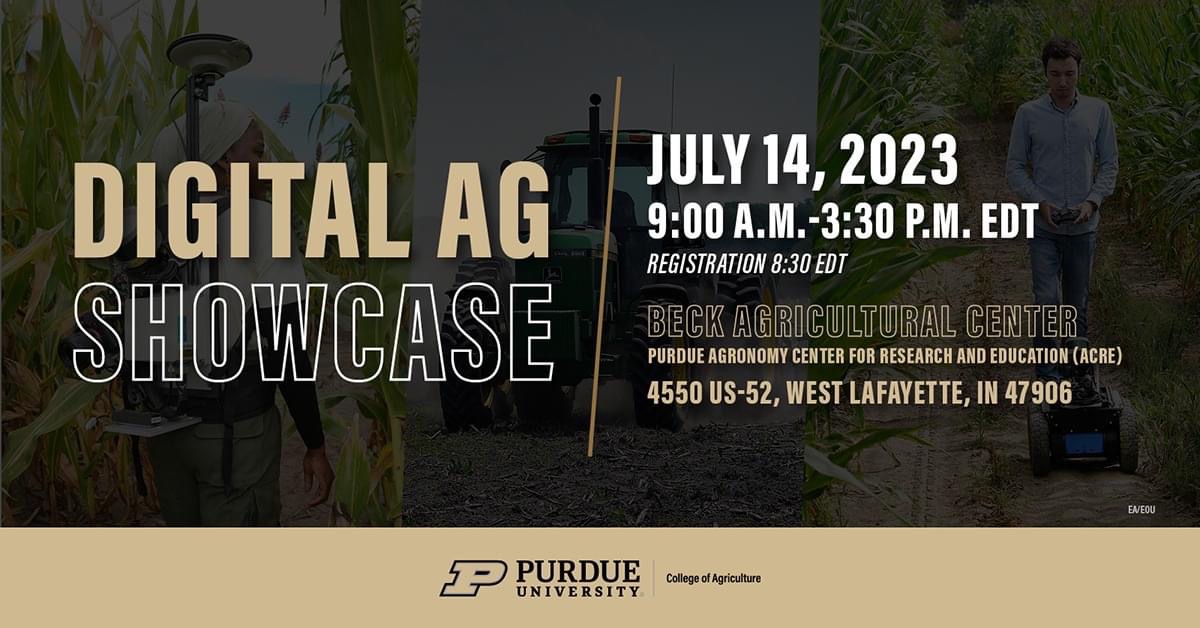 Join Purdue experts for the Digital Ag Showcase on Friday, July 14, from 9 a.m. to 3:30 p.m. ET at the Beck Agricultural Center in West Lafayette. The free event includes demonstrations featuring both leading-edge research and practical applications related to data-driven agriculture.
The program will feature an energetic presentation by full-time farmer and part-time software engineer/architect Aaron Ault of Rochester, Ind. With motivating examples from his crop and livestock farm, Ault will demonstrate how simple digital platforms can enable improved logistics and decision making.
Farmers, industry professionals, educators, students and anyone with an interest in digital agriculture are encouraged to attend. Preregistration is requested at purdue.ag/digitalagshowcase as lunch will be provided. 
Session Descriptions
The day will include demonstrations and highlights of the work happening at Purdue related to data-driven agriculture. New this year are sessions focused on both livestock and specialty crops. Learn more about each session below.
Presenter: Dr. Dennis Buckmaster
Keeping records of events, transactions, and important activities can be simplified using digital formats such as Airtable. In this short session, you'll see specific examples of databases and the simplicity of collecting data on mobile devices. You will get pointers to directed resources so you can do this on your own for farm, business, school, and home life.
Presenters: Ethan Brown and Nathan Sprague
See and learn how small autonomous robots can improve farm operations via scouting, sampling, and even cover crop seeding. Maybe bigger isn't always better.
Presenters: Dr. Amanda Deering and Scott Monroe
A general overview of Good Ag Practices (GAPs), Good Handling Practices (GHPs), and Food Safety Modernization Act (FSMA) records, including similarities and differences. This session will provide a demonstration of the FSMA template on Airtable, and a brief discussion regarding customization for additional records.
Presenter: Dr. Dan Quinn, Purdue Extension Corn Specialist
Nutrient and water management can affect the bottom line and the environment. Win-win situations are possible; see how data and system design can improve your cropping systems.
Presenter: Dr. Krishna Nemali
Easy-to-use, low-cost smart sensors can be valuable tools to indoor farmers for improving farm productivity and crop quality. Learn how indoor farmers can quickly and precisely monitor many production and growth parameters using only a smart phone and a connection to an app.
Presenters: Dr. Mohit Verma and Nafisa Rafiq
Demonstration of a lab-quality test that could be performed on the farm to provide rapid and actionable results.
Presenter: Dr. Christian Cruz
You have likely seen AI applications in news and product releases. In this session, gain some understanding regarding how these image and sensor systems work and what is on the near horizon toward reducing plant diseases.
Presenter: Adam Shanks, Purdue Extension
UAV technology is ever changing, and more uses in agriculture are being discovered almost every day. We will investigate some of the newer technology and how it can benefit livestock producers in their daily production and help guide management decision.
Presenter: Dr. Jim Mintert
The Center for Commercial Agriculture's Crop Basis Tool has been completely redesigned and now includes historical and current basis information for ethanol plants and soybean processing plants as well as within state regional average basis levels. Basis information for Iowa was also added in the redesign and the Tool now provides corn and soybean basis information for Indiana, Illinois, Iowa, Michigan and Ohio. Users will find the revamped Tool easier to use when generating basis forecasts based upon historical average basis levels.
Presenter: Dr. Jacquelyn Boerman and Dr. Amy Reibman
We will share variety of video-based methods to provide actionable information about dairy cows, including weight estimation, individual identification, and individual feed intake estimation.
Presenter: Austin Pearson
During this presentation, we'll introduce existing weather networks and the Purdue Mesonet. We will discuss the kinds of weather data that are collected at ACRE and how these data relate to decision-making in agriculture.
Session Descriptions - Ag and STEM Teachers
New this year are sessions focused on digital agriculture curriculum and training for high school agriculture and STEM educators. Indiana teachers will be eligible to receive Professional Growth Plan (PGP) points for attending this event.
Presenter: Dr. Roger Tormoehlen
AgGrowBOT is a student-designed autonomous vehicle designed to navigate a cornfield, identify specific weeds, and eliminate them. Knowledge of the science and engineering behind this approach can provide great motivation to inspire students into STEM and digital agriculture fields.
Presenters: Dr. Neil Knobloch and Dr. Jason Morphew
This demonstration will engage teachers to use a mobile application and manipulate a cube with six different QR codes to visually see an abstract scientific concept of electromagnetism and relate this to agricultural mechanics (e.g., electric motors; welding). Teachers will be able to take this free pedagogical tool and use to engage their students to learn electromagnetism using augmented reality as a pedagogy. We will also discuss other applications that teachers would like to see augmented reality in teaching science concepts in agricultural settings.
Presenter: Adam Shanks, Purdue Extension
The Digital Ag Curriculum contains material that is focused on high school and early college age. The year-long material is designed for teachers to take "off the shelf" and utilize in the classroom to teach basics, to complex, aspects of digital technology that will help graduates be more prepared for a professional career upon completion of the units of the curriculum.
Presenter: Rachel Haselby
Using Micro:bits and a simple sensor to test soil moisture. Educators will learn of readily available, cost-effective devices that are applicable to bring sensors and Internet of Things (IoT) to the classroom. 
Moderator: Danielle Lay, 4-H Extension Specialist
Panel Members: Matthew Armbruster, Bailey Crowder, Lori Dubois and Travis Scherer
Hear from peer teachers regarding their approaches to get the latest ag technology woven into their curriculum.
Click here to view our event program.
Beck Agricultural Center is located at the Agronomy Center for Research and Education, 4550 US-52, West Lafayette, Ind.