As R.D. Schrader studied for his master's degree in agricultural economics, his route on the West Lafayette campus was a well-worn triangle: from his apartment to classes in the Department of Agricultural Economics to the gym.
"The students and faculty were a very tight group-in a lot of ways. We ate a lot of meals together and did activities together," Schrader says.
He frequently met faculty members Ken Foster and Jay Akridge on the basketball court — and they remain his friends and mentors today. According to Akridge, "R.D. was a good point guard and an even better student."
As a student, Schrader might not have guessed the enormous impact he and some of his favorite teammates would have on the College of Agriculture.
Schrader grew up west of Fort Wayne in Whitley County, earning his bachelor's degree in business at Grace College near Warsaw, where he also played basketball. Others in the family business, Schrader Real Estate and Auction Company, had worked with Purdue's Department of Agricultural Economics over the years and respected the program, so he continued his education there. He worked with Professors John Lee, the late Jake Atkinson, and Foster on his committee, studying characteristics that affected the difference between sale prices and appraised values of Indiana farms.
His favorite course was taught by Akridge, Trustee Chair in Teaching and Learning Excellence and former Glenn W. Sample Dean of Agriculture and Purdue provost. "It was basically a practicum where we worked with an outside business, took one of their product lines, analyzed it and put together a business plan for them. We talked with them, players in the market, their customers and their dealers. It was just an incredible experience, and Jay was great at leading that," Schrader says.
Now he's a partner at Schrader Real Estate and Auction Company, which sells real estate in 40 states, marketing large holdings of farms, ranches and timberland, as well as commercial and industrial portfolios.
"My education at Purdue was empowering in a lot of ways," Schrader says. "The critical thinking aspect as it relates to the world of agricultural economics was very good for me — not only in the day-to-day business, but also as it relates to the land market and land economics, which has provided me a lot of opportunities to speak across the country to different agricultural groups, land groups, the National Auctioneers Association and so on." Purdue's impact made his decision to give an easy one, he says. When presented with a special opportunity, he and his wife Holly, along with family members Rex and Lori Schrader, Fred and Judy (Schrader) Geyer, and late business partner Roger Diehm and his wife, Shelly, pooled their resources to fund the Schrader Chair in Farmland Economics, held by Professor Todd Kuethe.
"The Schrader family has been a leader in the real estate sector for decades," says Foster, professor of agricultural economics, who has served as both head of the department and interim dean of the College of Agriculture. "R.D. leveraged his Purdue educational experience to launch the Schrader Real Estate and Auction Company to national prominence. We couldn't be more proud of his accomplishments and appreciative of his generosity in support of the Schrader Chair in Farmland Economics. Establishing that chair ensures Purdue will maintain active research and outreach related to farmland, one of our country's most valuable resources."
Schrader values the department's commitment to stakeholders. "One of the things I really appreciate about Purdue's ag econ dept is they're focused to be boots on the ground, providing practical information for farmers and agricultural stakeholders."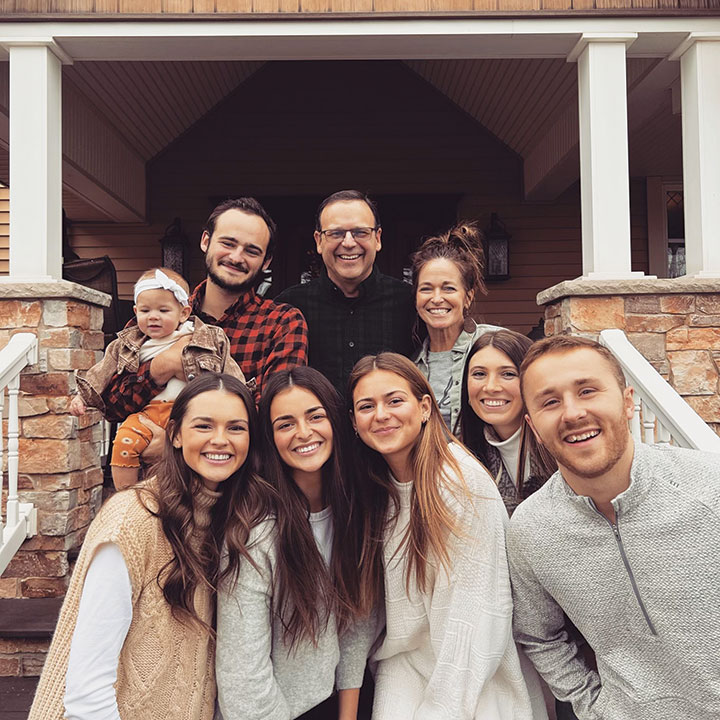 In return, he frequently volunteers to share his industry expertise. "It's easy to look out your back window and say, 'Well, that's how agriculture is done,' but it varies so much as you get across the country," he says.
"R.D. has given back in so many ways to the Department of Agricultural Economics and Purdue Agriculture," Akridge says. "He has shared insights from his terrific career with our students, stayed engaged in the research and extension mission of the department, and ensured that land economics will remain a focus through the investment he and his family made."
Schrader serves his community, too, as chair of the Center for Whitley County Youth, which anticipates contact with 500 local youth in the next year. He's also a member of the Ag Advisory Council for the Haupert Institute for Agricultural Studies at Huntington University, which Purdue helped develop.
Family is central to Schrader's life. "I've got a great wife and four awesome kids," he says. He loves spending time with them and their growing families, providing opportunities for them to thrive in any way he can.
Schrader encourages students to value informal interactions with faculty during their time at Purdue. "Be focused on taking advantage of the opportunity — both what you're learning and the relationships," he says.
Banner Photo: R.D. Schrader (MS '94, agricultural economics) runs a virtual auction of 1,100 acres in 21 tracts in Illinois during the COVID-19 pandemic. Staff in the studio run the bid board, and bidders can bid online or by phone.