HONORING HISTORY,
BUILDING COMMUNITY
HONORING HISTORY,
BUILDING COMMUNITY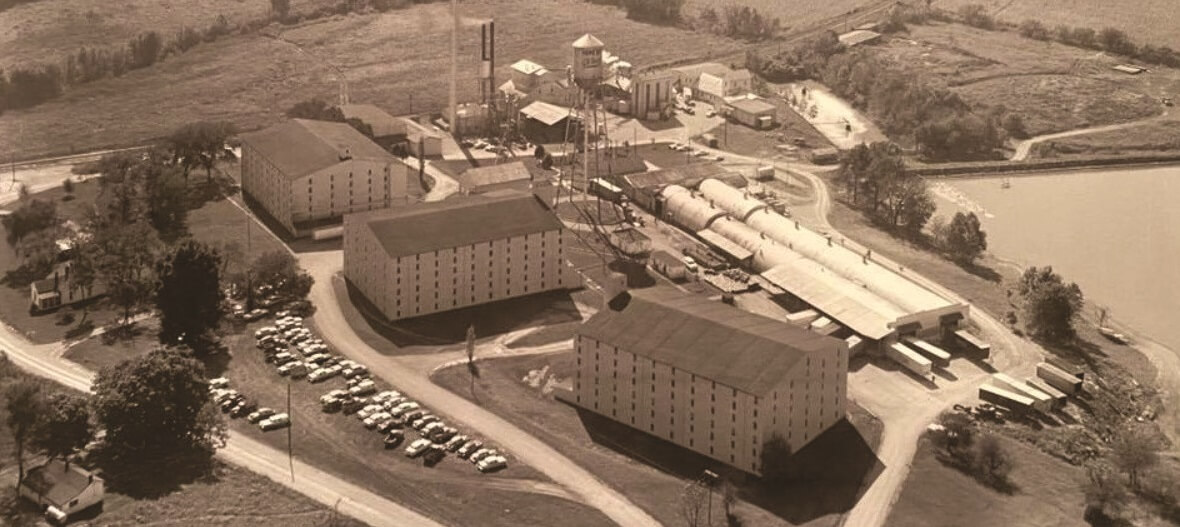 The water tower is the only remaining structure from the original distilling operation, shown in 1961.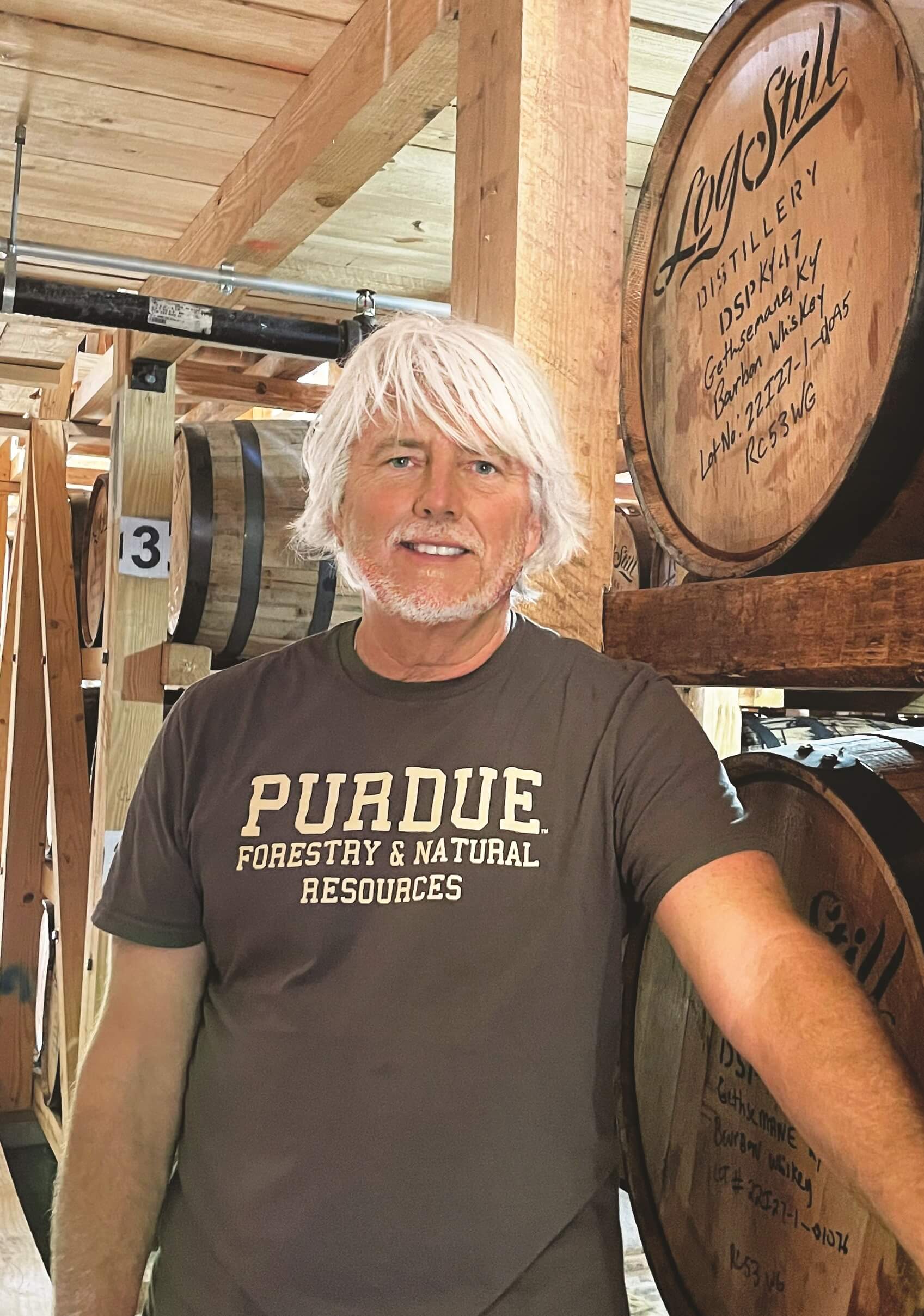 Head an hour south of Louisville and east from Interstate 65 to the hills (or "knobs," as they're called) of Nelson County, Kentucky, and you'll find J.W. "Wally" Dant III (BS '85, forestry and natural resources) on the 350 rolling acres of Log Still Distillery. He and two cousins are returning the property to its bourbon country history, following generations of Dants steeped in the booze business.
Dant's family started distilling in the area in the early 1800s, and his great-grandfather and grandfather both worked in the old distillery operation. His father grew up on the property, and Dant and his four siblings regularly visited the area for vacations and holidays. "The state that we call home is Kentucky, just because it was kind of a touchstone for us as we moved around the country," Dant says.
While he established a career in healthcare, he always dabbled in spirits on the side. A distiller whose products Dant distributed pointed out, "You've got the story. Why aren't you doing this yourself?" That planted a seed, and in 2019, he bought the old family distillery land and started rebuilding.
The name Log Still pays homage to the family's first distiller, who couldn't afford a copper still and instead used a hollowed-out log with a copper pipe. Dant's current business neither owns nor has an affiliation with J.W. Dant distilled spirits, a brand still sold from that earlier operation.
But the family name remains strongly associated with the area: The first line of bourbons and gins Log Still produced is called Monk's Road because the road leading south onto the property passes the Abbey of Gethsemani, a Catholic monastery nearby, on land the Dant family donated to the church.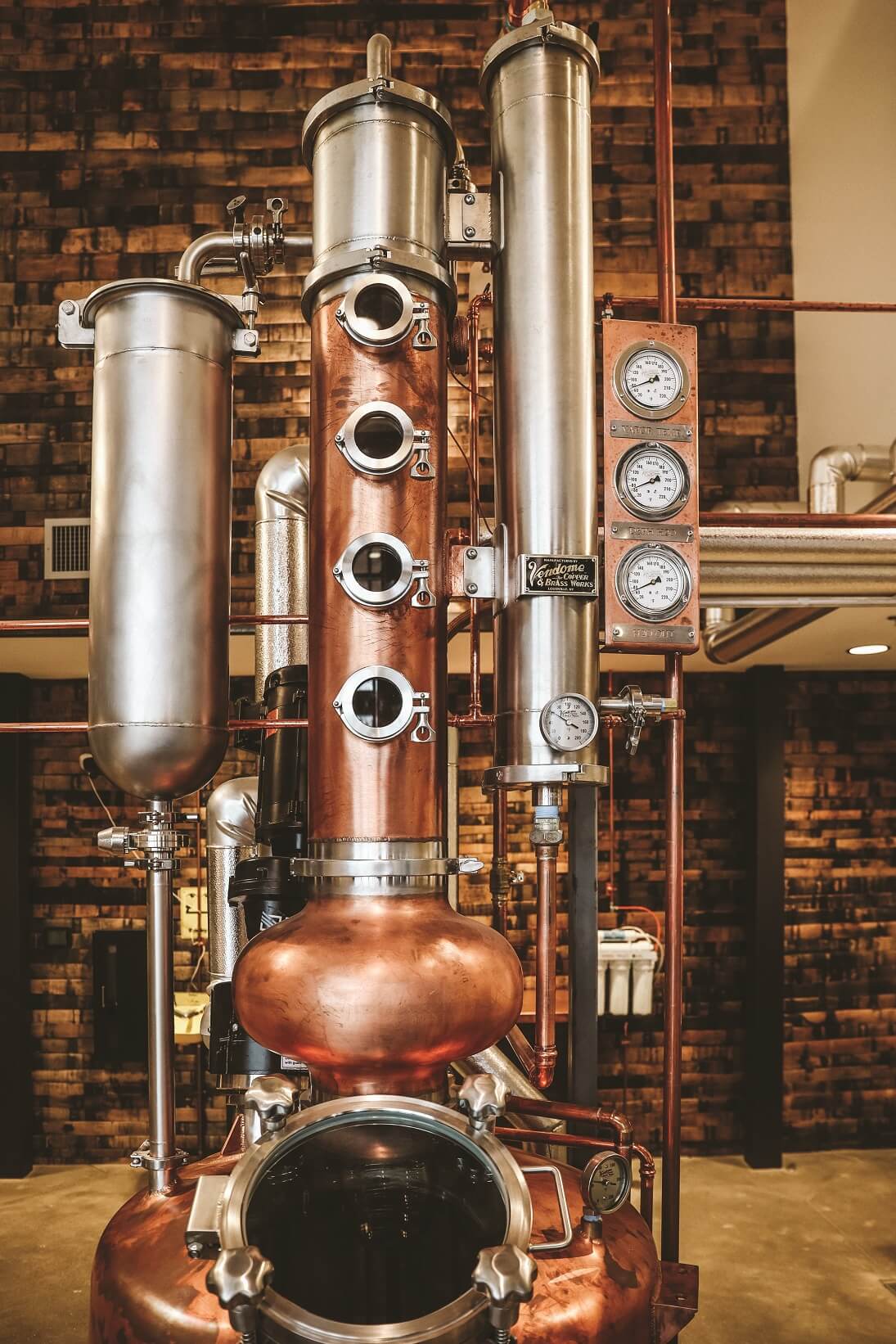 Dant's road to distilling might seem as winding as those leading to Log Still. His choice of forestry and natural resources (FNR) at Purdue reflected his love of the outdoors and turned out to be "one of the best decisions of my life," he says.
After deciding the economics of being a forest ranger might be tough, Dant turned to the business side of the major and forest products. "Purdue has a really well-rounded education. They say, 'You get the basics down,' and you do them all. We took accounting, calculus, statistics, chemistry — you name it, we did it."
He has many fond memories of his time at Purdue, from living at Alpha Sigma Phi to the FNR summer practicum in northern Wisconsin. "It was one of those lifechanging times," Dant says. "I'm getting ready to leave the university, and what are the things I need to do to make sure that once I leave, I'll have success."
Many of the companies he was interested in required an MBA, so he enrolled at the University of Louisville, working in the spirits industry for Brown-Forman for extra income. He stayed on briefly before moving into the insurance, hospital, home healthcare and hospice industries, founding and selling several businesses of his own.
It's an unconventional and creative path, and Dant applies the same mindset to Log Still. Rather than limit the business to a distillery and tasting room, he created Dant Crossing, a destination where guests can stay in one of several bed and breakfast–style properties, host a wedding or corporate training in the sumptuous event space, or attend a concert at the 2,000-seat outdoor venue, The Amp, hearing acts from Little Big Town to Blues Traveler to Joan Jett.
"We knew we needed to be different," Dant says. "We needed something that would attract people and have them create a great memory. Once you do that ... they're more likely going to come back." Next up are a farm-to-table restaurant and an overnight sleeper car from the nearby Kentucky Railway Museum that can stay over at Dant Crossing.
Rebuilding his family's past is important to him, but so is honoring the community that gave so much to them. "If you're not farming, there are not a whole lot of jobs that are created in rural America anymore," Dant says. "Part of us coming back here is to bring back good-paying jobs."
Approximately 200 people worked in the business before it was sold and operations moved to Louisville and Frankfort in 1962. Now 100 people work at Log Still, and that number doubles with part-time workers during events.
Dant feels a similar sense of history and community with Purdue. "I would encourage anyone who has graduated from Purdue, if you haven't been back, to go back again, because of the memories you had there and your ability to create a connection again to the university," he says.
Changes on campus are also worth a visit, he says, citing former President Mitch Daniels' efforts to hold tuition steady and continue to advance Purdue's reputation as a leading university. "Remember why you went there in the first place, and you'll love seeing it again."