Purdue Extension: partner for rural health
The United States spends more on healthcare than any other nation in the world, doubling that of other developed nations.
But proportional returns aren't reflected in that high investment, says Jerome Adams, Presidential Fellow at Purdue University and 20th U.S. Surgeon General. Instead, the U.S. has the lowest average lifespan among developed nations as well as the highest rate of suicide.
Looking beyond the national average, Indiana ranks in the bottom quartile of states in mental and physical health, Adams notes. However, getting to the root of Indiana's health and wellness issues isn't as simple as numbers would suggest.
"We know Indiana has some great health care systems, and there is nowhere else in the world you'd want to go for care if you had a serious health issue," Adams says of U.S. healthcare technology. "But we also know that picking people up once they fall off the cliff isn't as effective, or cost-effective, as preventing them from falling off the cliff in the first place. What we are trying to help people understand is that number one, we have got to focus a whole lot more on prevention than we have in the past."
What's key to prevention, Adams says, is getting into communities to understand the barriers that stand between Hoosiers and healthy choices.
That's where Purdue Extension Health and Human Sciences plays a role, with its network of staff in all of Indiana's 92 counties and a deep connection to Purdue research and expertise
If prevention is key to creating better health outcomes, working with the most vulnerable communities is a first step. One of the most common barriers among rural Indiana residents is the lack of access to healthy foods — or any food at all."
There are food deserts where residents lack any healthy options, and then you have what we call food swamps, where they don't have access to any food sources," Adams says. "When you get into those food swamps, you encounter compounding issues, like lack of access to good paying jobs." This sense of hopelessness can lead to abusing substances like opioids to cope, Adams says.
Adams openly shares that one of his brothers suffers from a substance abuse disorder, is currently in prison for related attempted thefts and struggled to receive proper treatment.
"If people can see that this can happen to the surgeon general of the United States and his family, then it can happen to anyone," Adams says. "This could maybe even give someone or their family permission to be able to go out there and talk about these issues their family is facing, and to feel that they haven't done something wrong."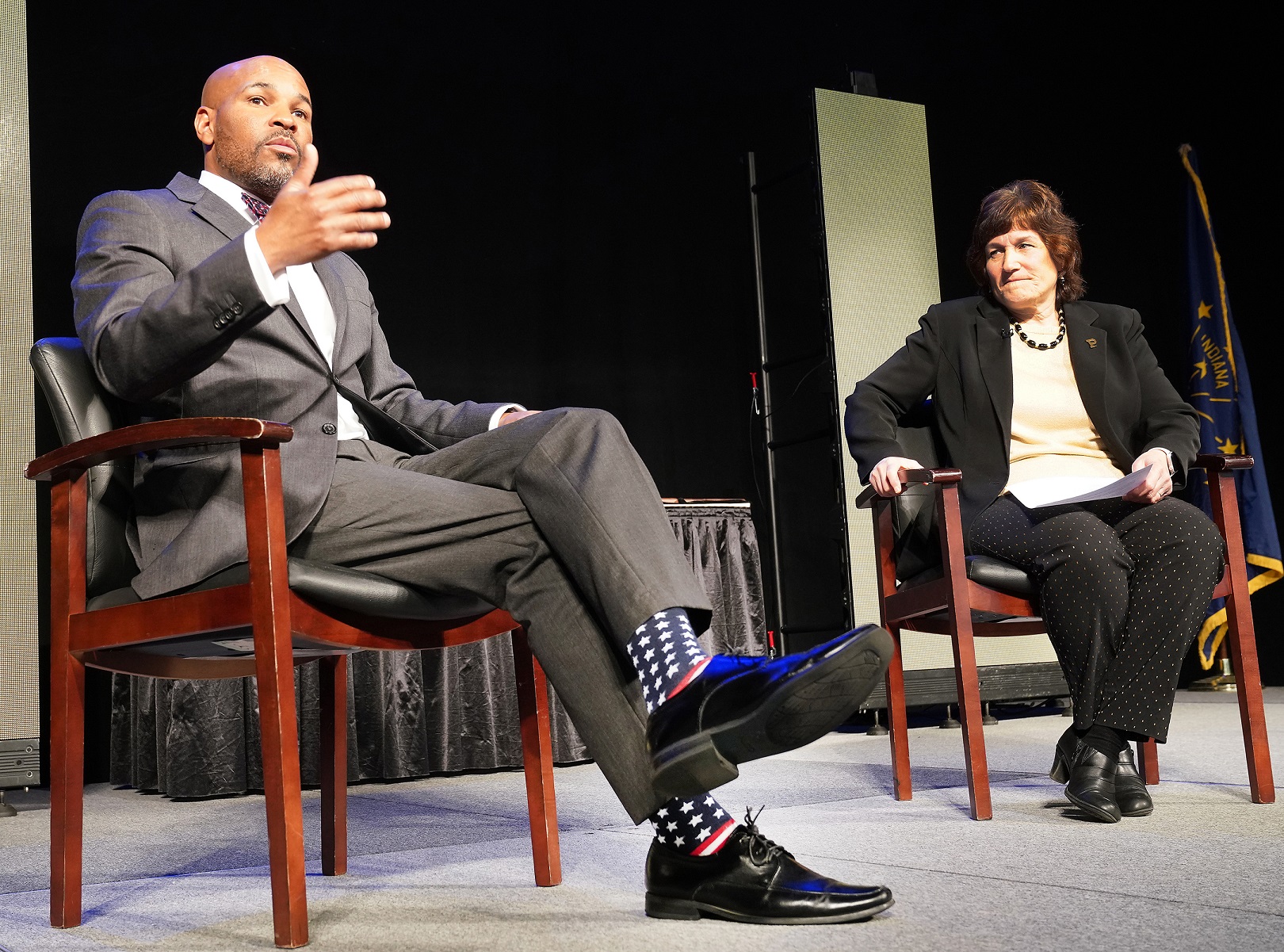 Jerome Adams, Purdue Presidential Fellow and executive director of health equity initiatives, discusses the need for health equity in America with the Glenn W. Sample Dean of Agriculture Karen Plaut at the 2022 Purdue Ag Alumni Fish Fry.
WORKING WITH WHAT'S AVAILABLE
One aspect of the cycle that Purdue Extension can help address is turning food deserts and swamps into fruitful communities. "Our slogan is, 'Make the healthy choice the easy choice,' and getting residents access to healthier options is one of our bigger initiatives," says Blake Connolly, assistant director of Extension's Nutrition Education Program (NEP). "But with those healthier options also comes a need for education, which is another one of our large initiatives."
The NEP offers standardized curricula for adults and youth, showing them how to properly prepare foods by offering food demonstrations, as well as connecting with community partners to find ways to help get residents moving — sometimes through community planning for playgrounds, sports facilities, walking paths or community gardens.
But first residents need access to healthy foods. Smaller towns often have convenience stores, NEP assistant director Wanda Stevens says. Part of NEP's efforts include conversations with store owners to see what it would take to include fresher options on their shelves.
"How about some fruit at the checkout instead of candy? Starting these conversations is a good first step," Stevens says.
Persistent conversations helped one NEP Community Wellness Coordinator move up the chain of command at Dollar General, a rapidly growing convenience chain opening new locations in and on the edges of rural towns.
"It was through our Extension office in Hamilton County, where an employee worked so hard and was persistent with calling management, working to find what it would take to install coolers in their Dollar General stores in that area since the nearest fresh produce market was nearly 10 miles away," Connolly says. "This was a big win for our program, specifically in that county."
Working with what's available is the NEP's best strategy. "To start or create a grocery store, or incentivize a Walmart to come to your town — those are huge financial barriers, and we understand that," Connolly says. "But we can work with existing partners to expand or enhance what is already being offered, and that's when we're able to make change."
TURNING KNOWLEDGE INTO ACTION
It isn't news that we should be eating healthy foods and exercising regularly, says Angie Abbott, assistant dean of the College of Health and Human Sciences and associate director for Purdue Extension Health and Human Sciences, but it isn't easy. Creating environments that make those healthy choices easier is key to progress.
One example she uses to help others visualize the dilemma is everyday travel from rural towns. If you're hungry but in a hurry on your way to the airport, "What are you going to order?" Abbott asks. "Large fries and a large Coke, but why is that? Because there is a holder in your car and the drink cup fits perfectly in it. Because those fries are easy to eat as you keep driving. Of course you're not going to order a salad or soup because that isn't convenient. Maybe if they offered a little cup of carrots and celery with a small ranch dip that fit perfectly in your car, you would consider that."
"Maybe if they offered a little cup of carrots and celery with a small ranch to dip with that fit perfectly in your car you would consider that."
— Angie Abbott, associate director, Purdue Extension Health and Human Sciences
Knowing the healthier choice can be the fun choice works as an incentive in itself, Connolly says, something he has seen firsthand in the NEP's school programs.
"Part of our curriculum, especially with older students, is teaching them hands-on skills of preparing fresh produce. But on top of that we give them their own food prepping tools to take home and share with their families," Connolly says. "Making something like prepping fruits and vegetables fun makes anyone more inclined to choose them over something else to eat or snack on."
Extension staff who are known within communities are a trusted source of information. "We try very hard to hire within a community because they're the ones who know it best," he says.
"We've hired several staff members that have come to us as participants of the program, so they've seen firsthand how we can affect their lives and impact them. It makes the work they do that much more impactful."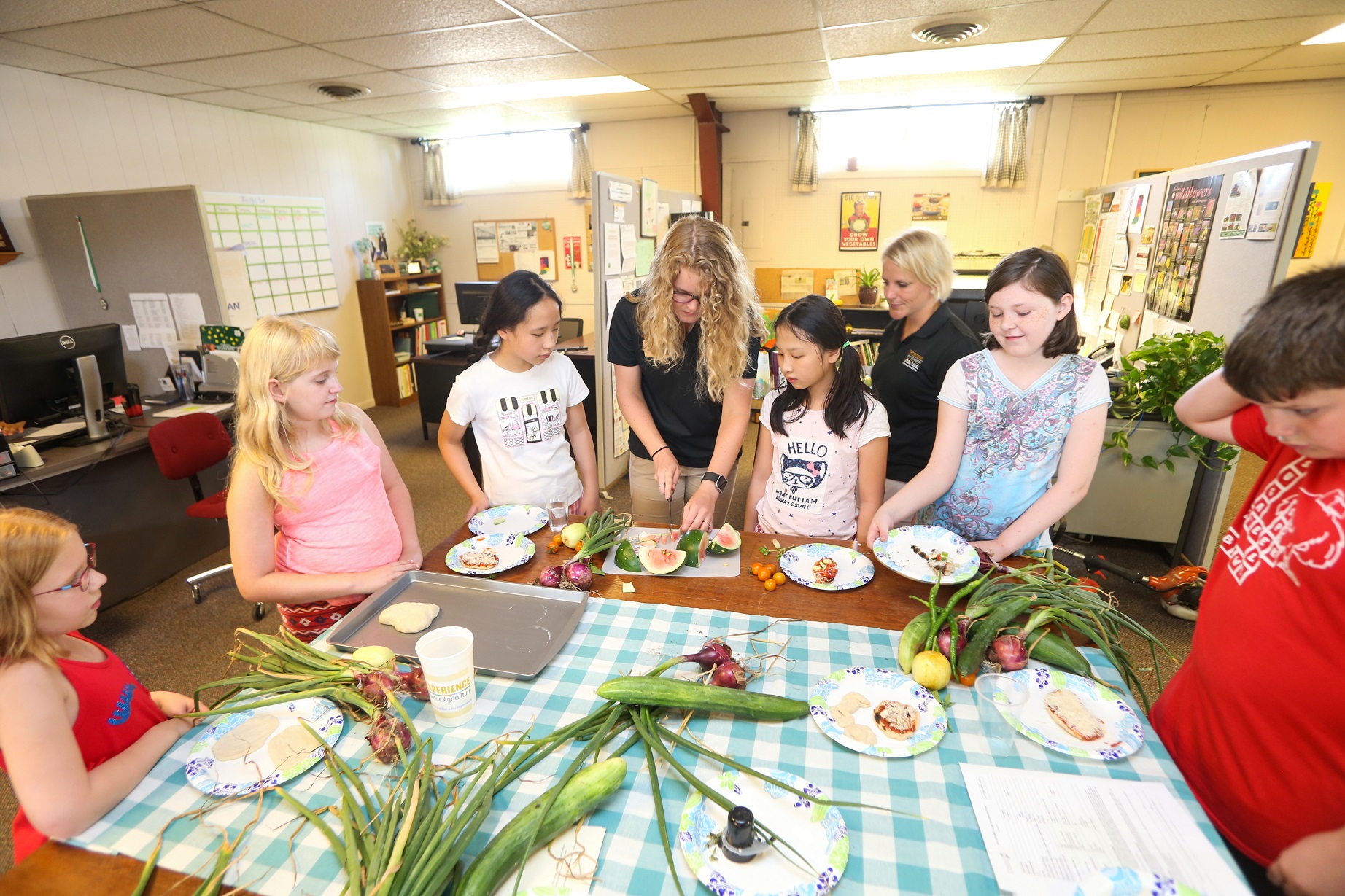 Montgomery County Extension staff teach children how to grow and cook vegetables.
Rural residents are farther not only from grocery stores, but also a doctor's care. Adams experienced this firsthand as a child, when he had to be transported by helicopter from his rural Maryland home to the closest hospital two hours away in the midst of an almost fatal asthma attack.
In many states, the COVID-19 pandemic prompted the availability of additional options to receive care in a timely manner, but all of them, beyond walking into a doctor's office, require adequate, reliable internet.
Roberto Gallardo, director of the Purdue Center for Regional Development and associate professor of agricultural economics, says while the inequity between urban and rural internet access was well known before the pandemic began, it was especially noticeable when students were sent home to learn without a strong, if any, virtual connection to their teachers and classrooms.
"The term 'digital divide' was coined all the way back in the 1990s, but it took COVID for people to say, 'Oh, yes, this a real issue,'" Gallardo says. "The technology that we have right now that supports most of our rural internet isn't enough. Take DSL internet, for example; we know this is outdated. It doesn't meet the needs of today's internet users. So not only do we have poor internet for these folks, but we still encounter rural areas that can't even get a cell phone signal."
Being able to receive medical care via a telehealth visit using technologies like text messages, email or video conference, is crucial for those isolated in rural regions. As director of Purdue Extension's Farm Stress program, Tonya Short knows this all too well. Launched in 2019, the program provides tools and resources to help farmers address the day-to-day stresses and difficulties of owning or operating an uncertain business.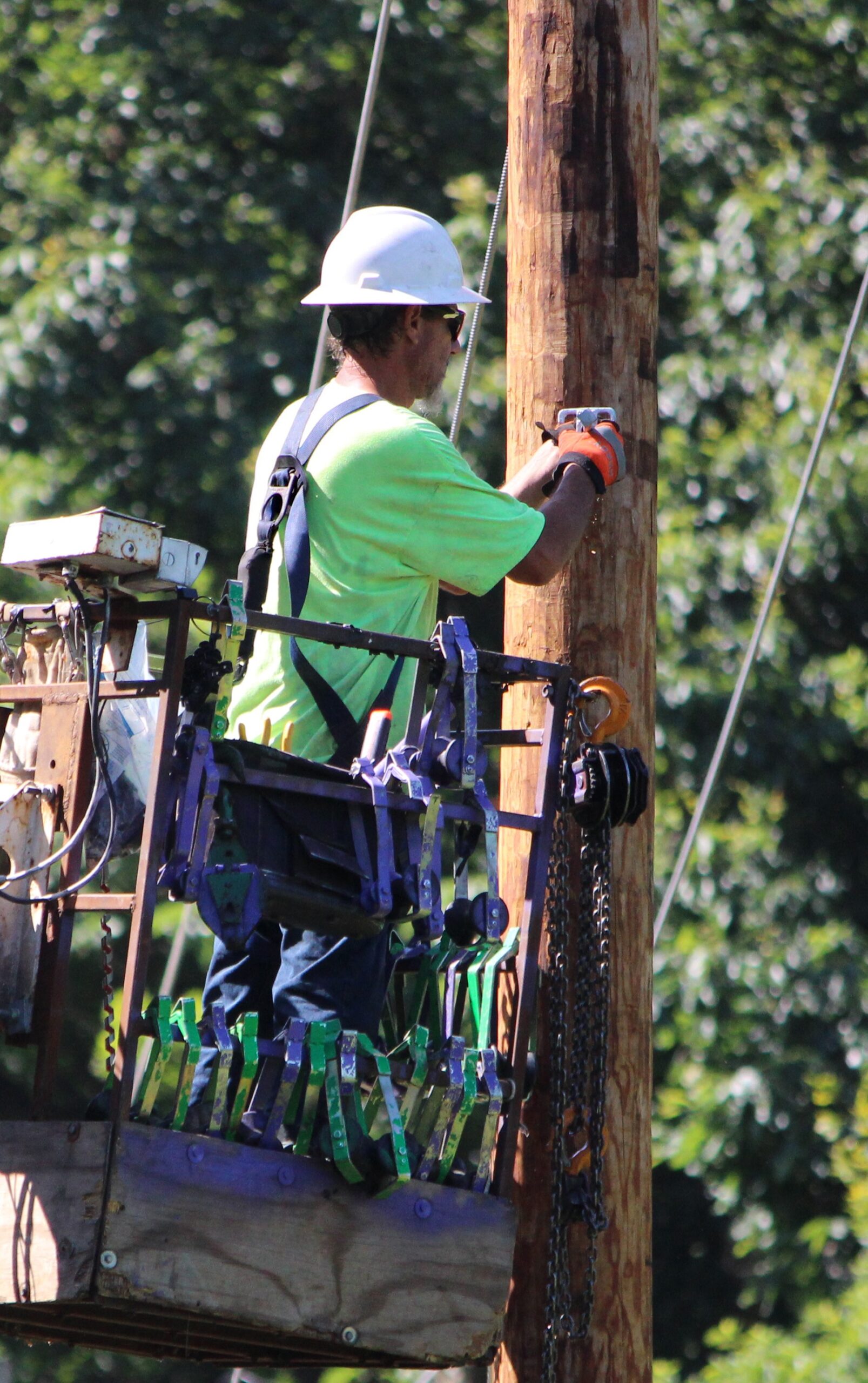 A fiber construction contractor hangs fiber lines outside of Battle Ground, Indiana. Photo provided by Wintek powered by Tipmont.
"It can be a challenge for farmers to address their mental health needs because that means taking time away from the farm," Short says. "The option of telehealth visits creates a much more flexible environment for farmers, but you need reliable internet in order to do that."
Lack of competition in the rural market drives up the price of high-speed internet, pricing out a sizable percentage of users, Gallardo says. However, community grants are available to incentivize internet providers to bring their services to rural homes, which is where Extension staff can help.
"We're here to educate community leaders about what's available to them and show them the best ways to build capacity and plan accordingly to go after funding," Gallardo says. "Right now we are struggling not with a lack of awareness about why everyone needs to be connected to the internet, but rather on how communities can bring investment to address the issue."
Short says online and in-person programs help farm families and workers identify signs of stress and recognize its potential impact on both physical and financial health.
"Stress does a lot of damage to your brain, and it can impair your decision-making ability," she says. "This is the point I tend to hammer home: When you aren't thinking clearly, you become more accident-prone. Accidents on the farm cost money, not to mention if it's severe, it could cost you your life."
ADDRESSING THE RIGHT NEEDS
Angie Abbott admits she doesn't know all the health and cultural barriers rural residents face.
In the early days of the pandemic, Abbott talked with state and national officials, brainstorming efforts to get residents through the doors of vaccine clinics. Knowing transportation can pose an issue, officials suggested free rideshare vouchers. Abbott cautioned them on the limits of this proposed solution.
"You're assuming everyone has a cell phone," she says." That may work for certain parts of the state, but it won't work for everyone. And if I told my grandma in rural Clinton County that I was going to call her an Uber to go get her vaccine, there is no way she would willingly get in the car with a stranger driving."
Abbott says the key to connecting with communities is finding and working with the most trusted community members, or as she calls them, the gatekeepers.
In Daviess County, for example, connecting with the Amish community wasn't easy. Daviess is one of five Indiana counties targeted by the I-HOPE (Indiana Healthy Opportunities for People Everywhere) program in 2021 and 2022. I-HOPE, which launched in 2021 with $34.8 million in grants, is a partnership between Purdue's Regenstrief Center for Healthcare Engineering and the Indiana Department of Health. It aims to reduce systemic health and social inequities exposed by the pandemic, with specific emphasis on the health disparities experienced by ethnic and minority groups and rural communities. Purdue Extension educators play a key role in the initiative by connecting I-HOPE teams to those local gatekeepers.
"The Amish community there is in regular contact with veterinarians because of the animals they keep," Abbott says. "During the pandemic, we found they were frequently going to their veterinarians to ask questions and dispel rumors they'd heard about COVID treatments. Through trusted community members, like these veterinarians, we are collectively able to devise an action plan to figure out what will work and how we get the right information to these audiences that aren't necessarily going to come sit in a meeting."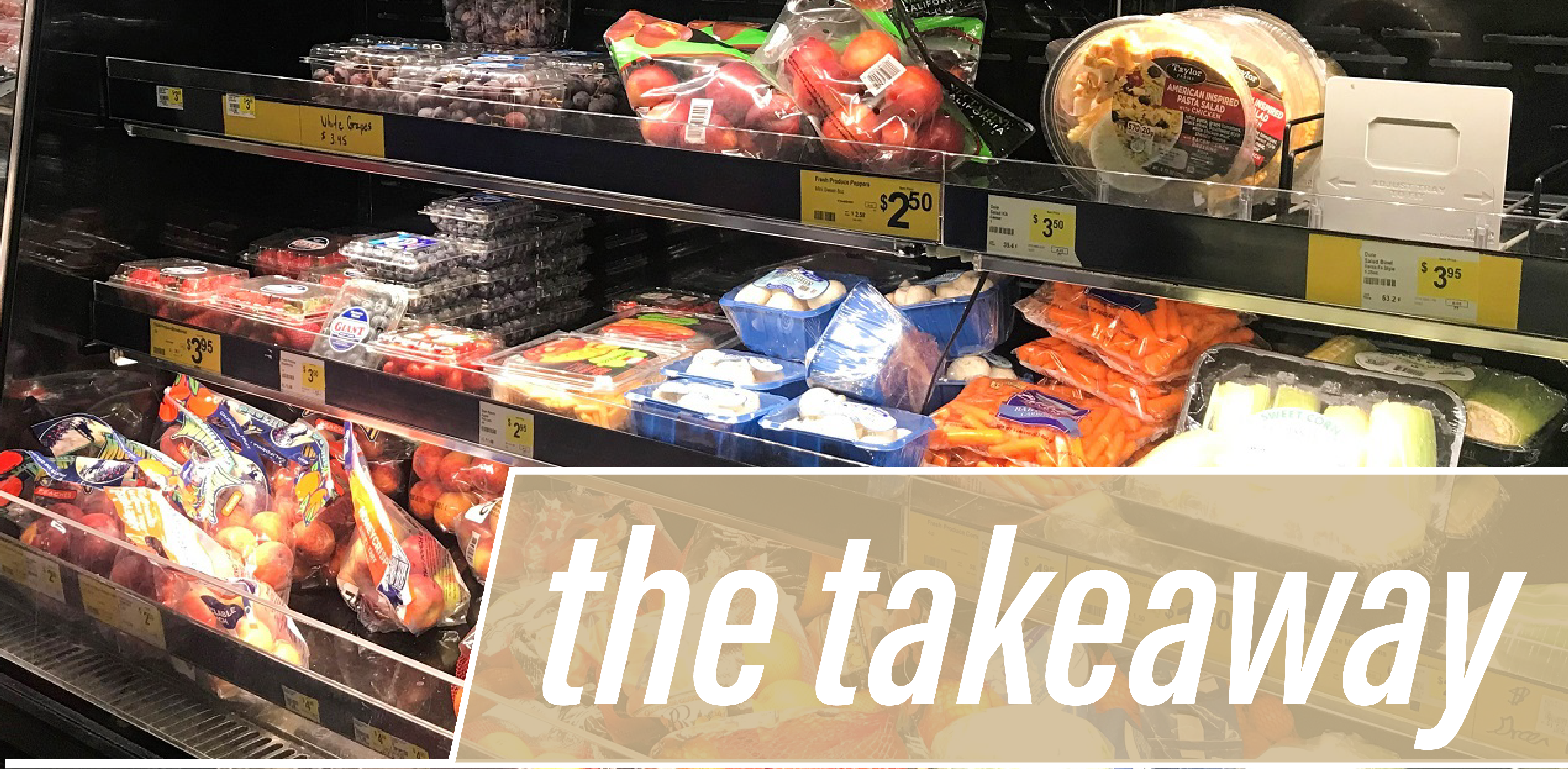 One initiative of Jerome Adams, new Presidential Fellow at Purdue University and 20th U.S. Surgeon General, is for Purdue University to serve as a community partner in improving rural health care in Indiana.
Purdue Extension Health and Human Sciences, with its network of staff in all of Indiana's 92 counties and a deep connection to Purdue research and expertise, is key to this effort.
Residents of areas that are food deserts or food swamps often suffer from compounding issues that can be part of a cycle of hopelessness and substance abuse.
Purdue Extension's Nutrition Education Program helps educate Indiana residents about healthy options and finds ways to make them more accessible in rural communities.
Better internet access is key to receiving medical care via a telehealth visit using technologies like text messages, email or video conference.
Telehealth can be a crucial resource for those in isolated rural regions, providing support during a pandemic like COVID-19 or access to mental health appointments.
Purdue Extension educators participate in I-HOPE (Indiana Healthy Opportunities for People Everywhere), a partnership between Purdue's Regenstrief Center for Healthcare Engineering and the Indiana Department of Health.
Through the efforts of Purdue Extension program staff and educators, Adams sees a stronger, healthier future for all of Indiana. "Purdue and Extension have a huge impact on the daily lives of Indiana residents," he says. "It's my hope that, ultimately, we can really help people see Purdue as a community partner, not just as a university, or our center of learning, but as a true community partner that will help them meet their needs, reach their goals and be their best selves."
Banner Photo: The Dollar General store in Sheridan, Indiana, now carries fresh produce thanks to the efforts of a former Hamilton County Nutrition Education Program Community Wellness Coordinator. Photo by Laura Crawford