THE GIFT OF
FRIENDS
By Maureen Manier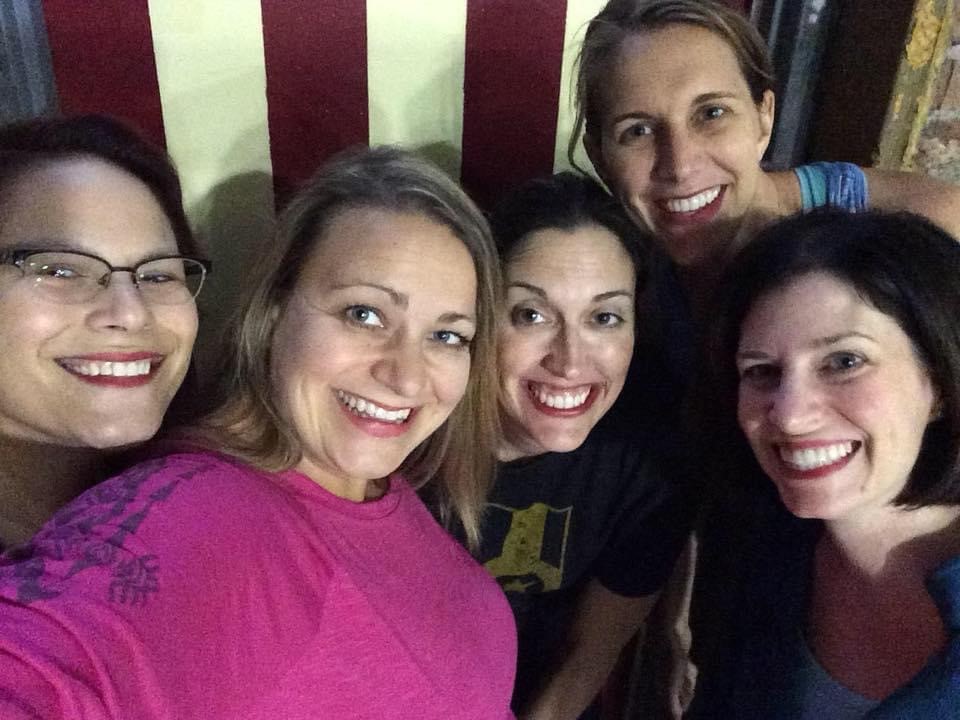 Angie Perez Bowes, Kim Combs, Kirsten Miles, Erin Gramza and Valorie Hahn first met as freshmen in food science classes.
But they developed their close connections through late-night coffee shop chats, drinks at Jake's, camping trips, cosmic bowling, and, of course, more food science classes and club activities. After graduating in 2001, they fulfilled their promise to meet every year, spending weekends together drinking wine and talking through the night; attending wedding showers, weddings and baby showers; and even pushing themselves out of their comfort zones — like taking an aerial silks class at Cirque Indy.
After graduation, Angie accepted a job at General Mills. She loved her job and the opportunities it gave her, which included living in several cities and returning frequently to Purdue to meet with students and speak to food science classes. Erin Gramza describes her friend: "Angie, at her core, was a connector! She loved simply getting to meet people and find common ground." 
Angie reconnected with Jamie Bowes, who became her husband, when they returned to Purdue for a homecoming weekend. They later welcomed a daughter, Olivia.
Amidst all their career and life changes, the last thing this group of friends anticipated was that they would soon be gathering to support and honor Angie after a cancer diagnosis.
As Angie battled cancer through many years, her friends sent numerous gifts, both silly and sentimental. However, they reached a moment when they knew it was time to give their friend a lasting gift.
Kim Combs explains that Angie loved gift giving. "She was the most thoughtful person, and we knew we needed to dig deeper to find a way to honor her. In fact, the day we gave her our gift, she had gifts for each of us — just because!"
For her birthday in November 2017, her friends gave Angie a letter that announced their intention to give an annual $1,000 scholarship in her honor to a Purdue food science student who had demonstrated grit and resilience while maintaining a passion for contributing to the advancement of the food industry.  
"We need you to know that we are working to make sure your contributions will be continuing for years and years and years, perhaps just in a little different way than you originally envisioned while walking the halls of the Purdue Food Science building," read the letter.
Her friends say their gift took Angie's breath away, for a second, before she quickly began suggesting ideas to figure out how they could go "even bigger" with the scholarship.
"She was our fun friend and immediately had all sorts of ideas about planning fundraising parties to contribute to the scholarship. We started out thinking we would fund the scholarship ourselves each year, not yet understanding the concept and benefit of an endowment," Combs says.
During the final weeks of Angie's life, her friends rallied together, connecting with Angie's family and focusing on the scholarship and how proud Angie was that this was going to be a permanent way to help students.
What Angie's friends soon realized, as they dealt with their grief, was that so many others were grieving, like General Mills co-workers who Angie viewed as family.
"We had failed to look outside our bubble and hurting hearts to realize that Angie had left the same imprint on the hearts of others as she did for us. Through the generosity of so many of Angie's family, friends and co-workers, along with company matching gifts, we were able to achieve the goal of establishing the endowment much more quickly than we had ever imagined," Combs says.
Last fall, Angie's friends gathered on a virtual phone call to meet with the first recipient of the Angelina Perez Bowes Food Science Scholarship. The love they feel for their friend made it an emotional conversation, but one they also profoundly value. They were reminded of Angie's passion, and they were comforted knowing it will be mirrored in future scholarship recipients. No gift could have made Angie happier.
To donate to the Angelina Perez Bowes Food Science Scholarship Endowment, please make donations payable to Purdue Foundation and mail to Purdue Foundation, 403 W. Wood Street, West Lafayette, IN 47907; or donate online at connect.purdue.edu/s/foodscience. For further questions, or to learn more about giving to Purdue, contact the Agricultural Advancement Office at 765-494-8672.