SCOTT
JAMIESON
BS FORESTRY
Father and son Scott and Ryan Jamieson both graduated from the College of Agriculture, with different majors and 23 years between them. While much changed at Purdue during that time, at least one thing hasn't: both felt well prepared to join the workforce in their respective fields.
Scott Jamieson grew up in Gary at the height of its manufacturing boom, but it was the city's proximity to the Indiana Dunes that gave him an affinity for wildlife and nature. Seeing Gary's steel mills with the dunes in between, he was fascinated by the ways in which industry and nature could coexist for the best of both worlds, leading him to a degree in urban forestry.
Rather than growing trees to harvest them and make new products, urban foresters cultivate and care for trees to maintain them for their benefits. "When people typically go into forestry or wildlife, the last thing they're thinking about is urban anything. They want to get out into the woods and away from everything," Scott says. "But I thought, 'Hey, wait a minute, wouldn't it be cool to take care of trees in the places where most people live and play and hang out?'"
Outside of class, he lived at the "co-rec" [now the France A. Córdova Recreational Sports Center], playing pick-up basketball games with his roommate. His favorite gym memory, however, is seeing his son and fellow Purdue alumnus, Ryan, across the floor as they both recruited students at the College of Agriculture career fair for their respective companies.
Scott is based in the Chicago area as vice president of Bartlett Tree Experts, an international tree care firm. He's maintained a strong relationship with Purdue and the Department of Forestry and Natural Resources to spread the word about urban forestry. "That was one of the benefits of me coming back to teach a couple of classes, talk to students and see my professors over the years my kids were there: I could do double duty," Scott says.
He's proud to see how Purdue has evolved into a beautiful campus landscape and credits leaders like President Mitch Daniels and Provost Jay Akridge for increasing Purdue's national prominence.

Harvey Holt, professor emeritus, Forestry and Natural Resources
France A. Córdova Recreational Sports Center
Just Mercy Bryan Stevenson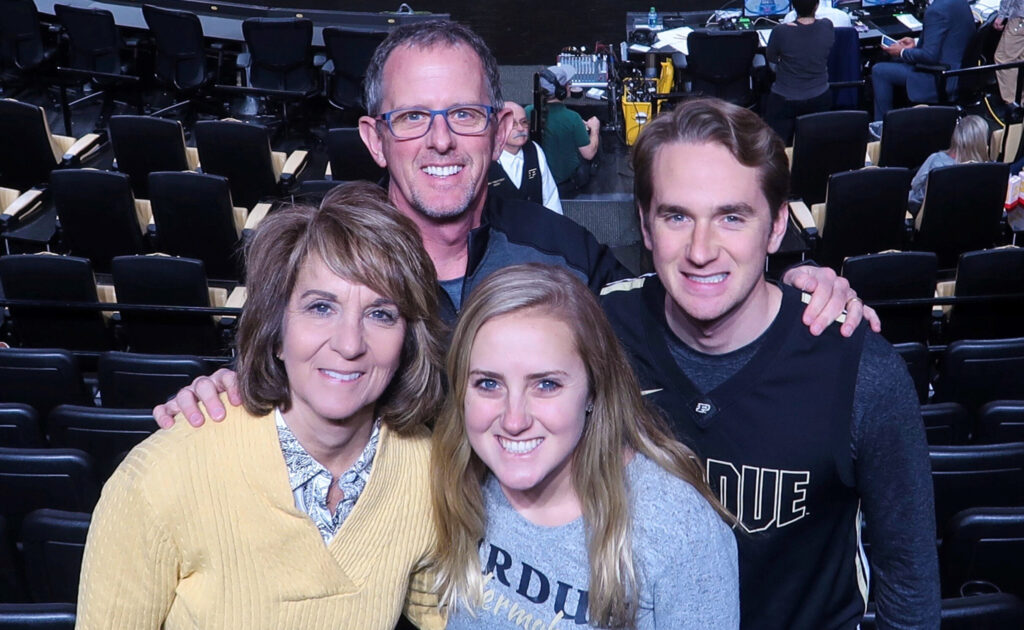 Looking through old family photos, Ryan Jamieson sees a lot of pictures of him wearing black and gold, thanks to his dad Scott and mom Diane (BS '87, management) and an aunt and uncle who also attended Purdue.
So Purdue was included in his college search, but Ryan was interested in an economics or trading job and primarily visited business schools. His dad suggested he check out the highly rated Department of Agricultural Economics. Ryan met with Andy Oppy, associate director of academic advising and career services, and some of the faculty members, and knew it was the place for him.
"Looking back, I never would have thought when I was in high school that I'd be working for an ag company," Ryan says. He's now a soybean meal trader at Bunge Limited in St. Louis.
He credits Freddie Barnard, professor emeritus, who served as his academic adviser, and Chris Hurt, professor emeritus, and the late Corinne Alexander, associate professor, as key influences.
"I was really focused on these commodity marketing classes, and I remember in my first couple of days on the job I thought, 'Oh my gosh, this was just taught to me in class not too long ago,'" Ryan says. "Having those great teachers helped me be prepared when I entered the workforce."
Ryan's campus sports passion was the Purdue cycling club. Participating in a Purdue triathlon club race ignited another, and he's training for his first Ironman in September 2021.
He also tried something his parents wished they had, spending a semester studying abroad in Copenhagen. "So many people inside the ag school had positive reviews on it that I felt like it was something I didn't want to miss out on," Ryan says. "Having a more well-rounded college experience and a new perspective on agriculture has been helpful in life after Purdue."

Chris Hurt, professor emeritus, Agricultural Economics
France A. Córdova Recreational Sports Center
When Genius Failed Roger Lowenstein