Colleagues,
<![if !vml]>

<![endif]>It's time to take a deep breath! We've come to the end of another busy and productive academic year in Purdue Agriculture. Soon we'll welcome the newest members of the Purdue Ag family when Day On Campus begins. You'll see lots of parents and students walking around with their campus maps and looking lost; please take a minute to help them find their way around!
You no doubt heard or saw the announcement of Dr. France Córdova as Purdue's 11th president. Dr. Córdova comes to Purdue from the University of California Riverside, a sister land-grant institution, where she was at the forefront of innovative research and education as well as progressive community outreach programs. We look forward to welcoming her to Purdue on August 1. Read more about Dr. Córdova at http://news.uns.purdue.edu/x/2007a/070507McGinleyCordova.html
Another piece of good news for Purdue is that the Indiana General Assembly passed a budget at the end of last month! This budget includes a 1.5 and 1.7% increase in state appropriations for Purdue's operating budget for e3ach of the next two fiscal years. The College of Agriculture received 3% increases each year during the budget cycle on our line items supporting Agriculture Research and Extension and the County Extension salaries. Purdue's New Manufacturing Economy Initiative was not funded as such, but the General Assembly allocated $5 million to Purdue through the Indiana Economic Development Corporation for the recruitment and retention of faculty in the life sciences.
The General Assembly also passed the Corn Check-off. This is a ½ cent per bushel check-off for corn produced in Indiana and sold through marketing channels. The check-off will not apply to corn produced on the farm and consumed on the farm (livestock) or to corn sold directly to a livestock producer, or to seed corn. Taking all of these things into account, it is estimated that this will generate around $3 million annually. Twenty-five percent of the check-off will be allocated to a new E85 fund to promote the distribution and use of E85. A council made up of 17 voting corn producer members and 8 ex-officio non-voting members will oversee the fund.
It was a very busy legislative session and I want to thank John Baugh for staying on top of things. As always, John served Purdue and Indiana Agriculture very well through his involvement in the legislative process.
Cheers,
Randy
News around Purdue Agriculture
Botany and Plant Pathology to honor Ralph Nicholson
<![if !vml]><![endif]>The Botany and Plant Pathology department will host a special science symposium and tribute to the scientific career of Dr. Ralph L. Nicholson on Monday, June 18 from 3:00 to 5:00 p.m. in the Deans Auditorium of Pfendler Hall. Dr. Nicholson has spent more than 30 years elucidating the biochemistry of plant phenolic compounds and their role in plant disease resistance and host-pathogen interactions. The tribute will highlight some of his remarkable discoveries and will feature several prominent speakers. This symposium will be held immediately prior to and in conjunction with the American Phytopathological Society North Central Division meeting on June 19-21. For more information contact Ray Martyn at rmartyn@purdue.edu or 49-46465.
Entomology establishes John Osmun Endowed Chair
<![if !vml]>
<![endif]>Over his long career, entomology professor Dr. John Osmun was a pioneering advocate of education and training in the pest control industry. The Entomology department, in partnership with pest control companies, distributors and others, established the John V. Osmun Endowed Professorship to honor his contributions and carry on his work. The position will perform research that is timely and immediately applicable to the pest control industry. Department head Steve Yaninek is enthusiastic about the opportunity, saying, "John Osmun's interactions with the pest management industry were innovative and trend-setting, so it is appropriate that this new professorship will support faculty working on cutting-edge research that addresses industry priorities."
CIE helps teach teachers
The Center for Instructional Excellence will present a series of College Teaching Workshops over five afternoons in June. These sessions are designed to improve the teaching skills of Purdue faculty, staff, and graduate teaching assistants. To register online for any or all of the sessions, visit: http://www.cie.purdue.edu/workshop/register/index.cfm
Victory on the quarter scale
<![if !vml]>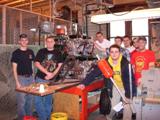 <![endif]>Congratulations to the ABE quarter scale team on their overall 2nd place finish last weekend at the International Quarter Scale Tractor competition in Peoria, IL. The team was first in the overall pull competition, finishing third, first, second and first in the four pulls. With their 6-engine design, the Purdue ABE team had the most unique tractor of the 30 teams competing—and their tractor was the most photographed at the event!
Diversity Fellows program available to faculty
Assistant Dean Pamala Morris encourages College of Agriculture faculty to participate in the Diversity Resource Office's Diversity Fellows program, part of the Diversity in the Classroom Project. The goal of the DICP is to facilitate faculty development in "teaching to diversity" (using classroom practices to create a climate that is welcoming of the diversity of our students) in support of the University's Strategic Plan objective of "enhancing human and intellectual diversity." The Diversity Fellows Program provides support for faculty development, implementation and sharing of inclusive approaches to teaching, learning, and assessment in the area of diversity. For more information, contact Pam Morris at pmorris@purdue.edu.
From the Business Office
One Purdue brings new vocabulary….
From the Agriculture business office come descriptions of new terms associated with One Purdue/SAP. If you are responsible for preparing forms, please be sure to use appropriate identifiers. For example, the PERNR is required on the new leave forms. NOTE: The Person ID and the Personnel Number are not the same as your PUID. Confused? Contact your business office for more information or help.
<![if !vml]>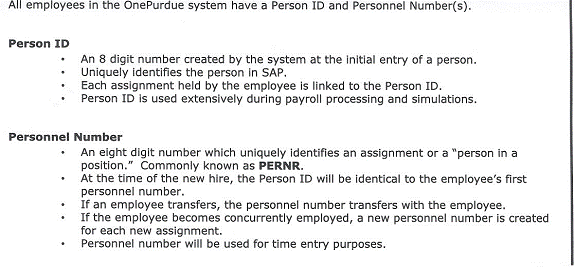 <![endif]>
… and New Forms
The "Request for Absence From Campus" (Form 33) and 33F "Request for Sabbatical, Research, Outside Activity Leave or Change in Duty Station" (Form 33F) have changed in conjunction with One Purdue. Please start using these forms immediately. When you look at the form you will see that some of the information requested is new such as "Org Unit" "PERNR" and "Cost Center". Your business office can assist you with completion of this information. You can find the forms on the Web at http://www.purdue.edu/hr/Resources/ps-forms.htm
Kudos
Dr. Layi Adeola, Animal Sciences, will receive the American Feed Industry Association Award in Nonruminant Nutrition Research at the national meeting of the American Society of Animal Sciences in July. This award recognizes excellence in nutrition research of nonruminant animals. Layi will also receive the PSA Maple Leaf Farms Research Award at the joint ASAS/PSA/ADSA meeting in San Antonio.
Congratulations to Dr. Dave Gerrard of the Department of Animal Sciences on receiving the 2007 American Meat Science Association (AMSA) Research Award. The award will be presented at the 2007 Reciprocal Meat Conference (AMSA's national meeting) at South Dakota State University this month.
Mark your calendar
Purdue University Multicultural and Gender Forums have been scheduled for 2007. All faculty and staff who have not yet attended are encouraged to do so. You must have attended a Multicultural forum in order to attend a Gender forum.
Schedule: http://www.science.purdue.edu/DiversityForums/dates.html
June 13-15: 4-H Science Workshops on Purdue campus. Contact Clint Rusk at 494-8427 for more information.
June 25-27: 4-H Youth Round-up on Purdue campus. Contact Carl Broady at 494-8435 for more information.
August 8-19: Indiana State Fair. Contact Danica Kirkpatrick at 494-9113 for more information.
August 28-30: Farm Progress Show in Decatur, IL. Purdue Agriculture is not exhibiting at this event in 2007. Contact Danica Kirkpatrick at 494-9113 for more information.
September 6-8: Farm World Expo in Terre Haute, IN. Vigo County Extension Coordinates this event for Purdue Agriculture. Contact Danica Kirkpatrick at 494-9113 for more information.
September 15: Family Day activities. Contact the Office of Academic Programs at 494-8470 for more information.
September 18-20: Ohio State Farm Science Review in London, OH. Contact Danica Kirkpatrick at 494-9113 for more information.