Colleagues,
I'm delighted to be writing my first "In Focus" message to you as Interim Dean of Purdue Agriculture. In these first weeks in the dean's office I have learned a great deal. While I came to Purdue as a graduate student in 1982, one of the things I've learned since May 1 is that there's a lot more to learn!
One of my first orders of business is to get better acquainted with all the departments and units of Purdue Agriculture, so I am meeting with folks on their "home turf" whenever I can. This learning process is helping me deepen my understanding and appreciation of the outstanding work going on across Agriculture. An added bonus is that it's fun!
Provost Randy Woodson has initiated the search for the next dean of Agriculture, and the goal is to have that person in place early next year. I want to assure you that Purdue Agriculture won't be standing still during this interim period. Randy built a great leadership team, and I'm looking forward to working with them—and you—to continue the positive momentum we have built here.
One critical piece of work is the development of the next strategic plan for Purdue Agriculture. Randy told us earlier this year that this is a high priority for Purdue Agriculture and many of you are members of the working groups related to the strategic planning process. Work will continue, though with a revised timeline. Over the summer months the brand study process will continue, and the working groups will take up their tasks again at the beginning of the fall semester, with the goal of having all the groundwork laid for development of the strategic plan by December 31, 2008. The new Dean will chair the steering committee in Spring 2009 to finalize development of the plan, utilizing all the work done in Summer/Fall 2008.
I want you all to know how much I appreciate the warm welcome I have received from everyone. I'm excited to be here and looking forward to working with you in the coming months!
All the best,
Jay Akridge
News around Purdue Agriculture
Committee named for Dean of Ag search

Provost Randy Woodson has named a 17-member committee that will be charged with finding the next dean of Purdue Agriculture. Willie Reed, dean of the School of Veterinary Medicine, will chair the committee. The committee will begin its work immediately, with a goal of naming a new dean by the end of the year. Click here for the committee list.
Bernie Dahl named River Hero

Bernie Dahl, Program Chair of Landscape Architecture and a current director and past president of the Banks of the Wabash, Inc, is one of five national winners honored in May at the 2008 National River Rally held in Huron, Ohio.The River Network's annual River Hero award celebrates rivers and those who protect them by recognizing some of the victories and honoring those who provide the Network with leadership and inspiration along the way.
Full story: http://www.agriculture.purdue.edu/in_focus/2008/May-June/RiverHeroArticle.htm
Dale Whittaker garners Ivy Tech award.....
Ivy Tech Community College presented its Distinguished Service Award to Dale Whittaker, associate dean and director of academic programs for his work with Ivy Tech to establish the Indiana Agricultural Institute, a partnership of Purdue University, Purdue Extension, Ivy Tech and Vincennes University. The establishment of the Institute was essential in the development of Ivy Tech's agriculture degree program, introduced in Fall 2007. Dale was also instrumental in establishing the first statewide transfer agreement between Ivy Tech's associate degree in agriculture and Purdue's bachelor's degree in agriculture.
...and selected for leadership institute
Dr. Dale Whittaker has been selected as a 2008 Fellow in The Food Systems Leadership Institute (FSLI). The FSLI offers leadership development to upper-level leaders in higher education, government, and industry to prepare them to meet the leadership challenges and opportunities of the future. Drs. Craig Beyrouty and Jess Lowenberg-DeBoer have also participated in the FSLI program.
John Graveel to join OAP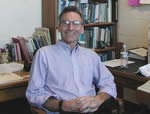 Associate Dean Dale Whittaker is pleased to announce that Dr. John Graveel, professor of Agronomy, will join the Office of Academic Programs on July 1 as Assistant Dean. This new half-time 3-year position was established to support academic and student success programs as we progress through the transition to BANNER. John will be primarily responsible for coordinating access, orientation and retention initiatives.
Leadership Development program recognized
Purdue Agriculture's Leadership Development Certificate Program has been designated as the "Outstanding Leadership Program of the Year" by the Association of Leadership Educators, Inc. The Leadership Development Certificate Program is provides our students with experience and growth in leadership. Each student, with the guidance and assistance of a leadership coach, develops his or her own leadership learning experience that meets the program's specific requirements. Thanks go to Tracie Egger in the Office of Academic Programs for submitting the nomination.
Ag faculty join Teaching for Tomorrow
Roman Keeney, Ag Economics and Chang Lu, ABE, have been accepted into Purdue's Teaching for Tomorrow Fellowship Awards Program for 2008-2009. Teaching for Tomorrow is a mentoring program designed to foster continued excellence in teaching and learning and to help develop the teaching potential of our faculty. The program was initiated by a 50th reunion gift from the Classes of 1944 and 1945.
Biochem faculty member to participate in Fulbright Program

Dr. Sandra Rossie will travel to Russia this fall to participate in the Fulbright Scholar Program. As a Fulbright scholar, she will be affiliated with the Institute of Chemical Biology and Fundamental Medicine and the Institute of Chemical Kinetics and Combustion in Novosibirsk. Located in southwestern Siberia, Novosibirsk is the third largest city in the Russian Federation. It is home to the Siberian branch of the Russian Academy of Sciences and a large scientific community called Akademgorodok, a collection of research institutes together with Novosibirsk State University. She will conduct a workshop on scientific communication in English and collaborate on a biochemistry research project.
Nobody doesn't like....Tuscan Essentials
Congratulations to Food Science students and faculty who were involved in the Sara Lee Product Development Competition! Dr. Lisa Mauer and Dr. Martin Okos were two of the judges in the evaluation panel, which included other Purdue faculty and two Sara Lee employees. Allie Clemons (FS) and Jessica Lee (FMO), along with three other students (HTM, F&N, ABE), developed "Sara Lee Bagel Nibblers"--bagel strips with a yogurt dip that contained probiotics. This team was advised by Dr. Amy Devitt.
Patti Tanner, a Food Science graduate student, was on a team with one ABE and one F&N student. Their team developed, "Tuscan Essentials", a special biscotti. This team was advised by Dr. Charlie Santerre. Tuscan Essentials won the competition, with the prize of $10,000 to the team. The Sara Lee representatives were so impressed with the products that both teams have been invited to present their ideas at the Sara Lee headquarters.
Specialist: Little changes can mean gas savings down the road
Summer driving season has started, and gas prices continue to climb faster than the temperature. By properly maintaining vehicles and changing wasteful driving habits, Hoosier motorists can take some of the heat off their fuel expenses, said a Purdue University Extension family resource management specialist. Full story: http://news.uns.purdue.edu/x/2008a/080527KissFuel.html
A Tax Echo in 2009
Two of the priorities for Indiana's new property tax reforms were to make property tax relief permanent and to deliver tax relief now, in 2008. Taxes in 2008 and 2009 will be lower than they were in 2007. But in some counties, the tax reform will deliver more relief in 2008 than in 2009. Some homeowners could see a tax increase between those years. Ag Economics professor Larry DeBoer calls it the "tax echo." Full story: http://www.agriculture.purdue.edu/agcomm/newscolumns/archives/CC/2008/May/080522CC.html
Purdue announces application and admission changes for 2009
Several critical changes to the Purdue University application and admission process will affect students applying for Fall 2009 and later. Click here for a summary of the changes.
June 10-20: Day on Campus. Contact the Office of Academic Programs at 494-8470 for more information.
June 11-13: 4-H Science Workshops on campus. Contact Clint Rusk at 494-8427 for more information.
June 11-13: Animal Sciences Workshop for Youth on campus and at ASREC. Contact Rod Allrich at 494-4844 and Clint Rusk at 494-8427 for more information.
June 17-19: Indiana State FFA Convention at Purdue. Contact Brian Buchanan at 317-878-4178 for more information.
June 17-20: State 4-H Junior Leader Conference, University of Indianapolis. Contact Steve McKinley at 494-8435 for more information.
June 24-25: Farm Management Tour. More information: http://www.agecon.purdue.edu/extension/programs/farm_tour.asp
July 14: Indiana black Expo Children's Day activities at the Indiana Convention Center, 10 a.m. to 2 p.m. Contact Danica Kirkpatrick at 494-9113 for more information.
August 6-17: Indiana State Fair
August 12: Crop Report at the Indiana State Fair, Our Land Pavilion. Contact Beth Forbes at 494-2722 for more information.
August 15: Purdue Day at the Indiana State Fair. Purdue exhibits will line Main Street, performances will take place on the steps of the Home and Family Arts Building, and Purdue will be featured in events throughout the day. Contact Danica Kirkpatrick at 494-9113 for more information.