Colleagues,
The past two weeks have been almost surreal – we are all enjoying a beautiful Indiana early Fall and Purdue football (some games more than others), farmers are starting to get their crops harvested, and the Purdue semester rolls on. At the same time, the world's financial markets are experiencing upheaval unprecedented since the time of the Great Depression. Literally daily we get news of firms with household names being bought out, bailed out, or allowed to go bankrupt.The sheer magnitude of the funds involved is almost beyond comprehension, and only the experts truly understand the sophistication of the financial instruments involved. As Congress struggles to craft a politically viable bailout plan, the volatility of the financial markets is just plain terrifying for the general public, and the proposed (short-term) solutions have left that same public angry and confused.
This is certainly a time that demands the very best thinking and objective insight. Ag Economics experts Phil Abbott, Mike Boehlje, Larry DeBoer, and Chris Hurt, organized by Interim Department Head Ken Foster, have been involved over the past few weeks in conference calls and face-to-face briefings with our Indiana Congressional delegation and their staff, working to provide them the best possible information as they make literally historic decisions. As always, when called to serve, faculty in the College of Agriculture step up and the work of this group is much appreciated.
In response to this crisis, we have arranged a brownbag seminar on Monday October 6 at noon in Pfendler Hall Deans Auditorium, where a panel of experts will help us understand the causes of the crisis, our policy options, and the implications going forward. Mike Boehlje will moderate the panel consisting of Larry DeBoer and Phil Abbott from Ag Economics, David Hummels from the Department of Economics in the Krannert School of Management, and Sugato Chakravarty from the Consumer Sciences and Retailing Department of the College of Consumer and Family Sciences. To reach beyond the campus, we will also be broadcasting this event via the Web and archiving it for future viewing. Expert perspectives and open exchange of ideas on topics of great importance to our society…this is what our university is all about! I encourage you to bring your lunch and join us for this important and timely discussion.
All the best,
Jay Akridge
News around Purdue Agriculture
Experts to help explain financial crisis at Oct. 6 discussion

Uncertainty reigns supreme in financial markets, as Congress considers legislation to stabilize the banking industry and Wall Street. Purdue economists will discuss how the financial crisis developed, what it means and where markets go from here, during a panel discussion from noon to 1 p.m. on Monday, Oct. 6 in the Dean's Auditorium in Pfendler Hall. The public is invited.
"We'll have a discussion about the implications of the current financial dilemma for the overall economy and for the state of Indiana, and what might happen in the short term and with overall budget deficits if we have a government response," said Michael Boehlje, agricultural economist. "We want to try to help people understand the issues involved and what it all means for the typical citizen and taxpayer, rural economies, the agricultural sector and the business community. This discussion won't be only about agriculture."
Boehlje will moderate the panel discussion, which is expected to address such issues as credit, farm loans, stocks, bonds and other instruments. Boehlje is a farm and agribusiness management specialist, and serves on the faculty of the Purdue Center for Food and Agricultural Business.
Other panelists include:
• Philip Abbott, professor, Department of Agricultural Economics. Abbott is an expert on international trade and agricultural development. He has served as a consultant for several domestic and foreign government agencies, the United Nations Food and Agriculture Organization, commissions on food policy issues and private agencies.
• Sugato Chakravarty, head, Department of Consumer Sciences and Retailing, Purdue College of Consumer and Family Sciences. Chakravarty conducts research in finance, with a focus on market microstructure, banking and asset pricing involving stock, options and fixed income securities, in both domestic and foreign markets.
• Larry DeBoer, professor, Department of Agricultural Economics. DeBoer specializes in state and local government public policy, including government budgeting and taxes, property tax assessment, local government revenue and the fiscal impact of economic development.
• David Hummels, professor, Krannert School of Management. Hummels teaches economics and was a research associate with the National Bureau of Economic Research. He's been a visiting scholar for the Federal Reserve Board of Governors, the International Monetary Fund and Minneapolis Federal Reserve Bank.
Large freshman class boosts Agriculture enrollment

Enrollment in the College of Agriculture reached an 11-year high this fall, buoyed by a strong freshman class. Total enrollment in our 42 agricultural majors is 2,535 - four shy of fall 1997. Of this fall's enrollees, 581 are first-semester freshmen and 115 are transfer students. "Interest in agriculture is taking off," says Dr. Dale Whittaker associate dean and director of academic programs. "Our enrollment is going up because students see agriculture as offering strong, viable careers where they can make a living. There's also a new idealism among young people. Students want to make a difference in the world, and they see agriculture as a way to do that in areas such as climate change, clean water, bioenergy and world hunger."
Full story: http://news.uns.purdue.edu/x/2008b/080929WhittakerEnrollment.html
A/P Staff Advancement work begins
The 2008-2009 Administrative/Professional Staff Advancement Program is underway. All A/P staff should have received the materials via email. Advancement documents are to be processed and approved through the individual department committees this fall before they are submitted to the Dean's Committee for evaluation (due January 14). It is recommended that staff update their advancement documents each year. This will be helpful in the year they are eligible to submit a document for advancement. Visit the College of Agriculture's A/P Staff Advancement Program web site at http://www.agriculture.purdue.edu/apadvancement/ for more details.
NSF picks Purdue to lead effort to attract women to STEM disciplines and agriculture
Purdue is launching a national model program to increase the number and diversity of successful women faculty members in the STEM disciplines - science, technology, engineering and mathematics - as well as agriculture. A National Science Foundation grant of more than $3.92 million will support the research and programming for "institutional transformation" and create the Purdue Center for Faculty Success. The center will provide targeted research, programs and university-level coordination to not only attract more women, but also to help them succeed. What is learned will be shared with other institutions across the nation. Dr. Linda Mason, Entomology, will serve as Agriculture's point person on the Purdue team.
Full story: http://news.uns.purdue.edu/x/2008b/080917CordovaGrant.html
Purdue project among NSF/AAAS 2008 Visualization Challenge Winners
Genomics Digital Lab: Plant Cells, an interactive computer game/laboratory developed by graduate student Tommy Sors and Professor David Salt, Horticulture and Landscape Architecture, to help young (and older) students learn about plant organelle function within the larger context of functional genomics has won First Place in the National Science Foundation / AAAS Science and Engineering Visualization Challenge in the category of Interactive Media. Created in collaboration with subcontractor Spongelab Interactive, the project was funded through grants to David Salt from NSF and ASPB.
Full story: http://www.sciencemag.org/cgi/content/full/321/5897/1768#article10
First genomics breeding program to benefit poultry industry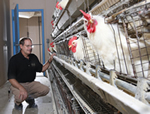 The first breeding program in the world to use an entire animal genome is beginning under the direction of university scientists and two of the largest international poultry breeding companies. Animal Sciences professor Bill Muir is project co-director for the multimillion dollar research effort to determine the viability of using whole genome DNA selection to improve the accuracy and efficiency of breeding methods.
Full story: http://news.uns.purdue.edu/x/2008b/081001MuirGenomics.html
Hardin writes about meeting that changed the world

Agriculture in developing countries was transformed when scientists met aid officials at the 1969 Bellagio Conference on Agricultural Development and convinced them to invest in research. Dr. Lowell Hardin, assistant director of International Programs in Agriculture, was a participant in the conference, and believes that today's food crisis demands a similar vision. Dr. Hardin writes about the meeting in the September 25 issue of Nature.
Full story: http://www.nature.com/nature/journal/v455/n7212/full/455470a.html
Food Science remembers the past, looks to the future
Current and Former Department Heads Suzanne Nielsen and Phil Nelson invite you to join us in celebrating the 25th Anniversary of the Food Science Department as we reflect on how far we've come and where we're going. We invite you to participate in a discussion of industry trends and how Purdue Department of Food Science can position itself to address future needs of the industry.
Thursday, October 9, 2008, 8:30 a.m.-noon
Pfendler Hall of Agriculture, Deans Auditorium
Alumni & Industry Leaders Symposium
Guest Speakers include Mary Wagner, General Manager / Chief Science Officer, Mars Botanical; Elaine Wedral, President, International Life Sciences Institute, North America; and Neil Cracknell, President of the Flavors & Fragrances Group, Sensient Flavors, LLC.
Phil Nelson to address Indian summit

Dr. Phil Nelson, Food Science, has accepted an invitation from the Associated Chambers of Commerce and Industry of India (ASSOCHAM) to be the Millennium Speaker at the 6th Global Knowledge Millennium Summit "Bio Nano:The Global War on Hunger" in New Delhi, India later this month. The focus of the summit is on biotechnology and nanotechnology and their revolutionary impacts on agriculture, food systems and human welfare. ASSOCHAM, established in 1920, is the premier Chamber of Commerce of India and serves industrial and service enterprises including agro-based industries situated across the country.
Students get firsthand look at Indiana agriculture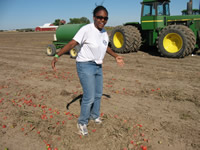 A group of students in the Agriculture Honors Learning Community got an education in the breadth of Indiana agriculture on Saturday, September 27. During a day-long excursion fashioned after the highly successful New Faculty Tours, John Baugh and Dale Whittaker took the group to visit the ASREC Aquaculture Unit, a Benton County wind farm, the Kankakee Sands Nature Conservancy property, the Fair Oaks Dairy, Remington Hybrids, and the Huffman & Hawbaker Farms.


Trustees approve paid parental leave policy
The Purdue University board of trustees, meeting at Indiana University-Purdue University Fort Wayne, on September 26, approved a proposal to add a parental leave benefit for employees. The new parental leave policy allows both male and female faculty, staff and graduate staff to take paid time off for a birth or adoption, effective Oct. 1.
Full story: http://news.uns.purdue.edu/x/2008b/080926BOTParental.html
Purdue provides voter registration information to students
As Election Day nears, Purdue University officials are working to make sure students know how to register and where they can cast votes on Nov. 4. Information about how to register in Indiana and cast an absentee ballot, along with early voting and polling locations, is posted online at GetInvolved@Purdue - http://www.getinvolved.purdue.edu - a Web site that gives student organizations a way to reach students and advertise upcoming events. Student groups also have been active in encouraging and registering other students to get involved in the upcoming election and vote, said Pablo Malavenda, associate dean of students.
Full story: http://news.uns.purdue.edu/x/2008b/081001MalavendaVote.html
Consumers and Technology Symposium
The late 20th and early 21st Centuries have been an incredible age of technological and information advances. The computer begat the PC and the PC became a key communication tool with the advent of the internet. Communication mushroomed, information access expanded rapidly and numerous personal devices followed. This symposium will explore the effect of the information technology age on the consumer with an emphasis on future technological advances and their influence on the service economy. The goal of the symposium is to build collaborations among Purdue faculty that will enhance future technology-related grants to include a consumer perspective. Graduate students are invited to present research related to consumers and technology. Prizes awarded. Registration is required by October 6. Contact wailor@purdue.edu to register for the poster session.
October 7: Purdue Agriculture Career Fair from 9:30 a.m. – 3:30 p.m. in the ballrooms of the Purdue Memorial Union. Contact Linda Austin at 494-8473 for more information.
October 7: Discovery Lecture Series Presentation "A World of Uncertainty: Thresholds and Dilemmas in Ecology", 7:00 pm, Loeb Playhouse.
October 8 & 9: The Indiana Flower Growers Association Annual Meeting in West Lafayette. Contact Colleen Martin at 765 494-1306 for more information.
October 11: Indiana 4-H Congress at the Holiday Inn Select Indianapolis Airport. Contact Steve McKinley at 494-8435 for more information.
October 21-24: National FFA Convention in Indianapolis. Contact Tracie Egger at 494-8470 for more information.
October 24: Department of Entomology Osmun Award presentation and seminar. Contact Paula Layden at plloyd@purdue.edu, 496-1119
October 25: Purdue Homecoming. Agriculture Alumni reunite on campus for food and fun prior to the football game versus Minnesota. Contact Donya Lester at 494-8593 for more information about College of Agriculture Alumni activities. Contact Barry Delks at 496-7234 for Animal Sciences Reunion information.
November 13: PCARET State Conference at the Beck Center in West Lafayette. Contact Teresa Rogers at 494-8489 for more information.
November 21: Distinguished Animal Sciences Alumni Presentation at 2:00 pm in Lilly Hall 3-113. Contact Barry Delks at 496-7234 for more information.
December 4-6: Indiana Farm Bureau Convention in Evansville, IN. Tradeshow takes place Friday, December 5th from 8:30 am – 4:30 pm in the Evansville Auditorium Convention Centre. Purdue Agriculture will have several exhibitors at this event. Contact Anna Todd at 317-692-7857 for more information.
December 21: Winter Commencement exercises, 2:30 p.m. Contact Cheryl Ballenger at cballeng@purdue.edu for more information.