Colleagues,
2009 has been a very challenging year for our state and our stakeholders. And, on the budget front, we have had our own set of challenges at Purdue. With the ailing economy, uncooperative weather, state revenue shortfalls and looming budget cuts commanding our attention these days, it's sometimes difficult to remember that there is so much for Purdue Agriculture to celebrate this year.
You have seen our headlines: a high point of the year was surely the announcement of Dr. Gebisa Ejeta as the 2009 World Food Prize Laureate. We also celebrated Agricultural and Biological Engineering's number 1 graduate program and number 2 undergraduate program rankings by US News & World Report, and the announcement this fall by Dow AgroSciences that it will open a research facility at the Purdue Research Park. Undergraduate enrollments have remained strong, and we announced a new program with Ivy Tech Lafayette that will help increase access to a College of Agriculture degree for more Hoosier students. An ag science teacher at Lebanon High School (Byron Ernest) was named Indiana's Teacher of the Year and Agronomy's Lori Unruh Snyder received the USDA Teaching Excellence Award in the New Teacher category.The first round of Purdue Extension Issue Based Action Teams (IBATs) were launched. And, our faculty and staff have been very successful in securing extramural funding this year – to date, more than $32 million, compared to $19 million at the same point last year.
These kind of accomplishments are 'headline grabbers' for good reasons. But one of the most rewarding parts of my job is seeing, every day, how the faculty, staff, and students in our College make a difference. Examples abound. It may be a community garden developed by Purdue Extension in collaboration with Ivy Tech that provides thousands of pounds of food for local food banks. An advisor who helps assure a parent and their new student that their transition to Purdue Agriculture is something they can manage.It is a group of faculty and staff who show up on a Sunday morning to participate in the graduation ceremony and attend a reception in honor of our newest graduates.
I hear about the difference we make when I ask students about their favorite course, and they light up with enthusiasm when they describe how the instructor goes about his or her craft. It is talking with a farm family about how they have benefitted from the Farming Together workshop. We see it in papers that graduate students author with their major professors, letters from funding agencies acknowledging the contributions our faculty have made on panels, conversations with producers who thank us for responding with research based information to help our agricultural producers make decisions during an unbelievably difficult fall harvest. Our difference is people like Jessica Crum in ARP, who every year coordinates the huge holiday project to provide gifts for Group Homes for Children and Cary Home, two local organizations that work with children and teens, and Lonni Kucik in International Programs in Agriculture, who gathers furniture, dishes and household items for international students who come here with nothing. I have only touched the surface -- there are so many more examples of Purdue Agriculture people making a difference.
It's fun to celebrate the milestones and the high-profile accomplishments of our faculty, staff and students. But all across our College, without fanfare or spotlight, the people of Purdue Agriculture are making a difference every day. Thank you for all you do—you make this place the terrific organization that it is!
Have a safe and happy holiday!
All the best,
Jay
News Around Purdue Agriculture
Message from the Dean on the budget situation
On the budget front, there is no 'new news' to report. At this point, the state has not made a decision on what the Purdue portion of the $150 million higher education budget cut will be. As you would imagine, College leadership has been working through possible scenarios based on (a lot of) assumptions. But, despite what you may hear, we still do not know what the higher education cut will mean for Purdue Agriculture. We also have not yet received guidance on how to proceed with filling positions. Please note that we are not under a hiring freeze, rather a hiring slow down. This is good news and should allow us to fill some of our most critical faculty and staff positions.
Many have asked how they can help. And, I will repeat what I said earlier this month: If you have ideas for where we can find efficiencies or address this financial situation, please pass them along. If you have questions, pass those along as well. As I also mentioned earlier this month, the most important thing you can do is to continue to serve our stakeholders, and I mean stakeholders very broadly, at the highest possible levels. I fully understand it is not easy to focus on the task at hand with so much uncertainty. But, I also know that we will find a way as a College to do just that. This is a challenging period, and it will call on us to be creative in how we respond. But if there is any good news to be found in all this, it is that we simply are not looking at cuts of the magnitude our neighbors are. With your good help, we will get through this transition and continue to make a difference for our state, our nation, and our world.
Gebisa Ejeta receives Ethiopia's highest honor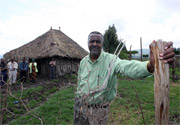 Less than a month after receiving the 2009 World Food Prize, Dr. Gebisa Ejeta received his home country's highest honor. Ethiopia's President, H.E. Ato Girma Woldegiorgis, awarded Dr. Ejeta the National Hero Award, the first time the nation's highest honor has been given to an Ethiopian for work in science and technology. President Woldegiorgis called Gebisa, "an Ethiopian champion whose prize is a commitment to others." In response to the National Hero Award, Dr. Ejeta announced that he will use his $250,000 World Food Prize to establish an educational foundation aimed at assisting Ethiopian and other African children.
Full story: http://www.worldfoodprize.org/press_room/2009/nov/ejeta-ethiopia.htm
Some birds listen, instead of look, for mates
Looks can be deceiving, but certain bird species have figured out that a voice can tell them most of what they need to know to find the right mate. Andrew DeWoody, FNR, found that the higher the pitch of a male bird's song, the more genetic diversity that bird has, making him a better mate for breeding. His study was published on December 2 in the early online edition of PLoS One.
Full story: http://news.uns.purdue.edu/x/2009b/091202DeWoodyAntbirds.html
Nanoprobes hit targets in tumors, could lessen chemo side effects

Tiny nanoprobes have shown to be effective in delivering cancer drugs more directly to tumor cells – mitigating the damage to nearby healthy cells – and Purdue University research has shown that the nanoprobes are getting the drugs to right cellular compartments. Professor Joseph Irudayaraj and graduate student Jiji Chen, both in the Department of Agricultural and Biological Engineering, have found that the nanoprobes, or nanorods, when coated with the breast cancer drug Herceptin, are reaching the endosomes of cells, mimicking the delivery of the drug on its own. Endosomes perform a sorting function to deliver drugs and other substances to the appropriate locations.
Full story: http://news.uns.purdue.edu/x/2009b/091214IrudayarajEndosomes.html
Irrigation decreases, urbanization increases monsoon rains
Work done by Dr. Dev Niyogi, Agronomy and Earth & Atmospheric Sciences, has shown that man-made changes to the landscape have affected Indian monsoon rains, suggesting that land-use decisions play an important role in climate change.Monsoon rainfall has decreased over the last 50 years in rural areas where irrigation has been used to increase agriculture in northern India, says Niyogi. At the same time, heavily urban areas are seeing an increase in heavy rainfall. "In the rural areas, we're seeing premonsoon greening occurring two weeks earlier than what it did 20 years back as the demand for agricultural intensification to feed India's people increases," he said. "The landscape has also moved in some places from what was once a traditionally rural setting to large urban sprawls. Both of these phenomena have affected monsoon rains."
Full story:http://news.uns.purdue.edu/x/2009b/091215NiyogiIrrigation.html
Waste energy to be captured for winter crop production
Using water generally lost through evaporation from Purdue University's power plant, a researcher believes he can heat the ground during winter months and grow produce under cover that would taste better and cost less at local markets. Cary Mitchell, a professor of horticulture, is one step closer to building a high tunnel structure that could affordably allow for out-of-season growing in Midwestern states. The tunnels, like greenhouses, would trap heat and moisture while water used to cool Purdue's coal-fired boilers would be piped underground beneath the tunnels to heat the ground to a suitable temperature for growing.
Full story: http://www.purdue.edu/newsroom/outreach/2009/091211MitchellGrant.html
Nanoparticle protects oil in foods from oxidation, spoilage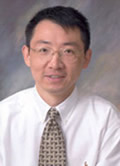 Using a nanoparticle from corn, Prof. Yuan Yao, Food Science, has found a way to lengthen the shelf life of many food products and sustain their health benefits.He has successfully modified the phytoglycogen nanoparticle, a starchlike substance that makes up nearly 30 percent of the dry mass of some sweet corn. The modification allows the nanoparticle to attach to oils and emulsify them while also acting as a barrier to oxidation, which causes food to become rancid. His findings were published in the early online version of the Journal of Agricultural and Food Chemistry.
Full story: http://www.purdue.edu/newsroom/research/2009/091208YaoNanoparticles.html
Perceived risk slows greenhouse growers' move to sustainability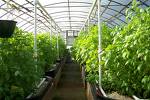 Concerns about recouping higher costs and the possibility of losses caused by improper implementation of new technology top the list of reasons that greenhouse growers are wary in their approach to sustainability, according to a Purdue University study. Roberto Lopez, an assistant professor of horticulture and landscape architecture, said that those in the floriculture industry want to incorporate more sustainable practices into their businesses, but those concerns and others have kept many from doing so.
Full story: http://news.uns.purdue.edu/x/2009b/091207LopezSustainability.html
TEAM Award nominations invited
For the last 15 years, Purdue Agriculture has recognized an outstanding collaborative effort within our programs and across the university. Nominations are invited for the 2010 Purdue Agriculture Team Award. The 2010 Team award will be presented at a ceremony in May and the winning team will receive a cash award of $10,000 for program support. An electronic copy of your nomination is due to Debbie Claeys at dclaeys@purdue.edu by January 30, 2010.
TEAM Award guidelines:http://www.agriculture.purdue.edu/in_focus/2009/December/TEAM_Award_2010.pdf
Corey Back, Assistant Director of Financial Affairs in the College of Agriculture, received the 2009 Eleanor O. Kaplan Award for Exceptional Customer Service. The award is given to a member of the University's business office staff by Lucia Anderson, Director of Business Managers.
Dr. Larry DeBoer, Agricultural Economics, who has helped countless Hoosiers better understand tax and government budgeting issues is the 2009 recipient of the Frederick L. Hovde Award of Excellence in Educational Service to Rural People of Indiana. Larry received the award Nov. 20 at the Indiana Farm Bureau convention in Fort Wayne, Ind. The award honors Purdue staff with a record of outstanding achievement and service to rural communities.
Dr. Natalia Doudareva, Horticulture and Landscape Architecture, has been elected a Fellow of AAAS for her "pioneering work on plant volatile biochemistry and molecular biology in the area of floral scents." She will receive the recognition in San Diego on February 20, 2010. Election as a Fellow of AAAS is an honor bestowed upon members by their peers. Fellows are recognized for meritorious efforts to advance science or its applications.
Dr. Kevin Keener, Food Science, received the 2009 Sharvelle Award at the Purdue Extension awards banquet on November 18. Kevin developed an oven that fries food without an oil bath and came up with a process to eliminate bacteria in packaged foods. The Sharvelle Award is presented each year in memory of Eric G. Sharvelle, a Purdue professor of botany and plant pathology from 1946-75. The award was established by Derek and Sybil Sharvelle of Battle Ground, Ind., in 1985.
Dr. Gary Krutz, ABE, has been named a Life Member of the American Society of Mechanical Engineers. Founded in 1880 the American Society of Mechanical Engineers promotes the art, science and practice of mechanical and multidisciplinary engineering and allied sciences around the globe.
Dr. Marshall Porterfield, ABE, has been elected President of the American Society of Gravitational and Space Biology (ASGSB). The organization was founded in 1984 and provides a forum to foster research, education and professional development in the multidisciplinary fields of gravitational and space biology.
These Purdue University Cooperative Extension Service specialists were honored by Epsilon Sigma Phi, their professional organization, at the annual Purdue Extension awards banquet on November 18:
Peggy Titus and Dan Stewart, CES Assistant Directors: Continued Excellence Awards
Don Jones, ABE: Distinguished Service Award
Renee McKee, Assistant Director and 4-H Program Leader and Val Slack, former Whitley County Extension Director: Lynn Busse Administrative Leadership Recognition Award
Karen Richey, Marshall County Extension Educator: Mid-Career Award
Vickie Hadley, Mary Ann Lienhart-Cross, Edie Sutton, Annetta Jones and Elizabeth Kiss:Team Recognition Award for their work on the "Where Does Your Money Go?" money management program
Susan Tharp, Clinton County Extension Educator: Diversity/Multicultural Recognition Award
Mark Russell, Extension horse specialist: Visionary Leadership Recognition Award
Nancy Schuman, retired Johnson County Extension educator: Retiree Service Recognition Award
Scott Brand, ABE building deputy; Cindy Ream, Office of Extension Director secretary; and Denise Heath, Breaking New Ground secretary: Meritorious Support Award
Jon Leuck, Pinney-Purdue Agricultural Center superintendent: Friend of Extension award
The Indiana Extension Educator Association presented four team awards to Purdue Extension educators during Purdue Extension's annual conference banquet on November 18:
Amy Webster and Atina Rozhon: Cooperative Extension Service Team Award for their work on the Kindergarten Recycling Program
Mary Jo Robinson, Megan Hughes Hawk, Linda Abner, Robert Allen, Jerene Gilliam, Jacqueline Benham, Jim Ade, Sharon Lawson and Amy Nierman: 4-H Youth Development Team Award for their work on the Area II 4-H Camp
Stacye Johnson and Maria Restrepo: Agriculture and Natural Resources Team Award for their work on the Organic Twilight Tour
Edie Sutton, Vickie Hadley, Mary Ann Lienhart-Cross, and Annetta Jones: Consumer and Family Science Team Award for their work on "Where Does Your Money Go?" program
Five Purdue University Cooperative Extension Specialist Association (PUCESA) awards were presented at the annual Purdue Extension banquet on November 18:
Corinne Alexander, professor of agricultural economics, received the Junior Award
Fred Whitford, professor of botany and plant pathology, received the Senior Award
Alan Sutton, professor of animal sciences, received the Career Award
Ronald Lemenager, professor of animal sciences, received the Special Award
The Purdue CAFO Team received the Team Award. CAFO Team members are Paul Ebner, Alan Sutton, Don Jones, Alan Grant, Mike Boehlje, Janet Ayres, Jane Brown, Chris Sigurdson, Beth Forbes, Al Heber, Jane Frankenberger, Dean Jones, Roman Keeney, Tamilee Nennich, Larry DeBoer and Steve Leer.
The Indiana Extension Educator Association honored seven Purdue Extension educators during Purdue Extension's annual conference banquet on November 18:
Sharon Lawson of Crawford County received the 4-H Youth Development Individual Award
Ricky Kemery of Allen County received the Agriculture and Natural Resources Individual Award
John Hancewicz of Vigo County received the Economic and Community Development Individual Award
Georgia Wagner of Wayne County received the Consumer and Family Science Individual Award
Genise Huey of Posey County received the CFS Career Award
Rena Sheldon of Morgan County received the Bob Amick Award
Lana Frazier of Vigo County received the Diversity Award
Purdue moves forward to cut costs long term and short term
Purdue University officials on Dec. 14 outlined first steps toward accommodating recent cuts in state funding as well as a $30 million reduction in recurring expenditures. Due to declining revenues, Gov. Mitch Daniels said the state will withhold $150 million for higher education over the next 18 months, which, if shared proportionally among all state public institutions, could total more than $30 million for Purdue's West Lafayette campus. When news of the state cutback was announced Dec. 4, the university already had been working to identify another $10 million in expenditure reductions for 2010-11 and another $30 million in recurring cuts beginning in 2011 from the West Lafayette campus budget.
A steering committee of faculty, staff and students named last week will be evaluating actions to realize needed savings. At a forum for faculty and staff on Dec. 14, Al Diaz, executive vice president for business and finance, treasurer, announced that actions would be taken in two areas - the hiring process and energy-related expenses - with detailed plans to come at the beginning of January.
Full story: http://www.purdue.edu/newsroom/general/2009/091214DiazSustain.html
Purdue begins admitting students after record year of applicants
A record number of high school seniors applied to Purdue compared to this time last year, university officials reported on Dec. 15. Purdue's application volume so far has increased 20 percent to more than 24,000 applications, up from 20,000 this time last year. The university's Office of Admissions on Dec. 11 began contacting more than 15,000 students to inform them of the admissions decision.
Full story: http://www.purdue.edu/newsroom/general/2009/091215CordovaAdmitted.html
Medical plan ID cards to be sent in December
All employees who are participating in a Purdue medical plan for 2010 will get new ID cards in December. Purdue Incentive and Purdue Copay participants will get a card from CIGNA for their medical plan and a card from Medco for prescription drugs. Purdue Choice Fund participants will use their CIGNA ID card for both medical services and prescription drugs. In addition, Choice Fund participants will receive a debit card to use for their health savings account (HSA). Those who enrolled in the Purdue Choice Fund should also watch for a welcome kit from CIGNA. The kit will provide important information about activating their health savings account and steps to follow when using the plan in 2010. Employees who elected a health care flexible spending account (FSA) for 2010 will receive an FSA debit card before Jan. 1. The debit card replaces the automatic reimbursement feature available in past years. Limited purpose FSAs (available to people who enrolled in the Purdue Choice Fund) and dependent day care FSAs do not include a debit card.
December 19: Fall semester ends
December 20: Agriculture Commencement and Reception
January 19: PCARET Legislative Luncheon at the Hyatt Regency Hotel, Downtown Indianapolis. Contact Teresa Rogers at 49-48489 for more information.
February 3-5: HASTI (Hoosier Association of Science Teachers, Inc.) Conference at the Indiana Convention Center. Purdue Agriculture exhibits at the conference on Feb. 4 and 5. Faculty and specialists present throughout the conference.
February 24: College of Agriculture Career Fair, 10:00-3:30; Pfendler Hall. For more information, contact Linda Austin at 494-8473; laa@purdue.edu