Colleagues,
Let me start out my first In Focus message of 2009 by expressing how honored and excited I am to serve as the Glenn W. Sample Dean of Agriculture. I appreciate the messages of congratulations I have received from so many across the college, and I am really looking forward to working with all of you in this new role. We have a very proud tradition in this College, and working with you, I am confident we can build on that tradition as we define what it means to be an exceptional land grant College of Agriculture in the 21st century.
We all know that these are challenging times for our stakeholders, Purdue University, and the College of Agriculture. The current economic situation and how that affects our state funding is challenging us to think very carefully about how we invest our funds. You can read more about that below in this issue of In Focus. Even in the face of challenges, though, we're moving ahead to take full advantage of opportunities to provide leadership to the state and the nation in agricultural research, teaching and Extension. Our new Purdue Agriculture strategic plan will be key to helping us develop that roadmap for the next few years. Read further in this newsletter for an update on where we are currently in the strategic planning process.
I really appreciate all the hard work of everyone in Purdue Agriculture. These are challenging times, but I have no doubt we will be there for our stakeholders, and that we will emerge from this difficult period with momentum. Have a great semester…and remember (as far away as it may seem), spring is right around the corner!
All the best,
Jay
News around Purdue Agriculture
Tight budget times require extra vigilance - a message from the Dean
Governor Mitch Daniels' budget proposes a 4% reduction for higher education (including Purdue) in fiscal 2010. However, we won't know what our actual budget will be until the legislature finishes its work later this spring. But, here in Purdue Agriculture we are working with department heads to develop plans for managing potential reductions in our general (state) funds budget. At this point we are moving ahead with faculty searches that are in progress, and are working very hard to build support for the new life/animal sciences building (Purdue's highest capital project priority). But I urge everyone to be sensitive to your department or unit budget—consider expenses like travel and supplies, or any other discretionary expenses, carefully.

If there's a bright spot to be found, it's that Purdue's legacy of strong fiscal management puts us in better shape than many universities across the country. We will keep you apprised as the budget situation unfolds this spring.
And, just to reinforce the great work you are already doing or plan to do, this is also an exceptionally challenging period for our stakeholders, from community leaders, to rural entrepreneurs, to graduating seniors. I appreciate all you are doing to be especially responsive and supportive of our stakeholders. This is a time when Purdue Agriculture is especially needed, and I have no doubt we will answer the call.
Purdue Agriculture Strategic Planning effort enters next phase
Most of you know that last Spring, the College kicked off its strategic planning effort. For any organization, including our College, the process of thinking about what is different in our world, what these changes mean for our stakeholders, and how we respond as a College is terribly important. Thinking through the most important long-term issues we face, what we aspire to do and be, and how we create a vibrant workplace where people feel enabled to be their best and valued for their contributions is something we just need to make time for. Finally, our College, as part of the broader university, is required to develop a plan that shows how we will support New Synergies, the University plan. We will be held accountable for delivering on our plan by the President and Provost.

We divided the planning process into two parts. Over the past fall semester, our strategic planning working groups did the hard work of gathering information in their assigned areas of discovery, engagement, learning, and international programs. Our thanks go to the working group chairs—Ron Turco, Jane Frankenberger, Mark Morgan, Joan Fulton and Suzanne Nielsen—and all the working group members who have given their time and efforts to this task over the last several months. They have provided a foundation for the strategic plan by framing the issues and opportunities in each of our mission areas, and have started the process of identifying initiatives to move our College forward.
We have scheduled brownbag lunches where each group will present its white paper to the College for comment and input. We had a great turnout and a lively discussion for the Extension/Engagement strategic planning group's presentation of their white paper on January 26. If you weren't able to be there, you can watch the video at http://mediaserver.ihets.org/vod/purdue/dean_012609.wmv.
The next brownbag discussion is scheduled for Wednesday, February 4 from 11:30 to 12:30 in the Deans Auditorium in Pfendler Hall, when the Discovery strategic planning group will present and discuss their white paper. Off-campus Extension staff can watch online at http://mediaserver.ihets.org/pudiscovery and send questions and comments during the session to dmcclure@purdue.edu.
The Student Access and Success group will present on Monday Feb. 9, followed by the International Agriculture presentation on Thursday Feb. 12—all at 11:30 in the Deans Auditorium in Pfendler.
All Agriculture faculty, staff and students are invited to these important discussion sessions. Please mark your calendars and plan to attend. We want to hear from you! The working group white papers will be available for you to read on the web at http://www.agriculture.purdue.edu/strategicplan/index.html.
Our Strategic Plan Steering Committee will take these white papers, as well as feedback provided during the brown bag sessions, and craft a draft strategic plan for the College. In April, we will make sure you have another opportunity to provide input on the plan. We want to make the process as inclusive as we can. And, we need your best thinking as we set the course of the College over the next five years.
Holiday firewood should be purchased, burned locally

With temperatures plummeting and the holiday season in full swing, it may be time to light the fireplace. But being selective about firewood can help prevent a whole host of problems in the months to come. Although emerald ash borer is inactive during the winter months in Indiana, its larvae hibernate under the bark of ash wood until warmer weather arrives in spring. This means that moving firewood, even now, can spread the devastating insect - and other diseases of trees and invasive species - to new areas.
Full story: http://www.entm.purdue.edu/news/eabHolidayFirewood.html
Conference helps growers learn the ins and outs of organics
The fifth annual Midwest Organic Production and Marketing Conference and Trade Show, held in conjunction with the Indiana Horticulture Congress, will be Jan. 21-22 at the Adam's Mark Hotel in Indianapolis. "Participants will leave the conference with a better understanding of organic production techniques," said Jim True, Purdue University Cooperative Extension Service educator and co-conference planner. "Once a grower can produce the product, they'll need to market it and we've got sessions explaining different marketing strategies such as community supported agriculture and how to sell to wholesalers."
Full story:http://news.uns.purdue.edu/x/2008b/081215TrueConference.html
To cut back on calories, eat at home
When you choose Swiss Chalet over McDonald's, don't be thinking you're doing your waistline any favours. According to a new study, table service meals typically contain more calories than fast food meals because they have bigger portions and offer more variety. "People are always talking about how bad fast food is, but they're both pretty bad from a standpoint of calories and so forth," said James Binkley, the lead researcher and a professor of agricultural economics.
Full story: http://www.canada.com/calgaryherald/news/reallife/story.html?id=cbefbdaf-027f-402c-bdf8-be22c49fe135
Fish back on the menu for Ag Alumni Fish Fry
The Ag Alumni Fish Fry on Feb. 7 will reintroduce fish into the menu - in addition to pork - at the 11:30 a.m. luncheon in the Toyota Blue Ribbon Pavilion at the Indiana State Fairgrounds in Indianapolis. The Indiana Soybean Alliance is sponsoring the fish that will be served as part of its Aquaculture Initiative. The Indiana Packers Corp. will continue to sponsor the pork, as the group has since 1999.
Full story: http://news.uns.purdue.edu/x/2008b/081216LesterFishfry.html
Randy Woodson recognized for rural service

Randy Woodson, Purdue University provost and the former Glenn W. Sample Dean of Agriculture, is this year's winner of the Frederick L. Hovde Award of Excellence in Educational Service to Rural People of Indiana. The award, which honors Purdue staff with a record of outstanding achievement and service to rural Indiana, was presented on December 5 at the Indiana Farm Bureau convention in Evansville. Randy was recognized for his efforts to improve agricultural opportunities and educate people in various audiences about the importance of agriculture.
Full story: http://news.uns.purdue.edu/x/2008b/081205AkridgeHovde.html
ABE to honor Don Jones on his retirement
The Agricultural and Biological Engineering Department invites you to a retirement celebration for Professor Don Jones on January 16, 2009, 3:00-6:00 p.m.(with presentation at 4:30 p.m.) at the Beck Agricultural Center. If you'd like to include a letter, photo or story to share about Don, please submit it to Becky Peer, ABE (peerb@purdue.edu) by January 7.
Terry Stewart honored by national society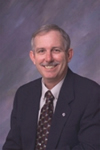 Dr. Terry Stewart, Animal Sciences, was recognized by the National Society of Collegiate Scholars as an outstanding faculty advisor to the Purdue Chapter of the organization. The NSCS is a member of the Association of College Honor Societies and extends membership invitations to first- and second-year undergraduates who are in the top 20 percent of their class and have achieved a grade point average of 3.4 or higher. NSCS awards more scholarship dollars to undergraduates than any other honors organization nationwide. Faculty advisors work with chapter members in programs, community service opportunities, career resources and scholarship offerings.
Mike Boehlje receives distinguished service award

Dr. Mike Boehlje, Ag Economics, received the 2008 Carl F. Hertz Distinguished Service to Agriculture Award from the American Society of Farm Managers and Rural Appraisers (ASFMRA) at the group's annual meeting in November. The award is presented to an individual or group in appreciation of their service to agriculture other than directly in the farm management and rural appraisal professions. Dr. Boehlje is among such award recipients as Orvill Bentley, William Thompson, John Block, Edward Madigan, James Moseley, Richard Lugar, and the National FFA Organization.
Sustainable Agriculture Outreach Award goes to Maria Marshall

The Hoosier Environmental Council has named Professor Maria Marshall the winner of the 2008 Sustainable Agriculture Outreach Award for her innovative work in fostering the development of "Indiana Market Maker," which is a Purdue University-maintained web tool that connects consumers, agricultural businesses and farmers. Indiana Market Maker provides a one-stop shop to help Indiana consumers locate locally grown food products. More information: http://in.marketmaker.uiuc.edu/
Grad student named Teaching Academy Associate Fellow
Nadia Carmosini, a graduate student in Agronomy, has been inducted into the Purdue Teaching Academy as an Associate Fellow. The Teaching Academy honors and supports excellence in teaching and works to strengthen teaching quality throughout the university. Nadia was one of 14 members inducted at the Teaching Academy ceremony in October.
Purdue's Animal Welfare Judging Team wins intercollegiate contest
Congratulations to Purdue's Animal Welfare Judging Team, which placed first at the Intercollegiate Judging Contest. The contest was held November 1-2 at Michigan State University. This year was the largest competition ever, with six universities (Missouri, Iowa, Michigan State, Guelph, Wisconsin, and Purdue) sending teams. Created as an educational exercise to enhance students' understanding of the welfare issues affecting animals used for human purposes, including livestock production, research and companionship, the event promotes critical thinking, teaches ethical reasoning skills, encourages objective assessments based on science, and improves persuasive public speaking and presentation skills.
Purdue takes series of steps to address economic downturn
On December 20, Purdue officials outlined the university's plan to address the uncertain economic times and continue its legacy of strong fiscal management. James S. Almond, the university's chief financial officer, summarized discussion from the Purdue board of trustees' regular meeting, saying several steps will be taken.
Full story: http://news.uns.purdue.edu/x/2008b/081220BOTMeritpay.html
Purdue among best buys in higher education
In a new twist on traditional college rankings, an article in the January issue of Smart Money quantified the long-term value of a college education by spotlighting the relationship between tuition costs and graduates' earning power. Purdue was ranked 9th among public universities in the nation.
Full story: http://www.agriculture.purdue.edu/in_focus/2008/December/Smart Money Jan 09.pdf
Purdue names new associate VP for government relations
The executive director of the Northwest Indiana Regional Development Authority and former aide to U.S. Sen. Richard Lugar has been named Purdue's new Associate Vice President for Governmental Relations. Timothy J. Sanders, a 1977 Purdue graduate who has led the Northwest Indiana Regional Development Authority since its launch in 2006, will serve as Purdue's chief liaison between the university and state officials. He also will have oversight of Purdue's interaction with federal officials.
Full story: http://news.uns.purdue.edu/x/2008b/081222SandersGovt.html
January 12: Spring Semester begins
January 12-14: Indiana Association of Soil and Water Conservation Districts annual conference in Indianapolis. Bob McCormick, Jane Frankenberger, and Laura Esman will represent their activities in the college at this event. Contact Danica Kirkpatrick at 494-9113 for more information.
January 12-14: Indiana Green Expo at the Indiana Convention Center. Contact Mike Mickelbart at 494-7902 for more information.
January 13-15: Fort Wayne Farm Show at the Allen County War Memorial Coliseum. Purdue Extension in area XI will represent the college at this event. Contact Danica Kirkpatrick at 494-9113 for more information.
January 19-21: Indiana Horticultural Congress at the Adam's Mark Hotel in Indianapolis. Contact Tammy Goodale at 494-1296 for more information.
February 3: PCARET Legislative Luncheon at the Hyatt Regency Hotel in Indianapolis. Contact Teresa Rogers at 494-8489 for more information.
February 4-6: HASTI (Hoosier Association of Science Teachers, Inc.) at the Indiana Convention Center. Hours are Thursday (8:00 am – 5 pm) and Friday (8:00 am – 2:00 pm). Contact Danica Kirkpatrick at 494-9113 for more information.
February 7: Ag Alumni Fish Fry in the Toyota Blue Ribbon Pavilion at the Indiana State Fairgrounds at 11:30 a.m. Main event will be preceded by the Ag Forecast in the Old National Bank Grand Hall at 9:30 a.m. Contact Donya Lester at 494-8593 for more information.
February 11-14: National Farm Machinery Show and Tractor Pull at the Kentucky Exposition Center. Purdue Extension in areas I, II, and V will represent the college at this event. Contact Danica Kirkpatrick at 494-9113 for more information.
March 6: Distinguished Agriculture Alumni Awards convocation and reception. Contact Debbie Claeys at 496-7894 for more information.
April 18 & 19: Spring Fest on campus from 10 am – 4 pm on Saturday and Sunday. College of Agriculture and other units from across campus present this educational event. Contact Danica Kirkpatrick at 494-9113 for more information.