Colleagues,
Let me start out my first In Focus message of 2009 by expressing how honored and excited I am to serve as the Glenn W. Sample Dean of Agriculture. I appreciate the messages of congratulations I have received from so many across the college, and I am really looking forward to working with all of you in this new role. We have a very proud tradition in this College, and working with you, I am confident we can build on that tradition as we define what it means to be an exceptional land grant College of Agriculture in the 21st century.
We all know that these are challenging times for our stakeholders, Purdue University, and the College of Agriculture. The current economic situation and how that affects our state funding is challenging us to think very carefully about how we invest our funds. You can read more about that below in this issue of In Focus. Even in the face of challenges, though, we're moving ahead to take full advantage of opportunities to provide leadership to the state and the nation in agricultural research, teaching and Extension. Our new Purdue Agriculture strategic plan will be key to helping us develop that roadmap for the next few years. Read further in this newsletter for an update on where we are currently in the strategic planning process.
I really appreciate all the hard work of everyone in Purdue Agriculture. These are challenging times, but I have no doubt we will be there for our stakeholders, and that we will emerge from this difficult period with momentum. Have a great semester…and remember (as far away as it may seem), spring is right around the corner!
All the best,
Jay
News around Purdue Agriculture
Tight budget times require extra vigilance - a message from the Dean
Governor Mitch Daniels' budget proposes a 4% reduction for higher education (including Purdue) in fiscal 2010. However, we won't know what our actual budget will be until the legislature finishes its work later this spring. But, here in Purdue Agriculture we are working with department heads to develop plans for managing potential reductions in our general (state) funds budget. At this point we are moving ahead with faculty searches that are in progress, and are working very hard to build support for the new life/animal sciences building (Purdue's highest capital project priority). But I urge everyone to be sensitive to your department or unit budget—consider expenses like travel and supplies, or any other discretionary expenses, carefully.

If there's a bright spot to be found, it's that Purdue's legacy of strong fiscal management puts us in better shape than many universities across the country. We will keep you apprised as the budget situation unfolds this spring.
And, just to reinforce the great work you are already doing or plan to do, this is also an exceptionally challenging period for our stakeholders, from community leaders, to rural entrepreneurs, to graduating seniors. I appreciate all you are doing to be especially responsive and supportive of our stakeholders. This is a time when Purdue Agriculture is especially needed, and I have no doubt we will answer the call.
Purdue Agriculture Strategic Planning effort enters next phase
Most of you know that last Spring, the College kicked off its strategic planning effort. For any organization, including our College, the process of thinking about what is different in our world, what these changes mean for our stakeholders, and how we respond as a College is terribly important. Thinking through the most important long-term issues we face, what we aspire to do and be, and how we create a vibrant workplace where people feel enabled to be their best and valued for their contributions is something we just need to make time for. Finally, our College, as part of the broader university, is required to develop a plan that shows how we will support New Synergies, the University plan. We will be held accountable for delivering on our plan by the President and Provost.

We divided the planning process into two parts. Over the past fall semester, our strategic planning working groups did the hard work of gathering information in their assigned areas of discovery, engagement, learning, and international programs. Our thanks go to the working group chairs—Ron Turco, Jane Frankenberger, Mark Morgan, Joan Fulton and Suzanne Nielsen—and all the working group members who have given their time and efforts to this task over the last several months. They have provided a foundation for the strategic plan by framing the issues and opportunities in each of our mission areas, and have started the process of identifying initiatives to move our College forward.
We have scheduled brownbag lunches where each group will present its white paper to the College for comment and input. We had a great turnout and a lively discussion for the Extension/Engagement strategic planning group's presentation of their white paper on January 26. If you weren't able to be there, you can watch the video at http://mediaserver.ihets.org/vod/purdue/dean_012609.wmv.
The next brownbag discussion is scheduled for Wednesday, February 4 from 11:30 to 12:30 in the Deans Auditorium in Pfendler Hall, when the Discovery strategic planning group will present and discuss their white paper. Off-campus Extension staff can watch online at http://mediaserver.ihets.org/pudiscovery and send questions and comments during the session to dmcclure@purdue.edu.
The Student Access and Success group will present on Monday Feb. 9, followed by the International Agriculture presentation on Thursday Feb. 12—all at 11:30 in the Deans Auditorium in Pfendler.
All Agriculture faculty, staff and students are invited to these important discussion sessions. Please mark your calendars and plan to attend. We want to hear from you! The working group white papers will be available for you to read on the web at http://www.agriculture.purdue.edu/strategicplan/index.html.
Our Strategic Plan Steering Committee will take these white papers, as well as feedback provided during the brown bag sessions, and craft a draft strategic plan for the College. In April, we will make sure you have another opportunity to provide input on the plan. We want to make the process as inclusive as we can. And, we need your best thinking as we set the course of the College over the next five years.
Ag Econ Department Head finalists named
Four candidates have been invited to interview for the Agricultural Economics Department Head position. Each candidate will present a public seminar as part of their two-day interview. They are scheduled as follows:
Paul Patterson, Arizona State University
Interview: Monday & Tuesday, February 16 & 17
Seminar: Monday, February 16, 9:00 a.m. in Krannert Auditorium
Frank Dooley, Purdue University
Interview: Wednesday & Thursday, February 18 & 19
Seminar: Wednesday, February 18, 9:00 a.m. in Krannert Auditorium
Ken Foster, Purdue University
Interview: Monday & Tuesday, February 23 & 24
Seminar: Monday, February 23, 9:00 a.m. in Krannert Auditorium
Michael Wetzstein, University of Georgia
Interview: Thursday & Friday, February 26 & 27
Seminar: Thursday, February 26, 9:00 a.m. in Deans Auditorium, Pfendler Hall
Nano-tetherball biosensor precisely detects glucose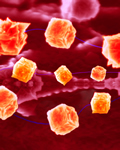 Dr. Marshall Porterfield, ABE, is part of a team of researchers that has created a precise biosensor for detecting blood glucose and potentially many other biological molecules by using hollow structures called single-wall carbon nanotubes anchored to gold-coated "nanocubes." The device resembles a tiny cube-shaped tetherball. Each tetherball is a sensor and is anchored to electronic circuitry by a nanotube, which acts as both a tether and ultrathin wire to conduct electrical signals. The technology, which detects glucose more precisely than any biosensors in development, also might be used in medicine to detect other types of biological molecules and in future biosensors for scientific research.
Full story: http://news.uns.purdue.edu/x/2009a/090122FisherBiosensor.html
Allan Gray named to leadership position

Allan Gray, a professor in the Department of Agricultural Economics, has been named director of the Center for Food and Agricultural Business and the MS-MBA in Food and Agribusiness Management. Gray will provide strategic direction for the center, work with food and agribusiness managers in the center's professional development programs, and conduct research on agribusiness management and decision-making. The MS-MBA in Food and Agribusiness Management is a dual-degree, distance-delivered program offered in partnership by Purdue and Indiana University. Gray joined the Purdue staff in 1998. He has received numerous awards, including the American Agricultural Economics Association's Distinguished Extension/Outreach Program Award, the Purdue University Dean's Team Award and the United States Distance Learning Association's Excellence in Distance Teaching Award.
Melba Crawford named Provost Fellow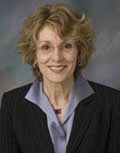 Dr. Melba Crawford, Agronomy, will be part of the inaugural group of Provost Fellows in 2009. She will have a half-time appointment to the Office of the Provost to work on globalization initiatives and the goals of the "New Synergies" strategic plan. Appointments are renewable for one year if the interest and need are available. The Provost Fellows program is designed to assist those who have an interest in and demonstrated potential for university administration. Each year during the strategic plan, up to five faculty members who have demonstrated leadership potential and have an interest in administration will be chosen to work on specific projects.
Bob Waltz recognized by State group
Robert Waltz, Indiana State Chemist and Seed Commissioner, received the 2008 Indiana Nursery and Landscape Association Award of Merit at the 2009 Indiana Green Expo in Indianapolis. The award is given annually to a business, institution, job, or individual which the INLA feels has contributed
significantly to the industry.
Ice storm tree damage offers chance to detect emerald ash borer

Wood debris from January ice storms in Southern Indiana and Kentucky provides an opportunity for emerald ash borer detection, said one Purdue expert. "The silver lining in these ice storms is that homeowners and city foresters can use fallen limbs as an early detection tool for EAB," said Purdue entomologist Cliff Sadof. "When cleaning up debris, people should look closely for woodpecker damage or D-shaped exit holes in the bark. If these signs are found, the debris should be inspected for overwintering larval-stage emerald ash borers about half an inch beneath the bark's surface."
Full story: http://news.uns.purdue.edu/x/2009a/090129SadofDebris.html
Purdue expert offers advice to reduce credit card debt
In today's economy, a Purdue University specialist says now is the time to cut back on credit card use and to start paying off some of those outstanding debts. "When purchases are made on credit, the consumer commits future resources to paying off that debt," says Elizabeth Kiss, Purdue Extension specialist in consumer and family sciences. "If something bad happens financially, such as a job loss or family emergency, and income is already committed to paying for past purchases, that's when the trouble really begins."
Full story: http://news.uns.purdue.edu/x/2009a/090129KissDebt.html
Project Respect offers opportunities to get involved
Project Respect's mission is to celebrate the uniqueness of the individual, as well as the commonalities among us all. Project Respect promotes an inclusive environment that affirms our diversity, empowers each of us, and fosters the growth of our collective wisdom for the betterment of our world. Mark your calendar and get involved with:
February 28 — SHARE THE LOVE Community Action Day, 10:00 a.m.-2:00 p.m. Students, faculty, staff, and community members are invited to participate in a day of volunteering at community nonprofit agencies. A light breakfast and transportation to each agency will be provided, along with a free T-shirt. Visit www.purdue.edu/bvn to sign up. Sponsored by the Boiler Volunteer Network.
February 28 — Purdue Village International Food and Culture Festival, Purdue Village Community Center, 5:00 p.m.: Purdue Village residents will showcase multiple countries at this event by presenting a fashion show, cultural music, dance, and food tasting. Visit http://pvilfamily.blogspot.com for more details. Sponsored by University Residences.
2009 PRF International Travel Grants available
Applications are invited for 2009 PRF International Travel Grants. We plan to announce the PRF IT awardees by early March, 2009. Research faculty, as well as tenured or tenure-track faculty, are eligible to receive PRF IT. Travel grant funds can be used for all approved travel expenses up to the amount of the award.Faculty should submit an original and five copies of the application and supporting documentation to Lonni Kucik in the International Programs in Agriculture office, room 26 AGAD, on or before 5:00 p.m. Thursday, February 12. The 2009 Application Form and Award Guidelines are available online at: http://www.purdue.edu/research/vpr/funding/itg.shtml.
Purdue Ag Alumni to award 10 Certificates of Distinction
Ten leaders in agriculture will receive the Certificate of Distinction during the annual Purdue University Ag Fish Fry on Feb. 7 at the Indiana State Fairgrounds in Indianapolis. The Certificate of Distinction is the highest honor that the Purdue Agricultural Alumni Association gives to recognize individuals in the agriculture industry. Award recipients have made a significant impact on agriculture through professional achievements, activity in agriculture related organizations, community service, or other beneficial agriculture efforts.
Full story: http://news.uns.purdue.edu/x/2009a/090122LesterCertificate.html
Nominations sought for Master Farmer Awards

April 15 is the deadline for nominating this year's Master Farmer. Co-sponsored by Indiana Prairie Farmer and Purdue Agriculture, the Master Farmer awards program helps Hoosiers celebrate our ag heritage by recognizing four outstanding farmers and their families each year. Application forms and instructions are available by writing to Indiana Prairie Farmer, P.O. Box 247, Franklin, IN 46137, by phone at 317-738-0565, or by email at: tbechamn@farmprogress.com. Applications must be accompanied by up to six letters of recommendation. The award will be presented in ceremonies at the Beck Ag Center in late August. Recipients must be able to attend the awards ceremony to claim their award. As nominator, you and your guest will receive complimentary tickets to attend the event and support the person who successfully nominated for the award.
New fund to help grow entrepreneurs
The Purdue Research Foundation and Discovery Park announce the launch of a new collaborative effort designed to advance the entrepreneurial efforts of our University and create economic opportunities for the people of Indiana. The Emerging Innovations Fund provides financial and other support to entrepreneurial members of the Purdue community, including faculty, staff, students and incubating companies in Purdue Parks. The Fund is not a traditional research grant. Instead, it is structured as an early stage investment with a rigorous application/qualification process. Award recipients must meet specific performance-based milestones to ensure progress is being made. The ultimate goal of the Emerging Innovations Fund is to make more Purdue-generated startups "investor ready" and commercially successful.
Full story: http://www.agriculture.purdue.edu/in_focus/2009/January/EmergingInnovationsFund.pdf
Term life insurance premiums to be waived for six months
Premiums for January through June term life insurance coverage will be waived in 2009, giving employees a little more take-home pay. The waiver is the result of positive claims experience on Purdue's term life insurance plan.
Full story: http://news.uns.purdue.edu/insidepurdue/2008/081222_termlife.html
APSAC seeks new members
Preparations are currently underway to fill seven (7) vacancies on the Administrative and Professional Staff Advisory Committee (APSAC). Established in 1988, APSAC builds a formal communication link between A/P staff and the central administration. Twenty-five members serve on APSAC and represent administrative and professional staff from all segments of our Purdue campus community, including regional campuses. Membership applications and instructions may be downloaded from www.purdue.edu/apsac. The application deadline is February 27th.
Membership in APSAC is a great way to interact with University administrators and other A/P staff from across all of Purdue's campuses. Questions about the membership process may be directed to Kevin Maurer via phone: (765) 494-1000 or email: krm@purdue.edu.
Professional Development Grant Application Deadline is March 2nd
The Professional Development Subcommittee of APSAC is pleased to announce its Spring 2009 Individual Professional Development Grant Program. Grants up to $750 are available and can be used for professional activities including lectures, conferences, seminars, and tuition assistance. The application will be available online beginning February 2, 2009, and the deadline to apply is 5:00 p.m. (EST) on March 2, 2009. The grant is only available to A/P staff with a status of at least .50 FTE or (CUL) and who are affiliated with Purdue's West Lafayette Campus. This includes the Purdue University Cooperative Extension Services, Purdue Farms, Purdue Ag Farms, and Purdue Statewide Technology. Applications and required forms will be available online beginning February 2, 2009 on APSAC's website: www.purdue.edu/apsac . Questions regarding the grant program may be directed to Pam Phegley at (765) 496-6809 or email: phegleyp@purdue.edu.
February 4-6: HASTI (Hoosier Association of Science Teachers, Inc.) at the Indiana Convention Center. Hours are Thursday (8:00 am – 5 pm) and Friday (8:00 am – 2:00 pm). Contact Danica Kirkpatrick at 494-9113 for more information.
February 7: Ag Alumni Fish Fry in the Toyota Blue Ribbon Pavilion at the Indiana State Fairgrounds at 11:30 a.m. Main event will be preceded by the Ag Forecast in the Old National Bank Grand Hall at 9:30 a.m. Contact Donya Lester at 494-8593 for more information.
February 11-14: National Farm Machinery Show and Tractor Pull at the Kentucky Exposition Center. Purdue Extension in areas I, II, and V will represent the college at this event. Contact Danica Kirkpatrick at 494-9113 for more information.
February 18: 2009 Book-Harmon Leadership Forum - Dr. Patricia (Patsy) L. Houghton, Owner and General Manager, Heartland Cattle Company, McCook, NE; the Forum will be held in Deans Auditorium, PFEN.
March 6: Distinguished Agriculture Alumni Awards convocation and reception. Contact Debbie Claeys at 496-7894 for more information.
April 18 & 19: Spring Fest on campus from 10 am – 4 pm on Saturday and Sunday. College of Agriculture and other units from across campus present this educational event. Contact Danica Kirkpatrick at 494-9113 for more information.