Colleagues,
Purdue Agriculture researchers are constantly pushing the barriers of both what we know and what we do with what we have learned. Our researchers are focused on the big issues of today and tomorrow, whether it's feeding our world or helping to address our need for renewable energy. Sometimes it's an individual researcher trying to extend what we know about the most basic biology of plants and animals, and sometimes it is a team of researchers, Extension specialists and educators working together to define important issues and then develop and deliver insights on the issue. We have recently had opportunities to celebrate award-winning Agriculture research, and the scope of the projects and researchers illustrates one of the points I'm proudest of: Agriculture research is fundamental, basic science; it is applied work to solve pressing immediate needs; it is the individual faculty member working in the laboratory; and it is the interdisciplinary team made up of researchers, Extension specialists and educators, and teachers in partnership with public and private sectors.
I'm sure you all heard that Dr. Gebisa Ejeta, Distinguished Professor of Agronomy, was named the 2009 World Food Prize Laureate in June. Gebisa's research has improved the food supply for more than half a billion people in several African countries. He bred, developed, released and disseminated sorghum germplasm into which he had incorporated resistance to a devastating parasitic weed and to drought. His work has enhanced the quality of seeds and has greatly improved yields, and he worked to lay the foundation for a commercial seed industry in the Sudan and Niger. Gebisa's work is a powerful demonstration of the difference agricultural research can make in creating a more secure and consistent food supply for millions of people. We're obviously very proud of Gebisa and are thrilled that he was selected to receive the 2009 World Food Prize.
Dr. Dan Szymanski, Associate Professor of Agronomy, studies complex processes in plants. Dan has made a career of digging deeper into understanding what triggers plant cells to respond to certain stimuli and how that leads them to either grow or develop defense mechanisms. Better understanding of such processes in plants will enable other researchers to modify those plants in positive ways. Finding better ways to feed the world and protect our environment is at the heart of his work, and he was recently recognized with the Agricultural Research Award for his discoveries.
The Integrated Corn Ethanol Co-Products team seeks ways to solve issues involving ethanol made from corn. The team consists of more than 40 Agriculture researchers and Extension specialists. The team was formed to study some of the problems in using DDGS for feed, such as the effect of process variables on the physical and chemical properties of distillers grains; the impact of DDGS on animal performance and carcass quality; the environmental impact and economic effects of DDGS in feed; and the economics of new technologies on ethanol profitability. The team partnered with the Indiana State Department of Agriculture and The Andersons Clymers Ethanol. For their efforts, they received the Purdue Agriculture Team Award.
There are many more dedicated faculty members and Purdue Extension specialists and educators who also make valuable contributions that improve our lives and livelihoods. It's part of the land-grant university mission, and we in Purdue Agriculture are proud to be a part of an institution where unraveling the world's mysteries is an everyday routine.
All the best,
Jay
News Around Purdue Agriculture
Gebisa Ejeta Wins World Food Prize
Gebisa Ejeta, Distinguished Professor of Agronomy, has been awarded the World Food Prize for research leading to the increased production and availability of sorghum in his native Africa.
His research has improved the food supply for more than half a billion people in several African countries. Dr. Ejeta bred, developed, released and disseminated sorghum germplasm into which he had incorporated resistance to a devastating parasitic weed and to drought. His work has enhanced the quality of seeds and has greatly improved yields, and he worked to lay the foundation for a commercial seed industry in the Sudan and Niger.
The World Food Prize is considered the Nobel Prize of agriculture. It is awarded each year by the World Food Prize Foundation to individuals who have advanced human development by improving the quality, quantity or availability of food worldwide. Norman E. Bourlaug, winner of the 1970 Nobel Peace Prize, established the World Food Prize in 1986.
Dr. Ejeta is the second Purdue Agriculture professor to receive the World Food Prize in three years. Dr. Phil Nelson, the Scholle Chair Professor in Food Processing, won the award in 2007 for developing aseptic bulk storage and distribution, a technology for transporting processed fruits and vegetables without product spoilage.
Full story and video: http://www.ag.purdue.edu/Pages/WorldFoodPrize.aspx
Scientists are learning more about big birds from feathers
Catching adult eagles for research purposes is no easy task, but Dr. Andrew DeWoody, FNR, has found a way around the problem, and, in the process, gathered even more information about the birds without ever laying a hand on one. Instead of catching eagles, DeWoody collects their feathers and uses the small amount of DNA in them to create a tag that corresponds to a particular bird. Those tags can be used to determine population, parentage, roosting patterns and sex ratio.
Full story: http://news.uns.purdue.edu/hp/DeWoodyEagles.html
Protein can help cells or cause cancer, Agriculture researcher finds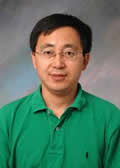 Dr. Xiaoqi Liu, Biochemistry, has discovered a key process in cell growth that can lead to the formation of tumors. Dr. Liu found that an overabundance of the polo-like kinase 1, or Plk1, molecule during cell growth, as well as a shortage of the p53 molecule, will lead to tumor formation. Studies in his laboratory showed that the Plk1 molecule indirectly attacks p53 in a process called ubiquitination. "This provides the mechanism for how p53 loses its function in cancer cells," said Liu, whose work was published in the early online publication of the Journal of Biological Chemistry. "If we understand how the cancer forms, then we can create a more useful therapeutic approach to treating that cancer."
Full story: http://news.uns.purdue.edu/x/2009b/090707LiuCancer.html
Herbicide diversity needed to keep Roundup effective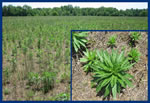 Using a diverse herbicide application strategy may increase production costs, but a five-year study led by Dr. Bill Johnson, Botany & Plant Pathology, shows the practice will drastically reduce weeds and seeds that are resistant to a popular herbicide. Excess usage of glyphosate-resistant crops has led to weeds, such as marestail, that also are resistant to glyphosate, the herbicide used in Roundup. Dr. Johnson says changing management practices can almost eliminate resistant marestail and its viable seeds in the soil.
Full story:http://news.uns.purdue.edu/x/2009b/090713JohnsonManagement.html
Purdue study: CAFO impacts a mixed bag in communities
Large-scale animal production in eight Indiana counties is carried out by a mostly younger, educated work force and seldom violates state environmental regulations. However, fiscal and zoning issues surrounding confined animal feeding operations (CAFOs) are more complicated, according to a study led by Dr. Janet Ayres, Agricultural Economics. "Community Impacts of Confined Animal Feeding Operations" examined 50 CAFOs in Benton, Cass, Huntington, Jasper, Jay, Randolph, Wabash and Wells counties, which have the largest concentration of the animal facilities in the state. The 2007-08 study looked at demographics, labor, impacts on local government budgets, environment violations, and county planning and zoning. The other members of the research team are Drs. Roman Keeney, Tamilee Nennich and Larry DeBoer.
Full story: http://news.uns.purdue.edu/x/2009a/090618AyresCAFO.html
Reviving American chestnuts may mitigate climate change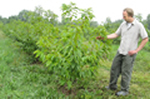 A study by Dr. Douglass Jacobs, FNR, shows that introducing a new hybrid of the American chestnut tree would not only bring back the all-but-extinct species, but also put a dent in the amount of carbon in the Earth's atmosphere.He found that American chestnuts grow much faster and larger than other hardwood species, allowing them to sequester more carbon than other trees over the same period. And since American chestnut trees are more often used for high-quality hardwood products such as furniture, they hold the carbon longer than wood used for paper or other low-grade materials.
Full story: http://news.uns.purdue.edu/x/2009a/090610JacobsChestnuts.html
Mark Hermodson named Interim Director of Ag Research Programs
Mark Hermodson, emeritus professor of biochemistry, has been named interim director of the Office of Agricultural Research Programs (ARP) and associate dean of Purdue Agriculture. Also, Marshall Martin, ARP associate director, has been promoted to senior associate director and assistant dean. Hermodson replaces Sonny Ramaswamy, who becomes the Dean of the College of Agricultural Sciences at Oregon State University on Aug. 1.
Dean Jay Akridge chairs the search committee for the next Director of Agricultural Research Programs and Associate Dean. Other members of the committee are:
Herb Ohm appointed Interim Head of Department of Agronomy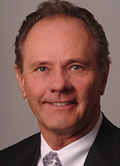 Herbert Ohm, a Distinguished Professor of Agronomy, has been appointed interim head of the Department of Agronomy. Dr. Ohm succeeds Craig Beyrouty, who becomes dean of the Colorado State University College of Agricultural Sciences in July. "Dr. Ohm is a person who values and respects all mission areas of the agronomy department," said Dean Jay Akridge. "He is a world-renowned expert in plant breeding and genetics, and is respected across the College and campus. I know he will help continue the positive momentum of the department until we can hire a permanent head."
Dr. Peter Goldsbrough will chair the search committee for the next Agronomy department head. Search committee members are: Jim Beaty, Cale Bigelow, Gebisa Ejeta, Sherry Fulk-Bringman, John Graveel, Scott Jackson, Brad Joern, Keith Johnson, Eileen Kladivko, Linda Lee, Dev Niyogi, Phil Owens, Lori Snyder, Dan Szymanski. Becky Rice will provide support.

Farm management, marketing, technology at the heart of workshop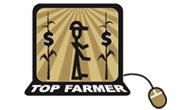 Purdue 42nd annual Top Farmer Crop Workshop, designed to help farmers financially position their operation, assess new technologies and network with other farmers, agribusiness leaders, and university experts, is scheduled for July 19-22. "Since the last year, we've experienced a financial crisis that's shocked the world economy, unparalleled swings of input costs and market prices, the failure of several iconic companies and tremendous government spending," said Bruce Erickson, director of Purdue's Cropping Systems Management and workshop coordinator. "The sessions that are lined up deal specifically with management issues related to these events and will help farmers capitalize on opportunities and weather the storm." Purdue Extension and the Department of Agricultural Economics host the Top Farmer Crop Workshop. Sponsors include Farm Works, Farm Credit Services of Mid-America and Top Producer magazine.
Full story and schedule: http://news.uns.purdue.edu/x/2009b/090702EricksonTopFarmer.html
Wind profits blowing in for Hoosier farmers
Chad Martin, Purdue Extension renewable energy specialist, believes the wind industry is becoming a once in a generation opportunity for the Indiana agriculture community. He says the base lease payment for farmers to put a turbine on their property has increased over the past few years to the $3,000 to $5,000 range per year per megawatt of production, and some are getting up to $10,000 a year per turbine. But there is a laundry list of questions people need to ask before installing a small scale wind turbine, Chad says. He will guide a session during this month's WIndiana conference in Indianapolis.
Full story: http://news.uns.purdue.edu/x/2009b/090710MartinWindiana.html
New Ambassadors to represent International Agriculture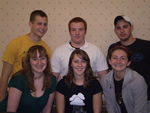 International Programs in Agriculture is pleased to announce the first class of international agriculture ambassadors. The new class includes Sasha Broadstone, Jessica Gilson, Keith Hoeing, Benjamin Kloc, Carissa McCay, Chelsea Scheidler, James Sibray, and Kali Smith. As an international agriculture ambassador, they will become a buddy to an international exchange student, give tours to international visitors, promote study abroad in the classroom and at events, give presentations to off-campus groups, and increase global awareness in any way possible. All of the ambassadors have studied abroad and are interested in international activities. If you would like an international agriculture ambassador to speak at an organization meeting, in a classroom, or a 4-H/Extension meeting, please email Kara Hartman at khartman@purdue.edu.
Indiana State Fair Volunteers - It's Time!
Ready to make your Indiana State Fair 2009 plans? If so, please make sure to sign up to volunteer in the Our Land Pavilion! We have 17 fun-filled days to staff and we need you there between August 7th – 23rd. Our exhibits this year include a student recruitment exhibit, Do You Have What It Takes To Be A Farmer, Herschel's World, Local Decision Maker, Genomics II, What's Bugging Belva?, and exhibits on Universal Design and the School of Veterinary Medicine. The Master Gardener booth will also return to the Our Land Pavilion!
Visit the State Fair Volunteer site to register online. You will need to log in using "onepurdue\" and your username and password. Please make sure you use the correct "\" between onepurdue and your username. This site is ONLY available to Purdue employees. Be sure to click "OK" at the bottom of the form – you should get a successful submission page with your name, dates you signed up for, and any special notes you might have added.
Please remember that this is a VOLUNTEER opportunity. Non-exempt staff who volunteer during their normal work schedule must use approved vacation hours.If you have questions, please contact Danica Kirkpatrick at dkirkpat@purdue.edu or (765) 494-9113.
Drs. Catherine Hill (Entomology), Amy Lossie (Animal Sciences) and Jim Clemens (Biochemistry) have been named Entrepreneurial Leadership Academy Fellows for 2009-2010. Through the Entrepreneurial Leadership Academy, through Discovery Park's Burton Morgan Center for Entrepreneurship, faculty members learn how to incorporate entrepreneurial concepts into their programs and identify potential commercial opportunities. Faculty also meet with distinguished administrators and leaders to discuss topics critical to the development and support of leadership and entrepreneurial skills. Faculty members who complete the 2009-10 program each receive a $5,000 development award and gain access to Discovery Park staff, equipment and resources.
Dr. Linda Mason (Entomology) has been chosen as a CIC Academic Leadership Program Fellow for the 2009-2010 academic year. The program is offered through the Committee on Institutional Cooperation (CIC), an academic consortium of Big Ten universities and the University of Chicago. CIC-ALP is designed to develop the leadership and managerial skills of faculty who have demonstrated exceptional ability and administrative promise. It is specifically oriented to the challenges of academic administration of major research universities and preparing faculty members to meet those challenges.
Dr. Tom Turpin (Entomology) has been selected to receive the 2009 Entomological Foundation Medal of Honor for his commitment and outstanding contributions to the field of entomology. This recognition is reserved for individuals who have distinguished themselves by bringing recognition and providing outstanding service to the field of entomology, and is the highest honor bestowed by the Foundation.
Tom will be honored at the Foundation's 17th Annual Dinner and Dance in Indianapolis on December 14, 2009. More information will be forthcoming on the Foundation's web site http://www.entfdn.org.
Purdue Cooperative Extension Service has won the 2009 Arthur G. Hansen Recognition Award for its relationship with its retirees. The award, sponsored by the Purdue University Retirees Association and the Office of the President, was presented June 3 at the University's annual retirement banquet in Purdue Memorial Union. The award is named for Arthur Hansen, Purdue's eighth president, who established the retirees' association in 1976. The award is given annually to a Purdue school, department, office or division that cultivates and maintains meaningful relationships with its retirees. Some Purdue Extension activities that foster the continuing involvement of retirees include inviting them to attend the annual Extension Professional Development Conference held on campus and to the Extension family picnic at the Indiana State Fair.
Ag Economics graduate students David Moll, Amber Rankin and Josh Yoder placed 4th in the IAMA Case Study competition. The Student Case Competition provides student teams from universities around the world an opportunity to showcase their knowledge of current events and their analytical and presentation skills.The competition simulates a rapid turn-around analysis and presentation to senior management of a case study based on a corporate "hot topic" issue.
School of Veterinary Medicine celebrates 50 years with service project in Ethiopia
Purdue University's School of Veterinary Medicine celebrated its 50th anniversary by sending 19 faculty members, students and alumni to Ethiopia to help production animal proficiency and facilitate ongoing relationships with the Ethiopian veterinary school. The group spent several days working with Project Mercy, a U.S.-based nonprofit relief and development agency that seeks to improve both cattle and human nutrition through breeding practices.
Full story: http://news.uns.purdue.edu/x/2009b/090714HiltonEthiopia.html
Purdue names interim vice provost for global affairs; open forums scheduled for finalists
Michael Brzezinski, associate dean of international programs and director of the Office of International Students and Scholars, has been appointed Purdue University's interim vice provost for global affairs and dean of international programs. Brzezinski started in his new position July 1.
Public forums for the finalists will be from 10-11 a.m. on July 21, 28, 29 and 31 in Stewart Center, Room 202. The title of the forums is "Broadening Purdue's International Orientation, Reach and Reputation Through Effective Globalization."
Forum dates and candidates are:
* July 21. James Lowenberg-DeBoer, Purdue's associate dean and director of International Programs in Agriculture and professor of agricultural economics. His curriculum vitae is available online at http://www.purdue.edu/provost/shtml/documents/cv/Lowenberg-DeboerCV.pdf
* July 28. Howard Sypher, professor and head of Purdue's Department of Communication. His curriculum vitae is available online at http://www.purdue.edu/provost/shtml/documents/cv/SypherCV.pdf
* July 29. Andrew Gillespie, associate dean of international programs at Purdue. His curriculum vitae is available online at http://www.purdue.edu/provost/shtml/documents/cv/GillespieCV.pdf
* July 31. Melba M. Crawford, director of Purdue's Laboratory for Applications of Remote Sensing, interim associate dean of engineering research, and professor of agronomy and civil engineering. Her curriculum vitae is available online at http://www.purdue.edu/provost/shtml/documents/cv/CrawfordCV.pdf
University of Minnesota distinguished professor and department head named dean of Purdue College of Science
Jeffrey Roberts, chair of the Department of Chemistry at the University of Minnesota, has been named Purdue University's Frederick L. Hovde Dean of the College of Science.Roberts received his doctoral degree in chemistry from Harvard University in 1988 and performed postdoctoral research in chemical engineering at Stanford University. He received his bachelor's degree in chemistry from the University of California, Berkeley, in 1982. From 2001-2007 Roberts directed the University of Minnesota Research Site for Educators in Chemistry, a National Science Foundation-supported initiative to increase the research capacity of chemistry faculty at primarily undergraduate institutions. He also was co-director of the National Science Foundation Integrative Graduate Education and Traineeship program in Nanoparticle Science and Engineering and was a member of the strategic positioning task force on discipline evolution and interdisciplinary research at the University of Minnesota. He specializes in the fields of physical and materials chemistry. His research interests focus on aerosol surface chemistry.
Full story: http://news.uns.purdue.edu/x/2009a/090616RobertsScidean.html