Colleagues,
Greetings! I hope your semester is off to a great start! While I know we all are juggling a million things with the semester in full swing, I want to focus my comments here on the longer term. Over the summer, the College of Agriculture Strategic Plan entitled People, Purpose, Impact was completed and then approved by the Provost. This strategic plan is the result of more than a year of effort on the part of Purdue Agriculture faculty, staff, and students. My thanks go to all the working group and steering committee members who helped develop the plan, and to all those who provided important input during the process. I am very excited with this plan and the course we are setting as a College.
Of course, now comes the really exciting task of bringing the ideas outlined in this plan to life over the next five years. We have already started working on some of these—here are just a few examples:
One of the initiatives under the strategic plan goal of leadership in the food, agricultural, life, and natural resource sciences is to expand College of Agriculture participation in large-scale, multidisciplinary research and engagement to address critical issues for Indiana, the nation, and the world. To that end, our plant sciences department heads (AGRY, HLA, BTNY, BCHM, FNR), along with Mark Hermodson, Dale Whittaker, and I have been talking for the past several months about how plant sciences are organized at Purdue and how to most effectively leverage the scope and scale of our plant science research and education group. Faculty are engaged now in taking a careful look at our undergraduate plant science program to assess whether or not a 'bigger front door' to plant sciences at Purdue might enable us to recruit students we don't currently reach. We will also be talking with faculty, staff, and students about opportunities to enhance our plant science research and graduate education activities. This is an important dialogue, and I am looking forward to the conversation and where it might take us.
An action item in the area of preparing our students for a changing world deals with increasing access to and success in achieving a Purdue College of Agriculture degree. An important strategy for increasing access is the Pathway Program announced in August by Purdue Agriculture and Ivy Tech. Beginning next fall, the Pathway Program will allow students to co-enroll at Ivy Tech and Purdue in preparation for an undergraduate degree in the College of Agriculture. Students in the program will take courses simultaneously at both institutions with the goal of eventually earning a bachelor's degree in agriculture from Purdue.
An initiative to help realize our strategic plan goal of fostering a culture of scholarship across the College of Agriculture that enables growth of high impact discovery is to provide administrative support to enable research faculty and staff to be efficient and successful in the pursuit of outside funding from government, corporate, and private sources. To that end, we are in the process of exploring a pre-award office in partnership with the School of Veterinary Medicine and the College of Consumer and Family Sciences that will work with investigators to facilitate the submission process for sponsored research grant proposals.
The idea of transformational Extension is a fundamental part of the strategic plan. Seven Issue Based Action Teams (IBATs) have been assembled and are working on a variety of exciting projects, including "Financial Management in Times of Change", "Food Animal Education Network", and "Asset Mapping & Mobilizing for Economic and Community Development".
There is more we could discuss here, but the points are made: 1) we are moving in an aggressive, but prudent, fashion to implement the plan; and 2) this is truly our College's plan, and your engagement is critical to success. We will keep you posted as to our progress in meeting the goals of the plan. Our success will come from the dedication of you—our People, working with Purpose to have an Impact in our community, our state, our nation, and our world. One of the parts of the plan I appreciate the most is the vision statement we developed:
Purdue Agriculture will make the world better through:

--Students who are prepared to make a difference

--Research with purpose leading to discovery with impact

--Engagement that transforms lives and livelihoods
If each of us as individuals makes decisions daily with this vision in mind, there is little doubt that our College will truly be a positive force for change. Thank you for all you have done and will do to bring this plan to life.
All the best,
Jay
News Around Purdue Agriculture
Finalists named for Ag Com Department Head
Three candidates have been invited to interview for the Agricultural Communications department head position. Each candidate will present a public seminar. They are scheduled as follows:
Beth Forbes, Purdue University
Interview: Monday & Tuesday, September 28 & 29
Seminar: Monday, September 28, 9:00 a.m. in the Deans Auditorium, Pfendler Hall
Larry Ecker, University of Illinois
Interview: Thursday & Friday, October 1 & 2
Seminar: Thursday, October 1, 9:00 a.m. in the Deans Auditorium, Pfendler Hall
Faith Peppers, University of Georgia
Interview: Monday & Tuesday, October 5 & 6
Seminar: Monday, October 5, 9:00 a.m. in the Deans Auditorium, Pfendler Hall
Thanks to the search committee: Steve Cain, Joan Crow, Becky Goetz, Alan Grant, Chuck Hibberd, Donya Lester, Dinah McClure, Eric Putman, Pam Smoker, Mark Tucker, and Chris Wirthwein for an outstanding job in securing an excellent slate of candidates for the department head position. Also, a big thank you to Dale Whittaker, who has done a great job chairing this committee.
Agriculture to celebrate Dr. Gebisa Ejeta and the World Food Prize
Please mark your calendars and plan to join us on Thursday, October 22 to honor and celebrate Dr. Gebisa Ejeta, winner of the 2009 World Food Prize.
The World Food Prize is the foremost international award recognizing the achievements of individuals who have advanced human development by improving the quality, quantity or availability of food in the world. Dr. Ejeta was awarded the prize for his work on sorghum germplasm that has improved the food supply for more than half a billion people in several African countries. His work has enhanced the quality of seeds and has greatly improved yields, and he worked to lay the foundation for a commercial seed industry in the Sudan and Niger.
Our celebration on October 22 will begin with a special lecture by Dr. Ejeta at 2:00 p.m. in Fowler Hall, Stewart Center, followed by a reception in the Purdue Memorial Union South Ballroom. Both events are open to the public.
Gebisa Ejeta is truly one of Purdue University's points of pride. We look forward to celebrating his achievements on October 22 and we hope you will be able to join us.
Alan Sutton named Interim Department Head of Animal Sciences
Dr. Alan Sutton has been named interim head of the Department of Animal Sciences, replacing Dr. Alan Grant, who will become Dean of the College of Agriculture and Life Sciences at Virginia Tech on October 1.
"Dr. Sutton, our 2008 'Spirit of the Land Grant Mission Award' winner, is respected in the department and across the college and industry as a researcher and teacher, and for his Extension program," said Dean Jay Akridge. "I know he will continue the positive momentum of the department until we can hire a permanent head."
Dr. Suzanne Nielsen will chair the search and Becky Rice will provide support. Other members of the committee are:
John Baugh (AGAD), Mark Russell, Chris Bidwell, Layi Adeola, Bill Muir, Todd Applegate, Mickey LaTour, Ryan Cabot, Tamilee Nennich, Joe Garner, Paul Ebner, Craig Williams, Barry Delks, Donna Lofgren, Darryl Ragland (Vet Med)
Study of 16 developing countries shows climate change could deepen poverty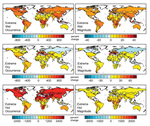 Urban workers could suffer most from climate change as the cost of food drives them into poverty, according to a new study that quantifies the effects of climate on the world's poor populations. A team led by Dr. Tom Hertel, Ag Economics and Noah Diffenbaugh, Earth & Atmospheric Sciences, examined the potential economic influence of adverse climate events, such as heat waves, drought and heavy rains, on those in 16 developing countries. Urban workers in Bangladesh, Mexico and Zambia were found to be the most at risk.
Full story: http://news.uns.purdue.edu/x/2009b/090820DiffenbaughHertel.html
Soybean oil blend works well as fuel for home furnaces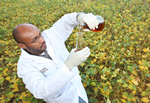 A blend of degummed soybean oil and No. 2 fuel oil can be used as an alternative heating fuel and reduce sulfur emissions, according to a Purdue University scientist. Dr. Klein Ileleji, Agricultural and Biological Engineering, tested blends of 20 percent, 50 percent and 100 percent degummed soybean oil – an unrefined and cheaper product to produce than soy methyl esters, commonly known as biodiesel – and found that the 20 percent blend didn't degrade a home furnace's parts or heat output.
Full story: http://news.uns.purdue.edu/x/2009b/090922IlelejiHeating.html
Students transform parking spots into green spaces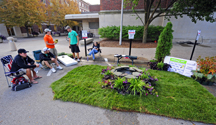 Students in Dr. Bernie Dahl's landscape architecture design class converted President France A. Córdova's parking spot into green space with a fountain, planting area and arbor as part of a class project during Green Week. The project was based on Park(ing) Day, a national event supporting the idea of converting urban parking to green space, if even for a day, says Bernie Dahl, associate professor of landscape architecture. Park(ing) Day also promotes carpooling and the use of public transportation as a way to conserve urban green space.
Full story:http://news.uns.purdue.edu/insidepurdue/2009/090924_GreenParking.html
Aphids resemble gnats; swarm yards, parks and gardens
Many residents around Indiana have noticed swarms of small, gnat-like insects in yards, parks and gardens. The insects are actually not gnats or flies, but rather winged soybean aphids. The small, greenish-yellow aphids are out in larger numbers this year, likely because their populations grew late in the season and were not treated with insecticides, said Purdue entomologist Christian Krupke. "In late summer and early fall, as day-length declines and soybeans begin to yellow and die, winged soybean aphids take flight in search of their overwintering host -- a common roadside shrub called buckthorn," Krupke said.
Full story: http://news.uns.purdue.edu/x/2009b/090924KrupkeAphids.html
Purdue Agriculture senior to appear on ABC's 'Shark Tank'
Sawyer Sparks, a senior in Ag Economics and creator of a soy-based modeling dough, will appear on the ABC show "Shark Tank" in an attempt to convince a panel of judges to financially back his invention. The episode of the show featuring Sparks will air at 8 p.m. EST on Tuesday, Sept. 29. Soy-Yer Dough, the first and only patented wheat-free modeling dough, was inspired by one of Sparks' favorite Purdue professors and her daughter, who both suffer from Celiac disease, a wheat allergy.
Full story: http://news.uns.purdue.edu/x/2009b/090924SparksSharkTank.html
Entomology Department contributes to Indiana Invasive Species Council Legislation
Governor Mitch Daniels signed legislation (House Enrolled Act No 1203) that establishes a new Indiana Invasive Species Council in a public event at the State House on August 11, 2009. The purpose of the council is to work with state and private organizations to identify priorities and projects, help secure funding, propose rules and laws, educate the public, and facilitate communication related to the growing threat of invasive species in the state. Members of the council will include representatives from state agencies, industry and environmental groups. The College of Agriculture will convene the group and serve as the secretariat for the council.
WorkLife Ambassadors here to help
WorkLife Programs Ambassadors serve as the eyes and ears of WorkLife Programs in individual departments on campus.Their main responsibility is to help motivate colleagues to achieve healthier lifestyles.They do this by learning about the variety of campus resources, sharing suggestions and ideas in committee meetings, and actively advocating wellness and worklife activities among their co-workers. Your College of Agriculture WorkLife Ambassadors are Jennifer Biehl, Agronomy Department (biehlj@purdue.edu) and Danica Kirkpatrick, Ag Administration (dkirkpat@purdue.edu). Let them know if you have any questions, suggestions or comments. A great resource for information is the WorkLife website: http://www.purdue.edu/hr/WorkLife/
A/P Staff Advancement Work Begins
The 2009-2010 Administrative/Professional Staff Advancement Program is underway. All A/P staff should have received the materials via email. Advancement documents are to be processed and approved through the individual department committees this fall before they are submitted to the Dean's Committee for evaluation (due January 13). It is recommended that staff update their advancement documents each year. This will be helpful in the year they are eligible to submit a document for advancement. Visit the College of Agriculture's A/P Staff Advancement Program web site at http://www.ag.purdue.edu/Pages/advance_info.aspx for more details.
Ag Alumni Association calls for Certificate of Distinction nominees
The Purdue Ag Alumni Association is seeking nominations for the 2010 Certificate of Distinction awards. The Certificate of Distinction is the association's highest award and for more than 70 years its recipients have represented leaders who have rendered "service to agriculture beyond the call of duty." The Ag Alumni Association pays tribute to the honorees at its annual meeting, the Purdue Ag Fish Fry, which is one of Indiana agriculture's largest public meetings. We seek to have a diverse, representative pool of agricultural professionals for this award. And you have a rich network of producers and agribusiness professionals with whom you are well acquainted. We depend on nominations from you to insure that deserving people are appropriately recognized for their service to the agricultural profession. Please take some time to complete a nomination. If you have any questions, or need assistance in gathering information on deserving nominees, contact Donya Lester at 4-8593 or lesterd@purdue.edu. Our board of directors and our staff will be pleased to assist you with this process.
Click here for Guidelines and Nomination form
Alumni to be recognized for service to animal sciences industry
The Department of Animal Sciences will honor six alumni with 2009 Distinguished Animal Sciences Alumni Awards. The awards ceremony takes place Nov. 13. The distinguished alumni program provides an opportunity for the animal sciences department to pay tribute to outstanding alumni and allows its students and community to learn more about the successful careers of our alumni. All of those selected have demonstrated excellence and hard work in the animal sciences field.
Full story: http://news.uns.purdue.edu/x/2009b/090924DelksAwards.html
Congratulations to the following Animal Sciences faculty and student for being recognized during the Poultry Science Association meeting in North Carolina in August:
Dr. Patricia Hester became a Fellow of PSA for her significant activity and accomplishments in poultry science.

Dr. Joe Garner was presented the Poultry Science Early Achievement Award which is presented to PSA members in the early stages of their careers in poultry research, teaching, extension or industry.

Dr. Todd Applegate was presented with two awards. He received the American Feed Industry Association Poultry Nutrition Research Award and the Maple Leaf Farms Duck Research Award.

Rachel Dennis received the Alltech Student Research Manuscript Award.
The Purdue Alumni Association named Dr. Marshall Martin a recipient of the 2009 Special Boilermaker Award. He was recognized at the Sept. 19 football game against Northern Illinois. Dr. Martin (MS A'72, PhD A'76) is the Associate Director of Agricultural Research Programs and a professor of Agricultural Economics. For more than 30 years, he has made extraordinary contributions to student life at Purdue as a teacher, researcher, administrator, and as a very active and longtime supporter of undergraduate music programs. He has advised hundreds of undergraduates and more than 40 graduate students, earning the department's outstanding teacher award seven times and the outstanding thesis or dissertation advisor award five times.
Purdue's New Ventures Team/AICC was recognized by the Agricultural and Applied Economics Association (AAEA) at its recent annual meeting with the Distinguished Extension/Outreach Program Group Award. In addition to this most recent award, the team was recognized in 2006 with the Purdue University Cooperative Extension Specialists Association (PUCESA) Team award and in 2007 with the Purdue College of Agriculture Dean's Team Award. These awards recognize extensive work by all members that have been involved. We invite you to take a look at the numerous outcomes as reported in June 2008, at https://www.agecon.purdue.edu/newventures/Pubs/AICC-NewVenReportJune08.pdf. This great work was indeed a team effort and only possible because of the contributions of each member.
Payroll encourages faculty, staff to receive wages electronically
For decades, payday meant taking the time to rush to the bank to stand in a line to deposit the check in hopes it would beat the outstanding drafts that were starting to clear. Today, however, with the advent of electronic direct deposit, all of that has changed.
Full story: http://www.purdue.edu/business/Spotlight/summer_2009/directDeposit.shtml
Old Masters available for classroom talks
Faculty have the opportunity to schedule classroom visits with the 10 leaders in their fields who will be part of the Old Masters program for 2009. Old Masters will be available for classroom talks between 8 a.m. and 4:30 p.m. on Nov. 9-10. To schedule an Old Master to visit your class, go to www.purdue.edu/oldmasters and click "Scheduling Request Form."
Full story: http://news.uns.purdue.edu/insidepurdue/2009/090817_OldMasters.html
Purdue helps power treatment plant with food scraps
Purdue University is helping to power the local water treatment plant with methane generated by food waste from the university's food courts and dining halls. Food scraps from more than 100,000 meals are ground each week into five tons of a cole slaw-like pulp, also called yack. The pulp is trucked to the West Lafayette Wastewater Treatment Plant where an anaerobic digestor breaks it into methane to power two electric generators.
Full story: http://news.uns.purdue.edu/x/2009b/090923ZarateWaste.html
October 3: Purdue Homecoming. Agriculture Alumni reunite on campus for food and fun prior to the football game versus Northwestern. Contact Donya Lester at 494-8593 for more information about College of Agriculture Alumni activities. Contact Barry Delks at 496-7234 for Animal Sciences Reunion information.
October 9-10: Biochemistry 75th Anniversary Celebration. Contact Kristi Trimble at 494-1636 for more information.
October 16: Dean's Advisory Council Fall meeting
October 21-24: National FFA Convention in Indianapolis.Contact Tracie Egger at 494-8470 for more information on Purdue Agriculture involvement.
October 22: Celebration of Dr. Gebisa Ejeta and the World Food Prize. Lecture 2:00 p.m., Fowler Hall, Stewart Center; Reception following in South Ballroom, Purdue Memorial Union. For more information contact Dinah McClure at 494-9505.
November 5: PCARET State Conference at the Beck Agricultural Center.Contact Teresa Rogers at 494-8489 for more information.