Colleagues,
As 2010 winds down, there is much that we can be proud of in Purdue Agriculture. This fall, 2,675 undergraduates enrolled in our College—the highest number since 1982. Our faculty generated more than $60 million in sponsored programs awards in fiscal 2010. Extension faculty and staff had 1.3 million direct contacts with Hoosiers last year, and 3.8 million visitors checked out the Extension web site. In the midst of the down economy, our outstanding development team brought in $15 million in gifts--$5 million more than their goal!
I use these kinds of numbers frequently when talking about the College, because they summarize in a quick way some of our activities. But, every time I share these numbers, I fully understand they mask the impact of our work, the people behind that impact, and the stories that reflect what this College is about. I hear these stories daily – from students, from parents, from farmers and agribusiness leaders, from community representatives and Hoosier citizens. As we end the year, I thought I would share with you a few stories of our people and the difference they make.
Our applied research is important to this state. White County farmer Kenny George contacted Purdue Extension Educator Greg Bossaer for help with his soybeans. Greg put him in touch with Purdue nematologist Jamal Faghihi, who enlisted Kenny to participate in a field trial that showed a particular variety of soybeans yielded 16 bushels more per acre on his land. Research done by Janna Beckerman, botany and plant pathology, determined what was making fungicide applications ineffective in Crown Point grower Floyd Mowry's apple orchard and helped find what would work best for him. Floyd credits Janna and Purdue Agriculture for saving his orchard and his business.
I hear Extension stories on other areas of our work regularly. In Howard County, a community garden supported by Purdue Extension and Master Gardeners helps stock a dozen local food banks and charities. At one meeting, a woman talked about the difference Extension had made in her life after she had participated in, and taken to heart, a healthy eating program.
At formal events and in informal conversations, I hear stories about the work you do. I hear from the Purdue student-athlete who is excited about having made the choice to major in Agriculture, and how open and accessible our faculty and staff are. I hear from friends and alumni who give to our scholarship funds about the wonderful letters of acknowledgement they get from scholarship and study abroad fellowship recipients….and I hear from the students who are deeply appreciative of the generosity of our donors. I hear memorable comments from our stakeholders, like the friend of Agriculture who, after listening to some of our students speak about their experiences in our College and their plans, leaned over to me and said "And you get paid to do this job?". I hear comments from leaders at national meetings that "Purdue Agriculture is a place that 'gets it' in terms of integrating fundamental and applied research and Extension activities".
I could share more, but hopefully the point is clear – the numbers are important, but it is the stories behind them that reflect the true impact of your work. It's the dedication and commitment of all of you that makes Purdue Agriculture an exciting and dynamic place. Yes, it has been a challenging year in many ways. But, you make a difference in the lives of our students, alumni, stakeholders—and your colleagues.
Looking forward, we would like to celebrate some of these Purdue Agriculture stories. Do you have a story of something a colleague has done that has made a positive difference in your life or in your community? Do you have a story of a research accomplishment, or a student activity that should be shared? If so, I invite you to share these stories—send them to me (akridge@purdue.edu) or Dinah McClure (dmcclure@purdue.edu) and we'll include them in a special section of InFocus.
Thanks for a terrific 2010 and thanks for all you do for Purdue Agriculture, our students, and stakeholders. Have a safe and happy holiday!
All the best,


News Around Purdue Agriculture
Finalists named for Academic Programs Director & Associate Dean of Agriculture
Four candidates have been invited to interview for the Director of Academic Programs and Associate Dean of Agriculture position in January. Each candidate will present a public seminar followed by an open dialogue with agricultural faculty on teaching. They are scheduled as follows:

Dr. Frank Dooley, Associate Head-Undergraduate Teaching Coordinator in Ag Econ, Purdue University
Interview: Wednesday & Thursday, January 19 & 20
Wednesday, January 19, 9:30 a.m. in the Deans Auditorium, Pfendler Hall
Seminar: 9:30-10:30 a.m.
Dialogue with Faculty on Teaching: 10:30-11:00 a.m.
Dr. Don Marshall, Associate Dean & Director of Academic Programs in Ag, South Dakota State University
Interview: Monday & Tuesday, January 24 & 25
Monday, January 24, 9:30 a.m. in the Deans Auditorium, Pfendler Hall
Seminar: 9:30-10:30 a.m.
Dialogue with Faculty on Teaching: 10:30-11:00 a.m.
Dr. Tuajuanda Jordan, Director, Science Education Alliance - Howard Hughes Medical Institute
Interview: Thursday & Friday, January 27 & 28
Thursday, January 27, 9:30 a.m. in the Deans Auditorium, Pfendler Hall
Seminar: 9:30-10:30 a.m.
Dialogue with Faculty on Teaching: 10:30-11:00 a.m.
Dr. Marcos Fernandez, Associate Dean for Undergraduate Education in Ag, Penn State University
Interview: Monday & Tuesday, January 31 & February 1
Monday, January 31, 9:30 a.m. in the Deans Auditorium, Pfendler Hall
Seminar: 9:30-10:30 a.m.
Dialogue with Faculty on Teaching: 10:30-11:00 a.m.
All faculty and staff are encouraged to attend the seminar presentations. The presentations will also be streamed, archived, and made available for viewing by Purdue faculty and staff at this link: http://www.ag.purdue.edu/oap/Pages/SeachCommittee.aspx. All faculty and staff are encouraged to complete feedback forms that will also be made available via this site. Dean Jay Akridge thanks the search committee who have much time and effort into this process to help get us to this point:
Mike Dana, Tracie Egger, Kevin Gibson, Becky Goetz, Reuben Goforth, Barb Golden, Donna Keener, Linda Lee, Pamala Morris, Rob Morrissey, Jonathan Neal, Christy Penner, KG Raghothama, Becky Rice, Jenna Rickus, Mark Russell, Jerry Shively and Roger Tormoehlen.
Purdue Landscape Architecture program rated third in country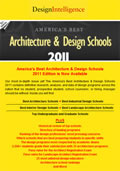 Purdue's undergraduate landscape architecture program is rated third best in the country with two other schools, according to a new survey by DesignIntelligence magazine. Purdue tied for third with the University of Georgia and Virginia Polytechnic Institute and State University in the rankings of the top programs in the country. The rankings are reported in the magazine's November/December issue. Purdue ranked sixth in last year's DesignIntelligence survey. The survey was conducted in mid-2010 on behalf of the Design Futures Council, a network of design, product and construction leaders. The magazine said it drew survey participants from leading firms throughout the United States and asked which college and university programs best prepared students for their profession.
Full story: http://www.purdue.edu/newsroom/general/2010/101207AkridgeRanking.html
ARP welcomes new Assistant Director of Sponsored Program Development
Associate Dean Karen Plaut announces that Dawn Parks had joined us as the New Assistant Director of Sponsored Program Development in the Ag Research Programs office. Dawn has a master's degree in forestry from Purdue and has worked in the forest industry and as a private consultant. She has the ability to bring together multi-disciplinary teams and develop coherent well written documents/grants that "tell a story". Dawn started on December 1 and will e-commute for about one month. Once she is on campus full-time, her primary office will be in AGAD 127. Dawn will also spend a day or two per week in the pre-awards office, as she will be working closely with them in developing grant applications. If you would like to contact Dawn and welcome her to Purdue, send her a note at dwparks@purdue.edu.
Climate change could reshape crop agriculture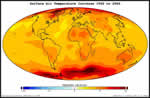 Midwest farmers could get a permanent dose of southern-style weather if future climate change projections are accurate, says agricultural economist Otto Doering. Agricultural producers throughout the Corn Belt would face warmer average temperatures and precipitation extremes, likely leading farmers to shift to more climate-appropriate crops or management strategies, he says. One scenario predicts Indiana's climate by the year 2100 would be like that of Virginia in the winter and Oklahoma in the summer, said Dr. Doering, who also is the director of the Purdue Climate Change Research Center. Winter temperatures in Virginia average in the mid- to upper 40s, and Oklahoma summer days regularly top 90 degrees.
Full story: http://www.purdue.edu/newsroom/research/2010/101206DoeringClimate.html
USDA grant will increase opportunities for organic farming
A Purdue team will use a $1.2 million U.S. Department of Agriculture grant to boost organic farming in Indiana. Kevin Gibson, associate professor of botany and plant pathology and leader of the project, said organic farming has gotten off to a slower start in Indiana than in several neighboring states. He hopes the three-year research program, funded through USDA's Organic Agriculture Research and Extension Initiative, can turn that around. "Indiana has fewer organic farms than our surrounding states," Gibson said. "We want to better understand that and see if we can help to increase the number of organic farms in our state." Gibson said his team will focus on increasing the amount of information Purdue Extension educators have on organic farming practices
Full story:http://www.purdue.edu/newsroom/general/2010/101122GibsonGrant.html
Nanoparticle gives antimicrobial ability to fight Listeria longer
A Purdue research team developed a nanoparticle that can hold and release an antimicrobial agent as needed for extending the shelf life of foods susceptible to Listeria monocytogenes. Yuan Yao, an assistant professor of food science, altered the surface of a carbohydrate found in sweet corn called phytoglycogen, which led to the creation of several forms of a nanoparticle that could attract and stabilize nisin, a food-based antimicrobial peptide. The nanoparticle can then preserve nisin for up to three weeks, combating Listeria, a potentially lethal foodborne pathogen found in meats, dairy and vegetables that is especially troublesome for pregnant women, infants, older people and others with weakened immune systems. Controlling Listeria at deli counters, for example, is especially problematic because meat is continually being opened, cut and stored, giving Listeria many chances to contaminate the food. Nisin alone is only effective at inhibiting Listeria for a short period - possibly only a few days - in many foods.
Full story: http://www.purdue.edu/newsroom/research/2010/101207YaoNisin.html
Crop insect pests likely to survive mild winter

Dry conditions are likely to continue through the early part of winter and Christian Krupke, Entomology, says crop insect pests will probably survive the mild season. "Most of the crop pests in Indiana have been around for a long time," he said. "They are well-equipped to cope with weather changes and they can withstand a wide range." Indiana is located in a region where both temperature and precipitation can swing widely above and below average, said associate state climatologist Ken Scheeringa. But, with the current weather pattern and little precipitation expected until late winter, insect pests might not have to cope with too many extreme conditions.
Full story: http://www.purdue.edu/newsroom/general/2010/101115KrupkeWeather.html
Purdue apples serve multitude of people, purposes
Purdue University apple varieties are finding their way across the globe and into farmers' orchards and people's homes while adding to the economic base of Indiana. "Purdue's apple breeding program started in the mid-1940s as part of the PRI Apple Breeding Program," said Jules Janick, the James Troop Distinguished Professor of Horticulture. "The goal of the program was to develop scab-resistant apples, and all of the Purdue apple varieties originated from the PRI project." Sixteen varieties have been released, and a number of these are being grown or tested in Europe, Canada, Chile, South Africa, Turkey, New Zealand, Australia and elsewhere around the world. Many are being used as parents in breeding programs, and Purdue is known as the source of scab-resistant apples.
Full story: http://www.purdue.edu/newsroom/research_park_foundation/2010/101118OTCApple.html
Watch three Bs in the 2012 Farm Bill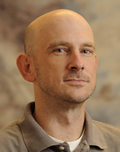 The impact of a yearlong discussion in Washington about the 2012 Farm Bill are now up in the air following the November elections, according to agricultural economist Roman Keeney. When the new Republican House majority takes up the farm bill issue, farmers should expect lawmakers to focus on three major areas: Brazil, budget and baseline. Whenever work resumes on the successor to the 2008 farm bill, it is likely that these three Bs will be among the major influences that push for lower total spending on farm programs, Dr. Keeney said.
Full story: http://www.purdue.edu/newsroom/general/2010/101206KeeneyBill.html
Education Store publication give tips for selecting Indiana grown Christmas trees

Tree species and characteristics of Indiana-grown real trees are listed as an aid in selecting an Indiana Christmas tree. Best care practices for real trees, transplanting tips and photos of the most popular types of trees are also included in this extension resource.
Click here to see: https://mdc.itap.purdue.edu/item.asp?itemID=19797
Former Ag Secretary Glickman to speak at annual Fish Fry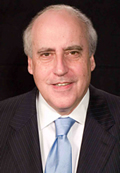 Former U.S. Agriculture Secretary Dan Glickman will be the featured speaker on Feb. 5 at the Purdue University Agricultural Alumni Fish Fry. Glickman, who served as agriculture secretary from 1995 to 2001, now is co-chair of the Global Agricultural Development Initiative for the nonpartisan Chicago Council on Global Affairs and senior fellow at the Washington-based nonprofit Bipartisan Policy Center. The luncheon will begin at 11:30 a.m. in the Blue Ribbon Pavilion at the Indiana State Fairgrounds in Indianapolis. In addition to Glickman's address, the program will include presentation of the alumni association's highest award, The Certificate of Distinction, and remarks from university and government leaders. The Ag Forecast, a program highlighting important topics in agriculture, will precede the Fish Fry starting at 9:30 a.m. in the Grand Hall, also on the fairgrounds.
Full story: http://www.purdue.edu/newsroom/events/2010/101117AkridgeFishfry.html
Dual-credit ag classes give high school students head start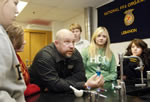 Attention high school agriculture students: Thinking of going to college? Take a class now. Earn college credit. Why wait? It sounds like an advertisement, but consider it free advice that many are heeding. Young people looking to get an early start on their college education are taking advantage of a statewide program that lets them enroll in college courses while still in high school and earn credit toward both a high school diploma and a college degree. Dual-credit courses also help to build confidence in students unsure of whether college is for them.
Full story: http://www.purdue.edu/newsroom/general/2010/101201GraveelDualcareers.html
Call for Applications: D. Woods Thomas International Studies Memorial Fund
The D. Woods Thomas Memorial Fund to Support International Studies for graduate students in the College of Agriculture annually provides a student up to $1000 to support graduate research in a developing country. PLEASE NOTE the criteria for eligibility include U.S. citizenship and international research, study or other scholarly work in developing countries. We are sending this announcement out early to allow recipients to plan their international activity for the summer. We ask that the award be used within 12 months of receiving it. Application details are included in the announcement, but FYI the deadline for submission is by the end of the day on Monday, February 7, 2011 – and the award notification will be made by mid-March. If you have any questions, please contact Lonni Kucik (lkucik@purdue.edu) or Jess Lowenberg-DeBoer, Associate Dean and Director, IPIA (lowenbej@purdue.edu).
More information: http://www.agriculture.purdue.edu/in_focus/2010/December/WoodsThomasFund.htm
Purdue Science Bound program to help veterinary students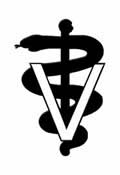 Students from Crispus Attucks Medical Magnet High School in Indianapolis who want to study veterinary medicine have a new opportunity thanks to a partnership with Purdue University. "The field of veterinary medicine is facing a shortage of professionals, as well as a lack of diversity, and we want to see more young people from different backgrounds interested in veterinary-related careers such as animal health care and public health," says Willie M. Reed, dean of Purdue's School of Veterinary Medicine. "We will be partnering with Purdue's Science Bound program to help mentor and support these students." Science Bound, which started in 2002, mentors sixth- to 12th-grade Indianapolis Public Schools students and encourages them to take classes in preparation for future careers in science, engineering, technology, agriculture and math-science education. Upon acceptance to Purdue, Science Bound students receive a full four-year tuition scholarship to study in an approved technical field. The program also is supported by the Indianapolis business community.
Full story: http://www.purdue.edu/newsroom/outreach/2010/101207ReedBound.html
Dr. Herb Ohm, Agronomy, has been selected by the National Council of Commercial Plant Breeders to receive the Genetics and Plant Breeding Award for 2010. This award is for scientists who have made significant contributions to plant science through basic, applied, or developmental research in genetics and plant breeding.
Purdue Extension faculty and staff were recognized at the Extension annual conference on campus on November 10. Click here for the complete list of awards: http://www.agriculture.purdue.edu/in_focus/2010/December/ExtensionAwards.htm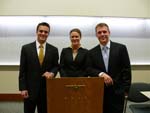 The 2010 Townsend Debate Champion Team included two Agricultural Economics students: Beau Williamson and Kim Hoeing. The team was coached by Agricultural Economics Associate Professor Corinne Alexander. The 2010 Townsend Debate Runner-Up Team also included two Agricultural Economics students: Chelsea Mann and Michelle Steinbarger; the team was coached by Agricultural Economics Professor Frank Dooley.
First year PULSe student Jeff Grabowski has been awarded a prestigious National Science Foundation (NSF) Graduate Research Fellowship to support his Ph.D. research. Jeff will use the award to study tick-borne flaviviruses. Jeff's research will be conducted jointly between the labs of Dr. Catherine Hill, Entomology, and Drs. Richard Kuhn and Rushika Perera, Markey Center for Structural Biology. The NSF Graduate Research Fellowship provides 3-years of support for a graduate student. These NSF scholarships are highly competitive, and the NSF typically awards approximately 2000 scholarships per year nationwide.
Purdue computing resources rank near top nationally
In modern science and engineering, as in college football, sometimes the bigger your lineup, the more you win. Winning in research -- making discoveries -- requires massive amounts of computing capacity. In this area, Purdue has one of the best front lines in the nation. A recent ranking of the largest supercomputers in the world -- performed biannually by www.Top500.org --listed two Purdue supercomputers, Rossmann and Coates, as being in the world's top 150 largest machines. When compared with other academic research institutions in the United States, Purdue places fifth in the nation in computing capacity.
Full story: http://www.purdue.edu/newsroom/purduetoday/general/2010/101208_ComputingRank.html
Risk Management completing MVR rollout
December 31 will mark the completion of the phased implementation of Motor Vehicle Record (MVR) checks related to the new Use of Vehicles for University Business policy. The policy first went into effect on March 1, 2010, with student and volunteer drivers as the initial focus. On April 1, Risk Management began a phased implementation of MVR checks for employees. Physical Facilities, College of Agriculture, Housing & Food Services, Athletics, and the regional campuses have completed the implementation process.
Full story: http://www.purdue.edu/business/bpnews/News_Releases/General/riskManagementCompletingMVRRol.html
New Purdue journal to highlight best of undergraduate research
Students are invited to submit proposals to have their work highlighted in a new journal that will feature the best of undergraduate research taking place at Purdue University. The Journal of Purdue Undergraduate Research, which will feature selected student articles from faculty-mentored research projects, will be published by the Purdue University Press. The press is a part of Purdue Libraries, and the project is supported by the Office of the Provost.
Full story: http://www.purdue.edu/newsroom/research/2010/101206WhittakerResearch.html
December 13: Final Exam week begins
December 14: Indiana Crop Advisor Conference (http://www.indianacca.org/)
December 19: Commencement
December 23-24; 29-31: Christmas and New Year holidays (University offices closed)
January 10: Spring Semester begins
January 18-20: Fort Wayne Farm Show. For more information, contact Danica Kirkpatrick (dkirkpat@purdue.edu)
January 28: Indiana Livestock, Forage & Grain Expo, Indianapolis Convention Center. For more information, contact Danica Kirkpatrick (dkirkpat@purdue.edu)
February 5: Purdue Ag Alumni Fish Fry, Indiana State Fairgrounds. For more information, contact Donya Lester, 49-48593.