Colleagues,
Happy New Year! I hope you all had a wonderful holiday and had a chance to catch up with family and friends (and perhaps to relax just a bit...).
2010 promises to be another very exciting, very productive year in Agriculture. Last October in this newsletter, I told you about some of the strategic plan initiatives we had begun working on. Several of them—like the Purdue/Ivy Tech Pathway program, the pre-award center to facilitate the submission process for sponsored research grant proposals, and Extension's Thematic Advisory Groups (TAGs)/Issue Based Action Teams (IBATs)—are moving forward. But there is much more to accomplish, and this year's agenda is an ambitious one. Just a few examples:
A committee led by Frank Dooley and Dale Whittaker is looking at our 44 Agriculture majors and asking the question 'Is Less More' – would a smaller number of majors be more inviting to prospective students and make better use of teaching resources?

Beth Forbes and Ag Communication are working with Extension leadership to frame a strategy to better communicate the value and impact of Purdue Extension and Purdue Agriculture to stakeholders, state legislators and county officials.

We're putting together a repository of information on leadership development opportunities for early and mid-career faculty to help promote those opportunities and to facilitate faculty nominations or applications for such opportunities.

The Ag Discovery Camp that has been offered for middle- and high-school students for the last two years is being transformed into the Hoosier Ag Science Academy, developed in partnership with Indiana's Lieutenant Governor. Pam Morris and her staff in the Office of Multicultural Programs are taking the lead on this project.

Our work to build strength in plant sciences will continue this year. A committee made up of department heads and faculty members from the College of Agriculture and the College of Science has been charged to explore the development of a cross-department/cross-college administrative structure for plant sciences at Purdue. The desired outcomes of this effort would include increased visibility for plant sciences on and off campus, enhanced collaborations, a strengthened graduate program, and more input into the funding agenda for the plant sciences research agenda nationally.
I hope this list communicates an important message: despite budget pressures, I know we will find a way to continue to move the College forward through these initiatives and others that are in progress. Last fall, the Associate Deans and I made our way around the College, sharing the strategic plan with each department. The thoughtful discussions we had make me very optimistic that 2010 will be a year of great progress toward achieving our strategic plan goals.
On another note, by now you all have heard that our Provost Randy Woodson has been appointed Chancellor at North Carolina State University. While we're very sad to see Randy leave Purdue, we're proud of him and delighted that he has this terrific opportunity to use his considerable leadership talents at the next level. I know everyone in Agriculture joins me in wishing Randy all the best in his next adventure!
All the best,
Jay
News Around Purdue Agriculture
Provost Randy Woodson named North Carolina State University chancellor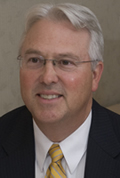 The University of North Carolina Board of Governors has named Purdue University Executive Vice President for Academic Affairs and Provost Randy Woodson chancellor of North Carolina State University. The appointment will take effect no later than May 1. Randy will succeed Jim Woodward, who has been serving as interim chancellor for NC State since June 9, 2009. The land-grant university for North Carolina, NC State also is the largest, with 34,000 students. A search advisory committee to identify internal candidates to serve as the university's next executive vice president for academic affairs and provost. The committee will be chaired by Richard Cosier, dean of the Krannert School of Management and Leeds Professor of Management. The goal is to have candidates identified by Feb. 1, with public presentations that same week. President Córdova intends to propose a finalist to the Purdue Board of Trustees at its regular meeting on Feb. 11.
Full story: http://www.purdue.edu/newsroom/faculty/2010/100108CordovaWoodson.html
Ag Fish Fry features Purdue's World Food Prize winners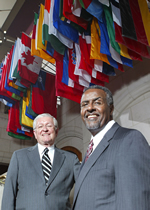 The 2010 edition of the Purdue University Agricultural Alumni Fish Fry will feature not one, but two guest speakers. Purdue Agriculture's own World Food Prize Laureates, Philip Nelson (2007) and Gebisa Ejeta (2009), will speak on the topic "Assuring Global Food Security." The Fish Fry, scheduled for Feb. 6, begins at 11:30 a.m. in the Toyota Blue Ribbon Pavilion at the Indiana State Fairgrounds in Indianapolis. The Ag Forecast, a program highlighting important topics in agriculture, will precede the Fish Fry starting at 9:30 a.m. in the Grand Hall, also located on the fairgrounds. Tickets for the Ag Alumni Fish Fry are $20 and must be purchased in advance. Tickets are available by contacting the Purdue Ag Alumni office at 765-494-8593 or by e-mailing agalumni@purdue.edu.
Full story: http://www.purdue.edu/newsroom/events/2009/091221LesterFishFry.html
Wally Tyner Appointed to National Academy Committee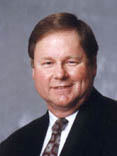 Wally Tyner, the James and Lois Ackerman Professor in the Department of Agricultural Economics, has been appointed a member of a National Academy of Science study committee on Economic and Environmental Impacts of Increasing Biofuels Production. The study will include an economic analysis of increased biofuel production to identify current and projected impacts of biofuels on supply and demand for key commodities affected by the biofuels market. The study will also analyze the impact of current and projected future levels of biofuels production and use on the environment. Particular focus will be given to the Renewable Fuel Standard (RFS) and other policy options.The study will identify barriers to achieving the RFS, and will evaluate policy options to alleviate potential adverse impacts of the RFS. Professor Tyner has worked extensively on these topics. The study will begin in January 2010 and will be completed within two years.
Dev Niyogi wins NSF early-career award

Dr. Dev Niyogi, Agronomy and Earth & Atmospheric Sciences, is one of thirteen Purdue University faculty members who have won the National Science Foundation's most prestigious honor for outstanding young researchers in 2009. The Faculty Early Career Development awards range from $300,000-$525,000 in research funding over four or five years. About 400 researchers win the awards annually. Other Purdue recipients this year are Yong Chen, Demetra Evangelou, Kevin Gurney, Matthew Jones, Krista Nichols, Dev Niyogi, Zheng Ouyang, Jeffrey Rhoads, Ann E. Rundell, Chih-Chun Wang, Chen Yang, Dabao Zhang and Xiangyu Zhang.
Full story: http://www.purdue.edu/newsroom/faculty/2010/100107NSFCareer.html
Purdue program sends farm managers back to school
School will be in session for farmers wanting to better educate themselves on sound business management practices during Purdue Management Academy: Target 2015. The new program takes place Feb. 18 and 25 and March 4 and 11 at seven locations across Indiana. It is sponsored by Purdue University Extension and the North Central Risk Management Education Center.
Full story: http://www.purdue.edu/newsroom/outreach/2010/100111HeckamanAcademy.html
Indiana Horticultural Congress to address fruit, vegetable issues
An annual conference for fruit and vegetable producers will address a cornucopia of production-related issues, including a daylong workshop on food safety. The Indiana Horticultural Congress takes place Jan. 19-21 at the Wyndham Hotel in Indianapolis. Purdue University Extension and the university's Department of Horticulture and Landscape Architecture are among the event sponsors. "A broad range of topics will be covered that are very timely in their importance to the industry," said Bruce Bordelon, Purdue Extension grapes and wine specialist. "There is a full-day session on good agricultural practices and good handling practices for fresh fruit and vegetable growers that will cover U.S. Department of Agriculture third-party food safety audits and similar issues. There also will be full-day sessions on agritourism and high tunnel production."
Full story:http://news.uns.purdue.edu/x/2010a/100107BordelonCongress.html
Indiana electricity rates may rise, growth in demand slow through 2013
Indiana electricity rates are projected to increase 12 percent over the next four years, while the recession and more efficient appliances will lower overall demand, according to a report prepared by analysts at Purdue University. Major factors driving up rates will be new federal air-quality standards, coupled with increasing construction and fuel costs, said Douglas Gotham, director of the State Utility Forecasting Group, a state-funded panel of researchers based at Purdue. The report, entitled "Indiana Electricity Projections: The 2009 Forecast," contains projections of the state's energy needs between 2008 and 2027 and was prepared for the Indiana Utility Regulatory Commission (IURC). Analysts presented the report's findings to the state utility commission on Dec. 29. The forecast was prepared by Gotham; Paul Preckel, professor of agricultural economics; and analysts Forrest Holland, Marco Velastegui and David Nderitu.
Full story: http://news.uns.purdue.edu/x/2010a/100104GothamElectricity.html
Walk the Talk: Dr. Martin Luther King, Jr. Day of Service
Faculty, staff, and students are invited to volunteer to help area nonprofit agencies with various needs — from stuffing envelopes to cleaning kennels. If you would like to volunteer, sign up by January 15 by contacting the Boiler Volunteer Network at (765) 496-2450 or bvn@purdue.edu or visit www.purdue.edu/bvn. Transportation to the agencies will be provided, and an appreciation luncheon will follow as a thank you for volunteering your time and talents to the community.
More information: http://www.purdue.edu/mlk/day_of_service.html
APSAC seeking new members
Efforts are underway to fill six vacancies on the Administrative and Professional Staff Advisory Committee (APSAC). Established in 1988, APSAC builds a formal communication link between A/P staff and the central administration. Twenty-five members serve on APSAC and represent administrative and professional staff from all segments of our Purdue campus community, including regional campuses. APSAC members discuss and make recommendations on issues affecting administrative/professional staff at Purdue. The University central administration consults with the committee on many issues and relies upon it for input and active involvement. Members of APSAC also have the opportunity to represent A/P staff on various University committees.
APSAC is encouraging A/P staff from the College of Agriculture to apply for APSAC membership. The term of service is three years (June 1, 2010 until May 31, 2013).Membership applications and instructions may be downloaded from www.purdue.edu/apsac. The application deadline is February 15, 2010.
Purdue seeks comments as part of accreditation process
Purdue is seeking comments from the public in preparation for a comprehensive evaluation by a team representing The Higher Learning Commission of the North Central Association of Colleges and Schools. The evaluation team will visit Purdue's West Lafayette campus March 22-24 and will review the University's ongoing ability to meet the commission's criteria for accreditation. Purdue has been accredited continually by the commission since 1913. The public is invited to submit comments regarding Purdue to: Public Comment on Purdue University; The Higher Learning Commission; 30 North LaSalle Street, Suite 2400; Chicago, IL 60602. Comments must address substantive matters related to the quality of the institution or its academic programs. Comments must be in writing and signed and must be received by Feb. 19. Comments should include the name, address, and telephone number of the person providing the comments. Comments will not be treated as confidential.
January 19: PCARET Legislative Luncheon at the Hyatt Regency Hotel, Downtown Indianapolis. Contact Teresa Rogers at 49-48489 for more information.
February 3-5: HASTI (Hoosier Association of Science Teachers, Inc.) Conference at the Indiana Convention Center. Purdue Agriculture exhibits at the conference on Feb. 4 and 5. Faculty and specialists present throughout the conference.
February 6: Purdue Ag Alumni Fish Fry, 11:30 a.m. Toyota Blue Ribbon Pavillion, Indiana State Fairgrounds. Tickets are available by contacting the Purdue Ag Alumni office at 494-8593 or by e-mailing agalumni@purdue.edu.
February 24: College of Agriculture Career Fair, 10:00-3:30; Pfendler Hall. For more information, contact Linda Austin at 494-8473; laa@purdue.edu
March 5: Distinguished Agriculture Alumni Awards convocation and reception. For more information contact Debbie Claeys at 49-67894.
March 6: Dean's Advisory Council spring meeting. For more information contact Dinah McClure at 49-49505.
April 17-18: Spring Fest on campus from 10 am – 4 pm on Saturday and Sunday. College of Agriculture and other units from across campus present this educational event. Spring Fest information on the web: http://www.purdue.edu/springfest/