Colleagues,
Summertime and the livin' is easy? Not in the College of Agriculture! The dress code may be more casual (at least some days), but we're as busy as ever....
The College leadership team kicked off the summer with a retreat at the Daniel Turfgrass Center to engage in some important conversations about our direction as a College in the coming year and over the longer-term. It was a long but productive day, and we came away energized about the opportunities ahead for the College. Before the end of the summer we will put together a progress report on the first year of the College Strategic Plan for distribution across the college and to our key stakeholders.
Summer is the time when hundreds of pre-college students visit campus.The Indiana FFA held its three day convention here in June. More than a thousand members from across the state were registered for the convention to hear from motivational speakers, participate in contests, and attend the career show. The 4-H Roundup brought some 700 members to focus on leadership skills, career exploration, and the college campus experience.
Last month, the Hoosier Agribusiness Science Academy (HASA) Summer Institute through our Office of Multicultural Programs hosted 23 middle schoolers, and 26 HASA high schoolers are on campus now. All eleven Agriculture academic departments participate in HASA through hands-on labs, lectures, workshops and field trips, and I thank everyone who helps give these students a taste of the exciting opportunities in agriculture.
Also in June, we welcomed next year's 612 freshmen for STAR (Summer Transition, Advising and Registration). Our newest students registered for classes, set up their computer accounts, checked out the residence halls, and began to learn how to tell one red brick building from another. My thanks to the faculty and staff in the Office of Academic Programs who gave our new students and their families a terrific welcome to Purdue Agriculture.
Summer has also been a time for preparing grant applications – especially AFRI grants and several very large international programs grants. Many of our faculty and staff have spent the summer writing grant applications. It has been an intense summer for these folks as they have worked to develop the broad-based teams that many of these grants require. We hope to get some good news later in the year when all of this work pays off in the form of funded projects.
It isn't just on campus that folks are busy. Across the state, our Extension staff members are preparing for or in the midst of county fairs—and of course we're all looking forward to the State Fair next month. I could go on....trips to China, National Guard training, crop diagnostic training, study abroad, professional conferences..... Thanks to everyone, on campus and off, for all you do for Purdue Agriculture. Have a great summer, stay cool, and have some fun!
All the best,
Jay
p.s.: Before I go, I want to once again congratulate Dr. Dale Whittaker, who left the Office of Academic Programs to become the university's Vice Provost for Undergraduate Academic Affairs, effective July 1. I know Dale will bring the same innovation and leadership to his new role that he has demonstrated in the College for the past eight years. He has done an exceptional job as our Associate Dean and Director of Academic Programs, and I wish him continued success in his new role. See below for news on the interim associate dean and director of OAP. Another of our summertime tasks will be to assemble a search committee and be ready to open a national search when the fall semester begins.
News Around Purdue Agriculture
Dale Whittaker named Vice Provost, Interim OAP Director appointed
Dr. Dale Whittaker, Associate Dean and Director of the Office of Academic Programs in the College of Agriculture, became the university's vice provost for undergraduate academic affairs on July 1. In his new position, he will lead undergraduate education, admissions, enrollment management, academic planning, program evaluation, and general academic policy development and implementation. He will advise Provost Tim Sands on personnel and budget matters. Among other duties, he will help guide student access, transition and success programs, academic program development, the Center for Instructional Excellence, the Oral English Proficiency Program, the University Honors Program, the Entrepreneurship and Innovation Certificate Program, and the Undergraduate Studies Program. He also will serve as a liaison for curricular changes affecting multiple colleges. Full story: http://www.purdue.edu/newsroom/faculty/2010/100628SandsWhitaker.html
Dean Jay Akridge has appointed Dr. John Graveel to serve as Interim Associate Dean and Director of the Office of Academic Programs. "John broadly understands OAP and with two years experience behind him, will lead a smooth transition to our next permanent leader," Dean Akridge said. "He is widely respected as an educator across our College and has my complete confidence." In addition, Dr. Al Goecker will take on additional responsibilities in support of the OAP mission, including assistance with the OAP budget. Dr. Goecker will be promoted to Senior Associate Director and Assistant Dean to acknowledge his additional responsibilities.
A search committee will be named within the next few weeks, and the goal is to have the position description revised and the job announced before the semester begins in August. This would allow us to target on-campus interviews for finalist candidates in December, with the start date as soon as possible after the decision is made.
Day of events to honor Dr. Phil Nelson
A symposium on the world's food supply and a ceremony renaming the Food Science Building in honor of Dr. Phil Nelson will highlight events marking the retirement of the World Food Prize laureate and founder of Purdue's Food Science program. The daylong recognition, including an open house at the building, will be Thursday, July 15.
The symposium "Global Food Security and Safety: A Global Perspective on Food Science" will be in the Deans Auditorium (Room 241) of Pfendler Hall from 9 a.m. to 12:15 p.m. Dr. Nelson will be the last of five speakers, who will include 2003 World Food Prize laureate Catherine Bertini of Syracuse University.
A ceremony for renaming the Food Science Building will be at 1:30 p.m. in the foyer of what will be the Philip E. Nelson Hall of Food Science. The open house will follow from 2-4 p.m. All events are free and open to the public.
Fall Agriculture faculty meeting date changed
Dr. Al Goecker announces that the date for the Fall 2010 Agriculture faculty meeting has been changed from Thursday, December 2 to Tuesday, November 30. The Spring 2011 faculty meeting will be on Wednesday, April 13, 2011.
Fern's evolution gives arsenic tolerance that may clean toxic land
Isolating a gene that allows a type of fern to tolerate high levels of arsenic, Purdue Agriculture researchers hope to use the finding to create plants that can clean up soils and waters contaminated by the toxic metal. The fern Pteris vittata can tolerate 100 to 1,000 times more arsenic than other plants. Jody Banks, Botany and Plant Pathology, and David Salt, Horticulture and Landscape Architecture, uncovered what may have been an evolutionary genetic event that creates an arsenic pump of sorts in the fern. "It actually sucks the arsenic out of the soil and puts it in the fronds," Banks said. "It's the only multi-cellular organism that can do this."
Full story: http://www.purdue.edu/newsroom/research/2010/100610BanksFern.html

Robot submarine patrols Lake Michigan for climate-change study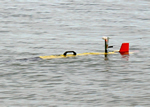 Tomas Höök, Forestry and Natural Resources, is part of a group of researchers who are using a robotic submarine and other specialized tools in Lake Michigan to gather biological and environmental data showing how young fish vital to the ecosystem may cope with future climate change. The researchers are correlating larval fish growth with various factors, including water temperatures near the lakeshore, where wind patterns might be altered by climate change and threaten fish populations.
Full story: http://www.purdue.edu/newsroom/research/2010/100615TroyLake.html
Purdue Extension storm recovery resources available online

Hoosiers with property and crop damage from this week's severe weather can find recovery information online through the Purdue Cooperative Extension Service.
Downloadable publications covering topics from flood mitigation to repairing buildings are available on Purdue's Extension Disaster Education Network (EDEN) state website, at http://www.ag.purdue.edu/extension/eden/Pages/default.aspx and then clicking on the "Floods & Storms" link.
The EDEN/Purdue Extension publication "First Steps to Flood Recovery" addresses such issues as helping people with disabilities, re-entering buildings, drinking water, salvaging furniture and contacting insurance companies. The publication can be read by logging onto http://www.extension.purdue.edu/floodpub/ and then clicking on any of the colored subject matter tabs.
More information: http://www.purdue.edu/newsroom/outreach/2010/100616CainStorms.html
Genome sequence may lead to better methods to target lice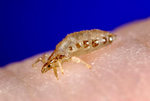 Dr. Catherine Hill, Entomology, hopes a better understanding of the neurological system of the body louse through the mapping of its genome will lead to better control or elimination of the human parasite. Dr. Hill, with postdoctoral researchers Jason M. Meyer and Janice Pagel VanZee, and former undergraduate student Emily Krause contributed to the overall genome-mapping effort led by the University of Illinois and published online on June 21 in the Proceedings of the National Academy of Sciences. The body louse genome is the smallest known genome of any insect, said University of Illinois entomology professor Barry Pittendrigh, who led the drive to fund the project and coordinated the international team of scientists who analyzed the sequence.
Full story: http://www.purdue.edu/newsroom/research/2010/100621HillLice.html

Apples grow larger when cells don't divide, study shows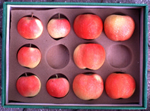 Fast-food restaurants can supersize French fries and drinks, but Mother Nature has found a way to supersize a type of apple. Peter Hirst, Associate Professor of Horticulture, found that an anomaly in some Gala apple trees causes some apples to grow much larger than others because cells aren't splitting. The findings, reported in the current issue of the Journal of Experimental Botany, showed that the new variety, called Grand Gala, is about 38 percent heavier and has a diameter 15 percent larger than regular Galas. "It's never been found in apples before," Hirst said. "This is an oddball phenomenon in the apple world."
Full story: http://www.purdue.edu/newsroom/research/2010/100630HirstGala.html
Purdue pathologists confirm tomato disease in Indiana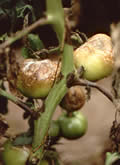 Late blight of tomato, a serious plant disease caused by a fungus-like organism, has been found in Indiana for the second straight year. Purdue's Plant & Pest Diagnostic Laboratory (P&PDL) confirmed that a plant sample from a home garden in Dearborn County near the Kentucky border was infected with late blight. The Dearborn County sample is the only known case of late blight in Indiana at this time. "Late blight is a very damaging disease of tomato and potato," said Dan Egel, Purdue Extension plant pathologist at the Southwest Purdue Agricultural Center in Vincennes. "The disease can spread very rapidly under cool, moist conditions, and this latest outbreak may have spread during recent rainy weather." Egel urged all tomato growers to inspect their plants for signs of disease and direct questions about late blight to their Purdue Extension county office.
Full story: http://www.purdue.edu/newsroom/general/2010/100701EgelBlight.html

Extension internship provides networking and military support
Purdue Extension Service has joined forces with the National Institute of Food and Agriculture/U.S. Department of Agriculture and the Office of Military Community and Family Policy within the Department of Defense to offer college students internships to work with youth and child care programs on military installations around the world. The groups created the Military Extension Internship Program to provide college students the opportunity to learn about child care and youth development as well as careers in those fields within the military. "Students participating in the program need no experience in, or knowledge of, the military, but they usually come out of the program with a greater appreciation for it and awareness of careers available for civilians on military installations," said Purdue Extension internship coordinator Amy Schott. Interns are assigned to installations across the United States and Japan as well as in several European countries.
Full story: http://www.purdue.edu/newsroom/outreach/2010/100707SchottInternships.html
Janet Beagle, graduate student in YDAE, received the Kahler Outstanding Dissertation Award from the American Association for Agricultural Education at the group's conference in Omaha.

Dr. Kola Ajuwon and Dr. Joe Garner, both of Animal Sciences, received 2010 Showalter Awards from the Office of the Vice President for Research. Since 1975, Purdue has received research funding through grants made possible from the Ralph W. and Grace M. Showalter Research Trust Fund. The areas of research eligible for funding are: air and water pollution research; research in the field of biochemistry; research for the control and prevention of disease; research for development of new technologies in food production; and research in medical and biophysical instrumentation, including the adaptation of the modern computer in the measurement of biological processes, in the collection, recording, analysis, and interpretation of data.
Agricultural Communication team members Carolyn McGrew, Jamie Loizzo, Steven Doyle, Joan Crow, Sharon Katz, Virginia Quesada, Rebecca Goetz, Dan Annarino, and Tim Thompson won an ACE Distance Education and Instructional Design Gold Award for "Purdue zipTrips".
Agricultural Communication team members Beth Forbes, Tom Campbell, Dan Annarino, Frank Koontz, Donya Lester, Carol McGrew, Megan Madia, Gina Price, Jennifer Stewart, and Brian Wallheimer won an ACE Gold Award in the Newsletters category for Purdue Agriculture Connections.

Dr. Joan Fulton, Agricultural Economics, was elected President of the University Faculty Senate.

Erin Kischuk, Biochemistry, was named to the third team in USA TODAY's annual college academic competition.
Andy Robinson, Botany and Plant Pathology Ph.D. student with Dr. Bill Johnson, was elected President of Purdue Graduate Student Government.
Online health assessment available at myCIGNA.com
Human Resources WorkLife Programs encourages all employees participating in Purdue medical plans to spend 20 minutes completing an online assessment to learn valuable information about their health. A flier with more information is available here
Purdue to retain Central Machine Shop
Purdue's Central Machine Shop will continue operations under a new reporting structure. The shop, affected by roadwork on Harrison Street and campus development, will be relocated to a new Agricultural and Biological Engineering building on the south side of campus in 2011. Under the new structure, the machine shop will report to personnel in Discovery Park's Birck Nanotechnology Center and will be under the Office of the Vice President for Research. The Central Machine Shop, an interdisciplinary organization that complements and enhances the capabilities of campus departmental shops, currently is under the Office of the Vice President for Physical Facilities.
Full story: http://www.purdue.edu/newsroom/research/2010/100603T-YoungbloodOilFilt.html
'Purdue Alumnus' celebrates outstanding young alumni
A special issue of Purdue Alumnus magazine highlights 40 talented young alumni--six from Agriculture--who have distinguished themselves in various careers and disciplines within a few years of earning their degrees. The magazine is available at www.purduealumnus.org. Read more...

Retirement incentive options still being considered in addressing budget issues
During the past several months, the University and its Sustaining New Synergies Task Force have evaluated several alternatives to address the expected budget situation for the coming years. One initiative under consideration is a retirement incentive program that could serve as a means to reduce the University's workforce. Over the past few months, discussions about the design of a retirement incentive program have been held with APSAC, CSSAC, the Faculty Compensation and Benefits Committee, regional campuses and many deans and vice presidents. The evaluation of options for an incentive program will continue through the summer with a goal of reviewing a proposal with the Board of Trustees at the end of August.
Full story: http://www.purdue.edu/newsroom/purduetoday/faculty_staff_news/2010/100712_RetireIncenti.html
July 15: Phil Nelson Retirement Celebration from 9:00 a.m. – 4:00 p.m. Celebration includes "Global Food Security & Safety" symposium, special announcement, and reception/open house. Contact Laurie Swift at 494-6303 for more information.
August 6-22, 2010: Indiana State Fair. Purdue faculty, staff and students are involved in this annual summer event. See the 4-H exhibits in the Centennial and Exhibit Halls in the 4-H complex, or the Purdue Extension exhibits in the Our Land Pavilion. 2010 is the second year of the expanded, 17-day fair. Contact Danica Kirkpatrick at 494-9113 for more information.
August 7: Purdue Summer Commencement
August 16-17: Purdue Agriculture New Faculty Tour
August 19: New Faculty Orientation
August 23: Fall semester begins
September 21-23: Ohio State Farm Science Review in London, OH. Purdue brings several specialists and exhibits to this educational farm show each year. Contact Danica Kirkpatrick at 494-9113 for more information.
October 16: Purdue Homecoming. Agriculture Alumni reunite on campus for food and fun from 9 a.m. – 11 a.m., prior to the football game versus Minnesota. Contact Donya Lester at 494-8593 for more information about College of Agriculture Alumni activities.
October 20-23: National FFA Convention in Indianapolis.