Colleagues,
One of the most exciting characteristics of our College is the breadth of our education, research, and Extension portfolio. Plants and animals; engineering, life sciences, social sciences, education, the arts; local, state, national, international; 'basic' and 'applied'; production, processing, distribution, policy, the environment – any way you want to look at our College, we cover a lot of territory. While exciting, this breadth also presents some real challenges. How do you help an evolving stakeholder base understand just who we are and what we do? How do we make smart investment decisions that move the College forward with such a diverse portfolio of programs and activities?
We opened up this issue over the summer in two retreats with College administrative leadership. We started with an inventory of 'signature areas' that each of our 11 departments had already identified as those initiatives/areas where they have strength and scale. (Many of our departments have showcased these signature areas on their web-sites.) A key question was: with 11 academic departments, each having 2 or more signature areas, what does this say about the College's focus (or lack thereof!)?
We grouped these signature areas across departments, looking for commonalities. It turns out that much of what our College is all about can be captured in five broad areas: Sustainable and secure food production; Molecular approaches to expanding the frontiers of agriculture; Food and health; Growing the bioeconomy (which includes renewable energy); and Strengthening the ecological and environmental integrity in agricultural ecosystems.
The fact that the departments' 30+ signature areas map into five strategic themes should not be a surprise. Our College has had a consistent focus over time on the science and economics of biological production, the preservation and enhancement of our natural resources, and areas that are related to/support these core areas in some way as we work to improve the human condition. Embedded here is our role in supporting improved public/private decision making and education at every level.
At this point, our strategic themes are in draft form. If they have not already, your Department Head/Unit Leader will be sharing these with you for your reactions, comments, and insights. What did we miss? How can we sharpen up the words around each of these themes? We need your feedback to insure we get this right. This is an important initiative for our College, and I want to thank you in advance for helping us move this forward.
When you take a look at the focus of these five strategic themes in the context of the issues our world is facing, it is easy to get excited about the future of our College.
All the best,


News Around Purdue Agriculture
ARP to offer workshops for pre-tenure faculty
Associate Dean Karen Plaut announces that Agricultural Research Programs is offering a series of workshops, New Faculty Orientation Monthly Series - Lunch and Discussion with an Expert, to help pre-tenure faculty get acquainted with services provided by Purdue for faculty success. The meetings will be informal, lunch will be provided, and a speaker/expert will give a 15-30 minute presentation followed by informal Q&A. The first four sessions of the monthly series are listed below. All sessions will be held in WSLR 116 from Noon to 1:00, and more presentations will be added as the year progresses.
September 23: "How to prepare your grant for submission and services provided by the Pre-Award Office" by Amy Wright, Director of the Pre-Award Center
October 12: "Hiring the right person for your lab" by Connie Reckowsky, HR Employee Relations Specialist
November 17: "Building your global reputation with international activities: IPIA can help" by Jess Lowenberg-DeBoer, Associate Dean and Director of International Programs in Agriculture
December 9: "Grants.Gov -- the Ins and the Outs--How a package is prepared for submission" by Amy Wright, Director of the Pre-Award Center
Please RSVP to Sherry Oland (oland@purdue.edu) at least 3 days before the workshop(s) you plan to attend.
ABE Department again ranked among the top in the nation
The Purdue Department of Agricultural and Biological Engineering undergraduate program was ranked number 3 in the country by the U.S. News & World Report in its rankings released in August. Purdue was ranked 18th among all public universities - tied with Ohio State University, the University of Georgia and the University of Maryland - up from 22nd last year. Among all universities, Purdue ranked 56th, tied with Ohio State University, Southern Methodist University, the University of Georgia and the University of Maryland. This also is a move up for Purdue, which ranked 61st last year.
Full story: http://www.purdue.edu/newsroom/general/2010/100817CordovaUSNews.html
Slowing urban sprawl, adding forests curb floods and help rivers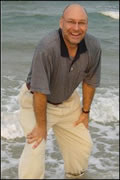 Controlling urban growth and increasing forested land are the most effective ways to decrease future water runoff and flooding, according to a Purdue University study. Bryan Pijanowski, associate professor of Forestry and Natural Resources, used a model to simulate Michigan's Muskegon River watershed runoff rates from 1900 through the present and forecast them 30 years into the future. Several scenarios, including forest regrowth, urbanization, and buffers between development and streams, were analyzed to estimate their impact on rivers and streams. "Changes in the land's surface feed back to runoff. Urban sprawl and impervious surfaces are the biggest culprits," Pijanowski said. "If you're able to control development, it is the most effective way to save our river ecosystem."
Full story: http://www.purdue.edu/newsroom/research/2010/100818PijanowskiLandscape.html
Today's farmer should think like a CFO, says Boehlje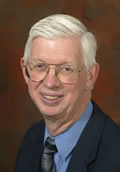 Farmers who want to make money in today's unpredictable economy would do well to assume a corporate mindset and think like a chief financial officer, says Dr. Mike Boehlje, Agricultural Economics. With many farm businesses now multimillion-dollar operations and the operating risk in agriculture increasing, producers should focus more time on the financial side of their business, he said. CFOs think about profitability, capital structure and debt service, size and growth, risk and financial documentation, and creating shareholder value, he said. CFO-type thinking will help farmers navigate swings in commodity prices and production costs. Although price volatility is inherent to farming, price fluctuations are greater today than they were in the past.
Full story: http://www.purdue.edu/newsroom/outreach/2010/100817BoehljeCFO.html
Sensor important to understanding root, seedling development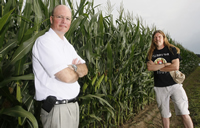 A biosensor utilizing black platinum and carbon nanotubes developed at Purdue University will help give scientists a better understanding of how the plant hormone auxin regulates root growth and seedling establishment. Dr. Marshall Porterfield, professor of Agricultural and Biological Engineering and biomedical engineering, created a new sensor to detect the movement of auxin along a plant's root surface in real time without damaging the plants. The nanomaterials at the sensor's tip react with auxin and create an electrical signal that can be measured to determine the auxin concentration at a single point. The sensor oscillates, taking concentration readings at different points around a plant root. An algorithm then determines whether auxin is being released or taken in by surrounding cells. The work was detailed in a paper co-authored by Dr. Angus Murphy, Horticulture and Landscape Architecture, published in the early online version of The Plant Journal.
Full story: http://www.purdue.edu/newsroom/research/2010/100823PorterfieldAuxin.html
Test finds E. coli in beef faster, could better trace outbreaks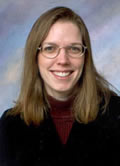 Infrared spectroscopy can detect E. coli faster than current testing methods and can cut days off investigations of outbreaks, according to a study at Purdue University. Dr. Lisa Mauer, Associate Professor of Food Science, detected E. coli in ground beef in one hour using Fourier transform infrared spectroscopy, much less than the 48 hours required for conventional plating technology, which requires culturing cells in a laboratory. Mauer said spectroscopy could be done in the same laboratories, just in much less time. The spectroscopy method also differentiates between strains of E. coli 0157:H7, meaning outbreaks could be tracked more effectively and quickly. Current tests are multistep and take almost one week to get results.
Full story: http://www.purdue.edu/newsroom/research/2010/100830MauerBeef.html

Effects of the Gulf Oil spill on aquatic life featured at Science Café

Dr. Reuben Goforth, Forestry and Natural Resources, talked with approximately 50 people at a Science Café event on August 10 about the effects of the Gulf oil spill on aquatic life. The Science Café, held monthly at K. Dees Coffee & Roasting Co. in Lafayette,
gives people in the community an opportunity to talk with experts about science in a non-technical and informal setting. The August Science Café had one of the program's highest attendance numbers since it began last fall. Dr. Goforth's talk elicited questions and comments on a wide range of topics connected to the oil spill, including the effects on birds, fish, turtles and other aquatic life, the health of wildlife habitats, the effects of remediation tactics and consumer dependence on fossil fuels. The next Science Café is scheduled for September 14.

Study: Economics pose challenge to corn cob biofuel future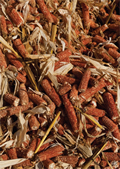 Corn cobs could provide a future energy source, but farmers would have to receive a much higher price than previously thought to cover their costs and turn a profit, according to a study conducted by Agricultural Economics Professor Wally Tyner and graduate student Matt Erickson. Farmers would need to receive about $100 per dry ton from biofuels companies to persuade most to add a cob-collection operation during fall corn harvest. "That price is considerably higher than earlier estimates," Tyner said. "So while cobs could potentially become an important bioenergy feedstock, the high cost represents quite an impediment to development of the industry unless there are government subsidies."
Full story: http://www.purdue.edu/newsroom/general/2010/100831TynerCobs.html
Egg cooling would lessen salmonella illnesses, scientist says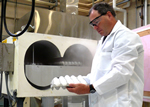 While people across the country have been sickened by a recent outbreak of salmonella poisoning possibly linked to eggs from Iowa producers, a Purdue University food scientist believes the poultry industry could implement a rapid egg cooling technology to reduce future outbreaks. Kevin Keener, Associate Professor of Food Science, said quick cooling of eggs after they are laid would significantly reduce the ability of salmonella to grow inside eggs and potentially keep consumers from getting sick. There are no federal guidelines for how quickly eggs should be cooled, but current industry procedures can take as long as six days to cool eggs to 45 degrees F, the temperature at which salmonella can no longer grow. Keener's rapid-cooling technology would take two to five minutes.
Full story: http://www.purdue.edu/newsroom/research/2010/100825KeenerEggs.html

Animal Sciences student featured in "5 Students Who Lead"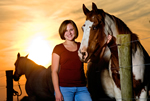 This month, "5 Students Who …" is putting the spotlight on five students who demonstrate their leadership skills through their commitment, enthusiasm, perseverance and a humble heart to learn from any situation. From student organizations to international initiatives, these students' leadership roles pioneered the way to make ideas happen, and thus enabled their peers to pursue their dreams, learn more and do more. Amber Courter, a senior in Animal Sciences from Newburgh, Indiana, is one of the students featured.
Full story: http://www.purdue.edu/fivestudents/lead/courter.html

John Deere Ag/Diesel Building opens at SWPAC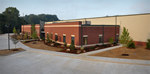 Vincennes University's John Deere Ag/Diesel Building was dedicated on Aug. 25. The $2.5 million building to houses the VU program on a 6.7-acre tract at the Southwest Purdue Ag Center, located 3.5 miles north of Vincennes on U.S. Highway 41. Construction began last summer on the 34,300 square-foot building which includes two classrooms, a conference room, a John Deere Lab, a diesel technology lab, and related offices. "This is a great win-win situation for Purdue University and VU. This moves VU's John Deere Ag-Tech and our diesel program out of a floodplain in Westport, Illinois, and will strengthen our ties with Purdue," said Mike Sievers, chair of the Finance/Revenue Committee of the VU Board of Trustees, when the partnership with Purdue was announced in 2009.
National Conference for Agribusiness to take place at Purdue

The National Conference for Agribusiness will come to Purdue University on Nov. 16 and 17 to give agribusiness professionals an opportunity to learn how to grow as managers. The conference will include discussions of interest to professionals in agribusiness. Guest speakers and experts will talk about the impact of changes occurring in the retail sector of agribusiness and how agribusinesses are responding to sustainability opportunities and challenges. About 200 people are expected to attend the conference. "When that many like-minded people are in a room, the possibility of getting something good out of it is incredible," said April Sauer, managing director of the Purdue University Center for Food and Agricultural Business. "Attendees will gain insights from this conference that will inspire new ideas and contribute to elevating agribusiness as a whole." On Nov. 16 keynote speaker Gebisa Ejeta, Distinguished Professor of Agronomy, will discuss agriculture's responsibility for innovation and feeding the world.
To learn more or register online visit http://www.agecon.purdue.edu/cab/programs/nca
WorkLife Ambassadors here to help
WorkLife Programs Ambassadors serve as the eyes and ears of WorkLife Programs in individual departments on campus. Their main responsibility is to help motivate colleagues to achieve healthier lifestyles. They do this by learning about the variety of campus resources, sharing suggestions and ideas in committee meetings, and actively advocating wellness and worklife activities among their co-workers. Your College of Agriculture WorkLife Ambassadors are Jennifer Biehl, Agronomy Department (biehlj@purdue.edu); Danielle Quirk, Agricultural Economics (dquirk@purdue.edu); and Becky Rice, Ag Administration (rdr@purdue.edu). Let them know if you have any questions, suggestions or comments. A great resource for information is the WorkLife website: http://www.purdue.edu/hr/WorkLife/
Dean Jay Akridge was selected to receive the Educator of the Year Award from the Mid America CropLife Association (MACA). The award, first presented in 1978, recognizes demonstrated evidence of significant contributions to American agriculture, especially in the MACA region. The award was presented at the MACA Annual Meeting on September 7 in West Des Moines, Iowa.

Purdue trustee JoAnn Brouillette received the 2010 AgriVision Award on August 18 at the Celebration of Agriculture event at the Indiana State Fair. The award, in its third year, is given to a Hoosier who has demonstrated exemplary leadership to maximize the potential of Indiana agriculture. JoAnn is the Managing Partner and President of Demeter LP. Started in 1944, Demeter is owned by the Brouillette Family and was headquartered in Fowler, Indiana, until a merger with Archer Daniels Midland Company in 1996.
Benefits open enrollment will be online this fall
For the first time this fall, faculty and staff will complete their annual benefits enrollment online, using a new system that will walk them through the enrollment process step by step. The system will provide employees with a confirmation statement instantly when they finish entering their enrollment. If employees change their mind anytime during the open enrollment period, they will be able to sign on to the system again, make changes, and have a new confirmation statement affirming the choices. Beyond open enrollment, the new online system will help plan participants keep their benefits coverage up-to-date. The system will be used to revise benefits in response to any change in family status situation during the year.
Full story: http://www.purdue.edu/newsroom/purduetoday/faculty_staff_news/2010/100816_OnlineEnroll.html

Technology dean to return to teaching and research
Dennis Depew, dean of the Purdue University College of Technology, will return to teaching and research after the 2010-2011 academic year. Depew has been dean since 2002. The College of Technology has more than 5,500 students and eight academic departments. The Statewide Technology program is located in 10 Indiana communities outside West Lafayette. In 2009 the college launched a new strategic plan that runs through 2014. "We have made great progress in the past eight years, and the future is very bright for the college," Depew said. "We are in a good position to welcome a new dean." Depew will return to a faculty position in the college next summer.
Full story: http://www.purdue.edu/newsroom/faculty/2010/100816SandsDepew.html
Deadline to apply for APSAC professional development grant is Oct. 1
APSAC is now accepting applications for its individual professional development grants. Grants generally fund professional education; attendance at lectures, conferences and seminars; or tuition assistance for academic classes. The maximum award amount is $750. The deadline is 5 p.m. Oct 1 for the fall cycle. More details and the application are available at www.purdue.edu/apsac. Questions should be directed to Ed Wiercioch at 49-46658 or wiercioc@purdue.edu.
Purchasing prepares University for strategic sourcing change
Purchasing Services is preparing to move its Strategic Sourcing Initiative forward during September when the first of the University's showcase suppliers are introduced and the BOILERMART is made available to Purdue staff for purchasing goods and services.

Full story: http://www.purdue.edu/newsroom/purduetoday/faculty_staff_news/2010/100831_StratSourcing.html
September 21-23: Ohio State Farm Science Review in London, OH. Purdue brings several specialists and exhibits to this educational farm show each year. Contact Danica Kirkpatrick at 494-9113 for more information.
October 16: Purdue Homecoming. Agriculture Alumni reunite on campus for food and fun from 9 a.m. – 11 a.m., prior to the football game versus Minnesota. Contact Donya Lester at 494-8593 for more information about College of Agriculture Alumni activities.
October 20-23: National FFA Convention in Indianapolis.
November 4: PCARET State Conference at the Beck Agricultural Center. Contact Teresa Rogers at 494-8489 for more information.
November 19: Dean's Advisory Council Fall Meeting.