Colleagues,
Last weekend, about a thousand of our closest friends braved the (really ugly) winter weather and gathered for the Purdue Ag Alumni Fish Fry. The Fish Fry is a real highlight of the year for me because it's just such a great time to get together with alumni and friends of our College for some fellowship, conversation, and fun.
We were honored to host Dan Glickman, former Secretary of Agriculture and now Senior Fellow and Co-Chair of the Democracy Project at the Bipartisan Policy Center. Mr. Glickman also co-chairs a bipartisan initiative on global agriculture and hunger for the Chicago Council on Global Affairs, and he spoke on "Renewing American Leadership in the Fight Against Hunger and Poverty."
In my comments to our Fish Fry audience, I talked about our College's goal of being the national model for the 21st Century land-grant College of Agriculture, and the three ingredients that will be required to reach that aspirational goal: excellence in all three mission areas - learning, discovery and Extension/engagement; focus on important issues and areas where we can lever our strengths and contribute in a meaningful way to solutions; and partnerships—with commodity organizations, the state, industry, other land grant universities, and other colleges on campus, among others—to address the challenges we face at the local, state, national and global levels. With 2012 being the 150th anniversary of the Morrill Act, it is a great time to reflect on just what it means to be a land grant college of agriculture, and how to put this powerful model to work in service to society.
The Ag Forecast (a regular event held just before the Fish Fry) featured a discussion moderated by Associate Dean Karen Plaut and panelists Paul Ebner, Don Lay, and Scott Radcliffe from the Animal Sciences Department as well as incoming Animal Sciences Department Head Alan Mathew. The morning's discussion topic was "Animal Agriculture Research: Improving the Health, Environment and Well-Being of People and Animals". The group did a great job of showcasing some of the important work happening at Purdue in support of the animal industries.
In spite of some very challenging weather and road conditions, it was a great day. My thanks go to Donya Lester, Executive Secretary of the Purdue Ag Alumni Association, and her amazing army of volunteers – Purdue Agriculture faculty, staff, and students and others who made the 2011 Ag Alumni Fish Fry another great success.
All the best,


News Around Purdue Agriculture
Trustees vote to explore Wind Energy Park
Purdue's Board of Trustees on Feb. 4 voted to allow the university to pursue leasing land as part of a 60-turbine commercial wind energy park to create and enhance Purdue research and educational opportunities. The wind energy park is a project of the university in partnership with Purdue Research Foundation, General Electric Co. and Performance Services Inc.
The resolution passed by the board is to: 1) lease property at the Animal Sciences Research and Education Center (ASREC) to the Purdue Research Foundation (PRF) with the right to grant easements and sub-lease as needed for the energy park and 2) request that the PRF Board of Directors (in concert with the College of Agriculture) act on behalf of the Board of Trustees to continue to plan for the Energy Park. Passage of the resolution does not mean the energy park was approved. Rather, passage of the resolution was the step required so that further evaluation of the energy park can continue.
The project has some overarching principles that must be met before approval. One of these states that the project must 'do no harm with respect to farm operations and research'. To that end, there are some issues that must be addressed going forward. In particular, we have to address issues with respect to 1) farm operations; 2) waste management; 3) current and future research and research facilities at both ASREC and the Agronomy Center for Research and Education (ACRE). A number of individuals in the Agriculture Research Programs office, the Department of Animal Sciences and the Department of Agronomy are working on acceptable solutions to these issues. The same group plus others are also exploring research and educational opportunities around waste management, renewable energy, and implications for crop production. The Trustees have until July to make a final decision on this project.
Full story: http://www.purdue.edu/newsroom/general/2011/110204BOTWindpark.html
Animal agriculture focus of Purdue Ag Forecast discussion
Purdue Agriculture's work in improving the health, environment and welfare of people and animals was the topic of the Feb. 5 Ag Forecast panel discussion before the Purdue Agriculture Alumni Fish Fry. The Ag Forecast discussion also included animal agriculture's importance to the Indiana economy. Panelists from the Animal Sciences department were Paul Ebner, an assistant professor who specializes in microbiology; Don Lay, an adjunct professor who focuses on animal behavior and well-being; and Scott Radcliffe, an associate professor who studies swine nutrition. Moderator Karen Plaut, associate dean of the College of Agriculture and director of agricultural research programs, said the discussion showcased the latest research by Department of Animal Sciences faculty supporting animal agriculture in Indiana.
Full story: http://www.ag.purdue.edu/agcomm/Pages/agnews.aspx
Call for applications/nominations for Spirit of the Land Grant Mission Award
The "Spirit of the Land Grant Mission Award" is open to eligible faculty in the College of Agriculture, College of Health and Human Sciences, and the School of Veterinary Medicine. The award recognizes an individual faculty member for excellence in integrating and promoting Purdue Agriculture's core mission of discovery, engagement, and learning. The award winner will receive a plaque and $10,000 to support his/her program, along with an honorarium from the Robert O. and Zelma C. Swaim Memorial Fund. All applications are due to Wendy Madore (wmadore@purdue.edu) by March 11, 2011.

More information: http://www.agriculture.purdue.edu/in_focus/2011/February/Spirit_of_the_Land_Grant_Award.pdf
Plants can adapt genetically to survive harsh environments
Dr. David Salt, Horticulture and Landscape Architecture, has found genetic evidence of how some plants adapt to live in unfavorable conditions, a finding he believes could one day be used to help food crops survive in new or changing environments. Salt noticed several years ago that a variant of the research plant Arabidopsis thaliana that could tolerate higher levels of sodium had come from coastal areas. To test the observation, he grew more than 300 Arabidopsis thaliana plants from seeds gathered across Europe. The plants were grown in non-saline soil and their leaf-sodium content was measured.
Full story: http://www.purdue.edu/newsroom/research/2011/110131SaltSodium.html
Wineries, Purdue wine team report strong Traminette growth
Indiana's signature wine variety, Traminette, is catching on. The Indiana Wine Grape Council and Purdue University started a marketing campaign last year called "Try on Traminette" to draw consumers to Traminette, a white wine known for being floral, fruity and citrusy. The Purdue Wine Grape Team recommended Traminette as the signature varietal wine for the state after years of winegrowing and winemaking experiments across Indiana. Since then, wineries have been adding it to their offerings, with more than 30 of the state's 54 wineries growing or selling Traminette - up from just 15 two years ago. "We had a winery tell us that Traminette sales were up 300 percent since last year," Jeanette Merritt, Purdue's wine marketing specialist, said at the 2011 Indiana Hort Congress meeting in January. "We have new wineries opening all the time and they're planting Traminette grapes."
Full story: http://www.purdue.edu/newsroom/general/2011/110131ButzkeTraminette.html
Wheat resistance genes failing, new approach needed to stop flies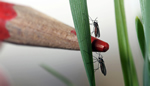 Many of the genes that allow wheat to ward off Hessian flies are no longer effective in the southeastern United States, and care should be taken to ensure that resistance genes that so far haven't been utilized in commercial wheat lines are used prudently, according to U.S. Department of Agriculture and Purdue University scientists. An analysis of wheat lines carrying resistance genes from dozens of locations throughout the Southeast showed that some give little or no resistance to the Hessian fly, a major pest of wheat that can cause millions of dollars in damage to wheat crops each year. Others, even those considered the most effective, are allowing wheat to become susceptible to the fly larvae, which feed on and kill the plants. Richard Shukle, a research scientist with the USDA Agricultural Research Service Crop Production and Pest Control Research Unit and Purdue adjunct associate professor of entomology, and Sue Cambron, a USDA Agricultural Research Service research support scientist, participated in the study.
Full story: http://www.purdue.edu/newsroom/research/2011/110124ShukleGenes.html
Purdue Wraps Up Emission Study
Purdue researchers have delivered data to the Environmental Protection Agency on a two-year National Air Emissions Monitoring Study that gives a look at air quality on and around livestock farms. Al Heber, a professor of agricultural and biological engineering and leader of the study, said he will now move to the next phase of his work: studying and publishing the dynamics and causes of the emissions and "mining" the extensive data for more information. At the same time, EPA is using the data to develop formulas that could be used by animal feeding operations or agencies to estimate their emissions.
Full story: https://engineering.purdue.edu/ABE/AboutUs/NewsAndEvents/Spotlights/PurdueWrapsUpEmissionStudy
Economist: Higher wheat acreage a return to normal

Winter wheat is making a mini-comeback in Indiana, but how long that comeback lasts could be determined by weather and other crop opportunities, said Purdue University agricultural economist Chris Hurt. Numbers released on Jan. 12 by the U.S. Department of Agriculture indicated Indiana farmers planted 430,000 acres of wheat in the fall. That total is significantly higher than the 250,000 acres planted in the fall of 2009, yet did not reach the state's planted wheat acreage during fall 2008, when farmers planted 470,000 acres. "In Indiana we had a 72 percent increase in wheat acres seeded last fall," Hurt said. "While that's a very large amount over the previous year, the 430,000 acres is fairly close to what we've seen in Indiana in recent history. Acreage for the 2010 crop was very low both because of poor economic returns on wheat and conditions that were too wet to seed wheat in late 2009."
Full story: http://www.purdue.edu/newsroom/general/2011/110113HurtWheat.html

Linton and Mauer featured as "Difference Makers"
Access to safe and available food is a basic human need and one that is foremost on the mind of Purdue researchers such as Lisa Mauer, associate professor of food science, and Richard Linton, who guides the University's Center for Food Safety Engineering. Learn what inspires these two and other researchers in food safety and security on the Difference Makers website at www.purdue.edu/differencemakers/food-safety.html.
Rick Foster and others meet to strengthen ties between N. American and Afghan universities
Western universities can play a crucial role in rebuilding war-torn Afghanistan but must make sure they listen to local needs and connect with the government's education plan, said Afghan higher-education officials at a conference in January. The meeting, which was organized by Ball State University and sponsored by Foreign Affairs and International Trade Canada and the U.S. State Department, brought together university and government leaders to discuss ways to strengthen ties between North American and Afghan higher-education institutions.
Full story: http://www.ag.purdue.edu/entm/Pages/default.aspx
Global Policy Research Institute awards grants to address global challenges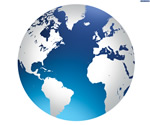 Disaster recovery, diabetes management, cancer prevention and sustainability are some of the research topics that Purdue's Global Policy Research Institute will support through the organization's first series of awarded grants. "These incentive award grants are necessary to help researchers establish seed projects that enable them to work toward securing larger grants from national organizations," said Arden Bement, director of the Global Policy Research Institute. "Our goal is to support high-quality scholarship aimed at resolving global problems through research with policy implications." Professors Jess Lowenberg-DeBoer and Paul Preckel were among those who were awarded grants.
Full story: http://www.purdue.edu/newsroom/general/2011/110124DiazGPRI.html
Animal Sciences student featured as "Discovery Maker"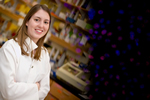 Nearly 2,000 Purdue undergraduate students participate in research projects, and the university is highlighting five of these Boilermakers. Purdue Marketing and Media has created a website that includes photos and biographical information about the students. The page can be accessed at http://www.purdue.edu/fivestudents/index.html. One of the featured students is Whitney Pavalko of Greenwood, Ind., a senior studying animal science. Whitney, who is working in stem cell research, is interested in muscle growth and regeneration. Her research is inspired by her racehorse Java's knee injuries. Read Whitney's story at http://www.purdue.edu/fivestudents/discovery/pavalko.html
New College calendar now online
The College of Agriculture calendar is now online. This calendar will be THE place to go for seminars, events, deadlines, and other happenings in the departments, Extension, and the College. To enter your event on your department's calendar, please consult your department's representative:
Administration: Tanya Dimmich; IPIA: Carole Braund; CES: Teresa Rogers; Ag Comm: Christine Strawsma; AGEC: Brenda Pearl; AGRY: Sandy Spitznagle; ANSC: Diane Patterson; BCHM: Kristi Trimble; BTNY: Pam Mow; ENTM: Paula Layden; FS: Steve Gauger; FNR: Marlene Mann; HLA: Colleen Flynn; YDAE: Jane Robertson
Bookmark this link: http://www.ag.purdue.edu/Lists/Agriculture%20Calendar/calendar.aspx
11 receive Ag Alumni Association's top award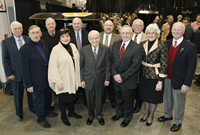 Eleven leaders in agriculture have received the Purdue University Agriculture Alumni Association's highest honor in recognition of their career-long service to their profession and communities. The association presented Certificates of Distinction on Feb. 5 during the annual Ag Alumni Fish Fry at the Blue Ribbon Pavilion on the Indiana State Fairgrounds in Indianapolis. The award has been given since 1938. The recipients are "extraordinary examples of achievement, citizenship and service and exemplify the servant leadership for which our association is known," said Donya Lester, executive secretary of the Agricultural Alumni Association. "It is inspiring how their leadership has transformed organizations and communities throughout Indiana."
Full story: http://www.purdue.edu/newsroom/general/2011/110207LesterAwards.html
Dean Jay Akridge has been elected to the Farm Foundation, NFP Round Table. A program of Farm Foundation, NFP, the Farm Foundation Round Table is an invitational discussion forum comprised of leaders from across the food chain and across North America. The Round Table meets twice yearly to provide a forum for discussion and interaction among members and invited government, academic, agribusiness and other interest group leaders. Farm Foundation, NFP, a 501(c)(3) public charity, serves as a catalyst for sound public policy by providing objective information to foster deeper understanding of issues shaping the future for agriculture, food systems and rural regions.
Purdue team recommends budget actions to reduce operating plan by $67 million; proposes plan to continue effort
As Purdue University nears its goal of identifying approaches to save $67.4 million from the West Lafayette campus budget, it also is taking steps to continue the effort. "We plan to institutionalize the approach that we used to come up with this plan," said Al Diaz, executive vice president for business and finance, treasurer. "We not only are identifying plans to save money in the near term, but we also are building an organizational framework to continue our efforts toward continuous improvement." Ken Sandel, director of physical and capital planning and manager for the project called Sustaining New Synergies, outlined the effort for the Finance Committee of the Board of Trustees on Feb. 3.
Full story: http://www.purdue.edu/newsroom/general/2011/110204DiazSNS.html
New web site up for surplus property
Purdue University's Warehouse and Surplus, operated by Materials Management and Distribution Services, now has a new website that includes a feature designed to streamline the exchange between departments of University property such as furniture, lab equipment, and even vehicles. The website, www.purdue.edu/surplus is up and running now. The feature, Billboard, operates much like the public domain Craigslist, with listings of Purdue-owned items that are available for free or purchase and those that are wanted on the "Want" list. Recently posted items included a copier, spot welder, cloth bulletin boards and a choral riser. The site, which includes listings from regional campuses, is designed to streamline the mandatory 14-day period during which University goods must be offered for internal campus use before being sent on to the warehouse for public sale. It will centralize transactions that in the past have taken place on a more casual basis — from department to department or by word of mouth.
Users must have a Purdue career account and password to sign on and access listings, post items, or add to the 'want' list. They must also have a form — available on the site — indicating departmental approval.
Nominations needed for Outstanding Innovation in Helping Students Learn award
Nominations are being sought for the Class of 1922 Outstanding Innovation in Helping Students Learn award. All Purdue faculty, staff and graduate students who have developed innovative techniques to help students learn are eligible for the $6,000 award. Candidates may either petition directly for the award or be nominated by colleagues, students or alumni. More information about the award, along with the cover sheet that must accompany nominations, is available as a PDF file or at www.purdue.edu/provost/shtml/faculty/awards.html. The deadline for submitting nominations for the Helping Students Learn Award is 5 p.m. Feb. 25
Nominations sought for Rose Awards, Helen B. Schleman Gold Medallion
The Barbara Cook Chapter of Mortar Board is accepting nominations for the Rose Awards and the Helen B. Schleman Gold Medallion through March 4.
The Rose Awards are presented to members of the clerical or service staff at Purdue who always go above and beyond the call of duty. Up to a dozen honorees receive a dozen roses in a surprise tribute at their workplace. Nominations may be made at http://web.ics.purdue.edu/~mortarbd/awards/rose.php.
The Helen B. Schleman Gold Medallion honors the legacy of Dean Helen B. Schleman, who served as dean of women from 1947 to 1968. The award is presented to a deserving faculty member or administrator for his or her contributions to Purdue, especially in the promotion and advancement of women students and women's issues. The nomination form and selection criteria are available at http://web.ics.purdue.edu/~mortarbd/awards/gold.medallion.php. A brief statement of achievements and a curriculum vitae will be sufficient for nominations. Additional information and materials are encouraged but are not required. For more information, e-mail Kyle Maple at kmaple@purdue.edu.
Check the College online calendar for all events, seminars and deadlines here: http://www.ag.purdue.edu/Lists/Agriculture%20Calendar/calendar.aspx