Colleagues,
Welcome back– I hope your new year is off to a great start! I am sure you are all better than I was – I never seemed to get as much preparation for the semester done as I planned to over the break, so the semester always arrived about a week too early for me! But, I did always look forward to the first day of class and it is great to have our students back on campus, snowy as it is....
Like our semester, budget discussions at the state and federal levels are off to a quick start. We told you in December about the Indiana Commission for Higher Education (ICHE) recommendation to cut our line items for county Extension educators, applied research and extension, and the animal disease diagnostic laboratory by 15%. And, many of you have been following the federal budget discussions in the press. One of the proposals is a rollback of federal spending to FY 2008 levels – something that would significantly impact our federal capacity funds (Hatch, Smith-Lever, etc.) and also the AFRI competitive grants program. It is an ironic situation in many ways: at a time when there is so much pressure on state and federal funding for the College, many parts of our agricultural industry are enjoying strong returns. Prospects for employment of our students in general are better than most sectors, and the problems we work on (food security, our environment, renewable energy, health, rural development, ....) make headlines every day.
There is important work to do to bridge this gap between funding prospects and the importance of the work we do. Our legislators in Indianapolis and in Washington have very difficult choices to make, and we have been working and will continue to work to help them understand the value of an investment in our College from society's standpoint. In addition, our Purdue Council for Agricultural Research, Extension and Teaching (PCARET) group of grassroots supporters will be hosting a legislative luncheon next Tuesday in Indianapolis and we have 80 legislators and 397 in total signed up to attend. This will be a great time to get our message directly to our state legislators. We are working right now with our land grant colleagues around the U.S. to document the impact of a federal spending rollback to 2008 levels, and also the impact of our work. We will have two different groups in Washington this Spring meeting with our Congressional delegation on federal funding. And there is more going on…
It is often said that we are in an era of increasing accountability – the public wants to make sure they are getting a good return on their investment. From my perspective, this is no threat to our College, but it is a call for us to be diligent about making sure the public understands what we do and the difference we make. Getting this done requires your help. I am not so long removed from my faculty role that I have forgotten the challenge of filing CRIS reports, FAIR reports, etc. But, I can assure you that we absolutely need your stories and data documenting your programs and accomplishments and how you are making a difference, whatever the focus of your program. Our supporters are eager to tell our story, but we must help them with great stories to share.
These budget discussions are far from over. One of the reasons I welcome this focus on accountability is the fact that our College has literally hundreds of great stories to tell. We work on important issues. We make a difference in this state. We help prepare the next generation of leaders. Decision-makers who take a close look at us will like what they see. Thanks to all of you for putting the public's money to work in high impact ways, and thanks for helping us make sure our stakeholders understand how we make a difference.
Have a great semester!
All the best,


News Around Purdue Agriculture
An update on the budget situation
Last month, we told you about recommendations by the Indiana Commission for Higher Education (ICHE) concerning line items in the state budget that fund County Extension programming, Applied Research and Extension, and the Animal Disease Diagnostic Laboratory (ADDL). The ICHE budget recommendation includes a proposal to cut all line items by 15 percent. Obviously, such a cut in these three areas would have a major impact on our ability to support county-based Extension, our ability to serve the state with applied research, and the ADDL's ability to insure the safety and health of our state's livestock industry.
We have made major efforts over the past three weeks to enlist the support of our many stakeholders and to help legislators better understand the line items and the difference they make in our state as they begin their budget considerations. The College web site has a link to several items that help make the case for the line item funding, and all county Extension web sites have been updated and redesigned to help county residents better understand what Extension is doing for them. Click here to see the updates. We still need your help! Feel free to circulate the information at these sites and take every opportunity to help our Indiana stakeholders better understand the importance of the activities these lines items fund to the state.
Distinguished Agriculture Alumni named
Eight Agriculture alumni will return to campus to be honored as the 2011 Distinguished Agriculture Alumni. They will be honored at a convocation and reception on Friday, April 1. The award winners are:
Dr. Michael Beach
Associate Director for Healthy Water, National Center for Emerging & Zoonotic Infectious Diseases, Centers for Disease Control and Prevention
PhD '87, Biochemistry
Mr. Gary Chenoweth
Vice President of Food Processor Sales, Bunge Oils
BS '74, Food Science
Mr. W. Douglas Griffin
Vice President of Marketing, AGCO Corporation
BS '90, Agricultural & Biological Engineering
Mr. Vernon R. Hawkins
President, Syngenta Crop Protection, Inc.
BS '85, Agronomy
Dr. Paavo Makinen
Acting Head of Representation, European Commission
MS '85, Agricultural Economics
Dr. John D. Mumford
Professor, Imperial College of London
BS '74, Entomology
Dr. Angela L. Siemens
Vice President of Technical Services, Cargill Animal Protein
BS '83, Animal Sciences
Dr. Fujiang Wen
President, Shandong Agriculture University
PhD '90, Botany and Plant Pathology
TEAM Award nominations invited
Since 1995, Purdue Agriculture has recognized an outstanding collaborative effort within our programs and across the university. Nominations are invited for the 2011 Purdue Agriculture Team Award. The 2011 Team award will be presented at a ceremony in May and the winning team will receive a cash award of $10,000 for program support. An electronic copy of your nomination is due to Debbie Claeys at dclaeys@purdue.edu by February 10, 2011.
TEAM Award guidelines: http://www.agriculture.purdue.edu/in_focus/2011/January/TEAMawards.htm
Lake Erie hypoxic zone doesn't affect all fish the same, study finds
Large hypoxic zones low in oxygen long have been thought to have negative influences on aquatic life, but a Purdue University study shows that while these so-called dead zones have an adverse affect, not all species are impacted equally. Tomas Höök, Forestry and Natural Resources, and former Purdue postdoctoral researcher Kristen Arend used output from a model to estimate how much dissolved oxygen was present in Lake Erie's hypoxic zone each day from 1987 to 2005. That information was compared with biological information for four fish species to assess the hypoxic zone's impact on the sustainability of their habitats.
Full story: http://www.purdue.edu/newsroom/research/2011/110110HookHypoxia.html
U.S. does not have infrastructure to consume more ethanol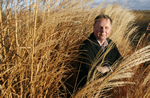 The United States doesn't have the infrastructure to meet the federal mandate for renewable fuel use with ethanol but could meet the standard with significant increases in cellulosic and next-generation biofuels, according to a Purdue University study. Drs. Wally Tyner and Frank Dooley, Agricultural Economics, along with Daniela Viteri, a former Purdue graduate student, used U.S. Department of Energy and Environmental Protection Agency data to determine that the United States is at the "blending wall," the saturation point for ethanol use. Without new technology or a significant increase in infrastructure, Tyner predicts that the country will not be able to consume more ethanol than is being currently produced.
Full story: http://www.purdue.edu/newsroom/research/2011/110104TynerWall.html
Nutrient record-keeping proves important for all producers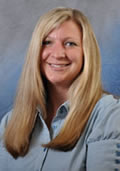 Livestock producers large and small need to not only manage nutrients properly but also keep detailed records of their nutrient management practices, said Purdue Extension animal scientist Tamilee Nennich. Smaller producers often think nutrient management record keeping is necessary only for large producers. But Nennich says that's not the case. "Every producer needs to have detailed records, especially regarding manure issues, because those records are the only proof of what's been done," she said. Purdue Extension, the Indiana Soybean Alliance and the Indiana Corn Marketing Council have once again teamed up to make the process simpler for livestock producers by providing free nutrient management record-keeping calendars.
Full story: http://www.purdue.edu/newsroom/general/2011/110104NennichNutrients.html

Gene helps plants use less water without biomass loss
Researchers in Horticulture and Landscape Architecture have found a genetic mutation that allows a plant to better endure drought without losing biomass, a discovery that could reduce the amount of water required for growing plants and help plants survive and thrive in adverse conditions. Plants can naturally control the opening and closing of stomata, pores that take in carbon dioxide and release water. During drought conditions, a plant might close its stomata to conserve water. By doing so, however, the plant also reduces the amount of carbon dioxide it can take in, which limits photosynthesis and growth. Mike Mickelbart, assistant professor of horticulture; Mike Hasegawa, professor of horticulture; and Chal Yul Yoo, horticulture graduate student, found that a genetic mutation in the research plant Arabidopsis thaliana reduces the number of stomata. But instead of limiting carbon dioxide intake, the gene creates a beneficial equilibrium.
Full story: http://www.purdue.edu/newsroom/research/2011/110111MickelbartGene.html
No-till, rotation can limit greenhouse gas emissions from farm fields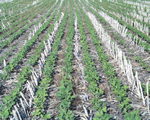 Using no-till and corn-soybean rotation practices in farm fields can significantly reduce field emissions of the greenhouse gas nitrous oxide, according to a study by Agronomy Professor Tony Vyn. The study found that no-till reduces nitrous oxide emissions by 57 percent over chisel tilling, which mixes crop residue into surface soil, and 40 percent over moldboard tilling, which completely inverts soil as well as the majority of surface residue. Chisel plowing is the most widely used form of tilling before planting corn in Indiana, he said. "There was a dramatic reduction simply because of the no-till," said Vyn, whose findings were published in the Soil Science Society of America Journal.
Full story: http://www.purdue.edu/newsroom/research/2010/101220VynNitrous.html
Publication helps ag retailers improve customer service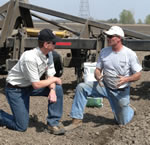 Excellent customer service is invaluable in any business, and agriculture is no exception. Purdue Extension provides tips for maintaining good customer relations in "An Agricultural Retailer's Guide to Customer Care." The publication is geared toward agricultural retailers who sell to growers and specifically to those who provide production supplies such as chemicals, seed and fuel for farm operations, said Scott Downey, associate director of the Center for Food and Agricultural Business. "One of the things that's hard for small organizations is finding resources that are prepared well and customized for their industry," he said. "This is created with the agricultural retailer in mind. They don't have to pick up a business book and try to tailor it toward their needs."
Full story: http://www.purdue.edu/newsroom/outreach/2010/101220DowneyService.html
Celebrating the people of Purdue Agriculture
Last month, we announced a new section of InFocus devoted to celebrating some of our Purdue Agriculture people--those who have made a positive difference in our lives or our community; those who have made a particular research accomplishment; or a student activity or accomplishment that should be shared College-wide. If you have a Purdue Agriculture story to share, send it to Dean Jay Akridge (akridge@purdue.edu) or Dinah McClure (dmcclure@purdue.edu).

This month's feature: http://www.agriculture.purdue.edu/in_focus/2011/January/CelebratingPurdueAgPeople.htm
Dr. Joe Anderson, Agronomy, was selected to participate in the 2011 CIC Department Executive Officers (CIC-DEO) Seminar. The CIC initiated this annual program of leadership development opportunities for department heads and chairs in 1997. Each Seminar focuses on topics involving departmental leadership skills and emphasizes in-depth analysis of case studies, focusing on the challenges facing department heads and chairs.
Dr. Kevin Gibson, Botany and Plant Pathology, has been selected to be a 2011 Diversity Fellow. The purpose of the Diversity Fellows Program is to provide support for faculty development, implementation and sharing of inclusive approaches to teaching, learning, and assessment in the area of diversity. The program is sponsored by the Diversity Resource Office.


Botany and Plant Pathology graduate students Paul Marquardt, Andy Robinson, Chad Brabham, Ryan Henry, Ryan Terry, Jessica Shafer, Jared Roskamp, and RaeLynn Butler attended the North Central Weed Science Society meeting in Lexington, KY in December. All of the students presented oral papers or posters or both on their research projects. Paul Marquardt won a first place award for his poster titled "Competition of volunteer corn with hybrid corn"; Andy Robinson won a first place award for his oral presentation titled "Effect of postemergence applications of 2,4-D on the yield components of DHT soybean"; Ryan Terry won a second place award for his poster titled "Management of glyphosate-resistant corn in a corn replant situation"; Jessica Shafer won first place awards for her oral presentation "Soil-borne fungi contribute to the efficacy of glyphosate in both resistant and susceptible horseweed in the field" and her poster "Role of soil-borne fungi in the response of giant ragweed biotypes to glyphosate."

Purdue outlines work, pay procedures for winter weather situations
When serious winter weather hits, the West Lafayette campus relies on special policies and procedures to guide decisions about being at work and getting paid.
Full story: http://www.purdue.edu/newsroom/purduetoday/faculty_staff_news/2010/101210_WeatherPolicy.html
Grants available to students for service projects
Funds are available to provide grants to students or student organizations for work on community service learning projects. The program, sponsored by the vice provost for engagement, has the goal to expand the community involvement of Purdue students in partnership with communities, nonprofit agencies, schools, and governmental bodies.
Full story: http://www.purdue.edu/newsroom/purduetoday/general/2010/101213_ServiceGrnts.html
Nominations sought for Jischke Outstanding International Student of the Year
Faculty and staff are invited to nominate a graduating senior for the Martin C. Jischke Outstanding International Student of the Year award. Nominations are due Feb. 5 for the award, which was established by President Emeritus Martin C. Jischke to recognize a Purdue international student who has helped the University welcome and connect people of all cultures, says Michael Brzezinski, interim vice provost for global affairs and dean of international programs and director of the Office of International Students and Scholars.
Full story: http://www.purdue.edu/newsroom/purduetoday/faculty_staff_news/2011/110111_JischkeAwrd.html
January 18-20: Fort Wayne Farm Show. For more information, contact Danica Kirkpatrick (dkirkpat@purdue.edu)
January 28: Indiana Livestock, Forage & Grain Expo, Indianapolis Convention Center. For more information, contact Danica Kirkpatrick (dkirkpat@purdue.edu)
February 5: Purdue Ag Alumni Fish Fry, Indiana State Fairgrounds. For more information, contact Donya Lester, 49-48593.
February 24-25: Women in Agriculture Conference, Jeffersonville, IN
April 1: College of Agriculture Distinguished Agriculture Alumni Awards
April 8: College of Agriculture Recognition Banquet, Loeb Playhouse, Stewart Center. Doors open at 5:30 p.m. and the program begins at 6:00 in Loeb Playhouse. Contact Kelly Lough at 494-3150.
April 9: 59th Annual Midwestern Foresters' Conclave. Forestry students will be competing in wood chopping, sawing, rolling along with other events. The Collegiate and Professional Stihl ® Timbersports ® Series, along with ESPN, will be at Purdue.