Colleagues,
I hope your summer is going well! This month, I offer up a few rambling comments and observations in the middle of a scorching July week in Indiana…
We welcomed Marcos Fernandez as our new Associate Dean and Director of Academic Programs on July 1 (more on Marcos below). I am very, very excited to bring this seasoned academic leader to our College. His experiences as Associate Dean for Undergraduate Programs at Penn State and at Louisiana State University will help us move an outstanding undergraduate program to new places. Welcome Marcos! And, a very special thank-you to John Graveel, who did such a terrific job of leading the Office of Academic Programs while we were searching for our new Associate Dean!
I'm constantly amused by comments I hear from folks off campus who think summer is a quiet time around the College. So far this summer, we have had the State FFA convention on campus; nearly 600 kids were here for 4-H Roundup and another 500 participated in 4-H Science Workshops; and around 50 students are attending the Hoosier Agribusiness Science Academy (HASA) Summer Institute. Then there are the county fairs; new students here to register for Fall 2011; study abroad trips to France, Taiwan and Honduras; our faculty have been traveling all over the world; 164 research proposals were submitted in May and June alone; and so on. Lots and lots of high impact activity in our "slow" time!
Our College leadership spent the first part of the summer moving plans for 2011-12 forward. We have some exciting initiatives/activities on the plate for next year, including ten new faculty searches; an increased focus on supporting our faculty and staff in generating grant funds; implementing the Extension strategic initiatives; moving forward with the launch of the bioinformatics center; and work to continue to enhance the climate of excellence and respect in our College. More on all this later.
I recently reviewed a study from the Center for Food Integrity that focused on how and where 'early adopters' use on-line information to answer their questions about food-related issues. University research was the highest-ranked source of useful information for the topics 'food safety', 'humane treatment of animals raised for food', and 'environmental sustainability in farming'. For the topic of 'food nutrition', university research was ranked third behind opinions of physicians and of dieticians (celebrity chefs did not fare so well, ending up last on the 10 source list, which is comforting!). It is not an overstatement to say that the questions and issues facing our food system have never been more complex, and the work of our faculty, staff and students, and the communications professionals who help make our work accessible to the public, all play a fundamental role in addressing these questions and issues.
I just received the final figures for our sponsored program activity in fiscal 2011. Our faculty, staff, and students generated a total of $80.3 million in awards, more than $20 million higher than fiscal 2010 and the highest annual figure ever for our College. More than 1,200 projects were funded, up 137 from last year. My congratulations to every individual in the College who had a hand in this terrific year.
Maybe I should knock on virtual wood, but our College leadership team is now complete for the first time since I was named Dean two-and-a-half years ago. This group is terrific and I am really looking forward to the coming academic year. As you know, this will be the final year at Purdue for President France Córdova. She has a very aggressive agenda this year, and I am confident we will play an active role in helping deliver on that agenda.
I hope you enjoy these remaining weeks of summer and find some time to get away with family and friends.
All the best,


News Around Purdue Agriculture
Purdue Agriculture welcomes new Associate Dean and Director of OAP
The College of Agriculture is delighted to welcome Dr. Marcos Fernandez, who began his duties as Associate Dean and Director of Academic Programs on July 1. Dr. Fernandez came to Purdue from Penn State University's College of Agricultural Sciences, where he was professor and associate dean. Before his work at Penn State, he was a member of the faculty at Louisiana State University's Department of Animal Sciences; assistant research professor at Langston University in Oklahoma; and a research and teaching assistant at North Carolina State University and the University of Tennessee.
Dr. Fernandez' research has focused on metabolism and nutrition in livestock species, including cattle, sheep and goats. He has taught several introductory and advanced agriculture and animal science courses and has been recognized with numerous teaching awards and honors. He has been active in many professional organizations, university committees and governmental panels. Dr. Fernandez received a bachelor's degree in agriculture from Illinois State University in 1980, a master's degree in animal science from Tennessee in 1983 and a doctorate in animal science from North Carolina State in 1987.
"I am very enthusiastic about Marcos' leadership in our college," Dean Jay Akridge said. "I am convinced the leadership experience he brings to this job will help the college move our academic programs forward in an important way."
Termites' digestive system could act as biofuel refinery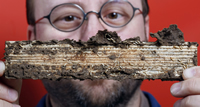 One of the peskiest household pests, while disastrous to homes, could prove to be a boon for cars, according to a study by Dr. Mike Scharf, the O. Wayne Rollins/Orkin Chair in Urban Entomology. His laboratory has discovered a cocktail of enzymes from the guts of termites that may be better at getting around the barriers that inhibit fuel production from woody biomass. The Scharf Laboratory found that enzymes in termite guts are instrumental in the insects' ability to break down the wood they eat. The findings, published in the early online version of the journal PLoS One, are the first to measure the sugar output from enzymes created by the termites themselves and the output from symbionts, small protozoa that live in termite guts and aid in digestion of woody material.
Full story: http://www.purdue.edu/newsroom/research/2011/110705ScharfTermites.html
Scientists gain insight on how plants bend toward light
A Purdue-led study may change how scientists think about how some plants bend toward light. Dr. Angus Murphy, Horticulture and Landscape Architecture, said the process, called phototropism, is well-documented in grasses, but has been difficult to resolve in dicots, a large group of flowering plants that includes many agricultural crops. For the past decade, it had been thought that auxin was transported down the stem of dicot plants and then moved laterally to epidermal areas to cause bending. Murphy's team, which included collaborators John Christie of the University of Glasgow and Wendy Peer, an assistant professor of horticulture at Purdue, found that the auxin instead is redistributed laterally at the plant tip and then moves down to the bending point, as is the case in grasses.
Full story:http://www.purdue.edu/newsroom/research/2011/110608MurphyDarwin.html
Purdue scientist writes comprehensive turfgrass fungicide book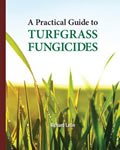 Purdue University turfgrass expert Dr. Richard Latin, Botany and Plant Pathology, has compiled more than a decade of work into a comprehensive guide for golf course superintendents and professional turf managers. He says fungal diseases are the among the most serious problems on golf course turf throughout the United States, especially in the eastern part of the country, where regular precipitation favors disease outbreak. His book, "A Practical Guide to Turfgrass Fungicides," explores how fungicides work and why they sometimes don't. Latin said he has worked with golf course superintendents for more than 20 years and has tracked their turf concerns. He said this book encompasses the major concerns of those dealing daily with turfgrass health, and it could be a useful tool to those working on golf courses, in stadiums or for students studying turfgrass science.
Full story: http://www.purdue.edu/newsroom/outreach/2011/110706LatinBook.html

Agricultural economist: Indiana farmland values still rising

Agricultural economist Dr. Craig Dobbins expects Indiana farmland values to keep rising this year, continuing a trend that has seen them increase by 270 percent since 1985. Farmland increased in value by 12 percent last year. In June 2010, the average price for an acre of land in Indiana was $4,419. With the strong prices in place since last fall, Dobbins expects values to increase significantly. "When you buy a capital asset, you are buying future income," said Dobbins, who explained that the three main factors driving farmland values are income, interest rates and the growth rate of annual income. Income has a positive relationship to farmland value. Farm income - what is left after subtracting all costs except land from the overall revenue - has increased greatly with strong commodity prices.
Full story: http://www.purdue.edu/newsroom/general/2011/110609DobbinsLand.html
Salivating over wheat plants may net Hessian flies big meal or death
The interaction between a Hessian fly's saliva and the wheat plant it is attacking may be the key to whether the pest eats like a king or dies like a starving pauper, according to a study led by Dr. Christie Williams, research science with the USDA ARS and an associate professor of Entomology. Williams and a team of entomologists found that Hessian flies, which cause millions of dollars in damage to U.S. wheat crops each year, trigger one of two responses in plants: the plants either put up strong defenses to essentially starve the fly or succumb, releasing essential nutrients to the fly. Their findings were published in the early online release of the Journal of Experimental Botany.
Full story: http://www.purdue.edu/newsroom/research/2011/110614WilliamsPermeablili.html
Popular fungicides failing, may cause hard choices for apple growers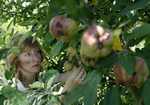 Orchard growers have started finding that some of the most commonly used fungicides are no longer effective at controlling apple scab, according to a Purdue University study. Dr. Janna Beckerman, Botany and Plant Pathology, said that extensive, long-term use of four popular fungicides has led to resistances in apples in Indiana and Michigan, the focus of her study. "The fungicides that are regularly used to control scab have started to fail," she said. Her findings were published in the early online version of the journal Plant Disease. "But the most disturbing thing we found is that many of the samples we tested were resistant to all four fungicides. It's kind of like multidrug resistance in antibiotics. This is full-blown resistance."
Full story: http://www.purdue.edu/newsroom/research/2011/110712BeckermanScab.html
Purdue to host meeting of international animal behavior group

The Department of Animal Sciences will co-host the 45th Congress for the International Society for Applied Ethology in Indianapolis this summer with the Purdue-based Livestock Behavior Research Unit of the U.S. Department of Agriculture's Agricultural Research Service. More than 300 participants are expected from nearly 30 countries to discuss animal behavior, welfare and enrichment issues, said Jeremy Marchant-Forde, an adjunct professor of animal sciences, USDA-ARS scientist and chairman of the conference's organizing committee. Special attention will be paid to animal enrichment issues for zoos and laboratory animals - two areas the organization is trying focus more attention on - while also engaging the veterinary community. This is only the third time the annual conference has been held in the United States. It will be July 31 to Aug. 4 at the Hyatt Regency in Indianapolis.
More information: http://www.ars.usda.gov/meetings/isae2011



Genome offers clue to functions of destructive wheat fungus
One of the world's most destructive wheat pathogens is genetically built to evade detection before infecting its host, according to a study that mapped the genome of the fungus. Dr. Stephen Goodwin, a Purdue and U.S. Department of Agriculture research plant pathologist, was the principal author on the effort to sequence the genome of the fungus Mycosphaerella graminicola, which causes septoria tritici blotch, a disease that greatly reduces yield and quality in wheat. Surprisingly, Goodwin said, the fungus had fewer genes related to production of enzymes that many other fungi use to penetrate and digest surfaces of plants while infecting them. "We're guessing that the low number of enzymes is to avoid detection by plant defenses," said Goodwin, whose findings were published in the early online edition of the journal PLoS Genetics.
Full story: http://www.purdue.edu/newsroom/research/2011/110613GoodwinGenome.html
Cooling system may build eggs' natural defenses against salmonella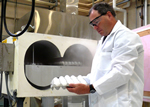 Once eggs are laid, their natural resistance to pathogens begins to wear down, but Dr. Kevin Keener, Food Science, believes he knows how to rearm those defenses. He created a process for rapidly cooling eggs that is designed to inhibit the growth of bacteria such as salmonella. The same cooling process would saturate the inside of an egg with carbon dioxide and alter pH levels, which he has found are connected to the activity of an enzyme called lysozyme, which defends egg whites from bacteria. "This enzyme activity is directly related to the carbon dioxide and pH levels," said Keener, whose results were published in the journal Poultry Science. "An increase in lysozyme would lead to increased safety in eggs."
Full story: http://www.purdue.edu/newsroom/research/2011/110621KeenerCooling.html
Fungicides may not increase corn yields unless disease develops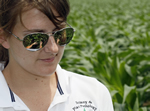 Unless a corn crop is at risk of developing fungal diseases, a Purdue University study shows that farmers would be smart to skip fungicide treatments that promise increased yields. Dr. Kiersten Wise, Botany and Plant Pathology, said fungicides used in fields where conditions were optimal for fungal diseases improved yields and paid for themselves. In fields where fungal diseases are unlikely to develop, however, applying a fungicide is likely a waste of money. Wise collaborated on findings that were published as an American Phytopathological Society feature article in the journal Phytopathology. She and her collaborators reviewed published data from foliar fungicide tests in 14 states, as well as data from their own research plots, to determine which circumstances led to yield increases when fungicides were used.
Full story: http://www.purdue.edu/newsroom/research/2011/110622WiseFungicides.html
Production workshop to focus on financial strategy, technology
To succeed in crop production today, Purdue Extension agricultural economist Bruce Erickson says farmers must be on top of economics and technology, which is why these strategies will be key elements in the 2011 Top Farmer Crop Workshop. The workshop will be held July 17-20 on the Purdue campus. Most events will be in the Deans Auditorium of Pfendler Hall. The event will feature more than 20 speakers from academic institutions, agribusinesses and farms from the Midwest. Topics include farmland values, land rental choices, herbicide tolerance traits and human resources. Risk management and commodity prices will be key topics of discussion.
Full story: http://www.purdue.edu/newsroom/events/2011/110630EricksonTop.html
Grant will help farmers deal with changes to climates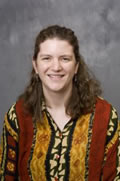 Purdue University researchers will get a $5 million grant to develop decision-support tools to help corn and soybean growers adapt their practices to changes in climate. Dr. Linda Prokopy, Forestry and Natural Resources, will lead researchers affiliated with the Purdue Climate Change Research Center in the five-year project. The research is funded by the Agriculture and Food Research Initiative, part of the U.S. Department of Agriculture's National Institute of Food and Agriculture. "Today's agricultural producers are able to grow more food on fewer acres of land to sustain a growing population," said Purdue President France A. Córdova. "Successfully meeting this challenge has been due to the industry's willingness to adopt new practices. This project will provide the technologies producers will need in the face of a changing world to plan for, and adapt to, climatic shifts."
Full story: http://www.purdue.edu/newsroom/research/2011/110628ProkopyGrant.html
Ethanol mandate means corn demand less responsive to price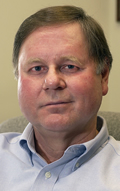 Federal law that helped jump-start the ethanol industry in the United States also is shifting normal supply-and-demand forces within commodities markets, says Dr. Wally Tyner, Agricultural Economics. Not quite four years after Congress passed the Energy Independence and Security Act in 2007, markets are struggling to meet both the law's renewable fuels standard and grain demands from the livestock, food and export sectors. About 27 percent of the nation's corn crop must be devoted to ethanol this year to meet the federal mandate, leaving other corn users to compete for the remaining 73 percent. "The renewable fuels standard requires 15 billion gallons of ethanol be consumed per year by 2015, regardless of what the price of corn is and regardless of what the price of crude oil is," Tyner said. "Corn could be $2 a bushel or $10 a bushel, crude could be $50 a barrel or $100 a barrel and that 15 billion gallons has to be there. That means ethanol production is totally unresponsive to price. There's no flexibility." This "inelasticity" has led to market volatility and wild swings in corn prices, which have topped $7 a bushel in recent months.
Full story: http://www.purdue.edu/newsroom/outreach/2011/110628TynerEthanol.html
Proposals sought for Global Policy Research Institute incentive awards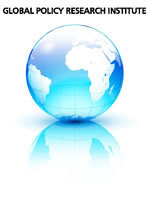 Purdue's Global Policy Research Institute is accepting incentive award proposals for research projects, international workshops and international conferences relevant to GPRI's mission and theme areas. The incentive award grants are intended to support proposal development activities that will lead to the submission in 2012-13 of successful grants from federal or other sources of support. Proposals that will lead to international collaborations with international co-principal investigators or private/public sector entities are strongly encouraged. This is the third solicitation issued by the Global Policy Research Institute since its inception in 2010. The first round of awards addressed global challenges covering topics such as disaster recovery, diabetes management, cancer prevention and sustainability. The second solicitation awarded grants to four teams aspiring to improve food sources around the world. In this round, $150,000 will be provided for up to three research awards at nominally $40,000 each and up to three international workshop and/or conference awards of up to $10,000 each. The proposals should catalyze the teaming of social with natural scientists, engineers or technologists to address important problems that can inform pressing public policy issues that are global in scope yet the response could be multicountry, national or regional. The multidisciplinary teams should address salient interconnections (technical, economic and human) as well as tools needed to facilitate research collaboration between social and natural scientists, engineers or technologists (database, computational, physical, mathematical, statistical).
Full story: http://www.purdue.edu/newsroom/purduetoday/faculty_staff_news/2011/110711_GPRI-Proposal.html
Nominations sought for Agriculture alumni awards
The College of Agriculture and the Purdue Agricultural Alumni Association invite you to submit nominations for our 2012 awards programs. We have two major awards that encompass all of our disciplines: the College's Distinguished Agriculture Alumni (DAA) and the Ag Alumni Association's Certificate of Distinction (CD).
More information:http://www.agriculture.purdue.edu/in_focus/2011/July/AlumniAwards.htm
REMINDER: College calendar now online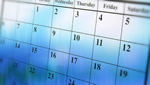 The College of Agriculture calendar is now online. This calendar is THE place to go for seminars, events, deadlines, and other happenings in the departments, Extension, and the College. To enter your event on your department's calendar, please consult your department's representative:
Administration: Tanya Dimmich; IPIA: Carole Braund; CES: Teresa Rogers; Ag Comm: Christine Strawsma; AGEC: Brenda Pearl; AGRY: Sandy Spitznagle; ANSC: Jo Ann Galyon; BCHM: Kristi Trimble; BTNY: Pam Mow; ENTM: Paula Layden; FS: Steve Gauger; FNR: Marlene Mann; HLA: Colleen Flynn; YDAE: Jane Robertson
Bookmark this link: http://www.ag.purdue.edu/Lists/Agriculture%20Calendar/calendar.aspx
Todd Applegate, Animal Sciences, is the 2010 Chair of the S-1032 regional research project that was selected as the Southern region nominee for the National Excellence in Multistate Research Award. The purpose of the award is to recognize scientists who are engaged in exemplary multistate activities and in doing so enhance the visibility of the national multistate research program. The Southern Assoc. of Agricultural Experiment Station Directors stated that "this project is an outstanding example of the level of accomplishment that can occur through the synergism of multiple scientists working across state lines to address a researchable problem that is too large for any individual scientist or institution to address alone".
Joan Fulton, Agricultural Economics, has been elected to serve as the Treasurer/Secretary of the Teaching, Learning, and Communications Section (TLC) of the Agricultural and Applied Economics Association (AAEA). The TLC Section is a group of AAEA members interested in the theory, scholarship, and practice of learning, teaching, and communication. Given that a large majority of AAEA members have responsibilities in these three areas, the TLC's activities are developed to enhance members' skills in the on-campus classroom, off-campus workshop, and in a presentation to a community group.
Michael Ladisch, Agricultural and Biological Engineering, has been named a Fellow of the American Chemical Society (ACS). The ACS Fellows Program was created by the ACS Board of Directors in December 2008 "to recognize members of ACS for outstanding achievements in and contributions to Science, the Profession, and the Society." Fellows are selected by a broadly representative Selection Committee appointed by the ACS Board Committee on Grants & Awards, which has governance oversight for the program. Dr. Ladisch joins two other Purdue faculty members (George Bodner and Tim Zwier, both in the Department of Chemistry) who were named ACS Fellows in 2009 and 2010, respectively.
K.G. (Ragu) Ragothama, IPIA and Horticulture and Landscape Architecture, and Joseph Irudayaraj, Agricultural and Biological Engineering, have been selected to participate in the Committee on Institutional Cooperation (CIC) Academic Leadership Program (ALP). The Academic Leadership Program is designed to develop the leadership and managerial skills of faculty/academic professionals on CIC campuses who have demonstrated exceptional ability and administrative promise.
Blake Stowers, an Agricultural Economics major from Frankfort, Indiana, was selected as a member of the Agriculture Future of America's 2011-12 Student Advisory Team. The Team is composed of nine exceptional collegiate men and women who were selected based on their AFA involvement, geographic representation, interest in agriculture and leadership abilities. Team members serve as ambassadors for AFA, meet with inudstry and association leaders, receive media and communications training and plan the AFA Leaders Conference.
The National AgrAbility Project was recognized for excellence in website accessibility with a Purdue Web Accessibility Award. The university initiated the awards this year as a way to recognize colleges, schools, departments, programs and units that have made great strides in meeting or exceeding the University's standards for accessible Web design while demonstrating excellence in design and communication. The National AgrAbility Project website was selected for meeting the University's standard for accessible Web design, being user-friendly and having a pleasing visual design. In addition, YouTube videos offered on the website are closed captioned, and a user may request text transcripts of Web-based training modules.
Córdova announces transition, bold initiatives in final year of presidency

Purdue President France A. Córdova announced July 1 that she has made a decision to transition out of her role as president of the university during the summer of 2012. She also announced that she is broadening Purdue's mission with a series of bold initiatives in her final year at the university. Córdova said she remains committed to ensuring Purdue's reputation will be defined by academic excellence, research innovation and global engagement. "I will lead this extraordinary university in my final year as I led the first four," Córdova said. "My approach is to lead with vigor, with the resolute spirit of a pioneer and with the excitement of knowing that Purdue is willing to energetically serve a principal role at the center of a competitive and dynamic global stage." When Córdova assumed the role of president in 2007, she committed to the Purdue Board of Trustees that she would complete the five-year term of her contract. Córdova turns 65 two weeks after her contract ends.
Full story: http://www.purdue.edu/newsroom/general/2011/110701CordovaAnnounce.html
Purdue names dean for International Programs

Michael A. Brzezinski has been named Purdue's dean of International Programs, university officials announced June 16. Brzezinski had been serving as interim dean for this area, which oversees programs related to study abroad, international students and scholars, and partnerships with international universities. "Dr. Brzezinski's leadership during this interim period, and in his previous Purdue roles, demonstrates his strategic vision and dedication to strengthening Purdue as a global university and focusing on how this global presence can help the state and our students," said Purdue President France A. Córdova. "Mike developed and implemented Purdue's first international undergraduate student recruitment plan in the 1990s that led to an increase in enrollment from 600 students in 1993 to more than 3,400 in 2010."

Full story: http://www.purdue.edu/newsroom/faculty/2011/110616BrezinskiInternatio.html
Purdue names Garimella associate vice president for engagement

Suresh V. Garimella, Purdue's R. Eugene and Susie E. Goodson Distinguished Professor of Mechanical Engineering and director of the NSF Cooling Technologies Research Center, has been appointed Purdue's first associate vice president for engagement, effective August 15. "Dr. Garimella has distinguished scholarly, research and service experience that will ensure our engagement efforts, led so ably for the past several years by Vic Lechtenberg, are sustained," said Purdue President France A. Córdova. "He has worked with faculty around the world and now is advising the State Department. Under his leadership, Purdue will continue to move forward, engaging not only our state, but the nation and the world." Garimella will report to Julie K. Griffith, the former Duke Energy vice president for government affairs and foundation relations in Indianapolis, who became Purdue's vice president for public affairs on June 20. In addition to economic development efforts, Griffith will oversee government and community relations.

Full story: http://www.purdue.edu/newsroom/outreach/2011/110617CordovaGarimella.html
Purdue to establish new Honors College
Purdue's top students will have more academic options and resources thanks to the new Honors College approved on July 12 by the university's Board of Trustees. "Our Honors College will further our goals toward student success and provide a challenging and rewarding experience for Purdue's top students," said Purdue President France A. Córdova. "Its focus on academic excellence and leadership is designed to attract high-achieving students who will thrive in a dynamic learning environment." The new college, expected to admit first-year students in fall 2013, will build on the success of the University Honors Program, which began in 2004. It started with 75 students and increased to 450 students this past year. In addition to this university-wide program, there are currently more than 1,250 students housed in five college-specific honors programs.
Full story: http://www.purdue.edu/newsroom/academics/2011/110712BOTHonors.html
Check the College online calendar for all events, seminars and deadlines here: http://www.ag.purdue.edu/Lists/Agriculture%20Calendar/calendar.aspx