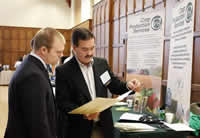 The wide-ranging agriculture industry, and its growing economic impact, was evident Tuesday at the Purdue Memorial Union.
Booths with representatives from 122 ag-related companies offering jobs and internships filled the two ballrooms and spilled over to the student lounge during the annual agricultural career fair.
More than a thousand résumé-toting students paid visits during the six-hour event.
"There are a lot of tremendous opportunities here. I've applied with Cargill along with a few other companies for the summer," said Richard Shepherd, a junior who is majoring in agriculture and looking for an internship.
"Agriculture, it's been booming. With the global population expanding like it is, we need to feed everyone."
Seed and implement companies were represented at the career fair, along with firms that handle food management, technology and many other ag-related businesses.
"We have four Purdue alumni here recruiting Purdue students. We have a great love for the university," said Daryl Starr, president of Advanced Ag Solutions, a Lafayette-based company that was seeking to fill eight to 12 intern positions.
"We're looking for people for all over the state. We do precision agriculture data management. We help (farmers) manage the data they're collecting and make decisions on the farm."
Lori Pence Barber, assistant director of academic programs for the College of Agriculture, said employment opportunities in the industry are growing.
"Agriculture has resisted the economic recession. We haven't seen the dip that others have seen," she said.
"Agriculture is very top-heavy with baby boomers, and they're retiring. With environmental issues and energy issues, we need to feed more people with less land."
Kyle McGaughey, who will graduate in May with a degree in soil and crop management, spent time at the career fair Tuesday looking for full-time employment.
"I know there's opportunities out there. It's just finding the right one," McGaughey said. "There are some positions available, which is good news."
Headquartered in Geneseo, Ill., Wyffels Hybrids is a family-owned seed company that mainly operates in Illinois and Iowa. But it was recruiting at the Purdue agricultural career fair.
"We're looking for production, research and sales interns, and we're taking full-time sales applications," product development manager Brent Tharp said. "We're looking for quality people. Purdue offers a quality education. It has a good ag school and is very well-respected."