Colleagues,
After 25-plus years at Purdue, I know very well that once the Fall semester begins, the level of activity around our undergraduate program means a literal sprint to October Break. ('Back in the day' before October Break, it was a sprint to the Thanksgiving holiday!) This year is no exception—so much is happening in the College in support of our teaching/learning vision of 'students prepared to make a difference.'
Our Fall undergraduate enrollment stands at 2687, 12 students more than last year and once again our highest enrollment since 1982. Our freshman class is a bit smaller (483 this year vs. 573 in 2010), but an even more academically accomplished group. So, higher rates of retention and more transfer students have pushed our overall undergraduate numbers up. Strong enrollment is a good thing from a number of perspectives, one of which is the job market. Our preliminary placement numbers are very strong for the May 2011 graduates (final numbers will be out in February). And even in these tough economic times, more than 120 companies participated in our Agriculture Career Fair last week to interview our students for intern and full time positions (kudos to Assistant Director of Academic Programs Lori Pence Barber and the OAP staff for a terrific event.)
Associate Dean and Director of Academic Programs Dr. Marcos Fernandez has wasted no time becoming a Boilermaker. (Check out his Facebook page if you doubt me!) Every entering freshman in our College was invited to one of 12 sessions he conducted personally to get to know these students better. The first edition of MUCH in OAP is out, a great guide to what is happening in Academic Programs, and a student e-letter is in the planning stages.
I have found our students at so many events this fall: Emilia Czyszczon (ABE) speaking about her undergraduate research at a President's Council event; Alicia Keller (AGEC and YDAE) serving as emcee and hosting the President's brunch before the Notre Dame game; Allie Reith (ANSC) singing with the Purduettes, our Purdue Student Government representatives Joe Harmeyer (ANSC) and Joe Rust (ABE) working on plans for celebrating Ag week next year.... And the same holds for our faculty involved in the undergraduate program: Cale Bigelow (AGRY), Barney Dunning (FNR), and John Lumkes (ABE) were recently inducted into the Purdue Teaching Academy, joining 18 other College of Agriculture faculty there. Frank Dooley (AGEC) is serving as a Provost Fellow working on the IMPACT (Instruction Matters: Purdue Academic Course Transformation) project; Lori Snyder's (AGRY) use in her classroom of engaging game and simulation technology was recently featured in Purdue Today; Steve Hallett (BTNY) advises the "Full Circle" student group who run the student farm that has been in the news lately...
While there are a lot of great things going on in our undergraduate program today, much is happening at the university level that will impact our academic programs going forward– activity that will help us take our programs to new places. Many of our faculty are deeply involved in these efforts. A major endeavor called Foundations of Excellence is looking at the first-year student experience with a focus on student retention and successful transition to Purdue. Another group is considering a university core curriculum. The IMPACT initiative is focused on restructuring courses with high rates of student failure. And, a campus wide honors program is moving forward rapidly. I appreciate the efforts of all our faculty and staff who are engaged in these campus-wide initiatives.
It may seem to us like this academic year is still new, but applications for Fall 2012 admissions are coming in – a new admit cycle has begun. Thanks for all each of you are doing or will do to get the word out about our College's undergraduate programs. Thanks too for the roles you are playing or will play in hosting students, making phone calls, providing tours, or just helping a lost parent find the right building. Recruiting our next class is the collective work of all of us, and a student's decision may well be influenced by a friendly receptionist, an excited student tour guide, a knowledgeable advisor, or a passionate faculty member.
I am sure the end of the semester will get here just as quickly as October Break did. I am also quite sure that everyone in our College involved in undergraduate education will continue to move our program forward. Under the leadership of Dr. Marcos Fernandez, we have a really exciting future.
All the best,


News Around Purdue Agriculture
Gene may be good target for tough-to-kill prostate cancer cells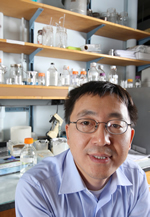 Purdue scientists believe they have found an effective target for killing late-stage, metastatic prostate cancer cells. Xiaoqi Liu, an assistant professor of biochemistry and member of Purdue's Center for Cancer Research, and graduate student Shawn Liu are focusing on the function of a gene called Polo-like kinase (Plk1), a critical regulator of the cell cycle. Plk1 is also an oncogene, which tends to mutate and can cause cancer. The researchers found that later-stage prostate cancer cells are missing Pten, a tumor-suppressor gene. The loss of Pten causes problems during cell division. Instead of the parent cell giving equal copies of DNA to two daughter cells, those new cells receive disproportionate amounts, causing mutations. The findings were published in the Journal of Biological Chemistry.
Full story: http://www.purdue.edu/newsroom/research/2011/110926LiuPten.html
Purdue gets $3.8 million to study, educate on bioenergy crops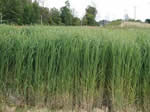 Thirteen Purdue Agriculture researchers, educators and Extension professionals will use a portion of a $25 million grant to determine the potential of grasses as environmentally responsible bioenergy crops and to educate farmers and others about the findings. They will receive $3.8 million for their work, which is part of the $25 million U.S. Department of Agriculture National Institute of Food and Agriculture grant to Iowa State University. The goal is to create production systems that will give growers information on how to maximize bioenergy grass growth on marginal or unused farmland that isn't optimal for other crops. Purdue also will be involved in educational and Extension components of the projects. Much of the program work is already under way because the grant is built on efforts already begun at Purdue and other partner institutions. The grant funds the work through 2016.
Full story: http://www.purdue.edu/newsroom/research/2011/110928VolenecGrant.html
U.S. unlikely to hit Renewable Fuel Standard for cellulosic biofuels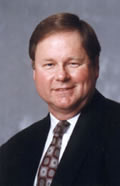 The biofuel industry will not be able to meet the cellulosic production requirements of the Renewable Fuel Standard without significant advancements in technology or investment, according to a National Academy of Sciences study prepared for Congress. Wally Tyner, the James and Lois Ackerman Professor of Agricultural Economics, co-chaired a committee tasked by the National Academy of Sciences to produce the study. The Committee on Economic and Environmental Impacts of Increasing Biofuels Production presented the report on October 4. The Renewable Fuel Standard requires that 15 billion gallons of corn-based ethanol, 1 billion gallons of biodiesel and 16 billion gallons of cellulosic fuels be produced annually by 2022. According to the report, the corn ethanol numbers and biodiesel can be achieved, but the cellulosic goals probably cannot.
Full story: http://www.purdue.edu/newsroom/research/2011/111004TynerCongress.html
Asian carp: It's what's for dinner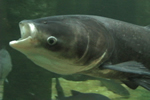 Andrea Liceaga, Food Science, cooked chorizo sausage on a griddle in one of the food science labs, sending wafts of cayenne through the air. The sausage is one of Liceaga's favorite types. While growing up in Mexico, she ate it mixed with scrambled eggs or in a cheese fondue. But this batch was no ordinary chorizo. Liceaga made it from Asian carp. She is researching and testing ways to get more from underutilized fish. "This is something that would have otherwise ended up in the landfill," she said.
Full story: http://www.agriculture.purdue.edu/in_focus/2011/October/AsianCarp.htm
Publication gets to root of tree planting problems, practices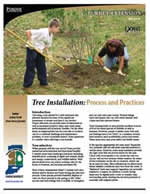 Spring is planting season but not necessarily the only season when it comes to trees. Many species survive better when planted in the fall, says Lindsey Purcell, a Purdue Extension urban forestry specialist. "Some of our favorite landscape trees such as lindens, sycamores, honeylocusts and crabapples do quite well when planted in the fall, with proper care," he said. A new Purdue Extension publication written by Purcell provides everything homeowners and arborists need to know about tree planting, regardless the season. Tree Installation: Process and Practices is available free online through Purdue Extension's The Education Store at https://mdc.itap.purdue.edu/item.asp?item_number=FNR-433-W
Full story: http://www.purdue.edu/newsroom/general/2011/110926PurcellPublication.html
Agriculture welcomes research assistant professor
Amy Lin, Research Assistant Professor in Food Science, has joined the Whistler Center for Carbohydrate Research as Director of Strategic Planning and Research Communication. Amy earned her doctorate from National Taiwan University and completed a post-doctoral fellowship at Iowa State University. Before coming to Purdue, she worked for a number of food and food ingredient companies related to hydrocolloids and flavor in positions ranging from product development to international marketing. Her research interests are starch digestion at the brush border area in the human body and consequential physiology response.
Advisory council supports Purdue's focus on commercial ag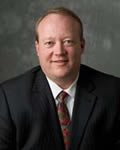 The Center for Commercial Agriculture, a Purdue farm management research and education program, has announced the establishment of an industry advisory council. The council will support the center's vision of being a leading source of management education and knowledge generation for commercial farmers, said Brent Gloy, a Purdue agricultural economist and the center's director. "We are pleased that five leading agribusinesses have chosen to become founding members of our industry council," Gloy said. "The council will help keep us focused on issues relevant to commercial farms and undergraduates in the College of Agriculture." The founding members of the council include AGCO Corp., Dow AgroSciences, GROWMARK, Farm Credit Services of Mid-America and Syngenta.
Full story: http://www.purdue.edu/newsroom/general/2011/111005GloyCouncil.html
Ag career fair presents opportunities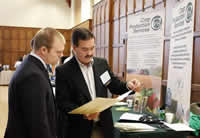 The wide-ranging agriculture industry--and its growing economic impact--was evident at the Ag Career Fair held on October 4 at the Purdue Memorial Union. Booths with representatives from 122 ag-related companies offering jobs and internships filled the two ballrooms and spilled over to the student lounge during the annual agricultural career fair. More than a thousand résumé-toting students paid visits during the six-hour event.
Full story: http://www.agriculture.purdue.edu/in_focus/2011/October/CareerFair.htm
Additives meant to protect vitamin C actually cause more harm
Anti-caking agents in powdered products may hasten degradation of vitamin C instead of doing what they are supposed to do: protect the nutrient from moisture. Lisa Mauer, professor of food science; Lynne Taylor, professor of industrial and physical pharmacy; and graduate student Rebecca Lipasek study deliquescence, a reaction in which humidity causes a crystalline solid to dissolve. In Mauer's laboratory, different anti-caking agents were blended with powdered sodium ascorbate, a common form of vitamin C, and were exposed to different relative humidities. Once vitamin C changes chemically, it no longer holds its nutritional value. The findings suggest that foods made with powdered vitamin C may lose the vitamin's nutrients at a lower humidity than once thought. The team's findings were published in the current issue of the Journal of Food Science.
Full story: http://www.purdue.edu/newsroom/research/2011/110928MauerCaking.html
Weather leaves dairies to struggle with feed cost, quality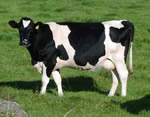 In a crop year full of uncooperative weather, dairy producers across the region are struggling with feed problems and rising prices, said Dr. Mike Schutz, Extension dairy specialist. Forages, corn silage and corn grain are low in yields and quality but high in price after a wet spring followed by a summer-long drought, he said. The combination is tough on animal health and on the bottom lines of dairy farms struggling to stay profitable. "Because of the drought, corn and forage yields are down and silage is lower quality, but the costs remain high," Schutz said. "The per-ton value of silage is based on yields and corn prices. With corn trading above $6.50 per bushel, delivered silage prices are about $65 to $75 per ton despite the frequent lower quality. This is in comparison with the $30 to $40 per ton prices producers were paying in recent years."
Full story: http://www.purdue.edu/newsroom/general/2011/111006SchutzForage.html
Bean leaf beetles more prevalent in Indiana this fall

Indiana farmers are seeing higher numbers of a beetle that can damage soybeans and reduce yields, a Purdue Extension entomologist Christian Krupke says. The bean leaf beetle is common in the spring and early summer, but the second-generation, which typically does not damage plants or pods in late season, arrives in the fall. This year, however, as some crops are late in maturing, farmers began noticing beetles feeding on the foliage and green pods. "You can find bean leaf beetle every year in every field," Krupke said. "But for some reason, there are more beetles than usual late in the season this year. There is no reason to think this is the beginning of a trend of second-generation damage. This damage is also not on the same level as many other late-season pests, such as western bean cutworm."
Full story: http://www.purdue.edu/newsroom/general/2011/111005KrupkeBeetle.html
Purdue Agriculture staff take on new duties

Donya Lester and Danica Kirkpatrick have both taken on new duties along with their current responsibilities in Purdue Agriculture. In addition to her role as Executive Director of the Purdue Agriculture Alumni Association, Donya has been named Director of Public Engagement for the College of Agriculture. In this role she will build relationships with many of the College's external stakeholder groups. She will provide support for the College's network of PCARET volunteers and work with Purdue Extension staff to plan and coordinate the dean's community visits. She will also work with staff members of Indiana's Congressional delegation to better engage them with the College's programs.

Danica Kirkpatrick was named Engagement Program Manager for the College of Agriculture. She has taken on responsibility for logistical support for the Purdue Ag Alumni Fish Fry while she continues her work on College-wide events such as Spring Fest, the Indiana State Fair, and farm shows. She will coordinate workshops and round-table discussions with industy partners and stakeholders of the college. Danica also serves as a consultant to departments and student organizations on their events, conferences and celebrations.
Academic Programs Office launches "MUCH in OAP"
The Office of Academic Programs has launched a new newsletter, MUCH in OAP--Monthly Update & College Happenings in the Office of Academic Programs. This monthly publication will go to College of Agriculture faculty and staff to serve as a resource for academic information. MUCH in OAP is also archived at http://www.ag.purdue.edu/oap/Pages/oapnewsletters.aspx
TEAM Award nominations invited
Since 1995, Purdue Agriculture has recognized an outstanding collaborative effort within our programs and across the university. Nominations are invited for the 2012 Purdue Agriculture TEAM Award. The 2012 TEAM Award will be presented at a ceremony in May, and the winning team will be awarded $10,000 for program support. An electronic copy of the nomination is due to Becky Rice at rdr@purdue.edu by December 2, 2011.
https://intranet2.ag.purdue.edu/departments/dean/facultyinfo/Team%20Award/2012_TEAM_Award_Guidelines.pdf
Cale Bigelow, Agronomy, Barny Dunning, Forestry and Natural Resources, and John Lumkes, Ag and Biological Engineering, were recently inducted into the Purdue University Teaching Academy. The Teaching Academy at Purdue strives to bring together the best teaching faculty across the university to create a collective voice for teaching and learning on campus. A total of 21 Agriculture faculty are members of the Teaching Academy.
Harlan Day received the "Seal of Indiana," presented by State Representative Sheila Klinker, at the Indiana Council for Economic Education (ICEE) Annual Awards for Excellence program held at Indiana Farm Bureau, Inc. and Farm Bureau Insurance on September 23. The award was to honor Harlan's years of service in economic education to Indiana teachers, educators, and citizens. Harlan will retire as ICEE Executive Director effective November 30, 2011. He has been the Executive Director of the ICEE for the past 14 plus years and prior to that was Economic Education Consultant for the Indiana Department of Education for 13 years.
Rebecca Doerge, professor of statistics and agronomy and head of the Department of Statistics, was ratified by the Purdue University Board of Trustees at their September 30 meeting as the Trent and Judith Anderson Distinguished Professor of Statistics. Her primary area of research is statistical bioinformatics, and she is the Head of Purdue's Statistical Bioinformatics Center.


Scott Hutcheson, Purdue Extension Assistant Program Leader for Economic and Community Development, has been appointed Purdue University's Interim Assistant Director for Economic and Community Development and Deputy Director for the Purdue Center for Regional Development. Scott replaces Sam Cordes, who retired earlier this year.
Patrick Austin Freeland of Okmulgee, Okla., a doctoral student in ecological sciences and engineering, was recognized as one of "5 Students Who are Pathmakers." Freeland wants to establish a service-learning school of earth sciences at the College of Muscogee Nation in Oklahoma. The school could help a local town purify its contaminated soil by studying the local vegetation.
The DriftWatch™ program has been selected to receive the Best Stewardship Program award by AGROW International. AGROW provides news, analysis and data to the global crop protection industry. Driftwatch, designed by the Office of the Indiana State Chemist using technology developed by the Department of Agricultural and Biological Engineering, is a tool to help protect pesticide-sensitive crops and habitats.
Seasonal flu shot appointments begin Wednesday on campus
Beginning Wednesday, Oct. 12, seasonal flu shot appointments provided by WorkLife Programs will be available on the West Lafayette campus. The vendor for these events is Maxim Health Systems. The Centers for Disease Control and Prevention advises that everyone 6 months of age and older should get a flu vaccine each year. Influenza is a serious disease that can lead to hospitalization and sometimes even death. Seasonal flu shots on campus are offered to benefit-eligible faculty and staff, graduate staff, official Purdue retirees, and their spouses/same-sex domestic partners. View a list of flu shot events on the West Lafayette campus at www.purdue.edu/hr/pdf/2011FacStaffFluShots.pdf. To register for a seasonal flu shot appointment, go to www.purdue.edu/worklife, log in using your career account and password, and click "Flu Shots" or call WorkLife Programs at 49-45461. Please register for an appointment at least 24 hours in advance. Bring PUID to appointment.
Full story: http://www.purdue.edu/newsroom/purduetoday/faculty_staff_news/2011/111011_FluShots.html
October wellness screenings in Lilly, Johnson and Beering
Wellness screening appointments with the School of Nursing are available this fall. WorkLife Programs provides these screenings for benefit-eligible faculty and staff and their spouses/same-sex domestic partners. Screenings include the finger stick for blood tests for total cholesterol, HDL, and glucose, height, weight, and blood pressure. Participants must bring their Purdue ID at the time of the screening. Free screenings are limited to one per calendar year, so participants are encouraged to select the location that works best for them and stay on an annual schedule for screenings. For example, if an individual completed a screening in the spring of 2011, that person will wait until spring 2012 for the next appointment.
Full story: http://www.purdue.edu/newsroom/purduetoday/faculty_staff_news/2011/111010_WellnScreen.html
Purdue announces $6.7 million scholarship match challenge for Indiana students

Indiana students will have more Purdue University scholarship opportunities thanks to a new $6.7 million challenge issued by President France A. Córdova. Córdova announced this summer that $7 million would be used to stimulate efforts to raise private donations for student support. About $300,000 of that was dedicated to support veterans and their dependents, and the remaining $6.7 million will be available for the Indiana Challenge Match. "This challenge will help us inspire more people to create a legacy that supports students from Indiana who are working hard to study at Purdue," Córdova said. "More of Indiana's brightest students continue to choose Purdue, and establishing more endowments will make a Purdue education possible for many future generations of these Hoosier students."
Full story: http://www.purdue.edu/newsroom/general/2011/111005CordovaScholarships.html


Check the College online calendar for all events, seminars and deadlines here: http://www.ag.purdue.edu/Lists/Agriculture%20Calendar/calendar.aspx