Colleagues,
At a recent public forum, Provost Tim Sands outlined some proposed areas of priority for Purdue in the next ten years. He mentioned the goal of expanding Purdue's presence and engagement around the globe and said, "Agriculture has been doing this for 60 years." Indeed, Purdue Agriculture has a long, distinguished history of research, education and engagement around the world. We are just as engaged this year as ever, with highly successful ongoing initiatives and new prospects being developed. Let me highlight just a few this month.
Two of our most well-known efforts are the Advancing Afghan Agriculture Alliance (A4) project (Kevin McNamara and a team of others), which was the foundation for the new $32 million USAID project, "Strengthening Afghan Agriculture Faculties"; and the Purdue Improved Crop Storage (PICS) project (Larry Murdock and a team of others), which continues to deliver impact and make a difference in West and Central Africa. Based on PICS success with cowpea storage, the Bill & Melinda Gates Foundation has provided an additional $1.1 million for research activities focused on testing and adapting PICS technology to other crops including maize, common bean, sorghum, millet, dried cassava and other crop products.
Purdue Agriculture is continuing to build strategic relationships with China Agriculture University (CAU), Beijing and Northwest Agriculture and Forestry University (NWAFU), Yangling. From the beginning of the program in 2004, CAU has become the largest single source of undergraduate transfer students for our College. Joint research centers have been established at both NWAFU and CAU, focused on plant protection (NWAFU, led by Jin-Ron Xu, Botany and Plant Pathology) and plant stress (CAU, led by Jian-Kang Zhu, Horticulture and Biochemistry).
We are renewing and re-energizing our links with South American institutions. Jeff Stuart (Entomology) and I have just returned from Bogotá, Colombia and it looks like we have some important opportunities to partner with the College of Engineering in research and graduate education there. We are also working to re-connect with Brazil, where we share almost 60 years of partnership with the Federal University of Vicosa (UFV). Last Spring, 11 Brazilian scientists and administrators participated in the Frontiers in Bioenergy Symposium on here at Purdue. The symposium led to a reinvigorated discussion between Purdue and UFV centering on undergraduate exchanges; joint graduate educational opportunities; and joint research projects.
In international Extension, Purdue Agriculture is partnering with the Center for Tropical Agricultural Research and Education (CATIE) in Costa Rica to link Purdue County Educators with farmers' groups. Three county educators were resource people for a workshop with an organic farmers' cooperative near Turrialba, Costa Rica, in March of this year. Two more workshops are planned in Costa Rica in the next year, and the International Programs in Agriculture (IPIA) office is exploring extension links in other countries in Latin America.
A record number of College of Agriculture students—272—participated in study abroad last year. More than 25% of our graduating seniors have studied abroad as part of their Purdue Agriculture experience. Linda Vallade in IPIA does a tremendous job of coordinating study abroad opportunities. And, our faculty do a tremendous job of putting together high impact study abroad experiences.
Success in these efforts takes committed faculty, and Purdue Agriculture faculty worked in more than 60 countries last year. We have so many more efforts we could highlight: Bruce Hamaker working in West Africa, Thailand, South Korea and India; John Sanders in West Africa and Central America; Mitch Tuinstra in West Africa; Kwamena Quagrainie in Kenya, Tanzania and Ghana; Stephen Weller and Rick Foster in Honduras—and that barely scratches the surface! Phil Nelson and Gebisa Ejeta have each established international centers to carry on their World Food Prize legacies.
It takes support: business office support and staff leadership and support both inside and out of IPIA, and we have some exceptional staff members who make sure these deliver on our international activities. Finally, it takes leadership, and we are fortunate to have Associate Dean and Director of IPIA Jess Lowenberg-DeBoer at the helm. His deep knowledge of funding agencies, international institutions, and passion for international research, education, and engagement has enabled Purdue Agriculture to develop and deliver a high impact portfolio of international activities.
This global outlook, perspective, and the resulting connections extend our impact and reach beyond our state and our nation to every corner of the world.
All the best,


News Around Purdue Agriculture
US News ranks ABE number one--again!
The latest US News & World Report survey of undergraduate programs has ranked the Department of Agricultural and Biological Engineering's program Number 1 in the nation. The department's graduate program was ranked Number 1 in the graduate program survey earlier this year. Department head Bernie Engel says, "While the #1 ranking is not a new place for either program, we are delighted to have both of our programs recognized at this level of distinction. The value of a Purdue Agricultural & Biological Engineering degree has never been higher, as evidenced by record enrollment - over 350 undergraduates in our undergraduate programs (Agricultural Engineering, Biological Engineering, and Agricultural Systems Management) and 110 graduate students."
Full story: http://www.purdue.edu/newsroom/rankings/2011/110913EngelRanking.html
E. coli, Salmonella may lurk in unwashable places in produce
Sanitizing the outside of produce may not be enough to remove harmful food pathogens, according to a study done by Amanda Deering, a postdoctoral researcher in Food Science and Robert Pruitt, professor in Botany and Plant Pathology, that demonstrated that Salmonella and E. coli can live inside plant tissues. E. coli 0157:H7 was present in tissues of mung bean sprouts and Salmonella in peanut seedlings after the plants' seeds were contaminated with the pathogens prior to planting. Amanda Deering said seeds could be contaminated in such a manner before or after planting through tainted soil or water. The study results were published in separate papers in the Journal of Food Protection and Food Research International.
Full story: http://www.purdue.edu/newsroom/research/2011/110815DeeringPathogens.html
Interactive applications help agronomy students learn about feeding the world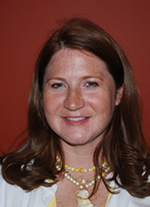 Agronomy professor Lori Snyder is enthusiastic about how her crop science students are learning about food supply and sustainable agriculture — in part, by using engaging game and simulation technology she developed with ITaP. That technology also is a valuable component of Snyder's commitment to international agricultural education and finding ways for students around the world to learn all they can about producing food and feeding their region's population. Over the past four years, Snyder has created two essential online resources for her students with the help of ITaP educational technologists. CROPVIEW, a set of games with a seed and plant database, helps students learn about plants commonly grown in certain regions, those scarcely grown in the regions and those scarcely grown anywhere. iFARM is an interactive, multimedia simulation of agricultural processes that assists students in learning crop production principles.
Full story: http://www.itap.purdue.edu/newsroom/detail.cfm?NewsId=2354
Donkin joins Agriculture Research Office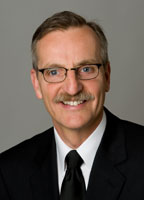 Associate Dean Karen Plaut is pleased to welcome Dr. Shawn S. Donkin to the Agriculture Research Office (ARP) as a new Associate Director. Shawn began his duties on August 15. He is responsible for transitioning the graduate program to the Agriculture Research Office and facilitating activities that enhance the graduate student and post-doctoral experience in the College of Agriculture. He will serve as the Liaison with the Office of Academic Programs, which will maintain curricular and enrollment support for the graduate program. Shawn will also be responsible for developing a more streamlined reporting strategy for the USDA-NIFA integrated Plan of Work and USDA-NIFA formula funded/capacity grants (Hatch, Animal Health, and McIntire-Stennis). Shawn's research program explores the cellular and molecular processes controlling liver function in response to nutritional, hormonal, environmental, and developmental cues. He has published over 55 scientific articles in refereed journals and 4 book chapters. He has served on 49 graduate committees and was part of a team of faculty that helped to develop the interdisciplinary nutrition program at Purdue. Shawn has obtained approximately $8 M in funding from USDA, NIH, industry and private foundations.

Stuart takes on International role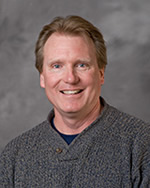 Dr. Jeff Stuart, Entomology, has taken on a new role in International Programs in Agriculture (IPIA), where he is supporting Purdue Agriculture's education, research and extension efforts in Latin America. Earlier this month, he traveled with Dean Jay Akridge to the Universidad del Rosario in Bogotá, Colombia, for a strategic workshop with the highest levels of the Colombian government and other key players to focus on innovation strategies for Colombia. He will be traveling to Brazil in October for discussions with leadership from the Federal University of Vicosa (UFV) and Brazilian government agencies about Purdue's role in the Brazilian Science Without Borders program.
Pretreatment, proper harvest time boost ethanol from switchgrass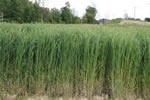 Adding a pretreatment step would allow producers to get more ethanol from switchgrass harvested in the fall, according to a Purdue study. Michael Ladisch, Distinguished Professor of Agricultural and Biological Engineering, and Youngmi Kim, a research scientist, compared switchgrass based on growing location, harvest time and whether it was given a pretreatment step. They found that location wasn't important, but the other two factors could significantly increase the amount of ethanol obtained from the feedstock. "Switchgrass harvested in the spring had more cellulose, but also more lignin," said Kim, whose findings were published in the early online version of the journal Bioresource Technology. "You do not get the advantage of the increased cellulose content because it's more difficult to extract those sugars because of the lignin."
Full story: http://www.purdue.edu/newsroom/research/2011/110831LadischSwitchgrass.html
Farm incomes to reach record levels despite low crop yields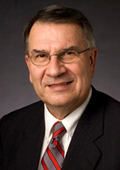 High worldwide grain demand coupled with lower-than-expected yields means U.S. farmers can look forward to a record-high farm income total from the 2011 crop, according to a new U.S. Department of Agriculture report. In the Farm Sector Income Forecast released on August 30, USDA's Economic Research Service projected the total U.S. farm income will reach $103.6 billion, up 31 percent from last year's total. The previous farm income record was $84.7 billion in 2004. "These are not just records, but records that are substantially higher than we've seen before," said Chris Hurt, Purdue Extension agricultural economist. Both crop and livestock revenues are up in 2011, but Hurt said the income totals don't tell the whole story. Input costs are on the rise, as well.
Full story: http://www.purdue.edu/newsroom/general/2011/110901HurtIncomes.html
Dunning to deliver Kohls Outstanding Teacher lecture
Dr. John "Barny" Dunning, Forestry and Natural Resources, will deliver the 2011 Richard L. Kohls Outstanding Undergraduate Teacher Lecture on Monday, September 19 at 3:30 in the Deans Auditorium, room 241 Pfendler Hall. A reception honoring Dr. Dunning will follow at 4:00 in the Pfendler Gallery. Dr. Dunning will speak on "Teaching the Controversy: Environmental Issues in the Modern World."
Purdue 'tool box' could be ace in the hole for golf courses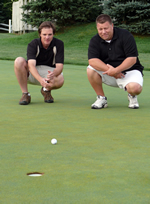 Below par looks great on the leaderboard but never when it describes the appearance and playability of golf course putting greens. Turfgrass specialist Cale Bigelow and graduate research assistant Tracy Tudor are working to help course managers produce winning greens at lower cost and with less labor. That's important at a time when many courses are struggling economically, said Bigelow. They are developing a course manager's "tool box" of recommended practices for establishing and maintaining putting greens. Two years into their research, they already have identified practices that could improve greens while allowing golf courses to realize cost savings of 5 percent to 10 percent a year.
Full story: http://www.purdue.edu/newsroom/research/2011/110823BigelowGreens.html
Art and science combine in organic sculpture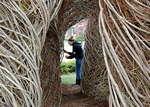 Five months after installation on the lawn next to Pao Hall, the organic sculpture "Sidewinder" is proving that art and science can, literally, be hybridized to produce innovative growth. The sculpture -- built out of willow and red maple saplings by visiting artist Patrick Dougherty in collaboration with students from landscape architecture professor Ann Hildner's Plants, Landscape and Art class -- is sprouting new shoots. Constructed over a 25-day period in March 2011, the 15-foot-high sculpture has become a favorite of the campus community and those who visit. Its curving, curling and twisted shape beckons to visitors, inviting them in to take a walk through the art piece and explore the unique tunnel-like spaces formed by the saplings.
Full story: http://www.purdue.edu/newsroom/purduetoday/general/2011/110824_Sidewinder.html
Joern to present Spirit of Land Grant talk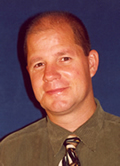 Dr. Brad Joern, Agronomy, winner of the 2011 Spirit of the Land Grant Mission Award, will receive his award at a ceremony on Wednesday, October 5 at 2:00 pm in the Deans Auditorium in Pfendler Hall. He will present a lecture titled "Bar Stools and Basket Weaving: Partnering to Develop Sustainable Crop and Livestock Production Systems". A reception in the Pfendler Gallery will follow his talk.
More information: http://www.agriculture.purdue.edu/in_focus/2011/September/SpiritFlyer2011.pdf
Purdue highlights the best of undergraduate research in new journal
Work by Agriculture students Jamie Steiner and Austin Donner is highlighted in the inaugural issue of a new journal that features the best of undergraduate research taking place at Purdue University. The Journal of Purdue Undergraduate Research, features selected student articles from faculty-mentored research projects, is published by the Purdue University Press. The press is a part of Purdue Libraries, and the project is supported by the Office of the Provost.
Full story: http://docs.lib.purdue.edu/jpur/
MESA seeking donations for outreach work with Migrant Farm Workers
MESA (Multicultural Efforts to End Sexual Assault) is seeking donations until September 30 to assist in its violence prevention outreach efforts with Migrant Farm Worker families. Migrant farm workers are among the poorest families in the United States.These workers and their families travel each year to Indiana to help plant and harvest crops to bring food to our tables. Many of these families arrive with no money and only one change of clothes. While we are always excited to receive items that are new, we also accept gently used items that are in clean, working condition. We cannot accept donations that are in need of repair. Click here for more information and a list of needed items. If you have a question about a donation, please feel free to contact us at mesa@ydae.purdue.edu. If you are located off campus, please contact us to make arrangements for donation pick-up. We appreciate your support on behalf of Indiana Migrant Farm Workers and their families!
Drought stress blankets Indiana, likely continues into harvest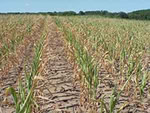 The abnormally dry and drought conditions that most of Indiana is experiencing don't appear to change as farmers statewide prepare for harvest, according to Ken Scheeringa of the Indiana State Climate Office at Purdue. Indiana is at the eastern end of a Midwest drought region, which has been classified as severe and covers much of central Illinois and part of southeast Iowa. Ohio has fared better, as the state had almost no drought areas as of the Sept. 6 U.S. Department of Agriculture's Drought Monitor update. "The historical drought in Texas is creeping northward, with Oklahoma following closely in terms of its drought features," said Dev Niyogi, Associate Professor of Agronomy and Indiana State Climatologist. "The swatch of drought-prone area is now reaching parts of the Midwest, particularly along southern Indiana."
Full story: http://www.purdue.edu/newsroom/general/2011/110908ScheeringaDrought.html
Extension Assistant Director position filled
Associate Dean and Director of Extension Chuck Hibberd is pleased to announce that Mike Manning has been selected to be the new Assistant Director – Extension Staff Development. Mike has established himself as an outstanding leader in Purdue Extension with many examples of excellent staff development initiatives. His leadership for the Northwest Extension District positions him well for this role. Most notably, Mike's involvement in professional development offerings through initiatives such as North Central NELD is a testimony to his ability and effectiveness. Mike will begin his duties as Assistant Director on October 1. He has agreed to help us transition the District Director role for the Northwest Extension District by continued involvement in hiring and performance appraisal until a permanent District Director is on board.
Purdue Extension to help 2 regions' economic development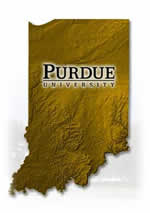 Two multicounty regions in Indiana will create economic development plans under a U.S. Department of Agriculture program that Purdue Extension will support. The regional teams selected for the Stronger Economies Together program, administered by USDA Rural Development, are Rural Communities of LaPorte, Jasper, Starke and Southern Porter Counties in northwest Indiana and Southern Indiana Growth Alliance, encompassing Ripley, Dearborn, Ohio, Franklin and Switzerland counties. Stronger Economies Together is designed to help multicounty, rural groups develop new approaches to strengthen and enhance economic development efforts by identifying a region's strengths and needs, said Scott Hutcheson, assistant director of economic and community development for Purdue Extension. The northwest Indiana group will focus its development on tourism and manufacturing. The southern Indiana group will concentrate on attracting and retaining college graduates for its workforce.
Full story: http://www.purdue.edu/newsroom/general/2011/110829HutchesonDevelopment.html

Input sought on characteristics of Purdue's next president
Joan Fulton, Member of the Special Advisory Committee and the Presidential Search Committee and Natalie Carroll, Member of the Special Advisory Committee to the Presidential Search, invite Purdue Agriculture faculty and staff to a lunch-time listening session on Thursday, September 15 from 11:30 am to 1:00 pm in the Dean's Auditorium, Room 241 Pfendler Hall. Purdue Trustees JoAnn Brouillette and John Hardin will be joining us at this session. Their presence gives us the opportunity to deliver our ideas directly to trustees who will ultimately make the decision on hiring the next president, and we're honored that they are taking the time to be there. For those who are off campus, the event will be streamed at this URL: http://video1.itap.purdue.edu/AgComm and questions/comments can be submitted by email to dmcclure@purdue.edu.
A/P Staff Advancement Work Begins
The 2011-2012 Administrative/Professional Staff Advancement Program is underway. All A/P staff should have received the materials via email. Advancement documents are to be processed and approved through the individual department committees this fall before they are submitted to the Dean's Committee for evaluation (due January 11). It is recommended that staff update their advancement documents each year. This will make it much easier when they are eligible to submit a document for advancement. For details, visit the College of Agriculture's A/P Staff Advancement Program web site under the "faculty & staff" tab on the Purdue Agriculture home page: http://www.ag.purdue.edu/Pages/advance_info.aspx
Popcorn--Get Your Purdue Agriculture Popcorn!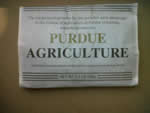 Looking for a novel gift or token item to promote Purdue Agriculture? Now available are individually-wrapped microwavable popcorn bags. Each bag contains 3.5 ounces of delicious, butter-flavored popcorn from Ag Alumni Seed. The outside of each bag reads "The background genetics for this popcorn were developed in the College of Agriculture at Purdue University. www.ag.purdue.edu". The popcorn is available from the Purdue Ag Alumni office for $1.00 per bag, with a minimum of 25 bags per order. Call 765-494-8593 to place your order.
WorkLife Ambassadors Here to Help
WorkLife Programs Ambassadors serve as the eyes and ears of WorkLife Programs in individual departments on campus. Their main responsibility is to help motivate colleagues to achieve healthier lifestyles by learning about the variety of campus resources, sharing suggestions and ideas in committee meetings, and actively advocating wellness and worklife activities among their co-workers. Your College of Agriculture WorkLife Ambassadors are Candy Byers, Animal Sciences; Pam Mow, Botany & Plant Pathology; and Becky Rice, Ag Administration. Let them know if you have any questions, suggestions or comments.

The College will again host lunch time WorkLife presentations in Pfendler Hall as was done in the spring. The presentations will available for those off campus via streaming video. If you have an interest in participating in these free presentations, please offer feedback regarding what topics are of most interest to you by taking this short survey – Take the Survey

A great resource for information is the WorkLife website: http://www.purdue.edu/hr/WorkLife/ along with the College of Agriculture WorkLife intranet site: https://intranet.ag.purdue.edu/CoA-Worklife/default.aspx. The College site contains links to archives from past WorkLife presentations on stress, your immune system, and getting a good night's sleep - all hosted by the College of Agriculture.
Two receive Women in Agriculture awards at state fair
Purdue Extension gave special recognition to two women at the Indiana State Fair by presenting them with Women in Agriculture awards for their career-long achievements and leadership. The Achievement Award, recognizing women who are directly involved in a home farming operation, was presented to Stacey Pedigo (left) for her work at Dorsey Farms, a 1,500-acre corn-soybean-wheat operation in Frankfort owned by her father, Paul Dorsey. The Leadership Award, given to a woman in an agribusiness or policy-making position, was given to Susan Brocksmith (right), chair of the Business and Management Department at Vincennes University, where she also is an agribusiness instructor.
Full story: http://www.purdue.edu/newsroom/outreach/2011/110812HollowayWIA.html
Frank Dooley, Agricultural Economics, has been named a Provost Fellow for 2011.Each year during the strategic plan, up to five faculty members who have demonstrated leadership potential and have an interest in administration are chosen by the Provost to work on specific projects. Frank's area of concentration will be the IMPACT (Instruction Matters: Purdue Academic Course Transformation) project, which is aimed at redesign that draws upon research into how people learn, and efforts are being concentrated on large-enrollment, foundational courses. Its goals include better rates of course completion and retention as part of student success.
Vic Lechtenberg, Purdue Vice Provost for Engagement and former Dean of Agriculture, has been recognized by the state of Indiana for his leadership in agriculture spanning more than 40 years. Lt. Gov. Becky Skillman presented him with the 2011 AgriVision Award during a Celebration of Agriculture ceremony on August 17 at the Indiana State Fair. The award, in its fifth year, is given to an Indiana resident who has demonstrated exemplary leadership in helping to reshape Indiana's agriculture to position the state as a world leader in agricultural production.
Linda Mason, Entomology, was named associate dean in Purdue's Graduate School in the Fall of 2010. In this role, Dr. Mason oversees Responsible Conduct of Research (RCR), new professional development activities, program assessment, program reviews, and other special initiatives. We apologize for having omitted this announcement from InFocus.
Alan Mathew, Animal Sciences, has been selected to represent the Animal Science Department Chairs/Heads on the US Pork Center of Excellence Board of Directors. The U.S. Pork Center of Excellence was established in 2005 for the purpose of bringing about a higher level of cooperation and collaboration among and between universities, the pork production industry, and government.
David Petritz, retired professor of Ag Economics and Associate Dean and Director of Extension, will be inducted into the Farm Science Review Hall of Fame at the Vice President's Luncheon on Sept. 20. He was selected for induction for his long-time dedication and commitment to the Farm Science Review and his contributions to its success. The Farm Science Review takes place Sept. 20-22 at the Molly Caren Agricultural Center in London, Ohio.
Jeff Stuart, Entomology, has been elected Vice President-Elect of the Physiology, Biochemistry, and Toxicology Section of the Entomological Society of America. The Entomological Society of America (ESA) is the largest organization in the world serving the professional and scientific needs of entomologists and people in related disciplines. Founded in 1889, ESA today has more than 6,000 members affiliated with educational institutions, health agencies, private industry, and government. Members are students, researchers, teachers, extension service personnel, administrators, marketing representatives, research technicians, consultants, and hobbyists.
Purdue University weed science graduate students recently won the inaugural national WeedOlympics in Knoxville, Tenn. The competition, sponsored by regional weed science societies, had four parts: weed identification, unknown herbicide injury, sprayer calibration and a "farmer problem" in which students had to identify an unknown issue in a field and make recommendations to fix it. Members of the Purdue team were Ryan Terry of Palmyra, Mich.; Paul Marquadt of Lafayette, Ind.; Jared Roskamp of Sutter, Ill.; and Chad Brabham of Trenton, Ill. WeedOlympics required students from across the country to learn about new crops, said team adviser Bill Johnson, Extension weed scientist and Professor of Botany and Plant Pathology.
Samantha Ambrose, a Purdue Agronomy graduate and now a graduate research assistant at Oklahoma State University, was awarded the American Society of Agronomy's Frank D. Keim Graduate Fellowship at the ASA's annual meeting.
Michelle Dirksen, a junior Agricultural Economics major, was recognized by Helena Chemical Company as the 2011 Outstanding North Central Division Intern Award winner. She was selected from a competitive group of fifty interns throughout the Midwest for her outstanding performance throughout her summer internship with Helena Chemical Company. Michelle worked as a Summer Sales and Marketing Intern for the Bluffton, Indiana branch.
Melissa McDonald, a senior in Agronomy, was named a Golden Opportunity Scholar at the ASA, CSSA and SSSA Annual Meetings. The Golden Opportunity Scholars Institute is a program of the CSSA that matches undergraduates with scientist-mentors and encourages talented students to enter the crop sciences, cultivate networks, and develop the necessary workforce to sustain the profession. Students are selected based on their academic achievements and interest in crop science.
Bob Easter, a senior in environmental plant studies in Botany and Plant Pathology and Mary Schott, a second-year master's student in Horticulture and Landscape Architecture, are featured in Purdue's "5 Students Who Are Green Makers." Bob is inaugural president of Full Circle Agriculture and has the task of operating a fully-functional student farm. A joint venture between the College of Agriculture and the School of Hospitality and Tourism Management, Bob and his peers have successfully developed an operational vegetable farm and are learning about developing farm budgets, crop rotations, managing plots for fertility and pests, and how to market their products. In 2008, Mary founded Trees for Tanzania (TFT). The organization helps address the detrimental impact of deforestation on the people and environment of one of the poorest places on Earth: the Kigoma Province of Tanzania. TFT helps establish sources of tree-based products such as firewood and timber. Mary also conducts research on native and endangered trees in her reforestation effort.
More information: http://www.purdue.edu/fivestudents/green_makers/index.html
Purdue Extension was well represented at the recent NACAA Convention held in Overland Park, Kansas. Ten ANR Educators accompanied by Jim Mintert, ANR Assistant Director, attended this year's convention. While at the convention, Walt Sell, Lake County Extension Director, received the NACAA's Distinguished Service Award; Bryan Overstreet, Jasper County ANR Educator, received the NACAA's Achievement Award; Gene Matzat, LaPorte County ANR Educator, was National Finalist in the Individual Newsletter Category for his Agri-Scope newsletter; and Nick Held, Spencer County ANR Educator, was a National Finalist for his Category 14 Fact Sheet and was also a Regional Winner in the Program Promotional Piece category for his Grain Purchasing Strategies Flyer.
Congratulations to our Purdue Agriculture staff who received "Thumbs Up" this month:
Bev Logsdon: Bev is a grant pre-award specialist. Although there were unexpected last-minute hitches with what I had written, with Bev's help, patience, expertise, and energy, we were able to get a grant proposal submitted. It has been a pleasure working with her. -- Steve Hooser, Director, ADDL

David Petritz, Jan Beaty and Elizabeth Lenz: Thanks to David, Jan & Liz of the Purdue University Beck Agricultural Center for all the behind the scenes help with the Mechanical Engineering Faculty Retreat on August 17. I appreciate all their hard work. They were great to work with and they truly demonstrate excellent customer service. -- Jackie Baumgardt
Purdue United Way campaign kicks off
The 2011 Purdue United Way Campaign aims to raise $740,000 for Greater Lafayette agencies beginning with its kickoff on September 13. The campaign runs through Nov. 16. By making donations and participating in organized activities throughout the campaign, Purdue employees can show their support for the local community.
Full story: http://www.purdue.edu/newsroom/purduetoday/faculty_staff_news/2011/110907_UW-Preview.html
Volunteering in area's Read to Succeed encouraged
Purdue employees can enhance a child's education in a rewarding way as part of the University's support of Read to Succeed, a joint venture by Greater Lafayette Commerce and the United Way. The Read to Succeed initiative is designed to place volunteers in the classrooms of local elementary schools to help struggling students become more proficient. Volunteers will donate an hour of time each week to work with an individual child -- and Purdue volunteers can do so on compensated time. The University has agreed to grant employees compensated time off for the volunteer activity. This includes an hour for actual tutoring and 30 minutes of travel time to and from the school each week. It will be possible for two employees to work with a student in alternate weeks. The commitment is for the whole elementary school academic year.
Full story: http://www.purdue.edu/newsroom/purduetoday/faculty_staff_news/2011/110908_ReadSucceed.html
Deadline to apply for APSAC professional development grant is Oct. 1

APSAC is now accepting applications for its individual professional development grants. The application process will be completed online. Grants generally fund professional education; attendance at lectures, conferences and seminars; or tuition assistance for academic classes. The maximum award amount is $750. Applications for fall grants will be considered for activities occurring from July 1, 2011, to June 30, 2012. The deadline is Oct. 1 for the fall grant period. More information and a link to the online application are available at www.purdue.edu/apsac. Questions may be directed to Amy Keene at amykeene@purdue.edu.
AVP joins Office of Industry Research and Technology Programs
Geanie Umberger has joined the Office of the Vice President for Research as assistant vice president for corporate and foundation relations. A graduate of the University of Kentucky, she holds a bachelor's degree in pharmacy, a master's in public health and a Ph.D. in anatomy and neurobiology. Umberger was previously administrative director for clinical and translational science in the Center for Clinical and Translational Research at the University of Kentucky. In her new position, she will identify and facilitate collaborations between industry and investigators, programs, centers, departments, startup companies, and community partners.

Academic Success Center moves to Provost's Office

The Academic Success Center's unique role at Purdue in teaching learning strategies and fostering academic support is being recognized with a broader mission. Effective July 1, the Academic Success Center became part of the Provost's Office, reporting to Dale Whittaker, vice provost for undergraduate academic affairs. The ASC can be found at Beering Hall, Room 3268, until it moves into its new home, the Center for Student Excellence and Leadership (CSEL) at its target completion date of fall 2013. CSEL is designed to facilitate and enhance student life, both social and academic.

Full story: http://www.purdue.edu/newsroom/purduetoday/faculty_staff_news/2011/110902_AcadSuccCtr.html
Check the College online calendar for all events, seminars and deadlines here: http://www.ag.purdue.edu/Lists/Agriculture%20Calendar/calendar.aspx