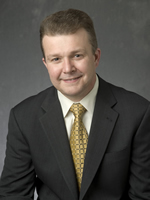 As the semester and the year wind down, it seems appropriate to reflect on what we have accomplished as a College. I think one way to characterize the past six months is 'laying the foundation for 2013 and beyond' – there was a lot of work this semester and this year that will be finalized or at least moved forward in 2013 and have important implications for our future.
Many involved in our undergraduate program have had a busy fall working through our College's response to the 120 credit cap on our undergraduate degrees, the new Honors College, and other University-led initiatives. (A big thanks to our Curriculum and Student Relations Committee and chair Barb Golden for their leadership here.) Associate Dean Marcos Fernandez, OAP staff and a group from Agricultural Communications have developed a new undergraduate recruiting campaign around the word 'Experience'. It replaces our dated 'Go in Ag' campaign, and I believe will play an important role in recruiting great students to the College. Our Advancement team, with exceptional support from department heads, faculty and staff, booked 63 new undergraduate scholarship endowments.The combined total of funds raised through the Indiana Challenge Match is nearly $4 million and will lead to $179,757 in new scholarships annually for our undergraduate students.
The search for the next Associate Dean and Director of Purdue Extension is well underway, thanks to an exceptional search committee. Telephone interviews will happen just after the first of the year and we are on track to have a new Director named in the first half of 2013. Extension also has a new brand campaign built around the idea of 'Local Faces, Countless Connections' that will play an important role in raising the visibility of Extension across our state.
In the area of Ag Research, Shawn Donkin, who is leading our graduate programs, and Office of Multicultural Programs Director Pam Morris have initiated a new approach for building relationships with the 1890 Land Grant institutions in order to help us do a better job of recruiting minority graduate students in the future. Associate Dean Karen Plaut has led a number of initiatives, including taking groups of faculty to meet with agencies in Washington and bringing program officers to campus, with the goal of helping us build deeper relationships with federal grant agencies and to help enhance our faculty's success in obtaining federal research funding. In the same spirit, NIFA Director Sonny Ramaswamy will visit campus January 24-25. In addition, we have in place new post-award management support for faculty with large grant/multiple grants. Our faculty currently have more than 500 proposals outstanding—requesting $191 million—that are awaiting agency decisions. Over the course of the fall semester, Karen and I have also been working with our plant sciences faculty, exploring ways to better position our faculty and staff in this critical area for future success.
International Programs in Agriculture has been winding down our work in Afghanistan while exploring new areas of activity for the Gates-funded Purdue Improved Crop Storage (PICS) project, as well as supporting faculty who are working on major proposals for USAID.  Associate Dean Jess Lowenberg-Deboer has some great ideas to be rolled out in 2013 that will help IPIA be even more strategic and supportive of College international activities.
Much work was done this past year and especially this past semester around our College budget. The news of the looming federal "fiscal cliff" and the threat of sequestration if the President and Congress don't reach a budget agreement before the end of the year is everywhere. While it is impossible at this point to know exactly what will happen, full implementation of sequestration as currently proposed would mean an 8.2% cut on our federal capacity funds – about $1.3 million in recurring funds. Sequestration would also affect our college in other ways, most directly through reduced competitive federal funding. While we obviously hope an agreement is reached, we have developed a plan to manage the short term impacts of sequestration. We have been and continue to be conservative in our fiscal management of the College and can get through sequestration without drastic short-run cuts. However, such cuts would certainly have an important effect on what we can accomplish as a College over the longer term.
We have also invested much time this year preparing for the 2013 state legislative session. Flat funding of our line items over many years has undermined our ability to serve the state. Given this situation, we will be seeking an additional investment in our agricultural research and Extension programs during the coming legislative session. In addition to 5% increases in our County Extension Educator and ADDL line items, we are also asking for an additional $3m recurring investment in our agricultural research and Extension line. We have been working with key agriculture leaders across the state to make them aware of the request and why it's important, as well as with our Purdue Council for Agricultural Research, Extension, and Teaching (PCARET) group to build local support across the state.
I could continue with so many more things you have worked on this year that will play an important role in our future: the COACHE survey of our faculty; the USDA Civil Rights compliance review; many, many conversations with prospective donors; our Food Science Head search; the 4-H strategic plan…  Perhaps nothing is more important than the arrival of Purdue's 12th President, Governor Mitch Daniels, in January. Our College has been involved in helping prepare the Governor for his new role, and we look forward to working with him as we begin a new era at Purdue.
As we wrap up 2012, I want to express my deepest thanks to each and every one of you for another extraordinary year. This College remains a special place because of what you bring to your respective roles every day. Given all the groundwork we have laid this year, I could not be more excited about what 2013 will bring. Have a wonderful holiday!   
All the best,

---