Colleagues,
Summer is definitely here – the campus is much quieter (except for construction noise!); faculty are in the fields, traveling to conferences, moving proposals and manuscripts forward; students are doing internships or studying abroad, and county Extension staff members are preparing for fair season. Meanwhile, we're all hoping for much-needed rain soon to give Indiana crops some relief…
In this issue of InFocus, I want to follow up on an AP story many of you may have seen. The article discussed a recent report, "Public Research, Private Gain: Corporate Influence over University Agricultural Research" published by Food and Water Watch. The report's assertion that "industry" has too much influence on colleges of agriculture is certainly not new, but the issues the report and the story bring up merit some discussion about Purdue Agriculture's work with industry. As industry support for agricultural research and engagement has grown in significance for the Purdue College of Agriculture, we should all be prepared to share with stakeholders and the broader public the benefits of these private sector collaborations and how we ensure that these relationships are appropriately managed.
Nationally, private sector investment in agriculture has grown in relative importance over the past century. The food and agricultural industries now provide some of the services/information that were once the purview of land-grant Colleges of Agriculture. In 2006, 49.7 percent of the roughly $9 billion total U.S. agricultural R&D was funded by the private sector (Pardey, P.G. and J.M. Alston, For Want of a Nail: The Case for Increased Agricultural R&D Spending, July 2011.) Currently, industry-sponsored research accounts for 13% of our College's total research budget (total research funding includes all competitive funds, federal capacity support, and state general fund/line item support). While it is not a large percentage of the total, industry research support is important to the College – especially in specific areas where public investment is scarce.
As a land-grant College of Agriculture, engagement with our stakeholders is a fundamental mission, and industry is one of our stakeholders. As a College, we give careful thought to 1) where we can and should engage as a public university and 2) how we engage so that there are public benefits to the engagement.
When we engage in industry-funded research, we do so with the public interest in mind. We have a contractual relationship with the sponsoring company and Purdue maintains publication rights to the work. While we do permit vetting with sponsors to protect trade secrets, we do not permit firms to censor our research results. In the interest of transparency, we provide information on funding sources in all of our research press releases. Adherence to these requirements means that we cannot work on every industry project that is offered to us.
Our students see the importance of engagement with industry. They want us to have close linkages so that we have relationships that lead to full-time positions/internship opportunities, and so we have a deep understanding of industry issues that can inform curricula and student preparation.
Industry invests in our graduate and undergraduate programs in a variety of ways and while we make no promises or commitments for these investments, they do serve to raise the visibility of the sponsoring organizations with our students. In the current funding environment, these investments are a fundamental part of creating an exceptional learning experience for our students and making them aware of job and internship opportunities.
Of course, as with virtually any external relationship, there can be abuses in working with industry, and it takes discipline and diligence to manage these relationships in a way that ensures the public interest is always served. And, I appreciate the conscientious attention that each of you bring to our role as public servants.
There is one summary point in the Food and Water Watch report that I absolutely support, and that is the need for more public investment in agricultural research and Extension. While we can and should do research in partnership with industry, industry investment is not a substitute for the public investment needed to address the agricultural and life sciences opportunities and challenges facing our world.
In the end, industry support is important for a variety of reasons across all of our missions and we will continue to seek out and manage industry relationships in a way that levers public funds and protects the public interest.

All the best,


Purdue Agriculture People
Post-award managers in place for Agriculture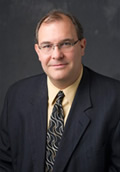 Two managers have been put in place to assist Agriculture faculty in managing the administrative aspects of funded projects. Bill Bogan and Meredith Cobb provide post-award services including managing the award "hand-off" process and establishing accounts at the onset of a project; interfacing with participants, sponsors, subcontractors, and other Purdue offices regarding any budgetary or administrative issues on grants; developing budget projections to manage grad student funding; managing reporting schedules and assisting with reporting to sponsors and stakeholders; assisting with general communications, meetings and conferences; assisting in acquiring space, furniture and equipment for projects; helping with hiring, training and supervision of personnal, and assisting with Animal and Human Subject protocols and other regulatory requirements. Bill has a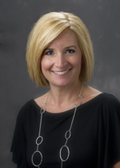 bachelor's degree in biochemistry and a doctorate in molecular biology, and has conducted and managed research work for 15 years. Most recently, he served for six years in the Department of Agricultural and Biological Engineering as the Operations Manager for the National Air Emissions Monitoring Study (NAEMS). Meredith has a bachelor's degree in animal agribusiness from Purdue. She was a lab technician in the Department of Animal Sciences for 15 years and spent the last 2.5 years managing a behavioral neuroscience lab in the Department of Psychological Sciences. Agriculture faculty may contact either Bill (bogan@purdue.edu; 49-43950) or Meredith (mcobb@purdue.edu; 49-43951) to set up a meeting to discuss your project needs and eligibility.
New manager joins Beck Agricultural Center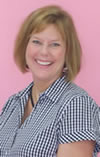 Linda Pitstick began her duties on June 1 as events manager at the Beck Ag Center. Linda is responsible for the management of building operations and will continue the ongoing work to develop, implement, and maintain policies and procedures concerning building usage and operations. Linda is also responsible for maintenance of the websites for the Beck Ag Center and the regional Purdue Agricultural Centers, and she will assist Steve Hawkins with coordination of the government surplus program for Agricultural Research Programs. To make arrangements to hold an event at Beck, please e-mail Linda at lmp@purdue.edu or call 765-583-0590.
Did You Know: Education Store featured in Purdue Today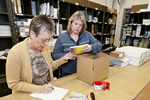 Located on the south side of campus, the Education Store for Purdue Extension sells digital and hard-copy informational materials to buyers across the world. The Education Store was highlighted in an April edition of Purdue Today. The store's origins can be traced back several decades, when it served as a distribution center for 4-H materials and publications related to Purdue Extension, the University's land-grant outreach arm. In the 1980s, the facility transitioned to a store model; the store opened an online component in 2002. The physical store is located just off Russell Drive, inside the Materials Management and Distribution Center. Pictured in the store are Kathy Lester (left), office manager for the Education Store for Purdue Extension, and Ellen Milligan, receiving clerk and events coordinator. The store's offerings include materials produced by Purdue's College of Agriculture and Extension programs. It also sells third-party materials that range from pork industry handbooks to cookbooks to educational videos for elementary students. Also, the store acts as a distributor for some materials from Purdue University Press and is an official distributor for the U.S. Department of Agriculture and sells bulk copies of nutritional publications as well as a USDA home canning guide.
Full story: http://www.purdue.edu/newsroom/purduetoday/general/2012/120420_DYKEduStore.html
Tony Carrell joins YDAE department
Tony Carrell has joined the Department of Youth Development and Agricultural Educaion as 4-H program specialist. Tony comes to campus from Boone County, where he was the 4-H youth development educator. Tony's experiences as a former high school science and business teacher and a county 4-H youth development educator provide him with a strong youth education and youth development background. Department head Roger Tormoehlen says It is this diverse background that positions Tony to be a key team member in a multi-faceted department; a department that develops and delivers educational programming designed to enable youth to develop to their greatest potential. Tony began transitioning to YDAE in mid-May and will be full time beginning on July 1.
Purdue students visit Cameroon to build basic utility vehicle
A group of six Purdue University students traveled to Cameroon in May as part of ongoing efforts to provide affordable and practical transportation to the underdeveloped area. The Department of Agricultural and Biological Engineering partnered with The African Centre for Renewable Energy and Sustainable Technologies (ACREST) in 2009 to develop a basic utility vehicle (BUV) that is low-cost, durable, adaptable and easily manufactured. Students from other disciplines of engineering and the colleges of Agriculture and Technology also have contributed to the project. On May 7, the Purdue team traveled to Bangang, Cameroon, to produce a three-wheel BUV based on designs developed over the current academic year.

Full story and video: http://www.purdue.edu/newsroom/outreach/2012/120501LumkesBUV.html
Purdue students take 3rd in tractor pull competition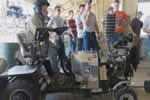 Some Purdue students pulled their weight around early this month at the ASABE International Quarter Scale Tractor Student Design Competition. The Boilermakers had a 3rd place finish in the pulling competition in Peoria, Illinois. Their 1,500 lb. tractor pulled more than 2,000 lbs. A team of eight students also gave presentations on the safety, ergonomics, costs and design of their tractor. It's the culmination of a year-long project. Tractor team member Jonathan Welte said it's a great chance to apply classroom education to real life scenarios and set them apart from other graduates. "It was a great payoff for all the hard work that we put in," Welte said. "A great overall experience. Hopefully it will give us a perspective of what a job will be like whenever we get done here." Technical advisor Michael Holland said there were a lot of late nights involved. "Really what you'll find is that there's a lot of good engineers that are developed and one or two leaders that really get developed and we got to see it this year," Holland said. The Boilers competed against about two dozen other teams.
Agriculture team visits Kenya
On May 25th, a Purdue team comprised of four students and one faculty member boarded a flight to Eldoret, Kenya. This team met another team of Purdue professors on the ground, and together, began working on developing the existing agricultural infrastructure in the country. Marcia Croft, a Ph.D. horticulture student with Dr. Steve Weller, Horticulture, is working to expand African Indigenous Vegetables (AIVs) sales in the local market. HannahJoy Pheasant, an incoming senior in Agricultural and Biological Engineering, is revamping existing agriculture training materials used by AMPATH's Family Preservation Initiative (FPI) extension agents. HannahJoy was joined on June 6 by Caitlin Grady, a Ph.D. student in the Ecological Sciences and Engineering program. John Lomurut is a master's student in soil science under Dr. Darrell Schulze and is working to develop GIS soil maps of the greater Eldoret area.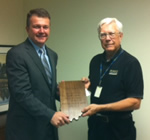 David Petritz, retired Associate Dean and Director of Extension, was thanked by Dean Jay Akridge on behalf of the College of Agriculture for his service as inaugural director of the Beck Agricultural Center. Dave assumed the management of the Center when it opened in 2007 and oversaw every aspect of the building's operation and use for nearly five years. Dave helped develop the original policies and procedures related to the use of the facility and he was the always reliable source of information for anyone arranging an event at Beck. He supervised every aspect of setup and operations for the Center and was almost always at the door to welcome visitors. Dean Akridge presented Dave with two plaques made from Indiana walnut by staff in the Wood Products Lab; one plaque hangs in a Beck Center conference room, and the other is (we hope) proudly displayed in Dave's home.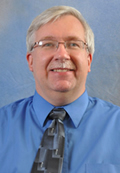 Extension dairy specialist Mike Schutz, Animal Sciences, received the 2012 Steve Atkisson Indiana Dairy Service Award. The award, recognizing outstanding contributions to the Indiana dairy industry, was presented at the annual Indiana Milk Quality Conference in Fort Wayne on April 10. Mike has developed several key Extension programs in milk quality, including Milker Training Schools and online milker training programs, and he co-founded the Indiana Milk Quality Conference. He is known internationally for his research in genetic selection for milk quality and use of technologies for precision dairy farming.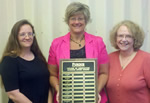 Kim Mullen, left (Ag Economics), Anna Anderson, center (Botany and Plant Pathology), and Judy Atkinson, right (College of Agriculture) are the 2012 winners of the College of Agriculture Business Office Service Award. The award, which was presented at a luncheon on June 12, was established to recognize the significant efforts of business office staff members who consistently exert effort above and beyond expectations to help accomplish the College's strategic goals. Nominations may be made by any member of the College faculty and staff.
The Extension Committee on Organization and Policy (ECOP) has nominated Chuck Hibberd, associate dean and director of Extension, to represent ECOP on the National C-FAR Research Outreach Committee. ECOP is the national representative leadership and governing body of Cooperative Extension.
The College of Agriculture web site has been selected to receive one of Purdue's 2012 Web Accessibility Awards. The awards were initiated by the Office of Institutional Equity in 2011 to help promote equal access to Purdue web pages. The Web Accessibility Award recognizes colleges, schools, departments, programs and units that have made great strides in meeting or exceeding the university's standards for accessible web design while demonstrating excellence in design and communication. Congratulations to AgIT and the Ag Communication Web Team on this recognition.
The American Association for Agricultural Education (AAAE) selected Lindsay Nobbe-Lafollette's graduate thesis as the best thesis nationally in 2011. Lindsay is a graduate student in the Department of Youth Development and Agricultural Education. Her thesis research topic was "Participation in an Educational Dairy Farm Event Related to Consumers Motivations & Dairy Production Beliefs." Lindsay's graduate chairman is Drs. Neil Knoblock (Chairman), Colleen Brady and Michael Schutz.
Agricultural Economics faculty and students were recognized with awards from the Agricultural & Applied Economics Association: Corinne Alexander, Extension Outreach less than 10 years; Frank Dooley, Undergrad Teaching, more than 10 years; Scott Downey, Undergrad teaching, less than 10 years; and David Widmar, 2nd place, Graduate Student Extension.
Debra Sherman, director of the Life Science Microscopy Facility at Purdue University, has been elected a fellow of the Microscopy Society of America. She will be inducted during the group's annual meeting in August. Among her activities in the organization, Sherman developed a session on facility management during the 2000 Microscopy & Microanalysis annual meeting and organized the session each year through 2005. The Microscopy Society of America is a nonprofit organization that promotes and advances techniques and applications of microscopy and microanalysis in relevant scientific disciplines. Sherman became director of the Life Science Microscopy Facility in 2002 after serving as interim director for four years. The facility provides Purdue researchers access to the latest electron microscopy instrumentation, and service, consultation and training to assist life scientists in obtaining their research objectives.

Brittany Rayburn, who graduated in May from Animal Sciences, was featured as one of "5 Students who are Record Makers" Her citation read in part: "If you want to fire up Brittany Rayburn, just tell her she can't do something. Purdue's female Medal of Honor winner holds NCAA, Big Ten and Purdue records, but she's not done yet. Up next: see where her basketball career takes her — all while studying at Purdue's College of Veterinary Medicine. Just try to tell her she can't."
Purdue Agriculture in the News
Climate change, biofuels mandate could cause corn price spikes
A study from Purdue and Stanford university researchers predicts that future climate scenarios may cause significantly greater volatility in corn prices, which would be intensified by the federal biofuels mandate. The findings, published in April in the journal Nature Climate Change, show that severely hot conditions in corn-growing regions and extreme climate events that are expected to impact supply could cause swings in corn prices. When coupled with federal mandates for biofuel production, the price volatility could increase by about 50 percent over the period from 2020-2040 as compared to recent history. "There could be quite a substantial increase in yield volatility, and that's due to the increased frequency and intensity of the high temperatures throughout the Corn Belt," said Thomas Hertel, distinguished professor of agricultural economics. "Closer integration of the corn and energy markets through the ethanol industry could aid in buffering these shocks, but this would not occur in the presence of a mandate."
Full story: http://www.purdue.edu/newsroom/research/2012/120423HertelVolatility.html
Purdue commercializes faster growing hardwood trees called Greatwoods

Industries associated with hardwood growth and production may benefit from trademarked varieties of faster growing trees developed through a partnership between Purdue and the U.S. Forest Service. The Hardwood Tree Improvement and Regeneration Center (HTIRC) is developing several varieties of trees under the Greatwoods™ name. Greatwoods varieties include black cherry, black walnut, red oak and white oak that have been developed by selective breeding. Charles H. Michler, HTIRC director and adjunct professor of forestry, and his colleagues breed trees for specific traits to increase planting and production in Indiana. Greatwoods trees grow faster than wild trees, allowing for more production. Greatwoods also are bred for a reduced number of knots and an improved taper, which encourages consistent volume of growth to the top.
Full story: http://otc-prf.org/node/1206
Purdue, Dow AgroSciences, state officials celebrate opening of new seed quality control lab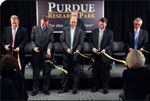 Dean Jay Akridge helped Purdue, Dow AgroSciences LLC, the Indiana Economic Development Corporation (IEDC) and greater Lafayette officials on April 24 as they dedicated a seed testing lab in the Purdue Research Park of West Lafayette.The Dow AgroSciences Seed Quality Control Lab will enable the future capacity and capabilities needed to support the growing Dow AgroSciences seeds business, as well as serve as a proving ground for its next-generation technologies. The seed lab occupies 35,000 square feet of the Innovation Center building in Purdue Research Park of West Lafayette and supports 16 full-time positions and 32 temporary jobs. Work at the new seed quality control lab includes seed germination testing, genetic purity testing and trait purity testing, with an overall goal of improving seed quality for crops.
Full story: http://prf.org/news/purdue-dow-agrosciences-state-officials-celebrate-opening-new-seed-quality-control-lab
Purdue project cited as simple innovation with big impact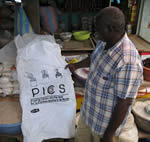 Bill Gates, speaking at a Stanford University event in April, cited the PICS (Purdue Improved Cowpea Storage) bag as an example of the "incredible impact that simple innovations can have on the world's poor." In his newsletter, Gates wrote: "On a recent trip to Africa, I saw the incredible impact that simple innovations can have on the world's poor. For years, farmers trying to eke out a living growing cowpeas—a protein-rich staple—would lose as much as half their crop to weevils. As I showed students during a recent talk at Stanford, a simple, inexpensive triple-layer bag invented by researchers at Purdue University enables farmers to protect their entire crop. This allows farmers to charge more for their crops and has increased their incomes by as much as 30 percent."
Click here to view an excerpt of Gates' speech: http://www.thegatesnotes.com/Topics/Development/A-Simple-Advance-in-Crop-Storage-Aids-Poor-Farmers-in-Africa
Heat, lack of rain exaggerate need for grazing management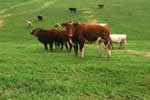 Heat and dry conditions are limiting forage supplies and emphasizing the need for livestock producers to plan and carefully manage their grazing strategies, says Ron Lemenager, a Purdue Extension beef specialist. If weather conditions remain dry throughout the remainder of spring and summer, pasture conditions could deteriorate and forages could be in short supply - a situation livestock producers need to plan for. One way producers can be proactive is by caring for pastures through rotational grazing, he said. With rotational grazing, herds are moved from one section of pasture to another to maximize quality and quantity of forage growth. Doing so helps prevent overgrazing. "I think most of us realize that if cows are continuous grazing, they are going to always go for the lush, young plant, and that continuous grazing will reduce root growth and root reserves of that plant, and the regrowth is going to be significantly retarded," Lemenager said. "Rotational grazing gives these plants an opportunity to rest and grow again. But obviously, rain is going to play a big role in that."
Full story: http://www.purdue.edu/newsroom/general/2012/120608LemenagerGrazing.html
Modern hybrid corn makes better use of nitrogen, study shows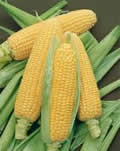 Today's hybrid corn varieties more efficiently use nitrogen to create more grain, according to 72 years of public-sector research data reviewed by Tony Vyn, a professor of agronomy, and doctoral student Ignacio Ciampitti. They looked at nitrogen use studies for corn from two periods – 1940-1990 and 1991-2011. They wanted to see whether increased yields were due to better nitrogen efficiency or whether new plants were simply given additional nitrogen to produce more grain. Vyn and Ciampitti's analysis covered about 100 worldwide studies. Of those, 870 data points were taken from the earlier period through 1990, and 2,074 points were taken from studies after 1990, when transgenic hybrids started hitting the market. All studies involved analyses of total nitrogen uptake and grain yield by corn plants at maturity, usually in response to multiple nitrogen application rates.
Full story: http://www.purdue.edu/newsroom/research/2012/120430VynNitrogen.html

AgrAbility Toolbox expands with horticulture, forestry aids
The National AgrAbility Project's online assistive technology database, The Toolbox, has expanded its offerings to include horticulture, gardening and forestry tools. The Toolbox, available at http://www.agrability.org/toolbox, is a collection of products that help agricultural workers with disabling injuries or illnesses complete difficult tasks in easier and more effective ways, such as with modified hand controls for utility vehicles, tools with extended handles, and heavy-duty outdoor wheelchairs and scooters. Since its initial Web launch in September 2011, The Toolbox has added about 90 products and continues to add about 20 per month. New products include log-cutting and brush-clearing equipment for owners of woodlands and forests, and orchard and nursery aids for fruit and vegetable farmers.
Full story: http://www.purdue.edu/newsroom/outreach/2012/120430JonesToolKit.html
Tiny plants could cut costs, shrink environmental footprint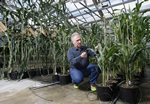 Tall, waving corn fields that line Midwestern roads may one day be replaced by dwarfed versions that require less water, fertilizer and other inputs, thanks to a fungicide commonly used on golf courses. Burkhard Schulz, assistant professor of plant biochemical and molecular genetics, had earlier found that knocking out the steroid function in corn plants would create tiny versions that only had female sex characteristics. But brassinazole, the chemical used to inhibit the plant steroid biosynthesis, was prohibitively expensive. One gram of brassinazole could cost as much as $25,000, so Schulz started looking into other options. He found that propiconazole, used to treat fungal dollar spot disease on golf courses, is more potent and costs about 10 cents for the same amount.
Full story and video: http://www.purdue.edu/newsroom/research/2012/120514SchulzFungicide.html

Rapidly cooling eggs can double shelf life, decrease risk of illness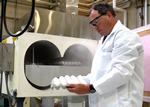 Taking just a few seconds to cool freshly laid eggs would add weeks to their shelf life, according to a Purdue University study. The rapid-cooling process, developed by Kevin Keener, a professor of food science, uses liquid carbon dioxide to stabilize the proteins in egg whites so much that they could be rated AA – the highest grade for eggs – for 12 weeks. Earlier research showed that the same cooling technology could significantly reduce occurrences of salmonella illnesses. Eggs cooled under current methods lose the AA grade in about six weeks, Keener said.Keener's results, published in the journal Poultry Science, also show that membranes surrounding the eggs' yolks were maintained for 12 weeks when eggs were rapidly cooled. That membrane is a barrier that keeps harmful bacteria from reaching the yolk, a nutrient-rich reservoir that bacteria could use as a food source.
Full story and video: http://www.purdue.edu/newsroom/research/2012/120611KeenerCooled.html
Blossom end rot plummets in Purdue-developed transgenic tomato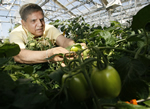 The brown tissue that signals blossom end rot in tomatoes is a major problem for large producers and home gardeners, but horticulture professor Avtar Handa has unknowingly had the answer to significantly lowering occurrences of the disease sitting on a shelf for 20 years.In the early 1990s, he developed a transgenic tomato with a thicker juice that yields 10 percent more tomato paste than parental, non-engineered tomatoes. He said large commercial producers were interested but weren't ready to bring a transgenic tomato on the market, so the research findings were published and the seeds stored away. About two years ago, researchers at the University of California-Davis asked Handa for seeds from this tomato line. They were particularly interested in Handa's observations about how the tomatoes stored calcium, as several fruit diseases are thought to be caused by calcium deficiency. In particular, blossom end rot results in dark, softened spots on the end of tomatoes.
Full story: http://www.purdue.edu/newsroom/research/2012/120521HandaBlossom.html
Purdue economist: Summer gas prices to be stable - if ...

Gasoline prices this summer could stay relatively steady provided that an already-tense Middle East doesn't flare up and nothing else happens to disrupt supplies, a Purdue University economist says. As long as market conditions remain basically as they are now, gasoline likely will remain between $3.50 and $4 per gallon in Indiana, said Wally Tyner, agricultural and energy economist. Because regional variability in gasoline prices has increased, motorists in California and much of the West Coast can expect to see prices above $4 for most of the summer, and the South and Southeast below $3.65. But Tyner cautions that global instability and disruptions in supply could force prices upward. As always, the political situation in the Middle East and U.S. relations with Iran will play a large part in what motorists pay for gasoline.
Full story: http://www.purdue.edu/newsroom/research/2012/120521TynerGas.html

Purdue starts new round of ag training in Afghanistan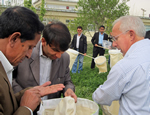 Purdue has begun training under a $2 million initiative funded by the U.S. Department of Agriculture to help Afghanistan improve its plant, animal and food safety and health. Plant diagnostics training held at the Afghanistan Ministry of Agriculture, Irrigation and Livestock for 10 days ending in May was the first in a series in the Agriculture Sanitary Phytosanitry Training programs, which support efforts within MAIL to increase the quality of Afghan food through more effective food safety and quality management and certification, said program director Kevin T. McNamara. Twelve participants received a broad overview of diagnostics and arthropod pest identification in daily classroom and laboratory work. They were trained by Tom Creswell, director of Purdue's Plant and Pest Diagnostic Laboratory; Dan Egel, Extension plant pathologist with the PPDL; and Rick Foster, professor of entomology. For many of the students, this was their introduction to diagnostics; for others, the training introduced the foundations of plant pathology and entomology.
Full story: http://www.purdue.edu/newsroom/outreach/2012/120524McNamaraAfghanistan.html
Expanded Pre-Award Services sets standard for aiding funding requests
Since expanding two years ago, Purdue's Pre-Award Services unit has helped nearly 2,200 faculty members submit more than 7,700 total research and grant proposals. The five total centers help faculty members who are working to create proposals for sponsor entities. Separate centers exist for the College of Engineering; Discovery Park; the colleges of Agriculture and Veterinary Medicine; and the colleges of Science, Pharmacy, and Health and Human Sciences. A central pre-award center assists colleges and departments not covered under the other centers.
Full story: http://www.purdue.edu/newsroom/purduetoday/general/2012/120411_Preaward.html


Chauncey Village facility gives entrepreneurs a place to log on, work, network
A new co-space facility in the Chauncey Village area near campus provides entrepreneurs a place to meet, work and network while building their businesses. The facility is designed for Purdue student entrepreneurs and startup founders who want an informal space with high-end Wi-Fi, casual working areas with desks, a conference table and a way to share best practices with others. The new facility, called the Docking Station, is located in the Frontier Communications building at 222 Northwestern Avenue. The Docking Station is sponsored by the Purdue Research Foundation, Burton D. Morgan Center for Entrepreneurship and Frontier Communications.
Full story: http://www.purdue.edu/newsroom/research_park_foundation/2012/120409DockingStation.html
Free, fast BLAST processing with friendly interface now available to faculty and their students
BLAST, the popular bioinformatics software, is now available to Purdue faculty and their students through a new graphical user interface running on Purdue's DiaGrid distributed computing system. DiaGrid can make thousands of processors available at once for BLAST jobs — at no cost to Purdue users. The web-based tool, called BLASTer, has reached its official 1.0 release. A beta version was available for testing previously. Users can try the software by visiting the BLASTer site at http://diagrid.hubzero.org/resources/blastgui. ITaP introduced BLAST on DiaGrid in December 2011 and developed BLASTer based on user feedback. The tool is hosted on the DiaGrid hub at http://diagrid.hubzero.org, which is built on Purdue's HUBzero platform. HUBzero, http://hubzero.org, brings computational research software and access to high-performance and cloud computing as close as the Web browser.
Full story: http://www.itap.purdue.edu/newsroom/detail.cfm?NewsId=2547
Sadowski chosen to lead Purdue Extended Campus
Mary Sadowski has been appointed dean of Purdue Extended Campus, university officials announced May 10. The appointment, subject to ratification by the university's Board of Trustees, was effective June 1. Sadowski, who has been at Purdue since 2003, is now interim dean of PEC. She was previously associate dean for undergraduate programs and learning in the College of Technology.
Full story: http://www.purdue.edu/newsroom/faculty/2012/120510SadowskiExtended.html
Purdue announces global online education initiative

President France Córdova on May 11 announced the formation of PurdueHUB-U, an online education initiative expected to extend from Purdue classrooms to around the planet. Based on HUBzero, a powerful computing platform developed at Purdue and combined with an emphasis on learner-centered modular course development and distribution, PurdueHUB-U is intended to ensure Purdue expertise and education remains a recognized leader in global education and engagement. Córdova said PurdueHUB-U would augment Purdue Extended Campus, the university's central resource for distance education activities for credit and continuing education, and the Purdue International Academy, which is being developed to work with certificate programs for executives and working professionals.
Full story: http://www.purdue.edu/newsroom/general/2012/120511CordovaHubU.html
Check the College online calendar for all events, seminars and deadlines here: http://www.ag.purdue.edu/Lists/Agriculture%20Calendar/calendar.aspx