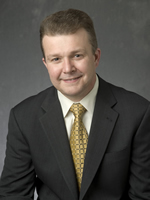 We are almost through April and graduation is just around the corner.  To say this month is a blur is an understatement as the days disappear in the frenzy of Ag Week, student celebrations, Spring Fest, graduate thesis defenses, research poster sessions, exams, grading…  We will celebrate the accomplishments of our faculty, staff, and students in InFocus next month, but I thought I'd use this month's column to lift up some very special student accomplishments.
As most of you know, the University recognizes one outstanding undergraduate man and one outstanding undergraduate woman from the more than 6,300 graduates in the May commencement.  This year, both of these students are from the College of Agriculture.  Laura Donaldson, an agricultural economics major, was named the Flora Roberts Award winner as the outstanding senior woman on the Purdue campus.  Gabe Rangel, a biochemistry major, is the G.A. Ross Award winner as Purdue's outstanding senior man.
It is hard to overstate the significance of Laura and Gabe's accomplishments – to be singled out for achievements in 'scholarship, leadership, service, and character' from the several thousand Purdue graduates this year means their accomplishments are truly extraordinary.  You will read more about Laura and Gabe in an upcoming issue of ConnectionsNOW!.  But, I am struck by the paths that Laura and Gabe each took to achieve their success, and I think their different journeys say much about this College.  
Laura was Indiana's State FFA President and has excelled not only in her agricultural economics/business coursework, but also campus leadership activities.  Among many, many other leadership activities, she was President of the Barbara Cook Chapter of Mortar Board at Purdue and President of Collegiate Farm Bureau. In addition to leading from the front, she has also played a supporting role, serving as campaign manager for the successful Rust-Hiland Purdue Student Government President-Vice President campaign.  Laura also played a crucial supporting role in our College's first Ag Week development and delivery. Laura will join John Deere after graduation in May.
Gabe is from Indianapolis.  He has been involved in undergraduate research in the lab of Dr. Scott Briggs since his freshman year.  He has spent his summers interning at the IU Cancer Center, the Howard Hughes Medical Institute, Johns Hopkins, and the Harvard School of Public Health. Gabe is a co-founder of Project HEART, a not-for-profit corporation aimed at integrating the expertise of American universities with African local knowledge and customs to empower communities for sustainable change. He will attend Harvard University in the fall on a Howard Hughes Medical Institute fellowship.
Social sciences and life sciences, rural and urban, leadership and service: in this College, we talk about preparing students to make a difference, no matter their background or the career path they choose. We have no better examples than Laura and Gabe as to how diverse those paths might be in the College, while still leading to something extraordinary.  Our undergraduates had much more to celebrate this Spring: Food science junior Molly McKneight was Purdue's first Truman Scholar finalist.  Natural resources & environmental sciences and political science major Allison Turner was named a Udall Scholar, again Purdue's first. Emily Erickson, biochemistry sophomore, was a Goldwater Scholarship Honorable Mention; Jackson Troxel, agricultural economics senior, was named the recipient of the France A. Córdova Leadership Award….  Beyond such individual accomplishments, our students conceived, planned and delivered a terrific Ag Week (See What Ag Gives), and I expect placement to be very, very strong again this year.  Just remarkable…
An exceptional academic program – undergraduate or graduate – certainly requires terrific students, but it also takes exceptional faculty and staff who are committed to student success. My thanks to every one of you in the classroom, in the laboratory, advising clubs and organizations, recruiting, mentoring, counseling, placing, and supporting these award-winning students, and all of our 2700 undergraduates and 650 graduate students. There is no doubt you truly are preparing our students to make a difference.
All the best,

PS: I can't end this message without saying congratulations and thanks to all who contributed in any way to the College of Agriculture Food Drive during March. A total of 50,863 pounds of food and cash equivalent was donated this year, far exceeding the 40,000 pound goal we set for ourselves. A special thanks to the departmental leaders who came up with fun activities and challenges, and to College coordinator Luanna DeMay, who kept enthusiasm and participation high. Read all about the food drive results in the article below.
---