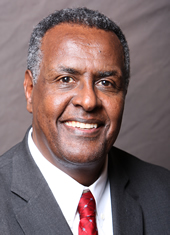 Joshua Minai sat with his laptop open in a lecture hall Wednesday morning at Purdue University with more than 30 students from across the world during the first full day of the second Borlaug Summer Institute on Global Food Security.
The Purdue agronomy graduate student listened as speakers, including the director of agricultural research and policy at the U.S. Agency for International Development, spoke about the growing global food crisis and the need for interdisciplinary research to translate to sustainable outcomes for low-income farmers in poor countries.
His mind was on Kenya, his home country, where more than 30 percent of the population is undernourished, according to the International Food Policy Research Institute's 2012 Global Hunger Index.
The chance to help solve Kenya's issues inspired him to attend graduate school in the first place, he said. Minai will return to Africa in about a week to conduct testing on a research thesis centered on how hunger impacts those living with HIV and AIDS in Kenya.
Minai is one of 35 students participating in the Borlaug Summer Institute hosted by Purdue's Center for Global Food Security, which is took place from May 29 to June 8 on Purdue's campus.
Students from myriad disciplines — including agriculture, nutrition and engineering — spent two weeks hearing from lecturers, reviewing case studies and participating in field trips. The intent is to train the next generation of leaders who will work to promote global food security.
"For global peace and stability, food is very important," said Gebisa Ejeta, director of the Center for Global Food Security and 2009 World Food Prize laureate.
The program, part of the U.S. Borlaug Fellows in Global Food Security program funded by a $5 million grant from USAID's Feed the Future program, kicked off with a keynote address from Rob Bertram, the USAID director.
Bertram highlighted the social, political, structural and other challenges facing nations as well as initiatives in place to mitigate those challenges, including Feed the Future, which was launched by President Barack Obama in 2009 to advance and transform agriculture in the developing world.
"We know that agriculture has to change to meet the global challenge, but how does it change?" Bertram said. "We're trying to get to bottom-up growth, and it's not easy."
Bertram said almost 1 billion people suffer from chronic hunger and more than 3.5 million children die from under-nutrition every year worldwide.
The world population is expected to reach 9 billion by 2050, according to USAID.
"If I turned the clock back seven or eight years, all these things were true and we knew them," he said. "But we didn't have a global galvanizing on this issue."
What finally prompted action, Bertram said, was the spike of global food prices in 2008. When global trading prices tripled in a matter of six months, according to the U.S Department of Agriculture, decision makers and others analyzed why food production was not keeping up with population growth.
Food, he said, became "not just ... a moral, humanitarian issue but a political issue. If you're poor and living in the developing world, you might be spending 60 or 70 percent of your income on food. If it doubles or triples in price, you're in trouble. Food prices hit the poor most severely."
Ejeta said Purdue is uniquely positioned to tackle the issues of hunger.
"We can pool expertise from all over the campus ... and share it with students," Ejeta said. "The idea is to (train) the next generation of students who understand the complexity of the issues of food security. Very often we train our graduate students in disciplinary issues. When you're addressing hunger, you need to develop a very comprehensive understanding. "
Jasbir Sangha, a part-time doctoral student at the University of Maryland and a nutritional epidemiologist for the Centers for Disease Control and Prevention, said being at the institute has opened her eyes to all the components involved in under-nutrition and hunger, including stunted growth, which is primarily seen in young children but can start before birth because of maternal malnutrition.
Sangha said she is looking forward to learning from those from all disciplines, including those working to improve water safety and to help farmers grow more drought-resistant crops.
"It's not just nutrition," she said. "There's so much more to it."