It was purely accidental that Nichole Louis made her way into the food safety field, but it's something she is deeply thankful for two decades later. 
Louis, food safety manager for Gleaners Food Bank of Indiana, Inc., initially enrolled at Purdue University as a chemical engineering major, but during her first day on campus she walked into the wrong classroom. 
"I was supposed to go to a seminar for my major, but I walked into the wrong seminar where they were making coloring crayons out of soybeans, and I thought it was amazing," Louis said. "And from there is when I made that switch over to food science." 
When Louis graduated from Purdue in 2004, she accepted an offer from PepsiCo quality management. After several years of working her way up through management positions at PepsiCo, Louis heard of a new opportunity in her hometown of Indianapolis, as Gleaners looked to bring on a new food safety manager to better meet the increasing demand on local food pantries.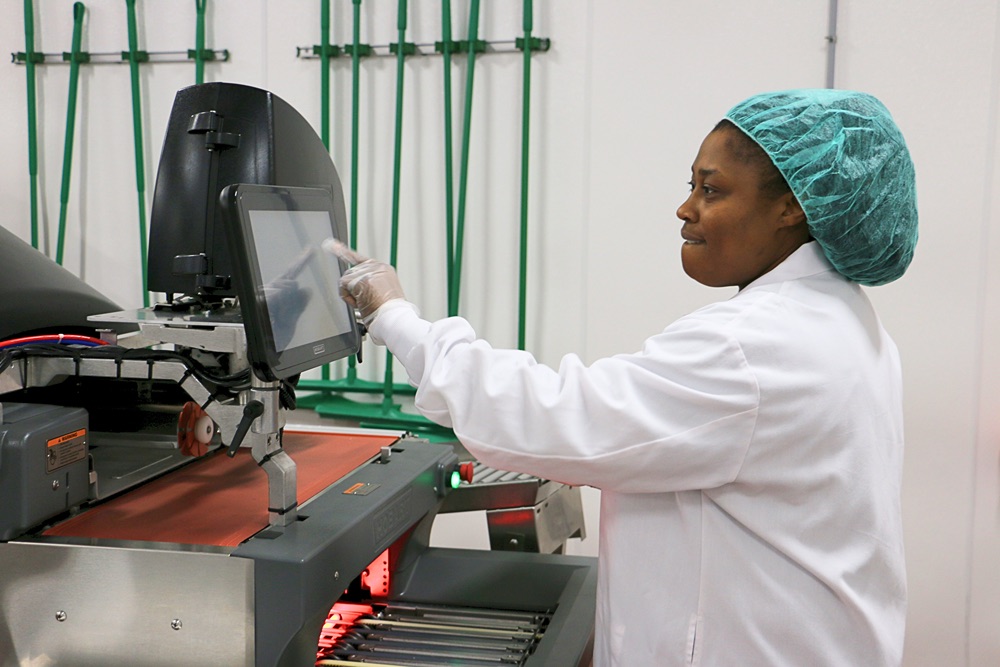 Now at Gleaners for just over a year, Louis manages all state and federal audits among other safety protocols. One of her biggest marks at Gleaners has been overseeing the development and construction of a "clean room." The new addition allows for bulk protein donation intake, which is then repackaged safely into smaller, family-sized portions. 
Rachel Moehle, director of marketing for Gleaners, said tens of millions of pounds of food pass through Gleaners' doors each year, making its way onto their organization's shelves as well as the shelves of over 300 agency partners across the state and the country. 
"Nichole's hand is in all of that, ensuring the food our neighbors receive is just as safe as if they were to get it directly from the grocery store," Moehle said. "It's very important to us that the dignity of our neighbors is front of mind, and Nichole's role really ensures that everyone is getting the best possible product we can offer." 
During her time as an undergraduate at Purdue, Louis said, that although she couldn't see it in the moment, her agricultural education was setting her up for life "big time," especially the food microbiology classes with retired professor of food science Maribeth Cousin, where she was taught how to develop Hazard Analysis Critical Control Point (HACCP) plans. 
"When I came out of Purdue and went to PepsiCo, I saw they had a HACCP plan, and having a solid knowledge of developing those plans landed me on their corporate HACCP committee," Louis said. "Here at Gleaners, in order to have our clean room, I had to develop four different HACCP plans from scratch. Knowing how to do that all started at Purdue." 
In her day-to-day tasks at Gleaners, Louis often finds herself leaning back on her Purdue education as well, using problem solving tools she developed as an undergraduate. 
"I always say I am a professional problem solver. I've always naturally been a helper, but Purdue really gave me the tools I needed to take any problem head on, and I try to instill that in those around me."

 
In recent years, the demand on food pantries has continued to increase, leading to a trickle effect of more donations from community and corporate donors and an increased awareness of food safety. Moehle said protein can often be scarce at food pantries, but the clean room developed by Louis has played a large role in combatting that dilemma. 
A recent donation of fresh chicken from Tyson Foods wouldn't have been possible for Gleaners to accept without the clean room, Moehle explained, as the quantity was so significant, coming in at nearly 20,000 pounds, Louis and her team were able to package the chicken individually to feed Gleaners clients, along with several other area food banks.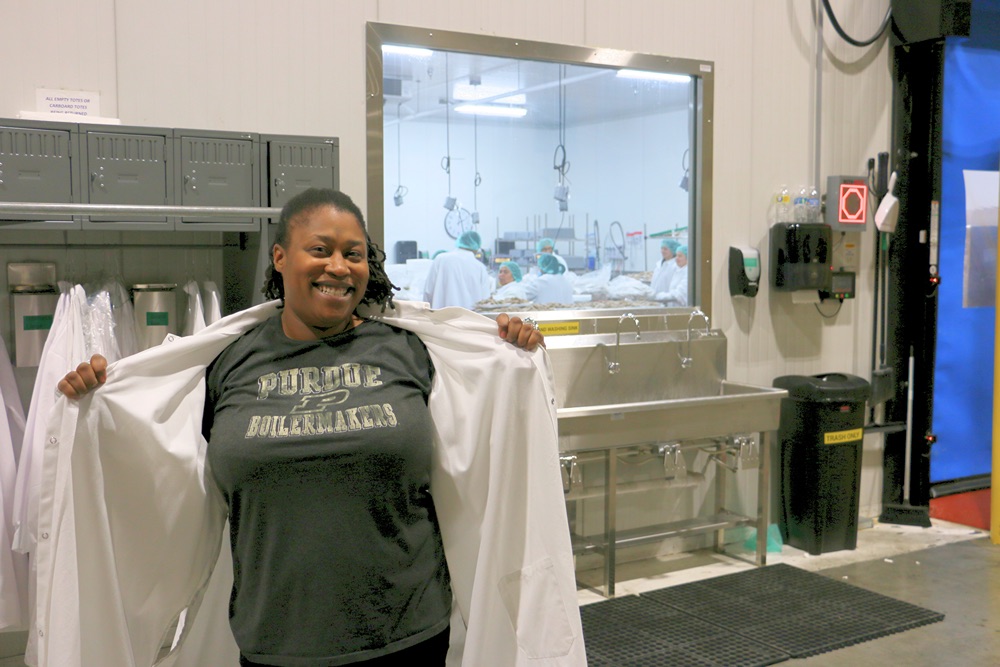 "Gleaners was the only facility that had the capacity to take a donation like this on. Had we not been able to process it, all of that chicken would have gone to a landfill," Moehle explained. "With that donation we were able to feed tens of thousands of families in need." 
Although Gleaners' clean room has only been open and operating since March, the impact the facility is having on the Central Indiana community is profound. Looking at the progress she's made in her own community, Louis said she owes her work within the clean room to the room she accidentally walked into 20 years ago. 
"I have always been able to lean on the community that is Purdue Food Science, both when I was a student and now as a working professional," she said. "I say it often, but Purdue really set me up for life." 
Photos for this story provided by Gleaners Food Bank of Indiana, Inc.