Helping others succeed is her way of giving back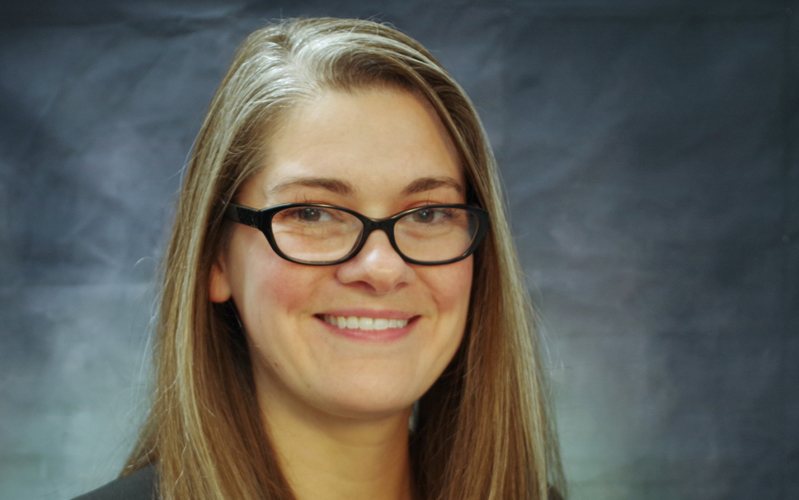 When talking to Brittany Kloer, it is obvious that she has a passion for helping students find their way to success and will push mountains to make sure she is providing students with opportunities to excel.
Kloer (B.S., Agricultural Education, 2008) got excited when she started talking about student success. She spoke faster when talking about them, and it was clear she could not contain her excitement - even if she doesn't like to talk much about herself. Kloer is currently the Area 18 Career and Technical Education Director, a role that places her behind the scenes while she helps her students find the spotlight. Kloer was recognized in October as a 2021 ASEC Distinguished Alumnus. She helps students find success through many different passages, but the main ways are through providing community service opportunities and career and technical education.
Her passion for community service started early.
"At a young age, my father taught me to give back to my community, so I have always been an advocate for volunteering and serving your community," Kloer said.
For Kloer, community service is so much more than the act itself; it's about the immeasurable skills it teaches students. Community service, she said, allows students to find a sense of belonging in their small rural communities. As Kloer views it, the increased sense of belonging causes students to participate more and seek to improve their community more, which is its own success.
During the community service projects she directs students to work not only independently, but also as a team to set and achieve their goals. During this process, Kloer said she is a mentor and resource to the students.
By allowing her students to plan, organize, and execute the events on their own, Kloer has taught students to maintain levels of professionalism. She also said the students are instilled with a sense of pride for serving their communities and they gain a sense of achievement when their plans come together.
Kloer explained that her passion for career and technical education stems from her high school vocational classes. Those classes provide students with hands-on experiences that develop leadership and problem-solving skills. They also build students' confidence in their abilities and skills, Kloer said.
"Career and technical education allows my students to find a passion in a career choice," she said.
Kloer's own career began as an agriculture educator and
FFA
advisor at
Jay County Junior-Senior High School
.
While Kloer is passionate about helping students find success, that was not always the case. When she began college, she majored in Agricultural Education for the leadership skills and diverse education background in the major more than to become an educator, Kloer explained.
But when it came time to graduate, Kloer said there was a large demand for agriculture educators in Indiana, so she went into teaching. During her time at Jay County High, Kloer said she quickly realized she enjoyed working as an educator. She said it placed her behind the scenes while she helped others find the spotlight. She also used the leadership skills and diverse agricultural knowledge she gained from her degree.
Kloer said she tried to be intentional in her interactions with students to teach them to take pride in their accomplishments along with the process of becoming strong leaders.
While she is no longer working as an agriculture educator or FFA advisor, Kloer said she still relies heavily on her agricultural education degree. She now works largely with high schools principals in Area 18 to ensure that students will be able to have access to the career and technical education she believes is vital to a student finding success.
Even in her new role, though not much has changed from when she began her career and first realized her passion for helping students, she still aims to keep helping students find their own success. Although she no longer works directly with students, she said her first priority is to ensure that students are provided with the opportunities they need to take pride in their work and accomplishments and to develop strong leadership skills.
2021 ASEC Distinguished Alumnus
Brittany Kloer
B.S., Agricultural Education, 2008
Career and Technical Education Area Director
Area 18 CTE Cooperative
Brittany Bridges Kloer currently serves as the Area 18 Career and Technical Education Director, overseeing nine school corporations. She was an agricultural educator and FFA advisor at Jay County High School from 2008-2020. Kloer believes agricultural education provides the foundation for students to make informed decisions, think critically, and evaluate relevant issues using problem-solving skills. To reduce teacher turnover in agriculture education, Kloer created a student management system that has come to be known as the Comprehensive POA (CPOA) and has reached over 1,200 agricultural educators across the country. CPOA provides a practical approach for managing an FFA chapter, providing hands-on experience for students, which provides leadership opportunities and tests students problem solving skills. She believes students are empowered in the classroom when they are able to make positive differences by using the skills they have learned to serve their communities. Kloer was named the National Association of Agricultural Educators Outstanding Agricultural Education Teacher in 2019 and the Indiana Association for Career and Technical Education Teacher Educator of the Year in 2020 for her efforts.
Kloer grew up on her family's Hoosier Homestead Farm in central Indiana. She earned her bachelor's degree in Agricultural Education with a minor in Horticulture from Purdue in 2008. She earned a master of science and licensure degree in Education, Educational Administration from Purdue University Northwest in 2013, and a master of science in Career and Technical Education, Curriculum, and Instruction from Purdue in 2021.
In 2015, Kloer was selected by the Region IV Association of Agricultural Educators Board to serve on the National Policy and By-Laws Committee, and served as national chair from 2018-2020. Kloer currently serves as the legislative chair for the Indiana Association of Career and Technical Education Directors Division. She also served as a stakeholder for the Trump Administration Office of Public Liaison Food and Agricultural Outreach Committee. As an advocate for agriculture and education, Kloer believes there is value in connecting legislators to her rural community and classroom.