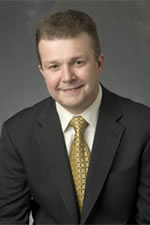 As 2013 comes to a close, this column has a simple message:  It has been an extraordinary year for the College, and I simply want to say thank you to each and every one of you who made all we accomplished possible.
Pick your highlight this year: booking the largest individual gift ($65m) in Purdue history; Gabe Rangel and Laura Donaldson being named Purdue's top seniors; the Agricultural and Biological Engineering undergraduate and graduate programs ranked #1 in the nation by US News for the third and fifth years respectively; the Landscape Architecture program climbing to #3 in the nation as ranked by Design Intelligence Magazine; securing the $1.25m in AgSEED funds from the state legislature; enrolling our largest undergraduate class since 1982; the Purdue Moves Plant Sciences Research and Education Pipeline initiative; a terrific group of new faculty joining us this year; our first (and very successful) small farms conference; Jason Henderson and Brian Farkas joining our College; continued momentum around the PICS project; our College's #6 ranking among agricultural and forestry institutions worldwide by Quacquarelli Symonds (QS)…  I could go on, but you get the idea – we have had another exceptional year as a College.
Just as exciting to me are the initiatives we are working on: the distance education task force report (exploring distance education for our teaching and Extension missions) will be completed this month; the task force report on enhancing the climate of the College will be delivered in February; the Plant Sciences Research and Education Pipeline Initiative is picking up momentum; we are off to a strong start in raising funds for the new Ag and Life Sciences Building (Animal Sciences); more than 20 faculty searches are underway; IPIA is working to take advantage of the Purdue Moves investment in Study Abroad to expand student participation in these transformational international experiences; the Issues 360 pilot focused on developing our students' skills to engage in contentious issues is moving ahead…again, I could go on.  In 2014, we will also kick off our strategic planning process to set the course for our College for the longer term.
It is exciting to hear our President regularly talk about STEAM – Science, Technology, Engineering, AGRICULTURE, and Math. But, he and our Trustees have done much more than talk about our College – they have made important investments in the College, and they have important expectations about the return on those investments. The State of Indiana has placed a big spotlight on food and agriculture innovation, and we figure prominently in those plans. While there is no shortage of challenges (yesterday's announcement from the state about University funding being one of them – we will update you as soon as we know more), 2014 promises to be another exceptional year.  
Now to the other part of my message: Thank You! The people of this College make extraordinary things happen every day—in the classroom, in all 92 Indiana counties, in the laboratory, on the farms, and in more than 60 countries around the world. Some of these extraordinary accomplishments are very visible – our faculty who were inducted into the Teaching Academy and the Book of Great Teachers, Tom Hertel's Purdue University Research and Scholarship Distinction award, our researchers whose discoveries were published/patented this year, to list just a few. Many, many extraordinary contributions are behind the scenes – getting our college IT network up and running after a storm; finding a replacement combine after a fire and completing the harvest at ACRE; managing the review of 95 AgSEED proposals; doing timely and thorough background work for budget reviews; educating the public on our research and Extension through a myriad of media channels and making sure the accomplishments of our alumni are recognized in the media…  We are a great College because of what each of you bring to your work every day.
I wish each and every one of you a happy and healthy holiday and look forward to working with you in 2014 to make Purdue Agriculture an even better, more impactful College, making a difference for the people of our state, nation, and world.
All the best,

---