Tar spot of corn – draft genome resource
Tar spot of corn is caused by Phyllachora maydis. This disease has recently led to significant yield loss in the U.S. and in Indiana.
Our lab is actively involved in research to better understand its biology and management. We recently completed and released a draft genome sequence of Phyllachora maydis. More information about this resource can be found in the following publication: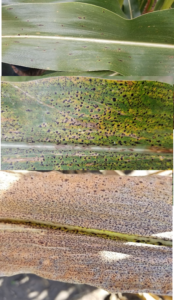 Telenko, D. E. P., Ross†, T., Shim, S., Wang, Q., and Singh, R. 2020. Draft genome sequence resource for Phyllachora maydis – an obligate pathogen that causes tar spot of corn with recent economic impacts in the United States. MPMI 2020 Apr 1. https://doi.org/10.1094/MPMI-03-20-0075-A.
We hope this resource will assist in understanding the genomic features of the tar spot pathogen and aid  identifying potential resistant candidate genes for breeding programs.