Led by the U.S. Agency for International Development (USAID), Feed the Future is the U.S. Government's initiative to end global hunger and enhance food security. More than 20 Feed the Future Innovation Labs pair experts from leading U.S. universities with research and educational institutions in developing nations to address grand challenges in agriculture and food security.
The Feed the Future Innovation Lab for Food Processing and Post-harvest Handling works in cereal (maize, millet, sorghum, rice) and grain legume value chains in Kenya and Senegal.
Our proposed research will support and strengthen post-harvest value chains in these to overcome constraints that cause food loss.
Our strategic, sustainable, market-driven research concerns two core components:
Grain Drying and Storage
Poor post-harvest drying causes mold contamination and insect infestation during storage. Our work in this area will pursue:
Affordable drying, moisture-testing and storage technology
Innovative delivery strategies for technology
Public-private partnerships to strengthen effectiveness
Market availability of high-quality grains and legumes
Food Processing and Nutrition
Proven processing techniques can broaden producers' market opportunities and enhance nutrition. Our work in this area will pursue:
Enhanced nutrition using locally available, nutrient-rich ingredients
Accelerated food and nutrition security for consumers
Expanded commodity market opportunities for producers
Economic growth within agricultural sectors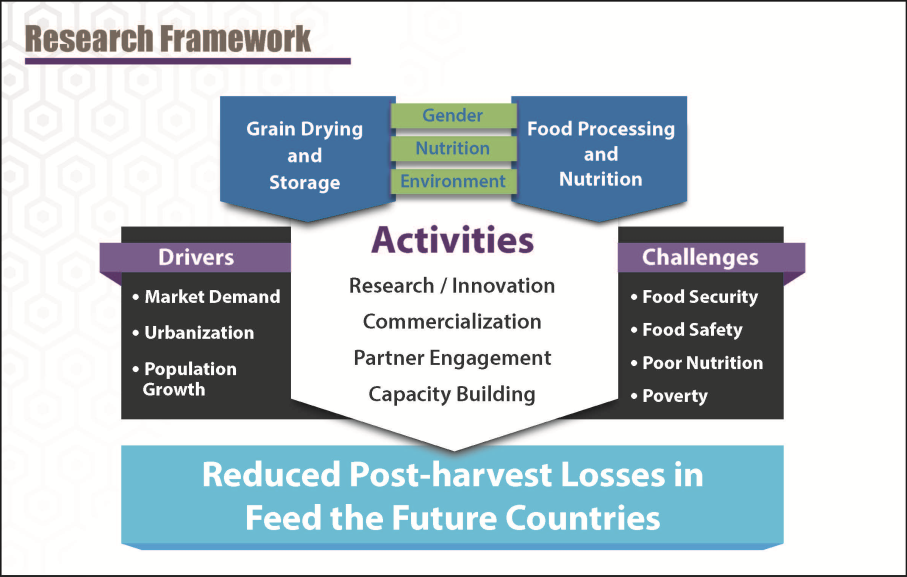 All stages of project cycles will account for cross-cutting issues of gender, nutrition and environmental strength.
Our work will build on Purdue and its collaborators' existing records of post-harvest value chain research and development that lead to improved market access for farmers. Key results from past work include:
Purdue Improved Crop Storage (PICS) technology to reduce losses due to insect damage
Effective translational research to disseminate food processing technology to rural and urban areas
Additionally, we have expertise and experience in drying technologies to decrease grain loss due to mold and translational nutrition to pursue market-driven strategies to incorporate key shortfall nutrients into new, innovative products.
Impact Pathways
| OUTPUTS | OUTCOMES | IMPACTS |
| --- | --- | --- |
| Technologies and innovations to improve quality and safety of grains and legumes after harvest | Improved grain handling and storage capacity | Reduced post-harvest losses in FTF countries |
| Diversify high quality and nutritious food products that drive markets | Improved quality and safer grains and legumes that meet local and international standards | Improved food and nutrition security in FTF countries |
| Evidence of strong public/private partnerships in reducing losses | Increased access to safe, high quality and nutritious food products | Increased family incomes |
| Capacity for post-harvest research and development strengthened | Improved market opportunities and access for farmers | Improved quality of life for women and children |
| | | |