2020 Field Crops Pathology Research Activities
Wednesday, April 22nd, 2020
Welcome to the Telenko Lab Research Blog!
We hope to use this space to provide updates on all the exciting research our team is undertaking.
Year two of our field season is off to an interesting start working under new COVID-19 guidelines. Our lab is involved with a wide assortment of critical agricultural research on all diseases of field crops. We are currently working under social distancing guidelines, while still preparing to plant corn and soybeans. In addition, we are working remotely on ways to increase our online Extension educational resources, so stay tuned.
I am excited that I have pulled together a great team and look forward to sharing updates about our research and Extension projects as they continue.
---
Tar spot of corn – draft genome resource
Thursday, April 16th, 2020
Tar spot of corn is caused by Phyllachora maydis. This disease has recently led to significant yield loss in the U.S. and in Indiana.
Our lab is actively involved in research to better understand its biology and management. We recently completed and released a draft genome sequence of Phyllachora maydis. More information about this resource can be found in the following publication: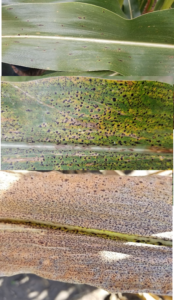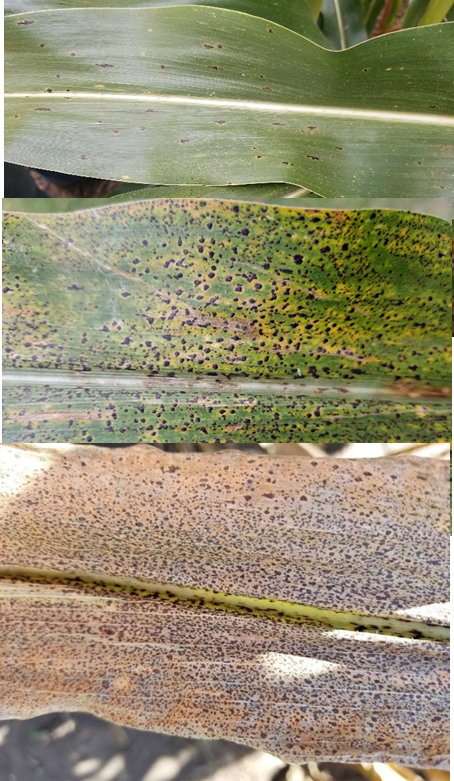 Telenko, D. E. P., Ross†, T., Shim, S., Wang, Q., and Singh, R. 2020. Draft genome sequence resource for Phyllachora maydis – an obligate pathogen that causes tar spot of corn with recent economic impacts in the United States. MPMI 2020 Apr 1. https://doi.org/10.1094/MPMI-03-20-0075-A.
We hope this resource will assist in understanding the genomic features of the tar spot pathogen and aid  identifying potential resistant candidate genes for breeding programs.
---
Wheat Scab
Thursday, April 16th, 2020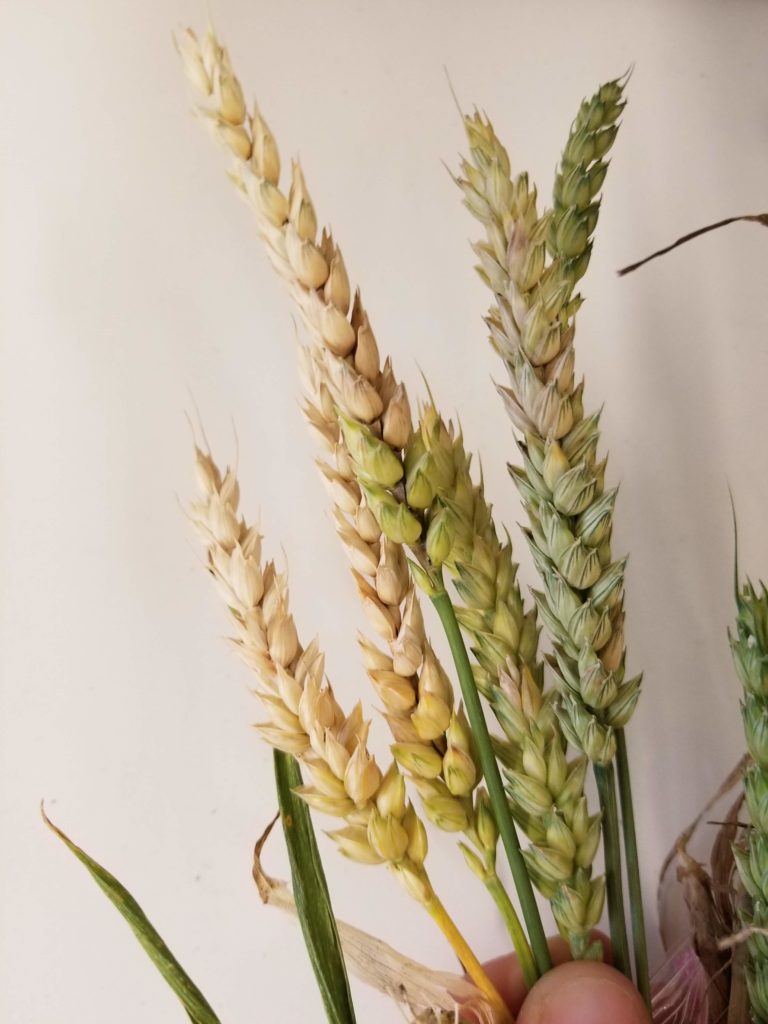 Fusarium head blight or scab, caused by Fusarium graminearum, severity on wheat vary each year in Indiana. The disease is consistently present and of concern to growers. Cultivars with moderate resistance to Fusarium head blight do not always provide desirable levels of disease control in certain environments, and fungicides have become an important component in Fusarium head blight and DON (deoxynivalenol/vomitoxin) management plans in the region. An integrated approach that combines genetic resistance and fungicide application is desirable to achieve optimal management of Fusarium head blight. Continued evaluation of action thresholds and new products for our climate are needed in order to provide informed fungicide spraying decisions.
Evaluation of Foliar Fungicides for Fusarium Head Blight in Indiana – 2019
(Source: Telenko. Applied Research in Field Crop Pathology- 2019 BP-205-W)
---