Farmer Sentiment Collapsing As Financial Conditions Continue to Decline
Jim Mintert gives his breakdown on the Purdue/CME Group Ag Economy Barometer May results at purdue.ag/barometervideo.
Download report (pdf)
James Mintert and Michael Langemeier
The Ag Economy Barometer, an agricultural producer sentiment measure based upon a nationwide mid-month survey of 400 U.S. agricultural producers, dropped again in May. The May barometer reading of 101 was 14 points lower than a month earlier and was the lowest barometer reading since October 2016. For the second month in a row, the decline in farmer sentiment was attributable to big declines in both the Index of Current Conditions, which fell from 99 in April to 84 in May, and the Index of Future Expectations, which fell from 123 in April to 108 in May. This month's declines in the barometer and in its two sub-indices effectively erased all of the large improvement in farmer sentiment that took place following the November 2016 election. This month's survey was conducted in mid-May, in the midst of a wet spring planting season, but prior to USDA's announcement that a second round of trade dispute payments would be made to U.S. crop producers in 2019.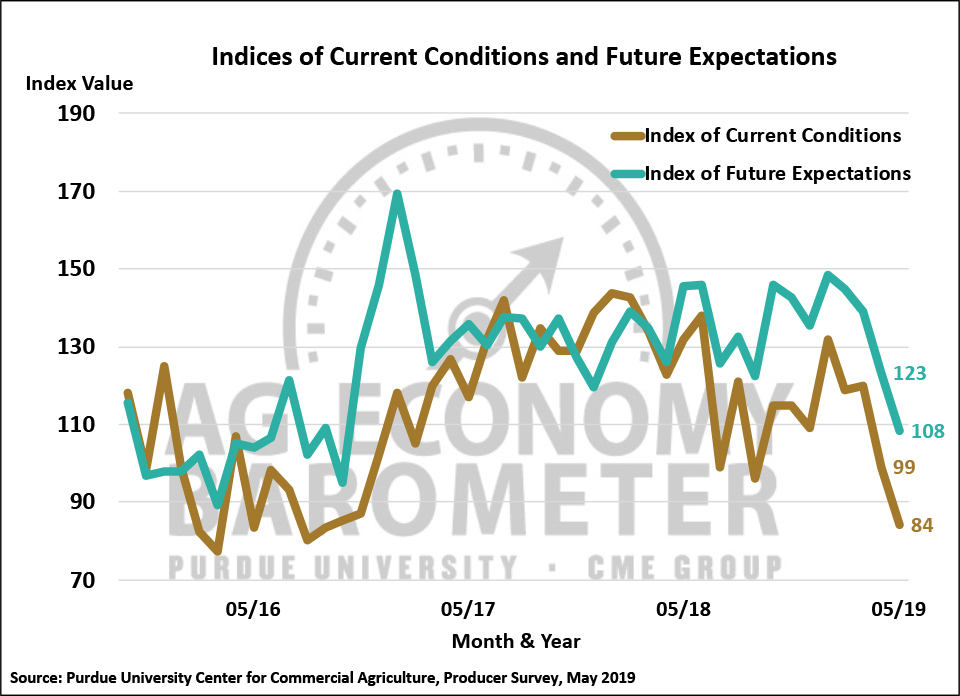 Ag producers' sentiment regarding the advisability of making large investments in their farming operations, measured by the Large Farm Investment Index, collapsed to a reading of 37 in May, 11 points lower than in April and 23 points lower than a year earlier. The Large Farm Investment Index's May reading was its lowest value since data collection began in fall 2015. Although the Large Farm Investment Index has ebbed and flowed over the last year, it has trended lower since the start of 2019 when the index stood at 62.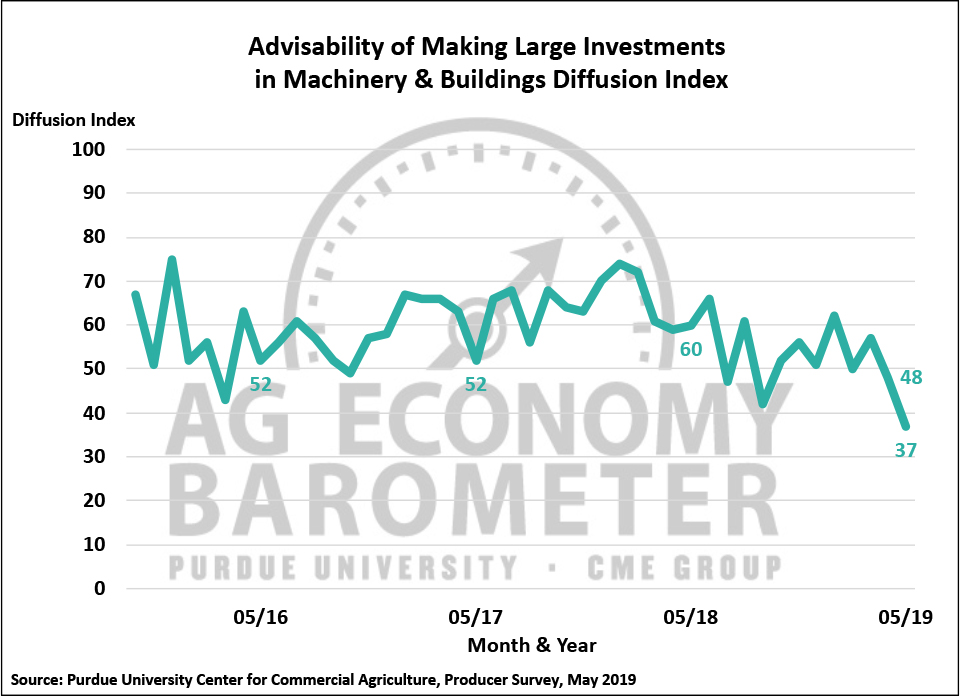 Farmer sentiment regarding farmland values provides insight into both their short-run and longer-term view of the agricultural economy. Since the beginning of 2019, the percentage of farmers that expect farmland values to decline over the course of the upcoming year has been increasing, rising from 21 percent in January to 25 percent in March and most recently 30 percent in May. The increasingly negative short-run outlook for farmland was attributable to a shift away from an expectation that farmland values will remain unchanged towards an expectation for lower values. Sentiment regarding the longer-run movement in farmland values has also waned, especially since March. In May, just 39 percent of producers said they expect farmland values to rise over the next five years, compared to 48 percent that expected rising values on the March survey. The shift in longer-run sentiment was primarily attributable to movement away from expecting farmland values to increase towards expecting farmland values to remain about the same. So, from both a short-run and longer-run perspective, farmers appear to be less optimistic about future farmland values than they were in early 2019.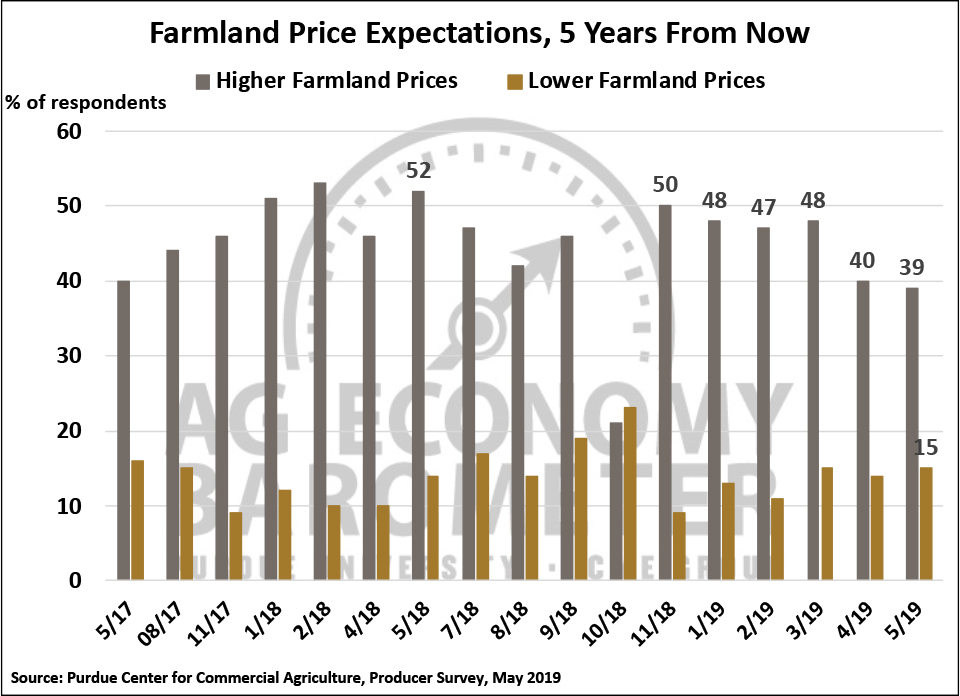 Periodically, we ask producers whether they expect farmers' equity position to improve, diminish, or stay the same over the next 12 months. Responses to this question provide a guide with respect to farmers' overall assessment of profitability in the production agriculture sector. Throughout the history of our surveys, farmers have not been very optimistic regarding future changes in farmers' equity position with more than one-third of respondents consistently expecting farmers' equity to decline. With that caveat in mind, producers exhibited a noticeably more negative view in May than the last time we posed this question back in February. In May, 55 percent of respondents told us they expect farmers' equity to decline over the next year, up from 39 percent that felt that way in February and 35 percent that felt that way a year earlier.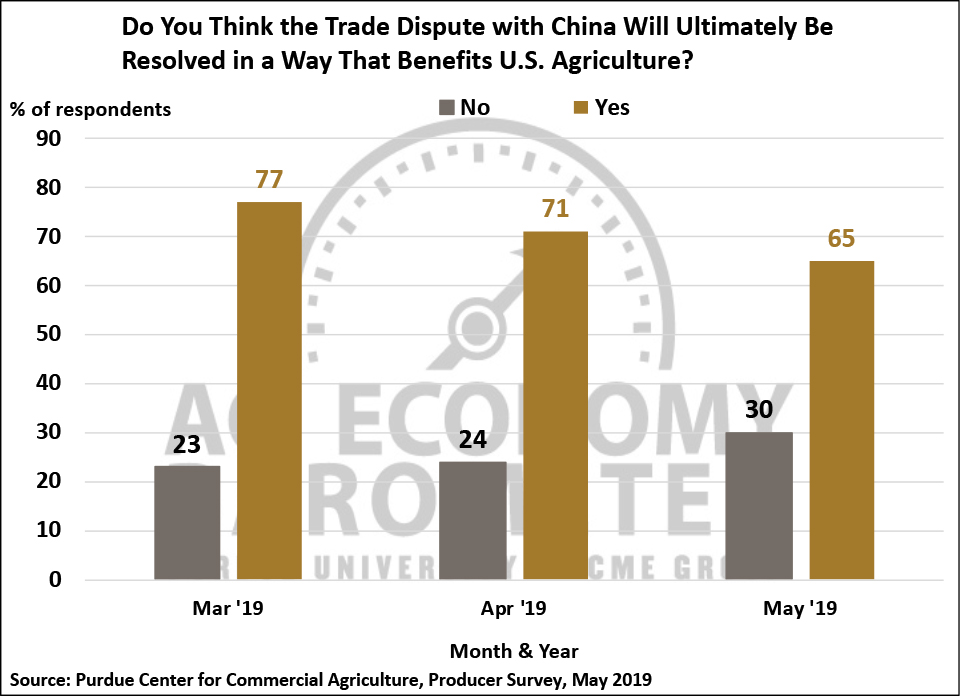 One source of anxiety for U.S. farmers continues to be uncertainty about agricultural trade. Over the last three months we've been asking survey respondents two questions about the trade dispute with China to ascertain how optimistic or pessimistic they are regarding future trade prospects. The first question focuses on the percentage of producers that expect the soybean trade dispute with China to be resolved by July 1, which has declined rapidly. On the March survey 45 percent of respondents expected the dispute to be resolved by July 1, but that percentage declined to 28 percent in April. Most recently, on the May survey, just 20 percent of farmers in our survey said they expect the dispute to be resolved by July 1.
The second question we have been tracking with respect to trade is focused on whether or not producers expect the trade dispute with China to ultimately be resolved in a way that benefits U.S. agriculture. In March just over three-fourths (77 percent) of respondents told us they expected a favorable outcome to the trade dispute. That percentage declined to 71 percent in April and, on the May survey, approximately two-thirds (65 percent) of respondents said they still expect a favorable outcome for U.S. agriculture.
Wrapping Up
For the second month in a row, agricultural producer sentiment experienced a big decline as the Ag Economy Barometer fell 14 points in May to a reading of 101. The sentiment decline was again driven by producers' weakening perceptions of both current economic conditions and expectations for the future. Overall, producer sentiment was the most negative we have observed since October 2016. The Large Farm Investment Index fell to its lowest level since data collection began in fall 2015, indicating that farmers are very reluctant to make major investments in their farming operations. Farmers' expectations for both short-run (12 months ahead) and longer-run (5 years ahead) changes in farmland values also weakened, especially when compared to their perspectives in early 2019. Finally, producers' confidence that the trade dispute with China will be resolved quickly is waning and they were also less confident that the trade dispute would ultimately be resolved in a way that favors U.S. agriculture than they were earlier in the year.