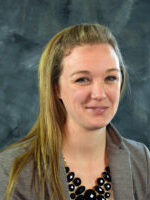 Multimedia Specialist, Center for Commercial Agriculture & the Department of Agricultural Economics
Sarah Zahn is the Center for Commercial Agriculture's multimedia specialist. She is responsible for the web, marketing, and multimedia for the Center's programs, faculty, and participants. Sarah plays a major role in the publication, promotion, and communication of the monthly Ag Economy Barometer, the monthly Commercial AgNews e-newsletter, the weekly Purdue Commercial AgCast podcast as well as the Center's webinars, events, videos, websites, and social media platforms.
Sarah was raised on a small grain and livestock (hogs & cattle) farm in Kokomo, Indiana. Sarah is a Purdue AgEcon alumnus, earning a BS in Agricultural Economics from the department in 2010. Before returning to Purdue as staff in 2018, she helped develop and design a crop-modeling software while working for a local Lafayette ag tech company. She has also worked in precision agriculture, crop consulting, and digital marketing in previous positions in her career.
In her time away from the Purdue office, Sarah can be found with her husband chasing around their two young sons, managing & working on the family farm, or spending time outdoors.
P: (765) 494-4310            E: smithse@purdue.edu