2022-08 PAER Purdue Farmland Values & Cash Rents Survey Results
The Purdue Farmland Value and Cash Rents Survey suggests Indiana farmland prices grew at a record pace between June 2021 and June 2022, exceeding previous highs set in 2021. Statewide, top quality farmland averaged $12,808 per acre, up 30.9% from the same time last year. The average per acre price of average quality farmland similarly increased by 30.1% to $10,598. Poor quality farmland prices exhibited the largest increase of 34.0% to $8,631.
"Multiple factors are influencing the increase in farmland prices, including positive net farm incomes, relatively strong commodity prices, inflation, and high farmer liquidity," said Todd H. Kuethe, Purdue associate professor and Schrader Endowed Chair in Farmland Economics and survey author. "However, rising interest rates are associated with increased costs of borrowing, which put downward pressure on purchases financed through mortgages."
Statewide cash rental rates also increased across all land quality classes in 2022. Average cash rents increased by 11.5% for top quality land, 10.8% for average quality land, and 13.2% for poor quality land. The increases in cash rents were the highest observed since the 2011–2012 period. Across the three quality grades, cash rents also reached a new record high in 2022 at $300 per acre for high quality farmland, $252 for average quality, and $207 for poor quality land. At the regional level, the largest cash rental rate increases for top and average quality land were in the Northeast (21.3% and 13.2%, respectively), and the largest increase for poor quality land was in the Southwest region (18.6%). Across all three quality grades, the highest per acre average cash rent was observed in the West Central region.
To view the full Farmland Values & Cash Rents survey results, as well as associated articles and charts, please select from the articles listed below.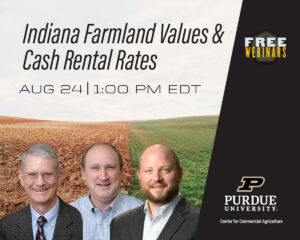 Indiana Farmland Values & Cash Rental Rates: 2022 Update Webinar
Purdue ag economists Todd Kuethe, James Mintert, and Michael Langemeier discussed the results from the 2022 Purdue Farmland Values and Cash Rents Survey and USDA's Land Values report during a webinar on August 24th. The team provided an update on the change in Indiana farmland values and cash rental rates and reviewed farmland value estimates from USDA for the entire Corn Belt and compared the changes observed on the Indiana survey to USDA's findings.
The webinar recording and accompanying slides are available at https://purdue.ag/landvalues2022.
Articles in this Publication: