Alumni Spotlights
Wednesday, November 22nd, 2017
Tell us about someone you know
Do you know a Purdue Agriculture alumna/alumus who's been in the news recently – or done something quirky or interesting? We'd love to hear about it!
Joe Kelsay and Kim Minich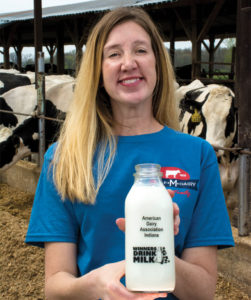 Dairy farmers Joe Kelsay (BS '99, farm management), shown above, and Kim Minich (BS '02, agricultural economics), represented the American Dairy Association, Indiana, at the 101st running of the Indianapolis 500, assisting in the visual spectacle of a drink (or a shower?) of milk for the winner. Kelsay handed his to driver Takuma Sato, while Minich delivered refreshment to the winning team owner and chief mechanic. The tradition dates to 1933, when Louis Meyer requested a glass of buttermilk after winning his second Indy 500. When a photo of this custom appeared in the newspaper after his third win in 1936, the dairy industry quickly capitalized on the opportunity to make milk an integral part of Indy 500 culture.
Sarah Williams
Sarah Williams's latest project is on a campus familiar to many of us—but not a collegiate one. Williams (BS '07 landscape architecture, RLA, ASLA), an associate with OLIN, helped design the landscape for Apple Park, Apple's new headquarters in Cupertino, California. OLIN's work on the tech giant's landmark new campus began in 2011, when the project was in its earliest conceptual stages. Williams relocated to California in 2015 to oversee the landscape's construction from OLIN's field office in Cupertino. She served as OLIN's annual Purdue intern during the 2005–2006 school year and rejoined the firm's Philadelphia studio in 2007. In addition to Apple Park, she has worked on a diverse range of projects during her career at OLIN, including private residences in France, the historic California Memorial Stadium at the University of California, Berkeley, and the winning design in a national competition to transform Pratt Street, one of Baltimore's historic thoroughfares.
Cameron Mann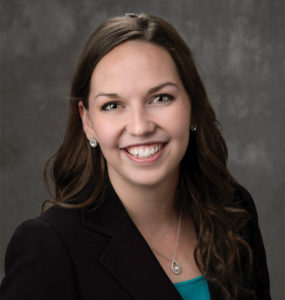 "Outstanding" is frequently used to describe Cameron Mann (BS '17, agricultural communication and agribusiness) and her achievements, including the 2017 Flora Roberts Award. The annual award honors Purdue's outstanding senior woman for scholarship, leadership, character, and service to the university community. It has been won by a College of Agriculture graduate seven times in the last 15 years. Among her many activities in the college and across campus, Mann served two years as the student representative to the Purdue Board of Trustees. She has now joined Purdue's Agricultural Advancement team as stewardship coordinator.
Susan Brocksmith
Susan Brocksmith (BS '83, agricultural and biological engineering) is a professor of agribusiness and department chair at Vincennes University, but was recently honored for another of her roles with Monsanto's America's Farmers Mom of the Year award. Nominated by her daughters Victoria and Casandra, she looks forward to the platform to discuss modern agriculture and food production with even more people. "We are as concerned about our environment as any other person," she told Brownfield Ag News. "We want to make our soil and our food safer and better than when we started."