Then and Now
Monday, November 20th, 2017 Morgan Sussman
Forestry, wildlife, and fisheries majors in Purdue's Department of Forestry and Natural Resources attend one five-week summer practicum in the Upper Peninsula of Michigan, traveling to Hagerman Lake in Iron River for practical, hands-on experience in the field of natural resources. Alumna Cortney Mycroft, who now coordinates the program, and current student Lexi Eiler share how the practicum shaped their ideas about their careers after Purdue.
Cortney Mycroft – BS '03, MS '05 Forestry
Cortney Mycroft has always had an allegiance to Purdue. Her mother and grandparents were alumni, and in addition to completing her degrees in the College of Agriculture, Mycroft works as the natural resources lab coordinator and collections curator for the Department of Forestry and Natural Resources (FNR).
"I seem to have a boomerang effect with this department," Mycroft says. After working as a project manager in northern Indiana, a project coordinator for Purdue's Hardwood Ecosystem Experiment in southern Indiana, and a data analyst for a company in Florida, she returned to her home department when her former instructor for dendrology (the study of trees) retired.
"It felt like I never truly left. When I heard Sally Weeks was leaving, I came back to teach dendrology. It's a legacy for me," Mycroft says. She also manages the vertebrate labs in addition to the summer practicum.
"Purdue never left me."
Attending the practicum as an undergraduate in 2001 altered her career path. "Summer practicum taught me that I was not meant to be out in the field all the time," Mycroft says. "It helped me redirect my education; I started to focus more on computer and communication skills. Some people are much more field-oriented than computer-oriented, so I saw a niche I could fill."
Now leading the program, Mycroft enjoys seeing FNR students find their calling and form lasting friendships.
"You have to make connections, work in as many different capacities as you can, and figure out what you don't want to do with your life. Everybody has to start somewhere," Mycroft says. "Purdue never left me. I could always turn back and get references—they were just a phone call away. Undergraduates should make and maintain a network of FNR faculty, staff , and other professionals. These relationships keep you engaged in the different facets of our field and may lead to a job down the road."
Lexi Eiler – Class of '18, Major: Wildlife
Science is what led Lexi Eiler to Purdue, but summer practicum helped her realize what she wanted to be. After transferring to the College of Agriculture to study wildlife following her first semester, Eiler found experiential learning and fieldwork were her niche.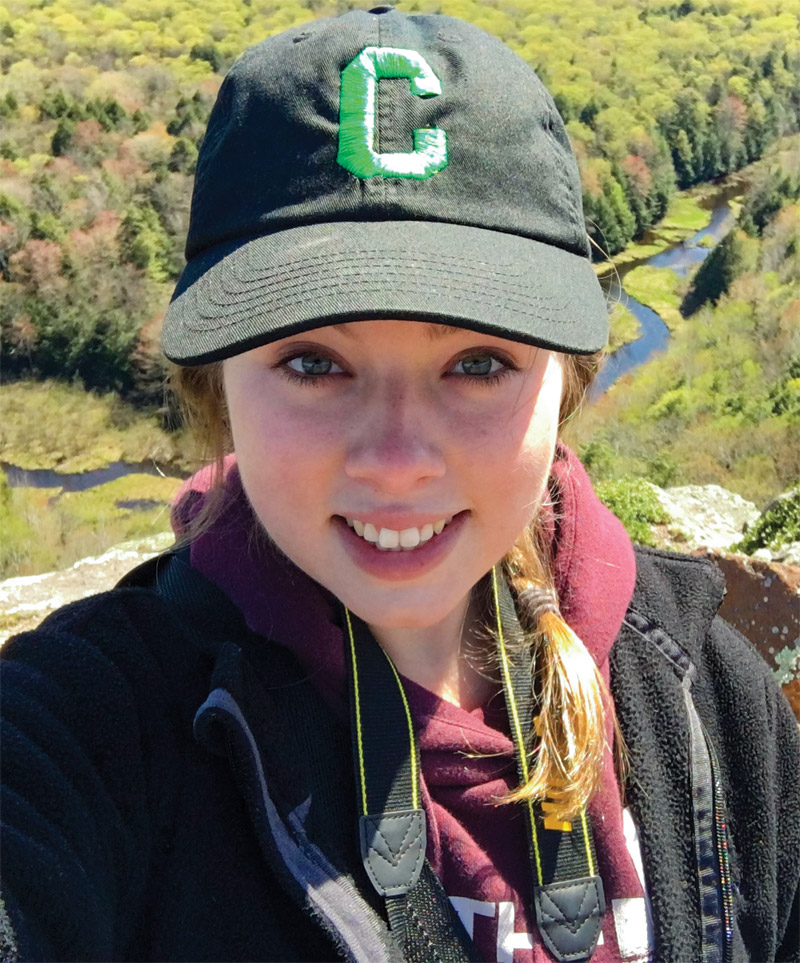 "I was worried going in that I wouldn't cut it in the field," Eiler says about the practicum, her first such experience. "But I found that I can survive in the field and I love it there. It did a great job at giving me hands-on technical skills for any number of career paths."
Since then, she has worked on two undergraduate research projects, studied abroad three times, and landed a job as a field technician. Her undergraduate research on diseases in amphibians gave her enough experience for her recent summer job: working with the endangered Wyoming toad in Laramie, Wyoming.
"There were just 10 individuals at one point," Eiler says. "The basin of the Laramie River is the only place they're found. Their population had declined due to habitat loss, chytrid fungus, and pesticides. It's the most endangered amphibian in the United States."
In her spare time, Eiler is also a Forestry and Natural Resources ambassador, a member of The Wildlife Society, and an active participant in intramural sports. Through The Wildlife Society, she will be traveling to Albuquerque, New Mexico, for a conference this fall, where she will present a talk about her undergraduate research experience.
"Through this job and my past experiences, I've realized I really like working with endangered species," says Eiler, who is especially interested in species threatened by anthropogenic [human] impact. "I'd love to help out with recoveries and reintroductions. My work this summer has shown me that we can make a difference in the survival of endangered species, and I would love to devote my future to that cause."
"Purdue has done a lot to prepare me for a future wildlife career, but the two
best things are summer practicum and undergraduate research experience."